Abstract
Purpose
Esophageal perforation has a high mortality rate. Fluoroscopic esophagography (FE) is the procedure of choice for diagnosing esophageal perforation. However, FE can be difficult to perform in seriously ill patients.
Methods
We retrospectively reviewed charts and scans of all patients who had undergone thoracic CT (TCT) without oral contrast and FE for suspicion of esophageal perforation at our hospital between October, 2010 and December, 2015. Scans were interpreted by a single consultant radiologist having > 5 years of relevant experience. Statistical analysis was performed using SPSS version 20. Sensitivity, specificity, positive predictive value (PPV) and negative predictive value (NPV) of TCT were computed using FE as reference standard.
Results
Of 122 subjects, 106 (83%) were male and their median age was 42 [inter-quartile range (IQR) 29–53] years. Esophageal perforation was evident on FE in 15 (8%) cases. Sensitivity, specificity, PPV and NPV of TCT for detecting esophageal perforation were 100, 54.6, 23.4 and 100%, respectively. When TCT was negative (n = 107), an alternative diagnosis was evident in 65 cases.
Conclusion
Thoracic computed tomography (TCT) had 100% sensitivity and negative predictive value for excluding esophageal perforation. FE may be omitted in patients who have no evidence of mediastinal collection, pneumomediastinum or esophageal wall defect on TCT. However, in the presence of any of these features, FE is still necessary to confirm or exclude the presence of an esophageal perforation.
Access options
Buy single article
Instant access to the full article PDF.
US$ 39.95
Tax calculation will be finalised during checkout.
Subscribe to journal
Immediate online access to all issues from 2019. Subscription will auto renew annually.
US$ 159
Tax calculation will be finalised during checkout.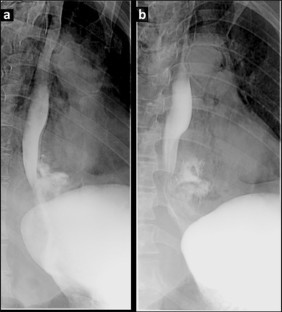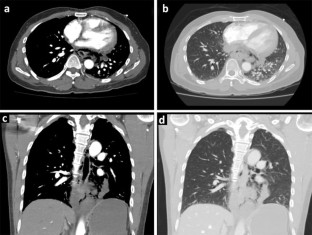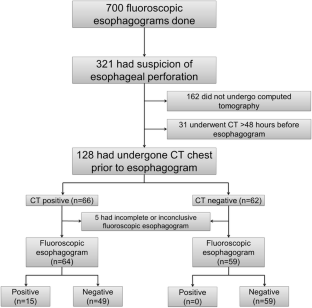 References
1.

Brinster CJ, Singhal S, Lee L, Marshall MB, Kaiser LR, Kucharczuk JC. Evolving options in the management of esophageal perforation. Ann Thorac Surg. 2004;77:1475–83.

2.

Søreide JA, Viste A. Esophageal perforation: diagnostic work-up and clinical decision-making in the first 24 hours. Scand J Trauma Resusc Emerg Med. 2011;19:66.

3.

Vogel SB, Rout WR, Martin TD, Abbitt PL. Esophageal perforation in adults: aggressive, conservative treatment lowers morbidity and mortality. Ann Surg. 2005;241:1016–23.

4.

Bhatia P, Fortin D, Inculet RI, Malthaner RA. Current concepts in the management of esophageal perforations: a twenty-seven year Canadian experience. Ann Thorac Surg. 2011;92:209–15.

5.

Wu JT, Mattox KL, Wall MJ Jr. Esophageal perforations: new perspectives and treatment paradigms. J Trauma Acute Care Surg. 2007;63:1173–84.

6.

Kiernan PD, Sheridan MJ, Elster E, Rhee J, Collazo L, Byrne WD, et al. Thoracic esophageal perforations. South Med J. 2003;96:158–63.

7.

Vial CM, Whyte RI. Boerhaave's syndrome: diagnosis and treatment. Surg Clin North Am. 2005;85:515–24.

8.

Fadoo F, Ruiz DE, Dawn SK, Webb WR, Gotway MB. Helical CT esophagography for the evaluation of suspected esophageal perforation or rupture. AJR Am J Roentgenol. 2004;182:1177–9.

9.

Traub M, Stevenson M, McEvoy S, Briggs G, Lo SK, Leibman S, et al. The use of chest computed tomography versus chest X-ray in patients with major blunt trauma. Injury. 2007;38:43–7.

10.

Hanpeter DE, Demetriades D, Asensio JA, Berne TV, Velmahos G, Murray J. Helical computed tomographic scan in the evaluation of mediastinal gunshot wounds. J Trauma Acute Care Surg. 2000;49:689–95.

11.

Ghanem N, Altehoefer C, Springer O, Furtwängler A, Kotter E, Schäfer O, et al. Radiological findings in Boerhaave's syndrome. Emerg Radiol. 2003;10:8–13.

12.

di Castelguidone ED, Merola S, Pinto A, Raissaki M, Gagliardi N, Romano L. Esophageal injuries: spectrum of multidetector row CT findings. Eur J Radiol. 2006;59:344–8.

13.

Akobeng AK. Understanding diagnostic tests 3: receiver operating characteristic curves. Acta Paediatr. 2007;96:644–7.

14.

Wu CH, Chen CM, Chen CC, Wong YC, Wang CJ, Lo WC, et al. Esophagography after pneumomediastinum without CT findings of esophageal perforation: is it necessary? AJR Am J Roentgenol. 2013;201:977–84.

15.

Borraez B, Patti MG. Radiologic evaluation of esophageal diseases. In: Fisichella PM, Patti MG, editors. Atlas of esophageal surgery. Switzerland: Springer International Publishing AG; 2015. pp. 9–21.

16.

Young CA, Menias CO, Bhalla S, Prasad SR. CT features of esophageal emergencies. RadioGraphics. 2008;28:1541–53.

17.

Pinto A, Liguori C, Cinque T, Gagliardi N, Romano L. Esophageal Injuries. In: Scaglione M, Linsenmaier U, Schueller G, Berger F, Wirth S, editors. Emergency radiology of the chest and cardiovascular system. Switzerland: Springer International Publishing AG; 2017. pp. 73–8.

18.

Shanmuganathan K, Matsumoto J. Imaging of penetrating chest trauma. Radiol Clin N Am. 2006;44:225–38.

19.

Karmy-Jones R, Wood DE. Traumatic injury to the trachea and bronchus. Thorac Surg Clin. 2007;17:35–46.

20.

Oikonomou A, Prassopoulos P. CT imaging of blunt chest trauma. Insights Imaging. 2011;2:281–95.

21.

Swanson JO, Levine MS, Redfern RO, Rubesin SE. Usefulness of high-density barium for detection of leaks after esophagogastrectomy, total gastrectomy, and total laryngectomy. AJR Am J Roentgenol. 2003;181:415–20.

22.

Makhani M, Midani D, Goldberg A, Friedenberg FK. Pathogenesis and outcomes of traumatic injuries of the esophagus. Dis Esophagus. 2014;27:630–6.

23.

Khan AZ, Strauss D, Mason RC. Boerhaave's syndrome: diagnosis and surgical management. Surgeon. 2007;5:39–44.

24.

Gaudinez RF, English GM, Gebhard JS, Brugman JL, Donaldson DH, Brown CW. Esophageal perforations after anterior cervical surgery. Clin Spine Surg. 2000;13:77–84.

25.

Zhang L, Yang Y, Zhang J, Zhou X, Dong H, Zhou Y. Barium sulfate aspiration: severe chemical pneumonia induced by a massive reflux of contrast medium during small bowel barium enema. Forensic Sci Int. 2015;253:e16–e9.

26.

Jat AA, Khan MR, Zafar H, Raja AJ, Hoda Q, Rehmani R, et al. Peer review audit of trauma deaths in a developing country. Asian J Surg. 2004;27:58–64.
Ethics declarations
Conflict of interest
Muhammad Awais, Saqib Qamar, Abdul Rehman, Noor Ul-Ain Baloch and Gulnaz Shafqat have no conflict of interests to disclose.
Ethical standards
All procedures related to this study were performed in accordance with ethical standards of the institutional ethics review committee and with the most recent version of the Declaration of Helsinki (1964).
Informed consent
As this was a retrospective study, formal consent was not required and requirement of informed consent was waived.
Additional information
This study was presented as a Scientific Exhibit at the European Congress of Radiology (ECR) 2016 held at Vienna, Austria.
About this article
Cite this article
Awais, M., Qamar, S., Rehman, A. et al. Accuracy of CT chest without oral contrast for ruling out esophageal perforation using fluoroscopic esophagography as reference standard: a retrospective study. Eur J Trauma Emerg Surg 45, 517–525 (2019). https://doi.org/10.1007/s00068-018-0929-4
Received:

Accepted:

Published:

Issue Date:
Keywords
Esophageal perforation

Computed tomography

Contrast swallow

Fluoroscopy

Esophagography