Abstract
Objectives
Antegrade intramedullary nailing (AIMN) using 2k-wires seems to be superior to other modalities in treating displaced fractures of the fifth metacarpal neck (FFMN). Few reports demonstrated similar results retrospective with a single k-wire. The aim of the study is to describe our single k-wire technique and evaluate the related results.
Methods
This is a retrospective study of a continuous series of patients treated with a single intramedullary k-wire for FFMN. It includes 30 patients who met the criteria for surgery: a dorsal angulation of more than 30°, malrotation, or both. The mean clinical follow-up period was 7 ± 14.9 months.
Results
The mean pre-operative angle was 50° ± 11.35° and the mean immediate post-operative angle was 4.86° ± 2.8°. The mean immediate correction was 47° ± 9.3°. The mean correction at last follow-up was 45.14° ± 8.55°. Healing was obtained in all patients and bone union was achieved at a mean of 5.6 ± 1.2 weeks. The mean operative time was 8.5 min. The mean C-arm usage (number of clicks) was 7.2 times. The mean exposure radiation time was calculated at 3.6 s. The mean radiation dose was 0.08 mGy/mm2. The mean satisfaction score was 1.26 ± 0.45. Quick-DASH and EQ-5D scores yielded excellent values.
Conclusions
With potential benefits like lesser surgical time, radiation and cost, the use of a single AIMN could be safer, quicker and cheaper while reproducing similar clinical, functional and radiological outcomes to those reported with the use of 2k-wires.
Access options
Buy single article
Instant access to the full article PDF.
US$ 39.95
Tax calculation will be finalised during checkout.
Subscribe to journal
Immediate online access to all issues from 2019. Subscription will auto renew annually.
US$ 159
Tax calculation will be finalised during checkout.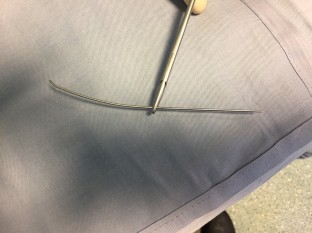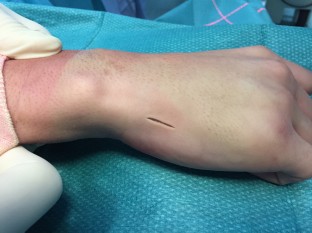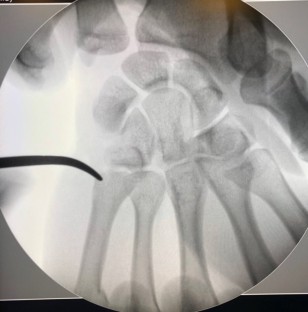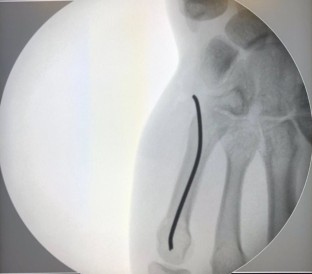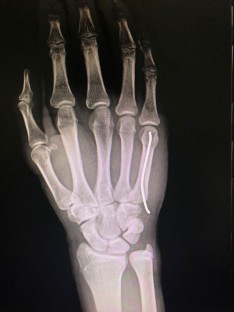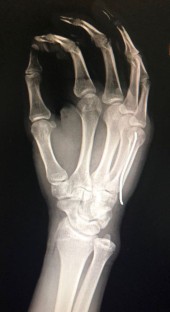 References
1.

Hove LM. Fractures of the hand. Distribution and relative incidence. Scand J Plast Reconstr Surg Hand Surg. 1993;27:317–9.

2.

Ozturk I, Erturer E, Sahin F, Seckin F, Toker S, Uzun M, Sahin S. Effects of fusion angle on functional results following non-operative treatment for fracture of the neck of the fifth metacarpal. Injury. 2008;39:1464–6.

3.

Gudmundsen TE, Borgen L. Fractures of the fifth metacarpal. Acta Radiol. 2009;50:296–300.

4.

Amadio PC, Beckenbaugh RD, Bishop AT. Fractures of the hand and wrist. In: Jupiter JB, editor. Flynn's hand surgery. 4th ed. Baltimore: Williams & Wilkins; 1991.

5.

Harris AR, Beckenbaugh RD, Nettrour JF, Rizzo M. Metacarpal neck fractures: results of treatment with traction reduction and cast immobilization. Hand. 2009;4:161–4.

6.

Birndorf MS, Daley R, Greenwald DP. Metacarpal fracture angulation decreases flexor mechanical efficiency in human hands. Plast Reconstr Surg. 1997;99:1079–83.

7.

Meunier MJ, Hentzen E, Ryan M, Shin AY, Lieber RL. Predicted effects of metacarpal shortening on interosseous muscle function. J Hand Surg. 2004;29-A:689–93.

8.

Kollitz KM, Hammert WC, Vedder NB. Metacarpal fractures: treatment and complications. Hand. 2014;9:16–23.

9.

Theeuwen GA, Lemmens JA, van Niekerk JL. Conservative treatment of boxer's fracture: a retrospective analysis. Injury. 1991;22:394–6.

10.

Kim JK, Kim DJ. Antegrade intramedullary pinning versus retrograde intramedullary pinning for displaced fifth metacarpal neck fractures. Clin Orthop Relat Res. 2015;473:1747–54.

11.

Ford DJ, Ali MS, Steel WM. Fractures of the 5fth metacarpal neck: is reduction or immobilisation necessary? J Hand Surg [Br]. 1989;14:165–7.

12.

Corkum JP, Davison PG, Lalonde DH. Systematic review of the best evidence in intramedullary fixation for metacarpal fractures. Hand (NY). 2013;8:253–60.

13.

Wong TC, Ip FK, Yeung SH. Comparison between percutaneous transverse fixation and intramedullary K-wires in treating closed fractures of the metacarpal neck of the little finger. J Hand Surg [Br]. 2006;31:61–5.

14.

Winter M, Balaguer T, Bessière C, Carles M, Lebreton E. Surgical treatment of the boxer's fracture: transverse pinning versus intramedullary pinning. J Hand Surg [Eur]. 2007;32:709–13.

15.

Facca S, Ramdhian R, Pelissier A, Diaconu M, Liverneaux P. Fifth metacarpal neck fracture fixation: locking plate versus K-wire? Orthop Traumatol Surg Res. 2010;96:506–12.

16.

Strub B, Schindele S, Sonderegger J, Sproedt J, von Campe A, Gruenert JG. Intramedullary splinting or conservative treatment for displaced fractures of the little finger metacarpal neck? A prospective study. J Hand Surg [Eur]. 2010;35:725–9.

17.

Fujitani R, Omokawa S, Shigematsu K, Tanaka Y. Comparison of the intramedullary nail and low-profile plate for unstable metacarpal neck fractures. J Orthop Sci. 2012;17:450–6.

18.

Sletten IN, Hellund JC, Olsen B, Clementsen S, Kvernmo HD, Nordsletten L. Conservative treatment has comparable outcome with bouquet pinning of little finger metacarpal neck fractures: a multicentre randomized controlled study of 85 patients. J Hand Surg [Eur]. 2015;40:76–83.

19.

Zhang X, Huang X, Shao X. Reduction of fifth metacarpal neck fractures with a Kirschner wire. J Hand Surg [Am]. 2015;40:1225–30.

20.

Sandzen SC Jr. Complications of the skeletal system of the hand. In: Sandzen SC Jr, editor. Current management of complications in orthopaedics: the hand and wrist. Baltimore: Williams and Wilkins; 1985.

21.

Margic K. External fixation of closed metacarpal and phalangeal fractures of digits. A prospective study of one hundred consecutive patients. J Hand Surg [Br]. 2006;31:30–40.

22.

Manueddu CA, Della Santa D. Fasciculated intramedullary pinning of metacarpal fractures. J Hand Surg [Br]. 1996;21:230–6.

23.

Yammine K, Harvey A. Antegrade intramedullary nailing for fifth metacarpal neck fractures: a systematic review and meta-analysis. Eur J Orthop Surg Traumatol. 2014;24:273–8.

24.

Mohammed R, Farook MZ, Newman K. Percutaneous elastic intramedullary nailing of metacarpal fractures: surgical technique and clinical results study. J Orthop Surg Res. 2011;19:37.

25.

Lieber J, Härter B, Schmid E, Kirschner HJ, Schmittenbecher PP. Elastic stable intramedullary nailing (ESIN) of pediatric metacarpal fractures: experiences with 66 cases. Eur J Pediatr Surg. 2012;22:305–10.

26.

Boussakri H, Elidrissi M, Azarkane M, Bensaad S, Bachiri M, Shimi M, Elibrahimi A, Elmrini A. Fractures of the neck of the fifth metacarpal bone, treated by percutaneous intramedullary nailing: surgical technique, radiological and clinical results study (28 cases). Pan Afr Med J. 2014;18:187.

27.

Shen K, Xu Y, Cao D, Wang Z, Cai H. Outcome of antegrade intramedullary fixation for juvenile fifth metacarpal neck fracture with titanium elastic nail. Exp Ther Med. 2017;13:2997–3002.

28.

She Y, Xu Y. Treatment of fifth metacarpal neck fractures with antegrade single elastic intramedullary nailing. BMC Musculoskelet Disord. 2017;18:238.

29.

Amsallem L, Pierrart J, Bihel T, Sekri J, Lafosse T, Masmejean E, Delgrande D. Simplified internal fixation of fifth metacarpal neck fractures. Orthop Traumatol Surg Res. 2018;104:257–60.

30.

Jahss SA. Fractures of the metacarpals: a new method of reduction and immobilization. J Bone Jt Surg. 1938;20:178–86.

31.

Foucher G, Chemorin C, Sibilly A. Nouveau procédé d'ostéosynthèse original dans les fractures du tiers distal du cinquième métacarpien. Nouv Presse Méd. 1976;5:1139–40.

32.

Schädel-Höpfner M, Wild M, Windolf J, Linhart W. Antegrade intramedullary splinting or percutaneous retrograde crossed pinning for displaced neck fractures of the fifth metacarpal? Arch Orthop Trauma Surg. 2007;127:435–40.

33.

Pogliacomi F, Mijno E, Pedrazzini A, Tocco S, Tonani M, Ceccarelli F, Vaienti E. Fifth metacarpal neck fractures: fixation with antegrade locked flexible intramedullary nailing. Acta Biomed. 2017;88:57–64.

34.

Root CG, London DA, Schroeder NS, Calfee RP. Anatomical relationships and branching patterns of the dorsal cutaneous branch of the ulnar nerve. J Hand Surg [Am]. 2013;38:1131–6.

35.

Kadlub N, Danino A, Trost O, Robe N, Malka G. Boxer's fracture: Cost evaluation orthopaedic or surgical treatment. Chir Main. 2006;25:152–5.

36.

Bade H, Schubert M, Koebke J. Functional morphology of the deep transverse metacarpal ligament. Ann Anat. 1994;176:443–50.

37.

Lee KS, Baek JR, Kim SB. The neglected rupture of deep transverse metacarpal ligament. Hand Surg. 2003;8:277–81.

38.

Khan A, Giddins G. The outcome of conservative treatment of spiral metacarpal fractures and the role of the deep transverse metacarpal ligaments in stabilizing these injuries. J Hand Surg [Eur]. 2015;40:59–62.
Ethics declarations
Conflict of interest
All named authors (Chahine Assi, Jad Mansour, Camille Samaha, Sleiman Ajjoub, Kaissar Yammine) hereby declare that they have no conflicts of interest to disclose.
Ethical approval
All procedures performed in studies involving human participants were in accordance with the ethical standards of the institutional research committee and with the 1964 Helsinki Declaration and its later amendments or comparable ethical standards.
Informed consent
Informed consent was obtained from all individual participants included in the study.
About this article
Cite this article
Assi, C., Mansour, J., Samaha, C. et al. A single antegrade intramedullary k-wire for fifth metacarpal neck fractures. Eur J Trauma Emerg Surg 46, 389–395 (2020). https://doi.org/10.1007/s00068-018-01073-2
Received:

Accepted:

Published:

Issue Date:
Keywords
Fifth metacarpal neck fracture

Single antegrade elastic nailing

Surgery