Abstract
Purpose
The Acute Care Surgical Unit at Groote Schuur Hospital was established in 2010 and is the first of its kind in Africa. The aim of this study was to describe the outcomes of emergency surgical cases, as well as determine the logistical factors associated with adverse outcomes following surgery within the unit.
Methods
This study was a retrospective audit which reviewed the folders of adult patients who underwent an emergency surgical procedure from July 2016 to July 2017. The primary outcome was a major adverse event (AE) which was defined by a Clavien–Dindo score of 3–5. A number of logistical factors related to patient admission and operation were evaluated for association with outcomes.
Results
A total of 271 patients were included with a mean age of 47 years, with 48% females and 52% males. A major AE was recorded for 13% of patients. The following factors were found to be predictive of a major AE: referral from outside the hospital, urgent booking colour code, reoperation, and consultant most senior surgeon present during procedure. Patient admission/surgery performed outside of normal working hours, being booked for surgery on admission, as well as delay to surgery beyond colour code were not associated with a major AE.
Conclusion
Apart from the traditional clinical parameters, factors related to perioperative logistics may contribute to the risk of a major AE after emergency surgery and should be considered for inclusion in more comprehensive predictive models for adverse outcomes within an acute care surgery unit.
Access options
Buy single article
Instant access to the full article PDF.
USD 39.95
Price includes VAT (USA)
Tax calculation will be finalised during checkout.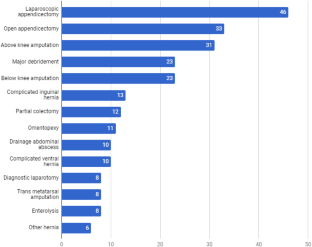 References
1.

Stitzenberg KB, Sheldon GF. Progressive specialization within general surgery: adding to the complexity of workforce planning. J Am Coll Surg. 2005;6:925–32.

2.

Cubas RF, Gómez NR, Rodriguez S, Wanis M, Sivanandam A, Garberoglio CA. Outcomes in the management of appendicitis and cholecystitis in the setting of a new acute care surgery service model: impact on timing and cost. J Am Coll Surg. 2012;5:715–21.

3.

Hoyt DB, Kim HD, Barrios C. Acute care surgery: a new training and practice model in the United States. World J Surg. 2008;8:1630–5.

4.

Lau B, DiFronzo LA. An acute care surgery model improves timeliness of care and reduces hospital stay for patients with acute cholecystitis. Am Surg. 2011;10:1318–21.

5.

Schaetzel S, Dirks R, Davis J. Comparison of outcomes of patients with acute appendicitis between an acute care surgery model and traditional call coverage model in the same community. Am J Surg. 2016;6:1083–9.

6.

Gandy RC, Truskett PG, Wong SW, Smith S, Bennett MH, Parasyn AD. Outcomes of appendicectomy in an acute care surgery model. Med J Aust. 2010;5:281–4.

7.

Fu CY, Huang HC, Chen RJ, Tsuo HC, Tung HJ. Implementation of the acute care surgery model provides benefits in the surgical treatment of the acute appendicitis. Am J Surg. 2014;5:794–9.

8.

Von Conrady D, Hamza S, Weber D, Kalani K, Epari K, Wallace M, Fletcher D. The acute surgical unit: improving emergency care. ANZ J Surg. 2010;12:933–6.

9.

Nagaraja V, Eslick GD, Cox MR. The acute surgical unit model verses the traditional "on call" model: a systematic review and meta-analysis. World J Surg. 2014;6:1381–7.

10.

Page DE, Dooreemeah D, Thiruchelvam D. Acute surgical unit: the Australasian experience. ANZ J Surg. 2014;1–2:25–30.

11.

Koea JB, Srinivasa S, Hundal H. Provision of acute general surgery: a systematic review of models of care. J Trauma Acute Care Surg. 2014;1:219–25.

12.

Sudarshan M, Feldman LS, Louis ES, Al-Habboubi M, Hassan MM, Fata P, Deckelbaum DL, Razek TS, Khwaja KA. Predictors of mortality and morbidity for acute care surgery patients. J Surg Res. 2015;2:868–73.

13.

Mentula PJ, Leppäniemi AK. Applicability of the Clavien–Dindo classification to emergency surgical procedures: a retrospective cohort study on 444 consecutive patients. Patient Saf Surg. 2014;1:31.

14.

Elshove-Bolk J, Ellensen VS, Baatrup G. Logistics and outcome in urgent and emergency colorectal surgery. Colorectal Dis. 2010;12:e255-9.

15.

Khan S, Zafar H, Zafar SN, Haroon N. Inter-facility transfer of surgical emergencies in a developing country: effects on management and surgical outcomes. World J Surg. 2014;2:281–6.

16.

Klopper JH, Rayamajhi S, Venter JJ, De Villiers DJ, Almgla N, Kloppers JC. Provision of acute and elective general surgical care at a tertiary facility in the era of subspecialisation. S Afr Med J. 2017;11:948–51.

17.

Clavien PA, Barkun J, de Oliveira ML, Vauthey JN, Dindo D, Schulick RD, de Santibañes E, Pekolj J, Slankamenac K, Bassi C, Graf R. The Clavien–Dindo classification of surgical complications: five-year experience. Ann Surg. 2009;2:187–96.

18.

Spence RT, Hampton M, Pluke K, Kahn M, Chinyepi N, Elmusbahi M, van Wyngaard T, Panieri E. Factors associated with adverse events after emergency laparotomy in Cape Town, South Africa: identifying opportunities for quality improvement. J Surg Res. 2016;2:363–70.

19.

Aloia TA, Cooper A, Shi W, Vauthey JN, Lee JE. Reoperative surgery: a critical risk factor for complications inadequately captured by operative reporting and coding of lysis of adhesions. J Am Coll Surg. 2014;1:143–50.

20.

Shakerian R, Thomson BN, Gorelik A, Hayes IP, Skandarajah AR. Outcomes in emergency general surgery following the introduction of a consultant-led unit. Br J Surg. 2015;13:1726–32.

21.

Casadei R, Ricci C, Pezzilli R, Calculli L, D'Ambra M, Taffurelli G, Minni F. Assessment of complications according to the Clavien–Dindo classification after distal pancreatectomy. J Pancreas. 2011;2:126–30.
Acknowledgements
The authors wish to thank Dr Richard Spence for his advice on the manuscript preparation.
Ethics declarations
Conflict of interest
Daniel Nel, Christo Kloppers, Shreya Rayamajhi, and Juan Klopper declare that they have no conflicts of interest to disclose.
About this article
Cite this article
Nel, D., Kloppers, C., Rayamajhi, S. et al. Logistical factors associated with adverse outcomes following emergency surgery in an acute care surgical unit. Eur J Trauma Emerg Surg 46, 377–382 (2020). https://doi.org/10.1007/s00068-018-01064-3
Received:

Accepted:

Published:

Issue Date:
Keywords
Emergency surgery

Acute care surgery

Complications

Mortality

Prognostication