Abstract
Purpose
Prophylactic placement of endovascular balloon occlusion catheters has grown to be part of the surgical plans to control intraoperative hemorrhage in cases of abnormal placentation. We performed a systematic literature review to investigate the safety and effectiveness of the use of REBOA during cesarean delivery in pregnant woman with morbidly adherent placenta.
Methods
A systematic review was performed. Relevant case reports and nonrandomized studies were identified by the literature search in MEDLINE. We included studies involving pregnant woman with diagnosis of abnormal placentation who underwent cesarean delivery with REBOA placed for hemorrhage control. MINORS' criteria were used to evaluate the risk of bias of included studies. A formal meta-analysis was not performed.
Results
Eight studies were included in cumulative results. These studies included a total of 392 patients. Overall, REBOA was deployed in 336 patients. Six studies reported the use of REBOA as an adjunct for prophylactic hemorrhage control in pregnant woman with diagnosis of morbidly adherent placenta undergoing elective cesarean delivery. In two studies, REBOA was deployed in patients already in established hemorrhagic shock at the moment of cesarean delivery. REBOA was deployed primarily by interventional radiologists; however, one study reported a surgeon as the REBOA provider. The results from our qualitative synthesis indicate that the use of REBOA during cesarean delivery resulted in less blood loss with a low rate complications occurrence.
Conclusion
REBOA is a feasible, safe, and effective means of prophylactic and remedial hemorrhage control in pregnant women with abnormal placentation undergoing cesarean delivery.
Access options
Buy single article
Instant access to the full article PDF.
US$ 39.95
Tax calculation will be finalised during checkout.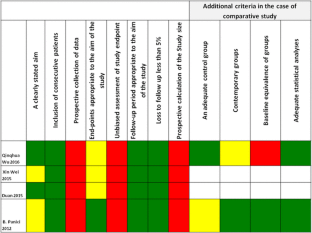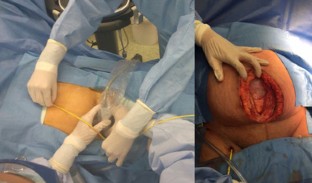 References
1.

Bauer ST, Bonanno C. Abnormal placentation. Semin Perinatol. 2009;33:88–96. (Elsevier).

2.

ACOJ. Committee Opinion No. 529: placenta accreta. Obstet Gynecol. 2012;120:207–11. http://journals.lww.com/greenjournal/Fulltext/2012/07000/Committee_Opinion_No__529___Placenta_Accreta_.42.aspx. Accessed 23 Feb 2017.

3.

Wu S, Kocherginsky M, Hibbard JU. Abnormal placentation: twenty-year analysis. Am J Obstet Gynecol Elsevier. 2005;192:1458–61.

4.

Hudon L, Belfort MA, Broome DR. Diagnosis and management of placenta percreta: a review. Obstet Gynecol Surv. 1998;53(8):509–17.

5.

Eller AG, Bennett MA, Sharshiner M, Masheter C, Soisson AP, Dodson M, et al. Maternal morbidity in cases of placenta accreta managed by a multidisciplinary care team compared with standard obstetric care. Obstet Gynecol. 2011;117(2 Pt 1):331–7.

6.

Kutcher ME, Sperry JL, Rosengart MR, Mohan D, Hoffman MK, Neal MD, et al. Surgical rescue: The next pillar of acute care surgery. J Trauma Acute Care Surg. 2017;82. http://journals.lww.com/jtrauma/Fulltext/2017/02000/Surgical_rescue___The_next_pillar_of_acute_care.6.aspx. Accessed 23 Feb 2017.

7.

Ballas J, Hull AD, Saenz C, Warshak CR, Roberts AC, Resnik RR, et al. Preoperative intravascular balloon catheters and surgical outcomes in pregnancies complicated by placenta accreta: a management paradox. Am J Obstet Gynecol. 2012;207(3):216.e1–5. (Elsevier Inc).

8.

Cesar F, Mario C, Kondo M, Oliveira W, De S Jr. Perioperative temporary occlusion of the internal iliac arteries as prophylaxis in cesarean section at risk of hemorrhage in placenta accreta. Cardiovasc Intervent Radiol. 2011;34(4):758–64. doi:10.1007/s00270-011-0166-2.

9.

Cali G, Forlani F, Giambanco L, Luisa M, Vallone M, Puccio G, et al. Prophylactic use of intravascular balloon catheters in women with placenta accreta, increta and percreta. Eur J Obstet Gynecol Reprod Biol. 2014;179:36–41. (Elsevier Ireland Ltd).

10.

Teixidor Viñas M, Chandraharan E, Moneta MV, Belli AM. The role of interventional radiology in reducing haemorrhage and hysterectomy following caesarean section for morbidly adherent placenta. Clin Radiol. 2014;69:e345–e51. (Elsevier).

11.

Tan CH, Sheah K, Kwek K, Wong K, Tan HK, et al. Perioperative endovascular internal iliac artery occlusion balloon placement in management of placenta accreta. AJR Am J Roentgenol. 2007;189(5):1158–63.

12.

Chou MM, Kung HF, Hwang JI, Chen WC, Tseng JJ. Temporary prophylactic intravascular balloon occlusion of the common iliac arteries before cesarean hysterectomy for controlling operative blood loss in abnormal placentation. Taiwan J Obstet Gynecol. 2017;54:493–8. (Elsevier).

13.

Duan X-H, Wang Y-L, Han X-W, Chen Z-M, Chu Q-J, Wang L, et al. Caesarean section combined with temporary aortic balloon occlusion followed by uterine artery embolisation for the management of placenta accreta. Clin Radiol. 2015;70:932–7. http://www.sciencedirect.com/science/article/pii/S000992601500104X. Accessed 23 Feb 2017.

14.

Panici PB, Anceschi M, Borgia ML, Bresadola L, Masselli G, Parasassi T, et al. Intraoperative aorta balloon occlusion: fertility preservation in patients with placenta previa accreta/increta. J Matern Neonatal Med. 2012;25:2512–6. 10.3109/14767058.2012.712566. (Taylor & Francis).

15.

Wu Q, Liu Z, Zhao X, Liu C, Wang Y, Chu Q, et al. Outcome of pregnancies after balloon occlusion of the infrarenal abdominal aorta during caesarean in 230 patients with placenta praevia accreta. Cardiovasc Intervent Radiol. 2016;39:1573–9. http://www.ncbi.nlm.nih.gov/pmc/articles/PMC5052309/. (New York: Springer US). Accessed 23 Feb 2017.

16.

Biffl WL, Fox CJ, Moore EE. The role of REBOA in the control of exsanguinating torso hemorrhage. J Trauma Acute Care Surg. 2015;78:1054–8.

17.

Morrison JJ, Galgon RE, Jansen JO, Cannon JW, Rasmussen TE, Eliason JL, et al. A systematic review of the use of resuscitative endovascular balloon occlusion of the aorta in the management of hemorrhagic shock. J Trauma Acute Care Surg. 2015;80:324–34.

18.

Shamseer L, Moher D, Clarke M, Ghersi D, Liberati A, Petticrew M, et al. Preferred reporting items for systematic review and meta-analysis protocols (PRISMA-P) 2015: elaboration and explanation. BMJ Br Med J. 2015;349. http://www.bmj.com/content/349/bmj.g7647.abstract. Accessed 23 Feb 2017.

19.

Liberati A, Altman DG, Tetzlaff J, Mulrow C, Gøtzsche PC, Ioannidis JPA, et al. The PRISMA statement for reporting systematic reviews and meta-analyses of studies that evaluate health care interventions: explanation and elaboration. PLoS Med. 2009;6:e1000100. 10.1371/journal.pmed.1000100. (Public Library of Science).

20.

Slim K, Nini E, Forestier D, Kwiatkowski F, Panis Y, Chipponi J. Methodological index for non-randomized studies (MINORS): development and validation of a new instrument. ANZ J Surg. 2003;73:712–6. (Blackwell Science Ptd).

21.

Zeng X, Zhang Y, Kwong JSW, Zhang C, Li S, Sun F, et al. The methodological quality assessment tools for preclinical and clinical studies, systematic review and meta-analysis, and clinical practice guideline: a systematic review. J Evid Based Med. 2015;8:2–10.

22.

Bell-Thomas SM, Penketh RJ, Lord RH, Davies NJ, Collis R. Emergency use of a transfemoral aortic occlusion catheter to control massive haemorrhage at caesarean hysterectomy. BJOG Int J Obstet Gynaecol. 2003;110:1120–2. 10.1111/j.1471-0528.2003.01133.x. (Blackwell Science Ltd).

23.

Usman N, Noblet J, Low D, Thangaratinam S. Intra-aortic balloon occlusion without fluoroscopy for severe postpartum haemorrhage secondary to placenta percreta. Int J Obstet Anesth. 2017;23:91–3. 10.1016/j.ijoa.2013.06.006. (Elsevier).

24.

Paull JD, Smith J, Williams L, Davison G, Devine T, Holt M. Balloon occlusion of the abdominal aorta during caesarean hysterectomy for placenta percreta. Anaesth Intensive Care. 1995;23:731–4.

25.

Masamoto H, Uehara H, Gibo M, Okubo E, Sakumoto K, Aoki Y. Elective use of aortic balloon occlusion in cesarean hysterectomy for placenta previa percreta. Gynecol Obstet Invest. 2009;67:92–5.

26.

Wei X, Zhang J, Chu Q, Du Y, Xing N, Xu X, et al. Prophylactic abdominal aorta balloon occlusion during caesarean section: a retrospective case series. Int J Obstet Anaesth.  2016;27:3–8​. (Elsevier Ltd).

27.

Salim R, Chulski A, Romano S, Garmi G, Rudin M, Shalev E. Precesarean prophylactic balloon catheters for suspected placenta accreta A randomized controlled trial. Obstet Gynecol. 2015;126:1022–8.

28.

Shrivastava V, Nageotte M, Major C, Haydon M, Wing D. Case-control comparison of cesarean hysterectomy with and without prophylactic placement of intravascular balloon catheters for placenta accreta. Am J Obstet Gynecol. 2007;197:1–5.

29.

Chait A, Moltz A, Nelson JH, The collateral arterial circulation in the Pelvis. Am J Roentgenol. 1968;102:392–400. 10.2214/ajr.102.2.392. (American Roentgen Ray Society).

30.

Wang Y-L, Duan X-H, Han X-W, Wang L, Zhao X-L, Chen Z-M, et al. Comparison of temporary abdominal aortic occlusion with internal iliac artery occlusion for patients with placenta accreta—a non-randomised prospective study. Vasa. 2016. 10.1024/0301-1526/a000577. (Hogrefe AG).

31.

DuBose JJ, Scalea TM, Brenner M, Skiada D, Inaba K, Cannon J, et al. The AAST prospective aortic occlusion for resuscitation in trauma and acute care surgery (AORTA) registry: data on contemporary utilization and outcomes of aortic occlusion and resuscitative balloon occlusion of the aorta (REBOA). J Trauma Acute Care Surg. 2016;81:409–19. http://journals.lww.com/jtrauma/Fulltext/2016/09000/The_AAST_prospective_Aortic_Occlusion_for.1.aspx. Accessed 23 Feb 2017.

32.

Linnebur M, Inaba K, Haltmeier T, Rasmussen TE, Smith J, Mendelsberg R, et al. Emergent non-image-guided resuscitative endovascular balloon occlusion of the aorta (REBOA) catheter placement: a cadaver-based study. J Trauma Acute Care Surg. 2016;81:453–7.

33.

Scott DJ, Eliason JL, Villamaria C, Morrison JJ, Houston R, Spencer JR, et al. A novel fluoroscopy-free, resuscitative endovascular aortic balloon occlusion system in a model of hemorrhagic shock. J Trauma Acute Care Surg. 2013;75:122–8.

34.

Abu-Fadel MS, Sparling JM, Zacharias SJ, Aston CE, Saucedo JF, Schechter E, et al. Fluoroscopy vs. traditional guided femoral arterial access and the use of closure devices: a randomized controlled trial. Catheter Cardiovasc Interv. 2009;74:533–9. (Wiley Subscription Services, Inc., A Wiley Company).

35.

Huggins CE, Gillespie MJ, Tan WA, Laundon RC, Costello FM, Darrah SB, et al. A prospective randomized clinical trial of the use of fluoroscopy in obtaining femoral arterial access. J Invasive Cardiol. 2009;21:105–9.

36.

Villamaria CY, Eliason JL, Napolitano LM, Stansfield RB, Spencer JR, Rasmussen TE. Endovascular skills for trauma and resuscitative surgery (ESTARS) course: curriculum development, content validation, and program assessment. J Trauma Acute Care Surg. 2014;76:929–35. (discussion 935–6).

37.

Brenner M, Hoehn M, Pasley J, Dubose J, Stein D, Scalea T. Basic endovascular skills for trauma course: bridging the gap between endovascular techniques and the acute care surgeon. J Trauma Acute Care Surg. 2014;77:286–91.

38.

Saito N, Matsumoto H, Yagi T, Hara Y, Hayashida K, Motomura T, et al. Evaluation of the safety and feasibility of resuscitative endovascular balloon occlusion of the aorta. J Trauma Acute Care Surg. 2015;78:897–904.

39.

Ciesla DJ, Moore EE, Cothren CC, Johnson JL, Burch JM. Has the trauma surgeon become house staff for the surgical subspecialist? Am J Surg. 2006;192:732–7.
Ethics declarations
Ethical statement
RMN, MFE, MPN, FR, PF, JDC, and CAO comply with the ethical guidelines for authorship and publishing in the European Journal of Trauma and Emergency Surgery. This Systematic Review contains images of a patient with MAP that underwent prophylactic REBOA placement. Informed consent was obtained from the participant who appears in the pictures.
Conflict of interest
The authors declare no conflict of interest relevant to this manuscript.
About this article
Cite this article
Manzano-Nunez, R., Escobar-Vidarte, M.F., Naranjo, M.P. et al. Expanding the field of acute care surgery: a systematic review of the use of resuscitative endovascular balloon occlusion of the aorta (REBOA) in cases of morbidly adherent placenta. Eur J Trauma Emerg Surg 44, 519–526 (2018). https://doi.org/10.1007/s00068-017-0840-4
Received:

Accepted:

Published:

Issue Date:
Keywords
Acute care surgery

REBOA

Endovascular procedures

Placenta accreta

Abnormal placentation