Abstract
Background
The aim of this study was to evaluate and compare the diagnostic value of a Modified Alvarado Score (MAS) ≥7 for acute appendicitis in both Human Immunodeficiency Virus (HIV)-negative (HIVneg) and positive (HIVpos) patientcohorts.
Methods
This retrospective study included all HIV-tested patients undergoing appendectomy at a regional hospital from March 2010 to March 2011. The MAS was calculated for all patients, as well as for the HIVneg and HIVpos groups separately. Two subgroups were considered for each of these: MAS ≥7 (high likelihood of appendicitis) and MAS <7 (low likelihood of appendicitis). These subgroups were then analysed against histopathological findings of the resected appendix. MAS specificities and sensitivities were determined by comparing Receiver Operator Characteristic (ROC) curves for the various scores.
Results
The study comprised 133 patients. Eighty-six (65%) were men and the median age was 20 years (range 4–64); 18 patients (14%) were HIVpos. Appendicitis was confirmed histologically in 113 patients, 100 in the HIVneg group and 13 in the HIVpos group. Specificity and sensitivity of a MAS ≥7 for HIVneg patients was 73 and 85% respectively. Based on the ROC curves, HIVpos patients only showed similar sensitivities (69%) and specificities (80%) at a MAS ≥8.
Conclusion
A MAS ≥7 is a reliable predictor of acute appendicitis in HIVneg patients. In HIVpos patients, the MAS threshold required to accurately predict appendicitis is 8. The use of a MAS ≥7 in this group of patients will result in unnecessary surgical intervention.
Access options
Buy single article
Instant access to the full article PDF.
USD 39.95
Price includes VAT (USA)
Tax calculation will be finalised during checkout.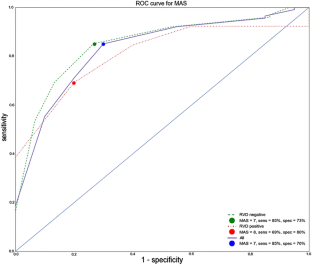 References
1.

Bova R, Meagher A. Appendicitis in HIV-positive patients. Aust N Z J Surg. 1998;68:337–9.

2.

Crum-Cianflone N, Weekes J, Bavaro M. Appendicitis in HIV-infected patients during the era of highly active antiretroviral therapy. HIV Med. 2008;9:421–6.

3.

Aldeen T, Horgan M, Macallan D, et al. Is acute appendicitis another inflammatory condition associated with highly active antiretroviral therapy (HAART)? HIV Med. 2000;1:252–5.

4.

Binderow SR, Shaked AA. Acute appendicitis in patients with AIDS/HIV infection. Am J Surg. 1991;162:9–12.

5.

Clarke DL, Thomson SR, Bissetty T, et al. A single surgical unit's experience with abdominal tuberculosis in the HIV/AIDS era. World J Surg. 2007;31:1088–97.

6.

Phophrom J, Trivej T. The modified alvarado score versus the Alvarado score for the diagnosis of acute appendicitis. Thai J Surg. 2005;26:69–72.

7.

Fengo G, Lindberg G, Blind P, et al. Diagnostic decision support in suspected acute appendicitis: validation of a simplified scoring system. Eur J Surg. 1997;163:831–8.

8.

Saleem M, Al-Hashemy A. Appraisal of the modified Alvarado score for acute appendicitis in the adults. Ann R Coll Surg Engl. 1994;76:410–7.

9.

Pérez F, Granger B. IPython: a system for interactive scientific computing. Comput Sci Eng. 2007;9:21–9.

10.

Pedregosa F, Varoquaux G, Gramfort A, et al. Scikit-learn: machine learning in Python. JMLR. 2011;12:2825–30.

11.

Rehle T, Johnson L, Hallet T, et al. A comparison of South African national HIV incidence estimates: a critical appraisal of different methods. PLoS ONE. 2015;10:e0133255.

12.

Shisana O, Rehle T, Simbayi L, et al. South African national HIV prevalence, incidence, and behaviour survey, 2012. Cape Town: HSRC Press; 2014.

13.

Islam J, Clarke D, Thomson S. Lessons from emergency laparotomy for abdominal tuberculosis in the HIV/AIDS era. SAJS. 2014;52:10–2.

14.

Nair R, Robbs J, Naidoo N, et al. Clinical profile of HIV-related aneurysms. Eur J Vasc Endovasc Surg. 2000;20:235–40.

15.

Naidoo M, Singh B, Ramdial P, et al. Lymphoepithelial lesions of the parotid gland in the HIV era-a South African experience. SAJS. 2009;45:136–41.

16.

Masoomi H, Mills S, Dolich M, et al. Outcomes of laparoscopic and open appendectomy for acute appendicitis in patients with acquired immunodeficiency syndrome. Am Surg. 2011;77:1372–6.

17.

Apostolou C, Panieri E. National survey of surgeons' attitudes to laparoscopic surgical training in South Africa. SAJS. 2009;45:86–91.

18.

Alvarado A. A practical score for the early diagnosis of acute appendicitis. Ann Emerg Med. 1986;15:557–64.

19.

Giiti GC, Mazigo HD, Heukelbach J, et al. HIV, appendectomy and postoperative complications at a reference hospital in Northwest Tanzania: cross-sectional study. AIDS Res Ther. 2010;7:47.

20.

Kanumba ES, Mabula JB, Rambau P, et al. Modified Alvarado scoring system as a diagnostic tool for acute appendicitis at Bugando Medical Centre, Mwanza, Tanzania. BMC Surg. 2011;11:4.
Ethics declarations
Conflict of interest
None.
About this article
Cite this article
Sobnach, S., Ede, C., Van Der Linde, G. et al. A retrospective evaluation of the Modified Alvarado Score for the diagnosis of acute appendicitis in HIV-infected patients. Eur J Trauma Emerg Surg 44, 259–263 (2018). https://doi.org/10.1007/s00068-017-0804-8
Received:

Accepted:

Published:

Issue Date:
Keywords
Appendicitis

HIV/AIDS

Sepsis