Abstract
Purpose
The main purpose of this systematic review was to investigate the effect of compression treatment on the perioperative course of ankle fractures and describe its effect on edema, pain, ankle joint mobility, wound healing complication, length of stay (LOS) and time to surgery (TTS). The aim was to suggest a recommendation to clinicians considering implementing compression therapy in the standard care of the ankle fracture patient, based on the existing literature.
Methods
We conducted a systematic search of literature including studies concerning adult patients with unstable ankle fractures undergoing surgery, testing either intermittent pneumatic compression, compression bandage and/or compression stocking and reporting its effect on edema, pain, ankle joint mobility, wound healing complication, LOS and TTS. To conclude on data a narrative synthesis was performed.
Results
The review included eight studies (451 patients). Seven studies found a significant effect on edema, two studies described a significant reduction in pain, one a positive effect on ankle movement, two a positive effect on wound healing, one a reduction in LOS and finally two studies reported reduction in TTS. A systematic bias assessment showed that the included studies had methodological limitations influencing the confidence in the effect estimate.
Conclusions
Compression therapy has a beneficial effect on edema reduction and probably a positive effect on pain and ankle joint mobility, but with the methodological limitations in the included studies it is not possible to make a solid conclusion on the effect on wound healing, LOS and TTS.
Access options
Buy single article
Instant access to the full article PDF.
US$ 39.95
Tax calculation will be finalised during checkout.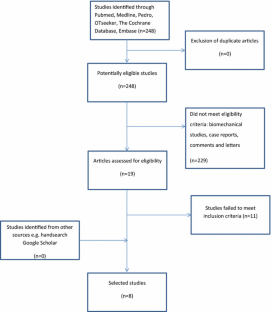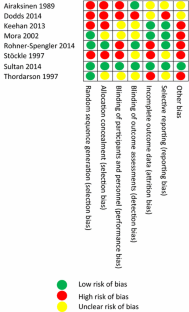 References
1.

Jensen SL, Andresen BK, Mencke S, Nielsen PT. Epidemiology of ankle fractures. A prospective population-based study of 212 cases in Aalborg, Denmark. Acta Orthop Scand. 1998;69:48–50.

2.

Thur CK, Edgren G, Jansson KA, Wretenberg P. Epidemiology of adult ankle fractures in Sweden between 1987 and 2004: a population-based study of 91,410 Swedish inpatients. Acta Orthop. 2012;83:276–81.

3.

Somersalo A, Paloneva J, Kautiainen H, Lonnroos E, Heinanen M, Kiviranta I. Incidence of fractures requiring inpatient care. Acta Orthop. 2014;85:525–30.

4.

Stranks GJ, MacKenzie NA, Grover ML, Fail T. The A-V Impulse System reduces deep-vein thrombosis and swelling after hemiarthroplasty for hip fracture. J Bone Joint Surg Br. 1992;74:775–8.

5.

Lasinski BB, McKillip Thrift K, Squire D, et al. A systematic review of the evidence for complete decongestive therapy in the treatment of lymphedema from 2004 to 2011. PM R. 2012;4:580–601.

6.

Wittens C, Davies AH, Baekgaard N, et al. Editor's choice—management of chronic venous disease: clinical practice guidelines of the European Society for Vascular Surgery (ESVS). Eur J Vasc Endovasc Surg. 2015;49:678–737.

7.

Rohner-Spengler M, Frotzler A, Honigmann P, Babst R. Effective treatment of posttraumatic and postoperative edema in patients with ankle and hindfoot fractures: a randomized controlled trial comparing multilayer compression therapy and intermittent impulse compression with the standard treatment with ice. J Bone Joint Surg Am. 2014;96(15):1263–71.

8.

Stockle U, Hoffmann R, Raschke M, Sudkamp NP, Haas N. Intermittent impulse compression. An alternative in therapy of post-traumatic and postoperative edema. Chirurg. 1996;67:539–45.

9.

Mora S, Zalavras CG, Wang L, Thordarson DB. The role of pulsatile cold compression in edema resolution following ankle fractures: a randomized clinical trial. Foot Ankle Int. 2002;23:999–1002.

10.

Sultan MJ, Zhing T, Morris J, Kurdy N, McCollum CN. Compression stockings in the management of fractures of the ankle: a randomised controlled trial. Bone Joint J. 2014;96:1062–9.

11.

Thordarson DB, Ghalambor N, Perlman M. Intermittent pneumatic pedal compression and edema resolution after acute ankle fracture: a prospective, randomized study. Foot Ankle Int. 1997;18:347–50.

12.

Airaksinen O. Changes in posttraumatic ankle joint mobility, pain, and edema following intermittent pneumatic compression therapy. Arch Phys Med Rehabil. 1989;70:341–4.

13.

Olerud C, Molander H. A scoring scale for symptom evaluation after ankle fracture. Arch Orthop Traum Surg. 1984;103(190):190–4.

14.

Kitaoka HB, Alexander IJ, Adelaar RS, Nunley JA, Myerson MS, Sanders M. Clinical rating systems for the ankle-hindfoot, midfoot, hallux, and lesser toes. Foot Ankle Int. 1994;15:349–53.

15.

Dodds MK, Daly A, Ryan K, D'Souza L. Effectiveness of 'in-cast' pneumatic intermittent pedal compression for the pre-operative management of closed ankle fractures: a clinical audit. Foot Ankle Surg. 2014;20:40–3.

16.

Keehan R, Guo S, Ahmad R, Bould M. Impact of intermittent pneumatic foot pumps on delay to surgery following ankle fracture. Foot Ankle Surg. 2013;19:173–6.

17.

Angelhed JE, Strid L, Bergelin E, Fagerberg B. Measurement of lower-leg volume change by quantitative computed tomography. Acta Radiol. 2008;49:1024–30.

18.

Tashjian RZ, Hung M, Keener JD, et al. Determining the minimal clinically important difference for the American Shoulder and Elbow Surgeons score, Simple Shoulder Test, and visual analog scale measuring pain after shoulder arthroplasty. J Shoulder Elbow Surg. 2017;26(1):144–8.

19.

Park KB, Shin JS, Lee J, et al. Minimum clinically important difference and substantial clinical benefit in pain, functional, and quality of life scales in Failed Back Surgery Syndrome patients. Spine. 2016;10:25.

20.

Stockle U, Hoffmann R, Schutz M, von Fournier C, Sudkamp NP, Haas N. Fastest reduction of posttraumatic edema: continuous cryotherapy or intermittent impulse compression? Foot Ankle Int. 1997;18:432–8.
Ethics declarations
Conflict of interest
R. Winge, L. Bayer, H. Gottlieb and C. Ryge declare that they have no conflict of interest.
This current research did not involve human participants and/or animals, since it is based on data from different literature databases. This is also the reason for which no "informed consent" was needed.
Funding
The study was funded by the Research Unit and the Department of Orthopedic Surgery, Nordsjællands Hospital.
About this article
Cite this article
Winge, R., Bayer, L., Gottlieb, H. et al. Compression therapy after ankle fracture surgery: a systematic review. Eur J Trauma Emerg Surg 43, 451–459 (2017). https://doi.org/10.1007/s00068-017-0801-y
Received:

Accepted:

Published:

Issue Date:
Keywords
Ankle fracture

Compression treatment

Edema

Pain

Wound complications

Length of hospitalization