Abstract
Purpose
This study aimed at evaluating the additional stability that is provided by anterior external and internal fixators in an unstable pelvic fracture model (OTA 61-C).
Methods
An unstable pelvic fracture (OTA 61-C) was created in 27 synthetic pelves by making a 5-mm gap through the sacral foramina (posterior injury) and an ipsilateral pubic rami fracture (anterior injury). The posterior injury was fixed with either a single iliosacral (IS) screw, a single trans-iliac, trans-sacral (TS) screw, or two iliosacral screws (S1S2). Two anterior fixation techniques were utilized: external fixation (Ex-Fix) and supra-acetabular external fixation and internal fixation (In-Fix); supra-acetabular pedicle screws connected with a single subcutaneous spinal rod. The specimens were tested using a nondestructive single-leg stance model. Peak-to-peak (P2P) displacement and rotation and conditioning displacement (CD) were calculated.
Results
The Ex-Fix group failed in 83.3 % of specimens with concomitant single-level posterior fixation (Total: 15/18–7 of 9 IS fixation, 8 of 9 TS fixation), and 0 % (0/9) of specimens with concomitant two-level (S1S2) posterior fixation. All specimens with the In-Fix survived testing except for two specimens treated with In-Fix combined with IS fixation. Trans-sacral fixation had higher pubic rotation and greater sacral and pubic displacement than S1S2 (p < 0.05). Rotation of the pubis and sacrum was not different between In-Fix constructs combined with single-level IS and TS fixation.
Conclusion
In this model of an unstable pelvic fracture (OTA 61-C), anterior fixation with an In-Fix was biomechanically superior to an anterior Ex-Fix in the setting of single-level posterior fixation. There was no biomechanical difference between the In-Fix and Ex-Fix when each was combined with two levels of posterior sacral fixation.
Access options
Buy single article
Instant access to the full article PDF.
USD 39.95
Price includes VAT (USA)
Tax calculation will be finalised during checkout.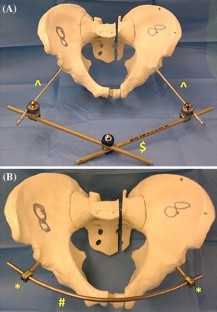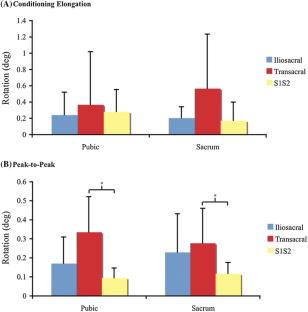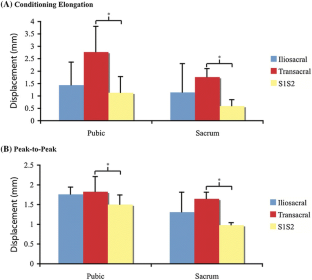 References
1.

Marsh J, Slongo T, Agel J, et al. Fracture and dislocation classification compendium-2007: orthopaedic Trauma Association classification, database and outcomes committee. J Orthop Trauma. 2007;21:S1–133.

2.

Papathanasopoulos A, Tzioupis C, Giannoudis VP, et al. Biomechanical aspects of pelvic ring reconstruction techniques: evidence today. Injury. 2010;41:1220–7.

3.

Dahners LE, Jacobs RR, Jayaraman G, Cepulo AJ. A study of external skeletal fixation systems for unstable pelvic fractures. J Trauma. 1984;24:876–81.

4.

Kellam JF. The role of external fixation in pelvic disruptions. Clin Orthop Relat Res. 1989;241:66–82.

5.

Van Zwienen CMA, van den Bosch EW, van Dijke GAH, et al. Cyclic loading of sacroiliac screws in Tile C pelvic fractures. J Trauma. 2005;58:1029–34.

6.

Bromfield C, Leslie M, Buckley J, et al. when does anterior external fixation enhance construct stability in zone ii sacral fractures? A biomechanical evaluation. In: Orthopaedic Trauma Association Annual meeting, basic science Paper #37; 2011.

7.

Mason WTM, Khan SN, James CL, et al. Complications of temporary and definitive external fixation of pelvic ring injuries. Injury. 2005;36:599–604.

8.

Palmer S, Fairbank AC, Bircher M. Surgical complications and implications of external fixation of pelvic fractures. Injury. 1997;28:649–53.

9.

Kuttner M, Klaiber A, Lorenz T, et al. The pelvic subcutaneous cross-over internal fixator. Unfallchirurg. 2009;112:661–9.

10.

Cole PA, Gauger EM, Anavian J, et al. Anterior pelvic external fixator versus subcutaneous internal fixator in the treatment of anterior ring pelvic fractures. J Orthop Trauma. 2012;26:269–77.

11.

Vigdorchik JM, Esquivel AO, Jin X, et al. Biomechanical stability of a supra-acetabular pedicle screw Internal Fixation device (INFIX) vs External Fixation and plates for vertically unstable pelvic fractures. J Orthop Surg Res. 2012;7:31.

12.

Vigdorchik JM, Esquivel AO, Jin X, et al. Anterior internal fixator versus a femoral distractor and external fixation for sacroiliac joint compression and single stance gait testing: a mechanical study in synthetic bone. Int Orthop. 2013;37:1341–6.

13.

Schildhauer TA, Josten C, Muhr G. Triangular osteosynthesis of vertically unstable sacrum fractures: a new concept allowing early weight-bearing. J Orthop Trauma. 2006;20:S44–51.

14.

Routt ML, Simonian PT, Mills WJ. Iliosacral screw fixation: early complications of the percutaneous technique. J Orthop Trauma. 1997;11:584–9.

15.

Haidukewych GJ, Kumar S, Prpa B. Placement of half-pins for supra-acetabular external fixation: an anatomic study. Clin Orthop Relat Res. 2003;411:269–73.

16.

Hiesterman TG, Hill BW, Cole PA. Surgical technique: a percutaneous method of subcutaneous fixation for the anterior pelvic ring: The pelvic bridge hip. Clin Orthop Relat Res. 2012;470:2116–23.

17.

Moazzam C, Heddings AA, Moodie P, Cole PA. Anterior pelvic subcutaneous internal fixator application. J Orthop Trauma. 2012;26:263–8.

18.

García JM, Doblaré M, Seral B, et al. Three-dimensional finite element analysis of several internal and external pelvis fixations. J Biomech Eng. 2000;122:516–22.

19.

Ponsen K-J, Joosse P, Van Dijke GAH, Snijders CJ. External fixation of the pelvic ring: an experimental study on the role of pin diameter, pin position, and parasymphyseal fixator pins. Acta Orthop. 2007;78:648–53.

20.

Ponson KJ, Hoek van Dijke GA, Joosse P, et al. Improvement of external fixator performance in type C pelvic ring injuries by plating of the pubic symphysis: an experimental study on 12 external fixators. J Trauma. 2002;53:907–12 (discussion 912–913).

21.

Stocks GW, Gabel GT, Noble PC, et al. Anterior and posterior internal fixation of vertical shear fractures of the pelvis. J Orthop Res. 1991;9:237–45.

22.

Hasenboehler EA, Stahel PF, Williams A, et al. Prevalence of sacral dysmorphia in a prospective trauma population: Implications for a "safe" surgical corridor for sacro-iliac screw placement. Patient Saf Surg. 2011;5:8.

23.

Mendel T, Noser H, Kuervers J, et al. The influence of sacral morphology on the existence of secure S1 and S2 transverse bone corridors for iliosacroiliac screw fixation. Injury. 2013;44:1773–9.
Acknowledgments
No funds were received in support of this work. Implants were kindly donated by Stryker and Zimmer corporations.
Conflict of interest
Erik Mcdonald, BS: no conflict of interest. Alexander A. Theologis, MD: no conflict of interest. Patrick Horst, MD: no conflict of interest. Utku Kandemir, MD: Payment for lectures on speaker's bureaus (AO North America). Murat Pekmezci, MD: Grants (Stryker, Biomet).
Ethical standards
No funds were received in support of this work. As this is a biomechanical study utilizing foam models, approval by the appropriate ethics committee and patient consent were not applicable.
About this article
Cite this article
Mcdonald, E., Theologis, A.A., Horst, P. et al. When do anterior external or internal fixators provide additional stability in an unstable (Tile C) pelvic fracture? A biomechanical study. Eur J Trauma Emerg Surg 41, 665–671 (2015). https://doi.org/10.1007/s00068-014-0482-8
Received:

Accepted:

Published:

Issue Date:
Keywords
Pelvic fracture

External fixation

Internal fixation

Biomechanical analysis