Abstract
Purpose
To assess the utility of trauma series radiographs in the management of alert pediatric patients with traumatic injury and to ascertain whether it is necessary to acquire the entire trauma series in these children.
Methods
A total of 176 consecutive children below the age of 15 years and having Glasgow Coma Scale score greater than 12, who presented to the emergency department of a tertiary care hospital with a history of recent trauma, were retrospectively reviewed. All the children had undergone a thorough clinical examination followed by complete trauma series radiographs, according to the American College of Surgery guidelines.
Results
A total of 558 radiographs were reviewed by a consultant pediatric radiologist including 528 trauma series radiographs and 30 additional radiographs. Among the trauma series radiographs, 35 (6.63 %) had evidence of injury; 24 (4.54 %) and 11 (2.08 %) involving the chest and pelvic regions, respectively. All children with normal physical examination had normal cervical spine and chest radiographs. Among the 11 positive pelvic X-rays, only two had radiological signs of injury in the absence of localizing physical signs, and all these children were less than 3 years of age. In all the remaining cases, children had localizing signs on physical examination. Out of the 30 additional X-rays, 27 (90 %) had radiological evidence of injury.
Conclusions
The routine use of entire radiological trauma series in alert pediatric patients with a normal physical examination has a very low yield. In these children, the localizing signs and symptoms can help us in determining the specific radiological examination to be utilized.
Access options
Buy single article
Instant access to the full article PDF.
USD 39.95
Price includes VAT (USA)
Tax calculation will be finalised during checkout.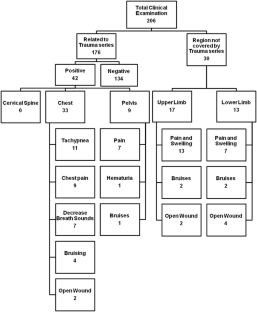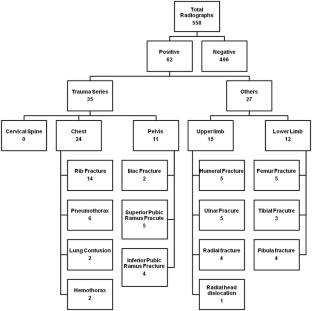 References
1.

National Centre for Injury Prevention and Control. http://www.cdc.gov/injury/wisqars/index.html. Accessed 12 Mar 2013.

2.

Kool DR, Blickman JG. Advanced Trauma Life Support. ABCDE from a radiological point of view. Emerg Radiol. 2007;14:135–41.

3.

Kim PK, Zhu X, Houseknecht E, Nickolaus D, Mahboubi S, Nance ML. Effective radiation dose from radiologic studies in pediatric trauma patients. World J Surg. 2005;29:1557–62.

4.

Rybicki F, Nawfel RD, Judy PF, Ledbetter S, Dyson RL, Halt PS, et al. Skin and thyroid dosimetry in cervical spine screening: two methods for evaluation and a comparison between a helical CT and radiographic trauma series. Am J Roentgenol. 2002;179:933–7.

5.

Gillott A, Rhodes M, Lucke J. Utility of routine pelvic X-ray during blunt trauma resuscitation. J Trauma. 1988;28:1570–4.

6.

Kevill K, Wong AM, Goldman HS, Gershel JC. Is a complete trauma series indicated for all pediatric trauma victims? Pediatr Emerg Care. 2002;18:75–7.

7.

Ciorciari AJ, Cooper A. Multiple trauma. In: Crain EF, Gershel JC, editors. Clinical manual of emergency pediatrics. 3rd ed. New York: McGraw-Hill; 1997. p. 628–38.

8.

Cantor RM, Leaming JM. Evaluation and management of pediatric major trauma. Emerg Med Clin N Am. 1998;16:229–56.

9.

Ramrattan NN, Oner FC, Boszczyk BM, Castelein RM, Heini PF. Cervical spine injury in the young child. Eur Spine J. 2012;21:2205–11.

10.

Hoffman JR, Schriger DL, Mower W, Luo JS, Zucker M. Low-risk criteria for cervical-spine radiography in blunt trauma: a prospective study. Ann Emerg Med. 1992;21:1454–60.

11.

Hoffman JR, Wolfson AB, Todd K, Mower WR. Selective cervical spine radiography in blunt trauma: methodology of the National Emergency X-Radiography Utilization Study (NEXUS). Ann Emerg Med. 1998;32:461–9.

12.

Egloff AM, Kadom N, Vezina G, Bulas D. Pediatric cervical spine trauma imaging: a practical approach. Pediatr Radiol. 2009;39:447–56.

13.

Viccellio P, Simon H, Pressman BD, Shah MN, Mower WR, Hoffman JR, NEXUS Group. A prospective multicenter study of cervical spine injury in children. Pediatrics. 2001;108:E20.

14.

Peterson RJ, Tepas JJ 3rd, Edwards FH, Kissoon N, Pieper P, Ceithaml EL. Pediatric and adult thoracic trauma: age-related impact on presentation and outcome. Ann Thorac Surg. 1994;58:14–8.

15.

Balci AE, Kazez A, Eren S, Ayan E, Ozalp K, Eren MN. Blunt thoracic trauma in children: review of 137 cases. Eur J Cardiothorac Surg. 2004;26:387–92.

16.

Bliss D, Silen M. Pediatric thoracic trauma. Crit Care Med 2002;30:S409–15.

17.

Färber D, Hahn H, Fendt-Klug T, Höpner F. Thoracic trauma in childhood. Radiologic findings. Radiologe. 1995;35:385–90.

18.

Soundappan S, Smith NF, Lam LT, Holland AJ, McCaskill M, Cass DT. A trauma series in the injured child: do we really need it? Pediatr Emerg Care. 2006;22:710–6.

19.

Wisbach GG, Sise MJ, Sack DI, Swanson SM, Sundquist SM, Paci GM, et al. What is the role of chest X-ray in the initial assessment of stable trauma patients? J Trauma. 2007;62:74–8.

20.

Rees MJ, Aickin R, Lolbe A, Teele RL. The screening pelvic radiograph in pediatric trauma. Pediatr Radiol. 2001;31:497–500.

21.

Ramirez DW, Schuette JJ, Knight V, Johnson E, Denise J, Walker AR. Necessity of routine pelvic radiograph in the pediatric blunt trauma patient. Clin Pediatr. 2008;47:935–40.

22.

Löw R, Düber C, Schweden F, Lehmann L, Blum J, Thelen M. Whole body spiral CT in primary diagnosis of patients with multiple trauma in emergency situations. Rofo. 1997;166(5):382–8.

23.

Strohm PC, Uhl M, Hauschild O, Stankovic Z, Reising KJ, Lesniak M, Südkamp NP. What is the value of the whole body spiral CT in the primary radiological imaging of severely injured children? Z Orthop Unfall. 2008;146(1):38–43.

24.

Maurer MH, Knopke S, Schröder RJ. Added diagnostic benefit of 16-row whole-body spiral CT in patients with multiple trauma differentiated by region and injury severity according to the ATLS concept. Rofo. 2008;180(12):1117–23.

25.

Moore HB, Faulk LW, Moore EE, Pierraci F, Cothren Burlew C, Holscher CM, Barnett CC, Jurkovich GJ, Bensard DD. Mechanism of injury alone is not justified as the sole indication for computed tomographic imaging in blunt pediatric trauma. J Trauma Acute Care Surg. 2013;75(6):995–1001.

26.

Scaife ER, Rollins MD. Managing radiation risk in the evaluation of the pediatric trauma patient. Semin Pediatr Surg. 2010;19(4):252–6.

27.

Segal LS, Shrader MW. Missed fractures in pediatric trauma patients. Acta Orthop Belg. 2013;79(6):608–15.

28.

Gravel J, Gouin S, Carrière B, Gaucher N, Bailey B. Unfavourable outcome for children leaving the emergency department without being seen by a physician. CJEM. 2013;15(5):289–99.

29.

Hui CM, MacGregor JH, Tien HC, Kortbeek JB. Radiation dose from initial trauma assessment and resuscitation: review of the literature. Can J Surg. 2009;52(2):147–52.
Conflict of interest
Dr TA Khan has no conflict of interest to disclose. Dr YJ Khattak has nothing to disclose. Dr M Awais has no conflict of interest relevant to this article to disclose. Dr AA Khan has no conflict of interest to disclose. Dr Y Husen has nothing to disclose. Dr N Nadeem has no conflict of interest to disclose. Dr A Rehman has no conflict of interest relevant to this article to disclose.
Ethical standards
The study was approved by the Ethics Review Committee of the institution and was performed in accordance with the ethical standards laid down in the 1964 Declaration of Helsinki.
About this article
Cite this article
Alam Khan, T., Jamil Khattak, Y., Awais, M. et al. Utility of complete trauma series radiographs in alert pediatric patients presenting to Emergency Department of a Tertiary Care Hospital. Eur J Trauma Emerg Surg 41, 279–285 (2015). https://doi.org/10.1007/s00068-014-0413-8
Received:

Accepted:

Published:

Issue Date:
Keywords
Wounds and injuries

Thoracic radiography

Spinal injuries

Thoracic injuries

Physical examination

Child