Abstract
The survival of traumatic cardiac arrest patients poses a challenge for Emergency Medical Services initiating advanced life support on-scene, especially with regard to having to decide immediately whether to initiate prehospital emergency thoracotomy. Although the necessity for carrying out the procedure remains a cause for debate, it can be life-saving when performed with the correct indications and approaches.
This is a preview of subscription content, log in to check access.
Access options
Buy single article
Instant access to the full article PDF.
US$ 39.95
Price includes VAT for USA
Subscribe to journal
Immediate online access to all issues from 2019. Subscription will auto renew annually.
US$ 199
This is the net price. Taxes to be calculated in checkout.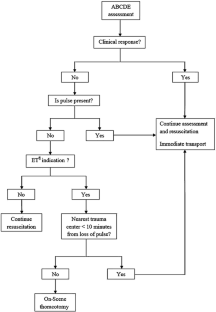 References
1.

Soar J, Perkins GD, Abbas G, Alfonzo A, Barelli A, Bierens JJ, Brugger H, Deakin CD, Dunning J, Georgiou M, Handley AJ, Lockey DJ, Paal P, Sandroni C, Thies KC, Zideman DA, Nolan JP. European Resuscitation Council Guidelines for Resuscitation 2010 Section 8. Cardiac arrest in special circumstances: electrolyte abnormalities, poisoning, drowning, accidental hypothermia, hyperthermia, asthma, anaphylaxis, cardiac surgery, trauma, pregnancy, electrocution. Resuscitation. 2010;81:1400–33.

2.

Sasson C, Rogers MA, Dahl J, Kellermann AL. Predictors of survival from out-of-hospital cardiac arrest: a systematic review and meta-analysis. Circ Cardiovasc Qual Outcomes. 2010;3:63–81.

3.

Zwingmann J, Mehlhorn AT, Hammer T, Bayer J, Südkamp NP, Strohm PC. Survival and neurologic outcome after traumatic out-of-hospital cardiopulmonary arrest in a pediatric and adult population: a systematic review. Crit Care. 2012;16:R117.

4.

Athanasiou T, Krasopoulos G, Nambiar P, Coats T, Petrou M, Magee P, Uppal R. Emergency thoracotomy in the pre-hospital setting: a procedure requiring clarification. Eur J Cardiothorac Surg. 2004;26:377–86.

5.

Lockey D, Crewdson K, Davies G. Traumatic cardiac arrest: who are the survivors? Ann Emerg Med. 2006;48:240–4.

6.

Davies GE, Lockey DJ. Thirteen survivors of prehospital thoracotomy for penetrating trauma: a prehospital physician-performed resuscitation procedure that can yield good results. J Trauma. 2011;70:E75–8.

7.

Matsumoto H, Mashiko K, Hara Y, Kutsukata N, Sakamoto Y, Takei K, Kanemaru K, Tomita Y, Saito N, Yagi T, Tetsu S, Iida H, Masuda Y, Koami H, Yokota H. Role of resuscitative emergency field thoracotomy in the Japanese helicopter emergency medical service system. Resuscitation. 2009;80:1270–4.

8.

Wall MJ Jr, Pepe PE, Mattox KL. Successful roadside resuscitative thoracotomy: case report and literature review. J Trauma. 1994;36:131–4.

9.

Keogh SP, Wilson AW. Survival following pre-hospital arrest with on-scene thoracotomy for a stabbed heart. Injury. 1996;27:525–7.

10.

Craig R, Clarke K, Coats TJ. On scene thoracotomy: a case report. Resuscitation. 1999;40:45–7.

11.

Wright KD, Murphy K. Cardiac tamponade: a case of kitchen floor thoracotomy. Emerg Med J. 2002;19:587–8.

12.

Corral E, Silva J, Suárez RM, Nuñez J, Cuesta C. A successful emergency thoracotomy performed in the field. Resuscitation. 2007;75:530–3.

13.

Mollberg NM, Wise SR, Berman K, Chowdhry S, Holevar M, Sullivan R, Vafa A. The consequences of noncompliance with guidelines for withholding or terminating resuscitation in traumatic cardiac arrest patients. J Trauma. 2011;71:997–1002.

14.

Working Group, Ad Hoc Subcommittee on Outcomes, American College of Surgeons—Committee on Trauma. Practice management guidelines for emergency department thoracotomy. J Am Coll Surg. 2001;193:303–9.

15.

Asensio JA, Murray J, Demetriades D, Berne J, Cornwell E, Velmahos G, Gomez H, Berne TV. Penetrating cardiac injuries: a prospective study of variables predicting outcomes. J Am Coll Surg. 1998;186:24–34.

16.

Coats TJ, Keogh S, Clark H, Neal M. Prehospital resuscitative thoracotomy for cardiac arrest after penetrating trauma: rationale and case series. J Trauma. 2001;50:670–3.

17.

Asensio JA, Berne JD, Demetriades D, Chan L, Murray J, Falabella A, Gomez H, Chahwan S, Velmahos G, Cornwell EE, Belzberg H, Shoemaker W, Berne TV. One hundred five penetrating cardiac injuries: a 2-year prospective evaluation. J Trauma. 1998;44:1073–82.

18.

Frezza EE, Mezghebe H. Is 30 minutes the golden period to perform emergency room thoratomy (ERT) in penetrating chest injuries? J Cardiovasc Surg (Torino). 1999;40:147–51.

19.

Chalkias A. Prehospital emergency thoracotomy: when to do it? Australasian J Paramedicine. 2009;7:1.

20.

Ashrafian H, Athanasiou T. Emergency prehospital on-scene thoracotomy: a novel method. Coll Antropol. 2010;34:1449–52.

21.

Wise D, Davies G, Coats T, Lockey D, Hyde J, Good A. Emergency thoracotomy: "how to do it". Emerg Med J. 2005;22:22–4.
About this article
Cite this article
Chalkias, A., Xanthos, T. Should prehospital resuscitative thoracotomy be incorporated in advanced life support after traumatic cardiac arrest?. Eur J Trauma Emerg Surg 40, 395–397 (2014). https://doi.org/10.1007/s00068-013-0356-5
Received:

Accepted:

Published:

Issue Date:
Keywords
Traumatic cardiac arrest

Prehospital

Thoracotomy

Algorithm