Abstract
Purpose
Little is known about the use of psychosocial services in lung cancer survivors and patients who have survived the diagnosis for at least one year. We investigated the frequency of use, stratified by radiation therapy received, its associated factors, and the reasons for non-use of those services.
Methods
We performed a multicenter (n = 6 hospitals) cross-sectional study using data from medical records, patient reported questionnaires, and computer-assisted telephone interviews. Odds ratios (OR) for factors potentially associated with the use of any type of psychosocial services were calculated using multivariable logistic regression.
Results
We included 604 lung cancer patients/survivors. Of them, 60% (69% of those who had received radiotherapy) had used some kind of psychological and/or social service in the past (47% psychological, 42% social); 39% had used inpatient care, 24% outpatient care (cancer counselling center, general counselling center, psychological counselling by family doctor, psychotherapy, patient support group, pastoral work). Of those who visited a rehabilitation clinic, 66% received psychosocial care there. Factors associated with using psychosocial services in general were female gender (OR 1.96, 95% CI 1.32–2.93), poor emotional functioning (per unit decrease: OR 0.99, 95% CI 0.98–0.996), and younger age (per year decrease: OR 0.95, 95% CI 0.93–0.97).
Conclusions/implications
The high proportion of psychosocial care users among lung cancer survivors in Germany indicates that patients are interested in using it and that an unmet need exists. The creation of a broad spectrum of easily accessible services with high quality is important to enable and facilitate use.
Zusammenfassung
Zweck
Über die Nutzung psychosozialer Angebote bei Lungenkrebsüberlebenden ist wenig bekannt. Wir untersuchten die Häufigkeit der Nutzung – stratifiziert nach Patienten, welche eine Strahlentherapie erhielten –, mögliche Einflussflussfaktoren und die Gründe für die Nichtnutzung der Angebote.
Methoden
Multizentrische (n = 6 Krankenhäuser) Querschnittsstudie unter Nutzung von Krankenakten, patientenbezogener Fragebögen und computergestützter Telefoninterviews. Odds Ratios (OR) möglicher Einflussfaktoren wurden durch multivariable logistische Regressionen ermittelt.
Ergebnisse
Es wurden 604 Patienten/Überlebende mit Lungenkrebs ausgewertet. Von diesen hatten 60% – und 69% der Strahlentherapiepatienten – in der Vergangenheit psychologische und/oder soziale Angebote in Anspruch genommen (47% psychologisch, 42% sozial); 39% nahmen stationäre und 24% ambulante Angebote wahr (Krebsberatungsstellen, allgemeine Beratungsstellen, psychologische Beratung durch Hausarzt, Psychotherapie, Selbsthilfegruppe, Seelsorge). Von jenen, die eine Rehabilitationsklinik besuchten, erhielten 66% dort eine psychosoziale Betreuung. Faktoren, die mit der Nutzung psychosozialer Dienstleistungen verbunden sind, waren weibliches Geschlecht (OR 1,96; 95%-Konfidenzintervall [KI] 1,32–2,93), abnehmende emotionale Funktionsfähigkeit (OR 0,99; 95%-KI 0,98–0,996) und jüngeres Alter (OR 0,95; 95%-KI 0,93–0,97).
Schlussfolgerungen/Implikationen
Die häufige Inanspruchnahme psychosozialer Angebote unter Lungenkrebsüberlebenden zeigt sowohl das hohe Interesse der Patienten als auch den großen Bedarf. Um ihre Nutzung zu ermöglichen und zu erleichtern, ist die Schaffung eines breiten Spektrums leicht zugänglicher und qualitativ hochwertiger Angebote auf allen Ebenen der Versorgung wichtig.
Access options
Buy single article
Instant access to the full article PDF.
USD 39.95
Price includes VAT (USA)
Tax calculation will be finalised during checkout.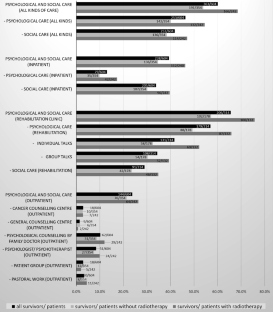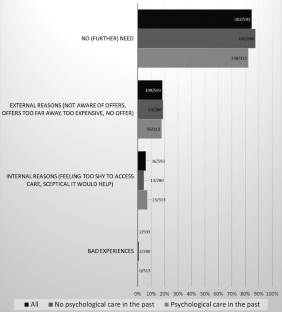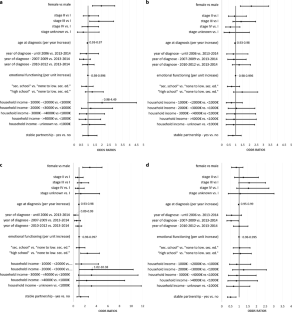 References
1.

Eichler M, Hechtner M, Wehler B, Buhl R, Stratmann J, Sebastian M et al (2018) Psychological distress in lung cancer survivors at least 1 year after diagnosis-Results of a German multicenter cross-sectional study. Psychooncology 27(8):2002–2008

2.

Goo A‑J, Song Y‑M, Shin J, Ko H (2016) Factors associated with depression assessed by the Patient Health Questionnaire-2 in long-term cancer survivors. Korean J Fam Med 37(4):228

3.

Sarna L, Padilla G, Holmes C, Tashkin D, Brecht ML, Evangelista L (2002) Quality of life of long-term survivors of non-small-cell lung cancer. J Clin Oncol 20(13):2920–2929

4.

The ACTION Study Group (2017) Health-related quality of life and psychological distress among cancer survivors in Southeast Asia: results from a longitudinal study in eight low- and middle-income countries. BMC Med 15(1). https://doi.org/10.1186/s12916-016-0768-2

5.

Baumann R, Dunst J (2017) Radiotherapie verstärkt Wirkung von PD-1-Checkpoint-Inhibitoren. Strahlenther Onkol 193(9):763–764

6.

Finazzi T, Guckenberger M (2017) Konsolidierende Lokaltherapie verbessert progressionsfreies Überleben von Patienten mit oligometastasiertem NSCLC: Ergebnisse einer randomisierten Phase-II-Studie. Strahlenther Onkol 193(7):595–597

7.

Baumeister H, Balke K, Härter M (2005) Psychiatric and somatic comorbidities are negatively associated with quality of life in physically ill patients. J Clin Epidemiol 58(11):1090–1100

8.

DiMatteo MR, Lepper HS, Croghan TW (2000) Depression is a risk factor for noncompliance with medical treatment: meta-analysis of the effects of anxiety and depression on patient adherence. Arch Intern Med 24;160(14):2101–2107

9.

Lehto RH (2017) Psychosocial challenges for patients with advanced lung cancer: interventions to improve well-being. Lung Cancer Targets Ther 8:79–90

10.

Luszczynska A, Pawlowska I, Cieslak R, Knoll N, Scholz U (2013) Social support and quality of life among lung cancer patients: a systematic review. Psychooncology 22(10):2160–2168

11.

Thompson E, Solà I, Subirana M (2005) Non-invasive interventions for improving well-being and quality of life in patients with lung cancer—A systematic review of the evidence. Lung Cancer 50(2):163–176

12.

Graves KD, Arnold SM, Love CL, Kirsh KL, Moore PG, Passik SD (2007) Distress screening in a multidisciplinary lung cancer clinic: Prevalence and predictors of clinically significant distress. Lung Cancer 55(2):215–224

13.

Singer S, Bringmann H, Hauss J, Kortmann R‑D, Köhler U, Krauß O et al (2007) Häufigkeit psychischer Begleiterkrankungen und der Wunsch nach psychosozialer Unterstützung bei Tumorpatienten im Akutkrankenhaus. DMW. Dtsch Med Wochenschr 132(40):2071–2076

14.

Riedl D, Gastl R, Gamper E, Arnold CR, Dejaco D, Schoellmann F et al (2018) Cancer patients' wish for psychological support during outpatient radiation therapy: Findings from a psychooncological monitoring program in clinical routine. Strahlenther Onkol 194(7):655–663

15.

Weis J, Hönig K, Bergelt C, Faller H, Brechtel A, Hornemann B et al (2018) Psychosocial distress and utilization of professional psychological care in cancer patients: An observational study in National Comprehensive Cancer Centers (CCCs) in Germany. Psychooncology 2018. https://doi.org/10.1002/pon.4901

16.

Rankin NM, McGregor D, Stone E, Butow PN, Young JM, White K et al (2018) Evidence-practice gaps in lung cancer: A scoping review. Eur J Cancer Care (engl) 27(2):e12588

17.

Schag CA, Ganz PA, Wing DS, Sim MS, Lee JJ (1994) Quality of life in adult survivors of lung, colon and prostate cancer. Qual Life Res 3(2):127–141

18.

Hechtner M, Eichler M, Wehler B, Buhl R, Sebastian M, Stratmann J et al (2019) Quality of Life in NSCLC Survivors—A Multicenter Cross-Sectional Study. J Thorac Oncol 14(3):420–435

19.

Andridge RR, Little RJA (2010) A Review of Hot Deck Imputation for Survey Non-response. Int Stat Rev 78(1):40–64

20.

Weis J, Schwarz R, Blettner G (2000) Psychoonkologische Versorgung in Deutschland: Qualität und Quantität/Psychooncological care in Germany: Quality and quantity. Z Psychosom Med Psychother 46(1):4–17

21.

Brandstetter S, Dodoo-Schittko F, Speerforck S, Apfelbacher C, Grabe H‑J, Jacobi F et al (2017) Trends in non-help-seeking for mental disorders in Germany between 1997–1999 and 2009–2012: a repeated cross-sectional study. Soc Psychiatry Psychiatr Epidemiol 52(8):1005–1013

22.

Bundespsychotherapeutenkammer (2011) BPtK-Spezial zum Thema "Wartezeiten in der Psychotherapie". Bundespsychotherapeutenkammer, Berlin

23.

Singer S, Kojima E, Beckerle J, Kleining B, Schneider E, Reuter K (2017) Practice requirements for psychotherapeutic treatment of cancer patients in the outpatient setting—A survey among certified psychotherapists in Germany. Psychooncology 26(8):1093–1098

24.

Giesler J, Weis J, Schreib M, Eichhorn S, Kuhnt S, Faust T et al (2015) Ambulante psychoonkologische Versorgung durch Krebsberatungsstellen – Leistungsspektrum und Inanspruchnahme durch Patienten und Angehörige. Psychother Psychosom Med Psychol 65(12):450–458

25.

Zeissig SR, Singer S, Koch L, Blettner M, Arndt V (2015) Inanspruchnahme psychoonkologischer Versorgung im Krankenhaus und in Krebsberatungsstellen durch Brust‑, Darm- und Prostatakrebsüberlebende. Psychother Psychosom Med Psychol 65(5):177–182

26.

Morrison EJ, Novotny PJ, Sloan JA, Yang P, Patten CA, Ruddy KJ et al (2017) Emotional Problems, Quality of Life, and Symptom Burden in Patients With Lung Cancer. Clin Lung Cancer. https://doi.org/10.1016/j.cllc.2017.02.008

27.

Hopwood P, Stephens RJ (2000) Depression in Patients with Lung Cancer: Prevalence and Risk Factors Derived from Quality-of-Life Data. J Clin Oncol 18(4):893–893 (for the British Medical Research Council Lung Cancer Working Party)

28.

Akechi T, Okamura H, Nishiwaki Y, Uchitomi Y (2001) Psychiatric disorders and associated and predictive factors in patients with unresectable nonsmall cell lung carcinoma: a longitudinal study. Cancer 92(10):2609–2622

29.

Lo C, Zimmermann C, Rydall A, Walsh A, Jones JM, Moore MJ et al (2010) Longitudinal Study of Depressive Symptoms in Patients with Metastatic Gastrointestinal and Lung Cancer. J Clin Oncol 28(18):3084–3089
Funding
This research did not receive any specific grant from funding agencies in the public, commercial, or not-for-profit sectors, but was conducted within the framework of the German Cancer Consortium (DKTK) based on general funds for the "Cancer Prevention, Early Detection, and Outcomes" research program at the DKTK partner site in Frankfurt/Mainz.
Ethics declarations
Conflict of interest
M. Eichler, B. Wehler, R. Buhl, J. Stratmann, M. Sebastian, H. Schmidberger, C. Kortsik, U. Nestle, H. Wirtz, T. Wehler and M. Blettner declare that they have no competing interests. M. Hechtner is an employee of Boehringer Ingelheim. S. Singer has received lecture fees from Bristol-Myers Squibb, Pfizer, and Boehringer-Ingelheim, all of them unrelated to this study.
Ethical standards
All procedures performed in studies involving human participants were in accordance with the ethical standards of the institutional and/or national research committee (primary ethical approval from the Ethics Committee of Rhineland–Palatinate [number 837.376.14]) and with the 1975 Helsinki declaration and its later amendments or comparable ethical standards. Informed consent was obtained from all individual participants included in the study.
About this article
Cite this article
Eichler, M., Hechtner, M., Wehler, B. et al. Use of psychosocial services by lung cancer survivors in Germany. Strahlenther Onkol 195, 1018–1027 (2019). https://doi.org/10.1007/s00066-019-01490-1
Received:

Accepted:

Published:

Issue Date:
Keywords
Lung cancer

Cancer survivorship

Psychosocial care

Psychosocial services

Psycho-oncology
Schlüsselwörter
Lungenkrebs

Krebsüberleben

Psychosoziale Versorgung

Psychosoziale Angebote

Psychoonkologie