Abstract
Purpose
To test the detectability of a liquid fiducial marker injected into ex vivo pancreas tumour tissue on magnetic resonance imaging (MRI) and computed tomography (CT). Furthermore, its injection performance using different needle sizes and its structural stability after fixation in formaldehyde were investigated.
Methods
Liquid fiducial markers with a volume of 20–100 µl were injected into freshly resected pancreas specimens of three patients with suspected adenocarcinoma. X‑ray guided injection was performed using different needle sizes (18 G, 22 G, 25 G). The specimens were scanned on MRI and CT with clinical protocols. The markers were segmented on CT by signal thresholding. Marker detectability in MRI was assessed in the registered segmentations. Marker volume on CT was compared to the injected volume as a measure of backflow.
Results
Markers with a volume ≥20 µl were detected as hyperintensity on X‑ray and CT. On T1- and T2-weighted 3T MRI, marker sizes ranging from 20–100 µl were visible as hypointensity. Since most markers were non-spherical, MRI detectability was poor and their differentiation from hypointensities caused by air cavities or surgical clips was only feasible with a reference CT. Marker backflow was only observed when using an 18-G needle. A volume decrease of 6.6 ± 13.0% was observed after 24 h in formaldehyde and, with the exception of one instance, no wash-out occurred.
Conclusions
The liquid fiducial marker injected in ex vivo pancreatic resection specimen was visible as hyperintensity on kV X‑ray and CT and as hypointensity on MRI. The marker's size was stable in formaldehyde. A marker volume of ≥50 µL is recommended in clinically used MRI sequences. In vivo injection is expected to improve the markers sphericity due to persisting metabolism and thereby enhance detectability on MRI.
Zusammenfassung
Zielsetzung
Ziel war die Untersuchung der Detektierbarkeit eines flüssigen Bezugsmarkers mittels Magnetresonanztomographie (MRT) und Computertomographie (CT) nach Injektion in Ex-vivo-Pankreastumorgewebe. Weiterhin wurden die Injektionseigenschaften bei unterschiedlichen Nadelgrößen untersucht sowie seine strukturelle Stabilität nach Fixierung in Formaldehyd.
Methoden
Flüssigmarker mit einem Volumen von 20–100 µl wurden in frisch resezierte Pankreaspräparate von drei Patienten mit Verdacht auf Adenokarzinom injiziert. Die röntgenunterstützte Injektion wurde mit verschiedenen Nadelgrößen (18 G, 22 G, 25 G) durchgeführt. Die Bildgebung der Präparate im MRT und CT wurde mit klinischen Protokollen durchgeführt. In der CT-Bildgebung wurden die Marker durch Signal-Schwellenwertbildung segmentiert. Anschließend wurde auf den MRT-Bildern die Detektierbarkeit der Marker innerhalb der registrierten Segmentierungen bewertet. Das basierend auf den CT-Daten bestimmte Markervolumen wurde mit dem injizierten Volumen verglichen und als Maß für den Rückfluss gewertet.
Ergebnisse
Marker mit einem Volumen von ≥20 µl wurden in der Röntgen- und CT-Bildgebung als Hyperintensität nachgewiesen. In T1- und T2-gewichteter 3T-MRT-Bildgebung waren Marker im Bereich von 20–100 µl als Hypointensität sichtbar. Da diese keine Kugelform annahmen, war die Detektierbarkeit eingeschränkt und ihre Differenzierung von Hypointensitäten, die durch Luftkavitäten oder chirurgische Klammern verursacht wurden, nur durch ein Referenz-CT möglich. Ein Markerrückfluss wurde nur bei einer Verwendung einer 18-G-Nadel beobachtet. Nach 24-h-Fixierung in Formaldehyd wurde eine Volumenabnahme von nur 6,6 ± 13,0% beobachtet und mit Ausnahme eines Falls trat kein Auswaschen auf.
Schlussfolgerung
Der Flüssigmarker injiziert in ein Ex-vivo-Pankreaspräparat ist als Hyperintensität auf kV-Röntgen- und CT-Bildern und als Hypointensität in der MRT-Bildgebung sichtbar. Es wird ein Markervolumen von ≥50 µl in klinisch verwendeten MRT-Sequenzen empfohlen. Die Größe des Markers bleibt in Formaldehyd stabil. Aufgrund des anhaltenden Metabolismus wird eine verbesserte Sphärizität des Markers bei In-vivo-Injektion erwartet und damit eine verbesserte Detektierbarkeit in der MRT.
Access options
Buy single article
Instant access to the full article PDF.
US$ 39.95
Tax calculation will be finalised during checkout.
Subscribe to journal
Immediate online access to all issues from 2019. Subscription will auto renew annually.
US$ 109.86
Tax calculation will be finalised during checkout.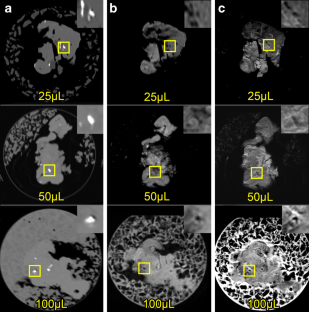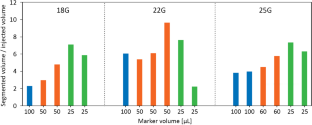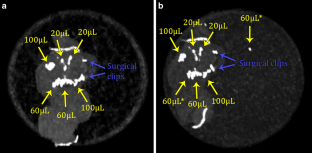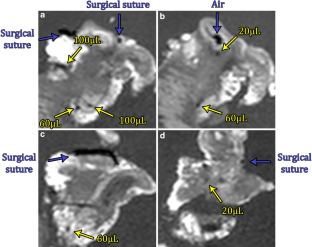 References
1.

Van der Horst A, Lens E, Wognum S et al (2014) Limited role for biliary stent as surrogate fiducial marker in pancreatic cancer: stent and Intratumoral fiducials compared. Int J Radiat Oncol Biol Phys 89(3):641–648

2.

Packard M, Gayou O, Gurram K et al (2015) Use of implanted gold fiducial markers with MV-CBCT image-guided IMRT for pancreatic tumours. J Med Imaging Radiat Oncol 59:499–506

3.

Chortogiannos C, Moseley D, Chen J et al (2017) Evaluation of bony anatomy versus endobiliary stents as surrogates for volumetric image guidance in pancreatic cancer. J Med Imaging Radiat Sci 48:352–359

4.

Dobiasch S, Goerig NL, Fietkau R, Combs SE (2018) Essential role of radtiation therapy for the treatment of pancreatic cancer. Strahlenther Onkol 194:185–195

5.

Van der Horst A, Wognum S, Fajardo RD et al (2013) Interfractional position variation of pancreatic tumors quantified using Intratumoral fiducial markers and daily cone beam computed tomography. Int J Radiat Oncol Biol Phys 87(1):202–208

6.

Varadarajulu S, Trevino JM, Shen S et al (2010) The use of endoscopic ultrasound-guided gold markers in image-guided radiation therapy of pancreatic cancers: a case series. Endoscopy 42:423–425

7.

Versteijne E, Lens E, van der Horst A et al (2017) Quality assurance of the PREOPANC trial (2012-003181-40) for preoperative radiochemotherapy in pancreatic cancer. Strahlenther Onkol 193:630–638

8.

Mazzola R, Fersino S, Aiello D et al (2018) Linac-based stereotactic body radiation therapy for unresectable locally advanced pancreatic cancer: risk-adapted dose prescription and image-guided delivery. Strahlenther Onkol 194:835–842

9.

Panje C, Andratschke N, Brunner TB, Niyazi M, Guckenberger M (2016) Stereotactic body radiotherapy for renal cell cancer and pancreatic cancer. Strahlenther Onkol 192:875–885

10.

Scherman Rydhög J, Jølck RI, Andresen TL et al (2015) Quantification and comparison of visibility and image artifacts of a new liquid fiducial marker in a lung phantom for image-guided radiation therapy. Med Phys 42:2818

11.

Gurney-Champion OJ, Lens E, van der Horst A et al (2015) Visibility and artifacts of gold fiducial markers used for image guided radiation therapy of pancreatic cancer on MRI. Med Phys 42:2638–2647

12.

Schneider S, Jølck RI, Troost EGC et al (2018) Quantification of MRI visibility and artifacts at 3T of liquid fiducial marker in a pancreas tissue-mimicking phantom. Med Phys 45(1):37–47

13.

Giebeler A, Fontenot J, Balter P et al (2009) Dose perturbations from implanted helical gold markers in proton therapy of prostate cancer. J Appl Clin Med Phys 10:2875

14.

Newhauser W, Fontenot J, Koch N et al (2007) Monte Carlo simulations of the dosimetric impact of radiopaque fiducial markers for proton radiotherapy of the prostate. Phys Med Biol 52:2937–2952

15.

Habermehl D, Henkner K, Ecker S et al (2013) Evaluation of different fiducial markers for image-guided radiotherapy and particle therapy. J Radiat Res 54:i61–i68

16.

Scherman Rydhög J, Perrin R, Jølck R et al (2017) Liquid fiducial marker applicability in proton therapy of locally advanced lung cancer. Radiother Oncol 122:393–399

17.

Jølck RI, Binderup T, Hansen AE et al (2014) Injectable colloidal gold in a sucrose acetate isobutyrate gelating matrix with potential use in radiation therapy. Adv Healthc Mater 3:1680–1687

18.

Troost EGC, Menkel S, Enghardt W et al (2017) BioXmark® remains chemically stable following normofractionated and single-fraction high-dose proton beam irradiation. Proceedings to the 56 Annual Meeting of the Particle Therapy Cooperative Group (PTCOG). Int J Part Ther 4(1):75

19.

Dobiasch S, Kampfer S, Burkhardt R et al (2017) BioXmark for high-precision radiotherapy in an orthotopic pancreatic tumor mouse model. Strahlenther Onkol 193:1039–1047

20.

Scherman Rydhög J, Mortensen S, Larsen K et al (2016) Liquid fiducial marker performance during radiotherapy of locally advanced non-small cell lung cancer. Radiother Oncol 121:64–69

21.

De Blanck SR, Scherman-Rydhög J, Larsen KL, al etl (2018) Long term safety and stability and visibility of a novel liquid fiducial marker for use in image guided radiotherapy of non-small cell lung cancer. Clin Transl Radiat Oncol 13:24–28

22.

De Blanck SR, Scherman-Rydhög J, Siemsen M, al etl (2018) Feasibility of a novel liquid fiducial marker for use in image guided radiotherapy of oesophageal cancer. Br J Radiol 91(1092):20180236

23.

De Roover R, Crijns W, Poels K et al (2018) Characterization of a novel liquid fiducial marker for multi-modal image guidance in stereotactic body radiotherapy of prostate cancer. Med Phys 45:2205–2217

24.

Mortensen SR, Scherman JB, Larsen KR et al (2014) Use of a novel liquid fiducial marker injected with endoscopic ultrasound equipment for use in image guided radiation therapy of thoracic tumors (porcine model). Int J Radiat Oncol Biol Phys 90(1):S651

25.

Pieper S, Halle M, Kikinis R (2004) 3D slicer. Proceedings of the 1st IEEE International Symposium on Biomedical Imaging: From Nano to Macro. vol 1, pp 632–635

26.

Tanaka O, Nishigaki Y, Hayashi H et al (2017) The advantage of iron-containing fiducial markers placed with a thin needle for radiotherapy of liver cancer in therms of visualization on MRI: an initial experien of Gold Anchor. Radiol Case Rep 12(2):416–421

27.

Marsico M, Gabbani T, Lunardi S, Galli A, Biagini MR, Annese V (2017) Percutaneous ultrasound-guided fiducial marker placement for liver cancer robotic stereotactic radio-surgery treatment: A comparative analysis of three types of markers and needles. Arab J Gastroenterol 18(2):83–86

28.

Larsen MH, Fristrup CW, Detlefsen S, Mortensen MB (2018) Prospective evaluation of EUS-guided fine needle biopsy in pancreatic mass lesions. Endosc Int Open 6(2):E242–E248
Acknowledgements
The authors would like to thank T. Jepsen (Nanovi A/S) for providing BioXmark® fiducial markers for this study and Dr. D. Stange for his assistance in organizing and acquiring the pancreatic specimens directly after surgical resection. Furthermore, we would like to thank M. Steckler and her team for supporting us in the acquisition of the CT images.
Ethics declarations
Conflict of interest
S. Schneider, D.E. Aust, S. Brückner, T. Welsch, J. Hampe, E.G.C. Troost and A.L. Hoffmann declare that they have no competing interests regarding the research presented in this article.
Caption Electronic Supplementary Material
Figure S1: Exemplary slices of all 17 marker injection sites in three patients showing the markers circled in yellow in (from top to bottom) T1 weighted gradient recalled echo (T1w GRE), T2 weighted turbo spin echo (T1w TSE) and computed tomography (CT) for patient 1-3. Marker injections were ordered form smallest too largest with marker volumes between 20-100μL. Figure S2: Transverse CT image showing 60μL marker injection close to specimen surface leading to partial protrusion. The part of the marker extending the specimen was found washed out after fixation in formaldehyde.
About this article
Cite this article
Schneider, S., Aust, D.E., Brückner, S. et al. Detectability and structural stability of a liquid fiducial marker in fresh ex vivo pancreas tumour resection specimens on CT and 3T MRI. Strahlenther Onkol 195, 756–763 (2019). https://doi.org/10.1007/s00066-019-01474-1
Received:

Accepted:

Published:

Issue Date:
Keywords
Fiducial marker

Pancreatic adenocarcinoma

MRI detectability

Ex vivo
Schlüsselwörter
Bezugsmarker

Pankreas-Adenokarzinom

MRT Detektierbarkeit

Ex vivo