Abstract
Purpose
To prospectively investigate the role of re-irradiation (re-RT) combined with hyperthermia (HT) in a contemporary cohort of patients affected by recurrent breast cancer (RBC).
Methods
Within the prospective registry HT03, patients with resected RBC and previous irradiation were included. Re-RT was applied to the recurrence region with doses of 50–50.4 Gy, with a boost up to 60–60.4 Gy to the microscopically or macroscopically positive resection margins (R1/R2) region. Concurrent HT was performed at 40–42 ℃. Primary endpoint was LC. Acute and late toxicity, overall survival, cancer-specific survival (CSS), and progression-free survival (PFS) were also evaluated.
Results
20 patients and 21 RBC were analyzed. Median re-RT dose was 50.4 Gy and a median of 11 HT fractions were applied. Re-RT+HT was well tolerated, with three patients who experienced a grade (G) 3 acute skin toxicity and no cases of ≥G3 late toxicity. With a median follow up of 24.7 months, two local relapses occurred. Ten patients experienced regional and/or distant disease progression. Five patients died, four of them from breast cancer. PFS was favorable in patients treated with re-RT+HT for the first recurrence with doses of 60 Gy. A trend towards better CSS was found in patients with negative or close margins and after doses of 60 Gy.
Conclusion
Full-dose re-RT+HT for RBC is well tolerated, provides good LC, and seems to be more effective when applied at the time of the first relapse and after doses of 60 Gy. The registry will be continued for validation in a larger cohort and with longer follow-up.
Zusammenfassung
Ziel
Prospektive Untersuchung der Rolle der Rebestrahlung (re-RT) kombiniert mit Hyperthermie (HT) in einer aktuellen Kohorte von Patientinnen mit lokal rezidiviertem Mammakarzinom (RBC).
Methoden
In der prospektiven HT-03-Registerstudie wurden Patientinnen mit RBC nach Resektion und vorangegangener Bestrahlung eingeschlossen. Es erfolgte eine re-RT der Rezidivregion mit 50–50,4 Gy mit sequenziellem Boost bis zu 60–60,4 Gy auf die positive Resektionsränder(R1/R2)-Regionen. Parallel zur re-RT erfolgte die HT mit 40–42 ℃. Neben dem primären Endpunkt lokale Kontrolle (LC) wurden akute und späte Toxizität, Gesamtüberleben, krebsspezifisches (CSS) und progressionsfreies (PFS) Überleben analysiert.
Ergebnisse
Ausgewertet wurden 20 Patientinnen mit 21 RBC-Läsionen. Es wurden eine mediane re-RT-Dosis von 50,4 Gy und im median 11 HT-Sitzungen pro Patient appliziert. Die Behandlung mit re-RT+HT wurde gut vertragen. Drei Patientinnen zeigten eine akute Hautreaktion vom Grad 3 (G3). Es wurden keine ≥G3-Spättoxizitäten beobachtet. Bei einer mittleren Nachbeobachtungszeit von 24,7 Monaten traten zwei Lokalrezidive auf. Zehn Patientinnen zeigten eine regionäre und/oder distante Metastasierung. Fünf Patientinnen verstarben, davon vier an Mammakarzinom. Ein längeres PFS bestand bei Patientinnen, die im ersten Rezidiv mit re-RT+HT und mit Dosen von 60 Gy behandelt wurden. Ein Trend zu besserem CSS bestand für Patientinnen mit negativem oder knappem Resektionsrand und Dosen von 60 Gy.
Schlussfolgerung
Die Kombination re-RT+HT ist für Patientinnen mit RBC gut verträglich und führt zu guter LC. Bereits beim ersten Rezidiv sollte re-RT+HT erwogen werden. Es sollten re-RT-Dosen von 60 Gy angestrebt werden. Das prospektive Register wird fortgeführt, um eine größere Anzahl an Patientinnen mit längerer Nachbeobachtungszeit auszuwerten.
This is a preview of subscription content, log in to check access.
Access options
Buy single article
Instant access to the full article PDF.
US$ 39.95
Price includes VAT for USA
Subscribe to journal
Immediate online access to all issues from 2019. Subscription will auto renew annually.
US$ 199
This is the net price. Taxes to be calculated in checkout.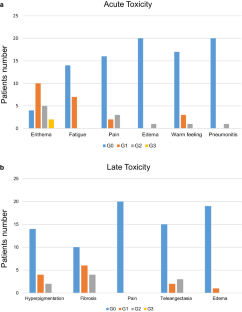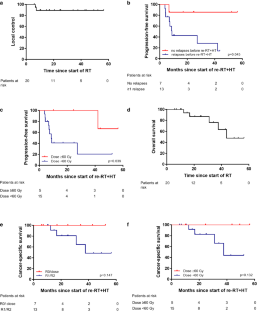 References
1.

Siegel RL, Miller KD, Jemal A (2018) Cancer statistics. CA Cancer J Clin 68:7–30

2.

Poortmans PMP, Arenas M, Livi L (2017) Over-irradiation. Breast 31:295–302

3.

Willner J, Kiricuta IC, Kolbl O (1997) Locoregional recurrence of breast cancer following mastectomy: always a fatal event? Results of univariate and multivariate analysis. Int J Radiat Oncol Biol Phys 37:853–863

4.

Dahlstrom KK, Andersson AP, Andersen M, Krag C (1993) Wide local excision of recurrent breast cancer in the thoracic wall. Cancer 72:774–777

5.

Beck TM, Hart NE, Woodard DA, Smith CE (1983) Local or regionally recurrent carcinoma of the breast: results of therapy in 121 patients. J Clin Oncol 1:400–405

6.

Niehoff P, Dietrich J, Ostertag H, Schmid A, Kohr P, Kimmig B et al (2006) High-dose-rate (HDR) or pulsed-dose-rate (PDR) perioperative interstitial intensity-modulated brachytherapy (IMBT) for local recurrences of previously irradiated breast or thoracic wall following breast cancer. Strahlenther Onkol 182:102–107

7.

Merino T, Tran WT, Czarnota GJ (2015) Re-irradiation for locally recurrent refractory breast cancer. Oncotarget 6:35051–35062

8.

Wurschmidt F, Dahle J, Petersen C, Wenzel C, Kretschmer M, Bastian C (2008) Reirradiation of recurrent breast cancer with and without concurrent chemotherapy. Radiat Oncol 3:28

9.

Deutsch M (2002) Repeat high-dose external beam irradiation for in-breast tumor recurrence after previous lumpectomy and whole breast irradiation. Int J Radiat Oncol Biol Phys 53:687–691

10.

Trombetta M, Julian TB, Werts DE, McWilliams W, Kim Y, Miften M et al (2009) Long-term cosmesis after lumpectomy and brachytherapy in the management of carcinoma of the previously irradiated breast. Am J Clin Oncol 32:314–318

11.

Kauer-Dorner D, Potter R, Resch A, Handl-Zeller L, Kirchheiner K, Meyer-Schell K et al (2012) Partial breast irradiation for locally recurrent breast cancer within a second breast conserving treatment: alternative to mastectomy? Results from a prospective trial. Radiother Oncol 102:96–101

12.

Janssen S, Rades D, Meyer A, Fahlbusch FB, Wildfang I, Meier A et al (2018) Local recurrence of breast cancer: conventionally fractionated partial external beam re-irradiation with curative intention. Strahlenther Onkol 194:806–814

13.

Kaidar-Person O, Oldenborg S, Poortmans P (2018) Re-irradiation and hyperthermia in breast cancer. Clin Oncol (R Coll Radiol) 30:73–84

14.

Dewhirst MW, Vujaskovic Z, Jones E, Thrall D (2005) Re-setting the biologic rationale for thermal therapy. Int J Hyperthermia 21:779–790

15.

Overgaard J (1989) The current and potential role of hyperthermia in radiotherapy. Int J Radiat Oncol Biol Phys 16:535–549

16.

Van Der Zee J, De Bruijne M, Mens JW, Ameziane A, Broekmeyer-Reurink MP, Drizdal T et al (2010) Reirradiation combined with hyperthermia in breast cancer recurrences: overview of experience in Erasmus MC. Int J Hyperthermia 26:638–648

17.

Vernon CC, Hand JW, Field SB, Machin D, Whaley JB, van der Zee J et al (1996) Radiotherapy with or without hyperthermia in the treatment of superficial localized breast cancer: results from five randomized controlled trials. International Collaborative Hyperthermia Group. Int J Radiat Oncol Biol Phys 35:731–744

18.

Jones EL, Oleson JR, Prosnitz LR, Samulski TV, Vujaskovic Z, Yu D et al (2005) Randomized trial of hyperthermia and radiation for superficial tumors. J Clin Oncol 23:3079–3085

19.

Muller AC, Eckert F, Heinrich V, Bamberg M, Brucker S, Hehr T (2011) Re-surgery and chest wall re-irradiation for recurrent breast cancer: a second curative approach. BMC Cancer 11:197

20.

Lindholm CE, Kjellen E, Nilsson P, Weber L, Hill S (1995) Prognostic factors for tumour response and skin damage to combined radiotherapy and hyperthermia in superficial recurrent breast carcinomas. Int J Hyperthermia 11:337–355

21.

Gabriele P, Ferrara T, Baiotto B, Garibaldi E, Marini PG, Penduzzu G et al (2009) Radio hyperthermia for re-treatment of superficial tumours. Int J Hyperthermia 25:189–198

22.

Datta NR, Puric E, Heuberger J, Marder D, Lomax N, Timm O et al (2015) Hyperthermia and reirradiation for locoregional recurrences in preirradiated breast cancers: a single institutional experience. Swiss Med Wkly 145:w14133

23.

Dragovic J, Seydel HG, Sandhu T, Kolosvary A, Blough J (1989) Local superficial hyperthermia in combination with low-dose radiation therapy for palliation of locally recurrent breast carcinoma. J Clin Oncol 7:30–35

24.

Phromratanapongse P, Steeves RA, Severson SB, Paliwal BR (1991) Hyperthermia and irradiation for locally recurrent previously irradiated breast cancer. Strahlenther Onkol 167:93–97

25.

Li G, Mitsumori M, Ogura M, Horii N, Kawamura S, Masunaga S et al (2004) Local hyperthermia combined with external irradiation for regional recurrent breast carcinoma. Int J Clin Oncol 9:179–183

26.

Linthorst M, Baaijens M, Wiggenraad R, Creutzberg C, Ghidey W, van Rhoon GC et al (2015) Local control rate after the combination of re-irradiation and hyperthermia for irresectable recurrent breast cancer: results in 248 patients. Radiother Oncol 117:217–222

27.

Oldenborg S, Valk C, van Os R, Oei B, Venselaar J, Vording PZ et al (2016) Rib fractures after reirradiation plus hyperthermia for recurrent breast cancer: predictive factors. Strahlenther Onkol 192:240–247

28.

Oldenborg S, Griesdoorn V, van Os R, Kusumanto YH, Oei BS, Venselaar JL et al (2015) Reirradiation and hyperthermia for irresectable locoregional recurrent breast cancer in previously irradiated area: size matters. Radiother Oncol 117:223–228

29.

Wahl AO, Rademaker A, Kiel KD, Jones EL, Marks LB, Croog V et al (2008) Multi-institutional review of repeat irradiation of chest wall and breast for recurrent breast cancer. Int J Radiat Oncol Biol Phys 70:477–484

30.

Datta NR, Puric E, Klingbiel D, Gomez S, Bodis S (2016) Hyperthermia and radiation therapy in locoregional recurrent breast cancers: a systematic review and meta-analysis. Int J Radiat Oncol Biol Phys 94:1073–1087

31.

Oldenborg S, Rasch CRN, van Os R, Kusumanto YH, Oei BS, Venselaar JL et al (2018) Reirradiation + hyperthermia for recurrent breast cancer en cuirasse. Strahlenther Onkol 194:206–214

32.

Welz S, Hehr T, Lamprecht U, Scheithauer H, Budach W, Bamberg M (2005) Thermoradiotherapy of the chest wall in locally advanced or recurrent breast cancer with marginal resection. Int J Hyperthermia 21:159–167

33.

Dobsicek Trefna H, Crezee J, Schmidt M, Marder D, Lamprecht U, Ehmann M et al (2017) Quality assurance guidelines for superficial hyperthermia clinical trials: II. Technical requirements for heating devices. Strahlenther Onkol 193:351–366

34.

Hall EJ, Roizin-Towle L (1984) Biological effects of heat. Cancer Res 44:4708s–4713s

35.

Jones EL, Prosnitz LR, Dewhirst MW, Marcom PK, Hardenbergh PH, Marks LB et al (2004) Thermochemoradiotherapy improves oxygenation in locally advanced breast cancer. Clin Cancer Res 10:4287–4293

36.

Vujaskovic Z, Song CW (2004) Physiological mechanisms underlying heat-induced radiosensitization. Int J Hyperthermia 20:163–174

37.

Song CW (1984) Effect of local hyperthermia on blood flow and microenvironment: a review. Cancer Res 44:4721s–4730s

38.

Halverson KJ, Perez CA, Kuske RR, Garcia DM, Simpson JR, Fineberg B (1990) Isolated local-regional recurrence of breast cancer following mastectomy: radiotherapeutic management. Int J Radiat Oncol Biol Phys 19:851–858

39.

Aebi S, Gelber S, Anderson SJ, Lang I, Robidoux A, Martin M et al (2014) Chemotherapy for isolated locoregional recurrence of breast cancer (CALOR): a randomised trial. Lancet Oncol 15:156–163

40.

Wapnir IL, Price KN, Anderson SJ, Robidoux A, Martin M, Nortier JWR et al (2018) Efficacy of chemotherapy for ER-negative and ER-positive isolated locoregional recurrence of breast cancer: final analysis of the CALOR Trial. J Clin Oncol 36:1073–1079

41.

Linthorst M, van Geel AN, Baaijens M, Ameziane A, Ghidey W, van Rhoon GC et al (2013) Re-irradiation and hyperthermia after surgery for recurrent breast cancer. Radiother Oncol 109:188–193

42.

Notter M, Piazena H, Vaupel P (2016) Hypofractionated re-irradiation of large-sized recurrent breast cancer with thermography-controlled, contact-free water-filtered infra-red-A hyperthermia: a retrospective study of 73 patients. Int J Hyperthermia. https://doi.org/10.1080/02656736.2016.1235731

43.

van Leeuwen CM, Oei AL, Chin K, Crezee J, Bel A, Westermann AM et al (2017) A short time interval between radiotherapy and hyperthermia reduces in-field recurrence and mortality in women with advanced cervical cancer. Radiat Oncol 12:75

44.

Overgaard J (1987) Hyperthermia as an adjuvant to radiotherapy. Review of the randomized multicenter studies of the European Society for Hyperthermic Oncology. Strahlenther Onkol 163:453–457

45.

Arthur DW, Winter KA, Kuerer HM, Haffty BG, Cuttino LW, Todor DA et al (2017) NRG Oncology-Radiation Therapy Oncology Group Study 1014: 1‑Year Toxicity Report From a Phase 2 Study of Repeat Breast-Preserving Surgery and 3‑Dimensional Conformal Partial-Breast Reirradiation for In-Breast Recurrence. Int J Radiat Oncol Biol Phys 98:1028–1035

46.

Arthur DW, Moughan J, Kuerer HM, Haffty BG, Cuttino LW, Todor DA et al (2016) NRG oncology/RTOG 1014: 3 year efficacy report from a phase II study of repeat breast preserving surgery and 3D Conformal partial breast re-irradiation (PBrI) for in-breast recurrence. Int J Radiat Oncol Biol Phys 96:941

47.

Hannoun-Levi JM, Resch A, Gal J, Kauer-Dorner D, Strnad V, Niehoff P et al (2013) Accelerated partial breast irradiation with interstitial brachytherapy as second conservative treatment for ipsilateral breast tumour recurrence: multicentric study of the GEC-ESTRO Breast Cancer Working Group. Radiother Oncol 108:226–231
Ethics declarations
Conflict of interest
Dr. Sennewald Medizintechnik has financially supported scientific symposia organized by the University Department of Radiation Oncology Tübingen. C. De-Colle, N. Weidner, V. Heinrich, S. Brucker, M. Hahn, K. MacMillan, U. Lamprecht, S. Gaupp, O. Voigt, and D. Zips declare that they have no competing interests.
Ethical standards
The present study was approved by the ethics committee of the Medical Faculty of Tübingen (UKT-HT-03, Nr. 277/2012BO). All procedures followed were in accordance with the ethical standards of the responsible committee on human experimentation (institutional and national) and with the Helsinki Declaration of 1975 (in its most recently amended version). Informed consent was obtained from all patients included in the study.
About this article
Cite this article
De-Colle, C., Weidner, N., Heinrich, V. et al. Hyperthermic chest wall re-irradiation in recurrent breast cancer: a prospective observational study. Strahlenther Onkol 195, 318–326 (2019). https://doi.org/10.1007/s00066-018-1414-z
Received:

Accepted:

Published:

Issue Date:
Keywords
Re-irradiation

Hyperthermia

Recurrent breast cancer

Local control

Toxicity
Schlüsselwörter
Rebestrahlung

Hyperthermie

Rezidivierender Brustkrebs

Lokale Kontrolle

Toxizität