Abstract
Purpose
To compare results after chemoradiotherapy with and without deep regional hyperthermia in patients with anal cancer.
Methods
Between 2000 and 2015, a total of 112 consecutive patients with UICC stage I–IV anal cancer received chemoradiotherapy with 5‑fluororuracil and mitomycin C (CRT). In case of insufficient tumor response 4–6 weeks after chemoradiotherapy, patients received an interstitial pulsed-dose-rate brachytherapy boost. Additionally, 50/112 patients received hyperthermia treatments (HCRT).
Results
Median follow-up was 41 (2–165) months. After 5 years follow-up, overall (95.8 vs. 74.5%, P = 0.045), disease-free (89.1 vs. 70.4%, P = 0.027), local recurrence-free (97.7 vs. 78.7%, P = 0.006), and colostomy-free survival rates (87.7 vs. 69.0%, P = 0.016) were better for the HCRT group. Disease-specific, regional failure-free, and distant metastasis-free survival rates showed no significant differences. The adjusted hazard ratios for death were 0.25 (95% CI, 0.07 to 0.92; P = 0.036) and for local recurrence 0.14 (95% CI, 0.02 to 1.09; P = 0.06), respectively. Grades 3–4 early toxicities were comparable with the exception of hematotoxicity, which was higher in the HCRT group (66 vs. 43%, P = 0.032). Incidences of late side effects were similar with the exception of a higher telangiectasia rate in the HCRT group (38.0 vs. 16.1%, P = 0.009).
Conclusion
Additional regional hyperthermia improved overall survival, local control, and colostomy rates. Its potential beneficial role has to be confirmed in a prospective randomized setting. Therefore, the HyCAN trial has already been established by our group and is currently recruiting patients (Clinicaltrials.gov identifier: NCT02369939).
Zusammenfassung
Hintergrund
Vergleich der Ergebnisse nach Radiochemotherapie mit und ohne regionale Tiefenhyperthermie bei Patienten mit Analkarzinom.
Material und Methode
Zwischen 2000 und 2015 erhielten 112 konsekutive Patienten mit Analkarzinom im UICC-Stadium I–IV eine Radiochemotherapie (CRT) mit 5‑Fluororuracil und Mitomycin C. Bei ungenügender Tumorrückbildung 4–6 Wochen nach Radiochemotherapie wurde ein interstitieller "Pulsed-dose-rate"-Brachytherapie-Boost angeboten. Zusätzlich erhielten 50/112 Patienten eine additive Tiefenhyperthermie (HCRT).
Ergebnisse
Die mediane Nachbeobachtungszeit betrug 41 Monate (Spanne 2–165 Monate). Nach 5 Jahren waren im Vergleich der Patientengruppen mit und ohne Hyperthermie (HCRT vs. CRT) Gesamtüberleben (95,8 vs. 74,5 %; P = 0,045), krankheitsfreies (89,1 vs. 70,4 %; P = 0,027), lokalrezidivfreies (97,7 vs. 78,7 %; P = 0,006) und kolostomiefreies Überleben (87,7 vs. 69,0 %; P = 0,016) in der HCRT-Gruppe signifikant besser. Die krankheitsspezifischen, fernmetastasenfreien, regionären Kontrollraten zeigten keine Unterschiede. Die adjustierten Hazard Ratios waren für Tod 0,25 (95 %-Konfidenzintervall [KI] 0,07–0,92; P = 0,036) und für Lokalrezidiv 0,14 (95 %-KI 0,02–1,09; P = 0,06). Die Akuttoxizität (Grad 3–4) war vergleichbar bis auf die Hämatotoxizität, die in der HCRT-Gruppe höher war (66 vs. 43 %; P = 0,032). Bis auf eine höhere Teleangiektasierate in der HCRT-Gruppe (38,0 vs. 16,1 %; P = 0,009) war die Spättoxizität vergleichbar.
Schlussfolgerung
Die zusätzliche regionale Tiefenhyperthermie hat in der vorliegenden Analyse das Gesamt-, das lokalrezidivfreie sowie das kolostomiefreie Überleben positiv beeinflusst. Dieser mögliche Benefit muss in einer prospektiven randomisierten Studie überprüft werden. Daher wurde von unserer Arbeitsgruppe die HyCAN-Studie initiiert, die bereits Patienten rekrutiert (Clinicaltrials.gov ID: NCT02369939).
This is a preview of subscription content, log in to check access.
Access options
Buy single article
Instant access to the full article PDF.
US$ 39.95
Price includes VAT for USA
Subscribe to journal
Immediate online access to all issues from 2019. Subscription will auto renew annually.
US$ 199
This is the net price. Taxes to be calculated in checkout.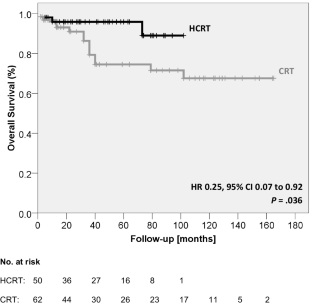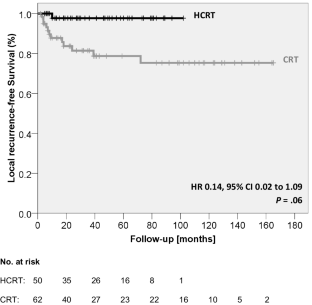 References
1.

Bartelink H, Roelofsen F, Eschwege F et al (1997) Concomitant radiotherapy and chemotherapy is superior to radiotherapy alone in the treatment of locally advanced anal cancer: Results of a phase III randomized trial of the European Organization for Research and Treatment of Cancer Radiotherapy and Gastrointestinal Cooperative Groups. J Clin Oncol 15:2040–2049

2.

Flam M, John M, Pajak TF et al (1996) Role of mitomycin in combination with fluorouracil and radiotherapy, and of salvage chemoradiation in the definitive nonsurgical treatment of epidermoid carcinoma of the anal canal: Results of a phase III randomized intergroup study. J Clin Oncol 14:2527–2539

3.

Gunderson LL, Winter KA, Ajani JA et al (2012) Long-term update of US GI intergroup RTOG 98-11 phase III trial for anal carcinoma: Survival, relapse, and colostomy failure with concurrent chemoradiation involving fluorouracil/mitomycin versus fluorouracil/cisplatin. J Clin Oncol 30:4344–4351

4.

Henkenberens C, Meinecke D, Michael S et al (2015) Reduced radiation dose for elective nodal irradiation in node-negative anal cancer: Back to the roots? Strahlenther Onkol 191:845–854

5.

Issels RD (2008) Hyperthermia adds to chemotherapy. Eur J Cancer 44:2546–2554

6.

Issels RD, Lindner LH, Verweij J et al (2010) Neo-adjuvant chemotherapy alone or with regional hyperthermia for localised high-risk soft-tissue sarcoma: A randomised phase 3 multicentre study. Lancet Oncol 11:561–570

7.

James RD, Glynne-Jones R, Meadows HM et al (2013) Mitomycin or cisplatin chemoradiation with or without maintenance chemotherapy for treatment of squamous-cell carcinoma of the anus (ACT II): A randomised, phase 3, open-label, 2 x 2 factorial trial. Lancet Oncol 14:516–524

8.

Jones EL, Oleson JR, Prosnitz LR et al (2005) Randomized trial of hyperthermia and radiation for superficial tumors. J Clin Oncol 23:3079–3085

9.

Kapacee ZA, Susnerwala S, Wise M et al (2016) Chemoradiotherapy for squamous cell anal carcinoma: A review of prognostic factors. Colorectal Dis 18(11):1080–1086. https://doi.org/10.1111/codi.13342

10.

Kent C, Bessell EM, Scholefield JH et al (2016) Chemoradiotherapy with Brachytherapy or electron therapy boost for locally advanced squamous cell carcinoma of the anus-reducing the colostomy rate. J Gastrointest Cancer 48(1):1–7. https://doi.org/10.1007/s12029-016-9850-4

11.

Kouloulias V, Plataniotis G, Kouvaris J et al (2005) Chemoradiotherapy combined with intracavitary hyperthermia for anal cancer: Feasibility and long-term results from a phase II randomized trial. Am J Clin Oncol 28:91–99

12.

Nigro ND, Seydel HG, Considine B et al (1983) Combined preoperative radiation and chemotherapy for squamous cell carcinoma of the anal canal. Cancer 51:1826–1829

13.

Overgaard J, Gonzalez D, Hulshof MC et al (1995) Randomised trial of hyperthermia as adjuvant to radiotherapy for recurrent or metastatic malignant melanoma. Lancet 345(8949):540–543. https://doi.org/10.1016/s0140-6736(95)90463-8

14.

Peiffert D, Tournier-Rangeard L, Gerard JP et al (2012) Induction chemotherapy and dose intensification of the radiation boost in locally advanced anal canal carcinoma: Final analysis of the randomized UNICANCER ACCORD 03 trial. J Clin Oncol 30:1941–1948

15.

Sauter M, Vavricka SR, Keilholz G et al (2017) Surveillance of anal carcinoma after radiochemotherapy : A retrospective analysis of 80 patients. Strahlenther Onkol 193:639–647

16.

Weber HE, Droge LH, Hennies S et al (2015) Volumetric intensity-modulated arc therapy vs. 3‑dimensional conformal radiotherapy for primary chemoradiotherapy of anal carcinoma: Effects on treatment-related side effects and survival. Strahlenther Onkol 191:827–834

17.

White EC, Khodayari B, Erickson KT et al (2017) Comparison of toxicity and treatment outcomes in HIV-positive versus HIV-negative patients with squamous cell carcinoma of the anal canal. Am J Clin Oncol 40(4):386–392. https://doi.org/10.1097/coc.0000000000000172

18.

Wittlinger M, Rodel CM, Weiss C et al (2009) Quadrimodal treatment of high-risk T1 and T2 bladder cancer: Transurethral tumor resection followed by concurrent radiochemotherapy and regional deep hyperthermia. Radiother Oncol 93:358–363

19.

van der Zee J, Gonzalez D, van Rhoon GC et al (2000) Comparison of radiotherapy alone with radiotherapy plus hyperthermia in locally advanced pelvic tumours: A prospective, randomised, multicentre trial. Lancet 355(9210):1119–1125. https://doi.org/10.1016/s0140-6736(00)02059-6
Ethics declarations
Conflict of interest
O.J. Ott, M. Schmidt, S. Semrau, V. Strnad, K.E. Matzel, I. Schneider, D. Raptis, W. Uter, R. Grützmann, and R. Fietkau declare that they have no competing interests. None of the authors has had relationship with an entity that has a financial interest in the subject matter discussed in this manuscript.
Additional information
The results of this manuscript have not been publicly presented before.
About this article
Cite this article
Ott, O.J., Schmidt, M., Semrau, S. et al. Chemoradiotherapy with and without deep regional hyperthermia for squamous cell carcinoma of the anus. Strahlenther Onkol 195, 607–614 (2019). https://doi.org/10.1007/s00066-018-1396-x
Received:

Accepted:

Published:

Issue Date:
Keywords
Anal cancer

Chemoradiation

Multimodality treatment

Deep regional hyperthermia

Radiotherapy
Schlüsselwörter
Analkarzinom

Radiochemotherapie

Multimodale Therapie

Regionale Tiefenhyperthermie

Strahlentherapie