Abstract
Purpose
Combined high-dose-rate brachytherapy (HDR-BT) and external beam radiation therapy (EBRT) is a favorable treatment option in non-metastatic prostate cancer. However, reports on toxicity and outcome have mainly focused on younger patients. We aimed to determine toxicity and biochemical control rates after combined HDR-BT and EBRT in men ≥75 years.
Methods
From 1999 to 2015, 134 patients aged ≥75 years (median 76 years; 75–82 years) were identified. Patients received 18 Gy of HDR-BT (9 Gy/fraction on days 1 and 8) with an iridium-192 source. After 1 week, supplemental EBRT with a target dose of 50.4 Gy was started (delivered in 1.8 Gy fractions).
Results
Median follow-up time was 25 months (0–127 months). No severe (grade 4) gastrointestinal (GIT) or genitourinary (GUT) toxicities were observed. In 76 patients (56.7%), 3D conformal radiation therapy (CRT) and in 34.3% intensity-modulated radiotherapy (IMRT) was applied. CRT-treated patients were at a 2.17-times higher risk (hazard ratio [HR]: 2.17, 95% confidence interval [CI]: 1.31–3.57, p = 0.002) of experiencing GUT. GIT risks could be reduced by 78% using IMRT (HR: 0.22, 95% CI: 0.07–0.75, p = 0.015). Patients with a higher T stage (T2c–3a/b) were less likely to experience GIT or GUT (HR: 0.49, 95% CI: 0.29–0.85, p = 0.011 and HR: 0.5, 95% CI: 0.3–0.81, p = 0.005, respectively).
Conclusion
HDR-BT/EBRT is a well-tolerated treatment option for elderly men ≥75 years with a limited number of comorbidities and localized intermediate- or high-risk prostate cancer. IMRT should be favored since side effects were significantly reduced in IMRT-treated patients.
Zusammenfassung
Hintergrund
Die Kombination aus HDR-(high-dose-rate)-Brachytherapie (BT) und externe Strahlentherapie (ERBT) ist eine vorteilhafte Behandlungsoption beim nichtmetastasierten Prostatakarzinom. Die Berichte über die Nebenwirkungen und den Therapieausgang beschäftigen sich zumeist mit jüngeren Patientenkollektiven. Ziel der Analyse war die Evaluation der Toxizität und der biochemischen Kontrollrate bei Patienten ≥75 Jahren, die sich einer kombinierten HDR-BT/EBRT unterzogen haben.
Methoden
Von 1999–2015 wurden 134 Patienten ≥75 Jahren (Median 76 Jahre; 75–82 Jahre) identifiziert. Die Patienten erhielten 18 Gy einer HDR-BT (9 Gy/Fraktion an Tag 1 und 8) einer Iridium-192-Quelle. Die EBRT mit einer Zieldosis von 50,4 Gy (Einzeldosis von 1,8 Gy) begann nach einer Woche.
Ergebnisse
Das mediane Follow-up betrug 25 Monate (Spanne 0–127 Monate). Es bestanden keine schwerwiegenden akuten (Grad 4) gastrointestinalen (GIT) oder urogenitalen (GUT) Nebenwirkungen. Bei 76 Patienten (56,7 %) kam die 3‑D-konformale Bestrahlung (CRT) und in 34,3 % die intensitätsmodulierte Radiatio (IMRT) zum Einsatz. Bei CRT-behandelten Patienten bestand ein 2,17-fach erhöhtes Risiko (Hazard-Ratio [HR]: 2,17; 95 %-Konfidenzintervall [KI]: 1,31–3,57; p = 0,002) für GUT. Das GIT-Risiko konnte um 78 % bei der IMRT reduziert werden (HR: 0,22; 95 %-KI: 0,07–0,75; p = 0,015). Bei Patienten mit einem höheren T‑Stadium (T2c–3a/b) bestand eine geringere Wahrscheinlichkeit GIT oder GUT zu erleben (HR: 0,49; 95 %-KI: 0,29–0,85; p = 0,011 bzw. HR: 0,5; 95 %-KI: 0,3–0,81; p = 0,005).
Schlussfolgerung
Die kombinierte HDR-BT/EBRT ist eine sichere und gut verträgliche Behandlungsoption für ältere Männer ≥75 Jahren, die wenige Komorbiditäten und ein lokal begrenztes, mittel- bis hochgradiges Prostatakarzinom aufweisen. IMRT-Techniken sollten bevorzugt werden, da sich hierdurch die Nebenwirkungen signifikant reduzierten lassen.
Access options
Buy single article
Instant access to the full article PDF.
USD 39.95
Price excludes VAT (USA)
Tax calculation will be finalised during checkout.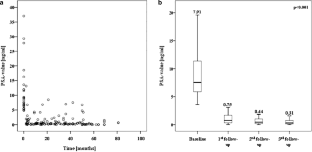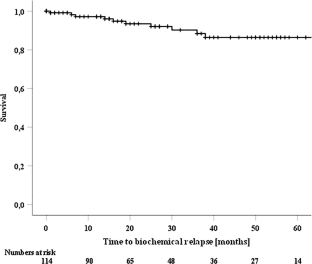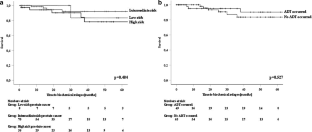 References
Alibhai SMH, Naglie G, Nam R, Trachtenberg J, Krahn MD (2003) Do older men benefit from curative therapy of localized prostate cancer? J Clin Oncol 17:3318–3327

Aoki M, Miki K, Kido M, Sasaki H, Nakamura W, Kijima Y, Kobayashi M et al (2014) Analysis of prognostic factors in localized high-risk prostate cancer patients treated with HDR brachytherapy, hypofractionated 3D-CRT and neoadjuvant/adjuvant androgen deprivation therapy (trimodality therapy). J Radiat Res 3:527–532

Boehm K, Schiffmann J, Tian Z, Lesmana H, Larcher A, Mandel P, Karakiewicz PI et al (2016) Five-year biochemical recurrence-free and overall survival following high-dose-rate brachytherapy with additional external beam or radical prostatectomy in patients with clinically localized prostate cancer. Urol Oncol 3(119):e11–e18

Cancer Research UK (2016) Prostate cancer incidence statistics. Prostate cancer incidence by age. http://www.cancerresearchuk.org/health-professional/cancer-statistics/statistics-by-cancer-type/prostate-cancer/incidence#ref-1. Accessed 14 June 2018

Charlson ME, Pompei P, Ales KL, MacKenzie CR (1987) A new method of classifying prognostic comorbidity in longitudinal studies. Development and validation. J Chron Dis 5:373–383

Cox J, Stetz J, Pajak T (1995) Toxicity criteria of the Radiation Therapy Oncology Group (RTOG) and the European Organization for Research and Treatment of Cancer (EORTC). Int J Radiat Oncol Biol Phys 5:1341–1346

Etzioni R, Penson DF, Legler JM, Di Tommaso D, Boer R, Gann PH, Feuer EJ (2002) Overdiagnosis due to prostate-specific antigen screening: lessons from U.S. prostate cancer incidence trends. J Natl Cancer Inst 13:981–990

Faria S, Ruo R, Cury F, Duclos M, Souhami L (2017) Acute and late toxicity in high-risk prostate cancer patients treated with androgen suppression and hypofractionated pelvic radiation therapy. Pract Radiat Oncol 4:264–269

Ferlay J, Steliarova-Foucher E, Lortet-Tieulent J, Rosso S, Coebergh JWW, Comber H, Forman D et al (2013) Cancer incidence and mortality patterns in Europe: estimates for 40 countries in 2012. Eur J Cancer 6:1374–1403

Finazzi T, Guckenberger M (2017) Bildgeführte intensitätsmodulierte Strahlentherapie vermindert die gastrointestinalen Spätfolgen nach Radiotherapie des Prostatakarzinoms (Image-guided intensity-modulated radiation therapy decreases late gastrointestinal side effects after radiation therapy for prostate cancer). Strahlenther Onkol 2:162–164

Galalae RM, Martinez A, Nuernberg N, Edmundson G, Gustafson G, Gonzalez J, Kimming B (2006) Hypofractionated conformal HDR brachytherapy in hormone naive men with localized prostate cancer. Is escalation to very high biologically equivalent dose beneficial in all prognostic risk groups? Strahlenther Onkol 3:135–141

Heidenreich A, Bastian PJ, Bellmunt J, Bolla M, Joniau S, van der Kwast T, Mason M et al (2014) EAU guidelines on prostate cancer. Part 1: screening, diagnosis, and local treatment with curative intent-update 2013. Eur Urol 1:124–137

Hjalm-Eriksson M, Ullen A, Johansson H, Levitt S, Nilsson S, Kalkner K‑M (2017) Comorbidity as a predictor of overall survival in prostate cancer patients treated with external beam radiotherapy combined with HDR brachytherapy boosts. Acta Oncol 1:21–26

Hoskin PJ, Rojas AM, Bownes PJ, Lowe GJ, Ostler PJ, Bryant L (2012) Randomised trial of external beam radiotherapy alone or combined with high-dose-rate brachytherapy boost for localised prostate cancer. J Natl Cancer Inst 2:217–222

Kim Y‑J, Cho KH, Pyo HR, Lee KH, Moon SH, Kim TH, Shin KH et al (2015) Radical prostatectomy versus external beam radiotherapy for localized prostate cancer. Comparison of treatment outcomes. Strahlenther Onkol 4:321–329

Kotecha R, Yamada Y, Pei X, Kollmeier MA, Cox B, Cohen G'aN, Zaider M et al (2013) Clinical outcomes of high-dose-rate brachytherapy and external beam radiotherapy in the management of clinically localized prostate cancer. Brachytherapy 1:44–49

López Torrecilla J, Hervás A, Zapatero A, Gómez Caamaño A, Macías V, Herruzo I, Maldonado X et al (2015) Uroncor consensus statement. Management of biochemical recurrence after radical radiotherapy for prostate cancer: from biochemical failure to castration resistance. Rep Pract Oncol Radiother 4:259–272

Mottet N, Bellmunt J, Bolla M, Briers E, Cumberbatch MG, de Santis M, Fossati N et al (2017) EAU-ESTRO-SIOG guidelines on prostate cancer. Part 1. Screening, diagnosis, and local treatment with curative intent. Eur Urol 4:618–629

National Cancer Institute (2018) Surveillance, Epidemiology, and End Results Program Cancer Stat Facts: Prostate Cancer. How Common Is This Cancer? https://seer.cancer.gov/statfacts/html/prost.html. Assessed: 14 June 2018

National Comprehensive Cancer Center Clinical Practice Guidelines in Oncology (2013) Prostate Cancer version 3. http://www.cus.cz/wp-content/uploads/2012/10/NCCN-C61-2014.pdf. Assessed: 14 June 2018

Nutting CM, Convery DJ, Cosgrove VP, Rowbottom C, Padhani AR, Webb S, Dearnaley DP (2000) Reduction of small and large bowel irradiation using an optimized intensity-modulated pelvic radiotherapy technique in patients with prostate cancer. Int J Radiat Oncol Biol Phys 3:649–656

Pinkawa M, Fischedick K, Treusacher P, Asadpour B, Gagel B, Piroth MD, Borchers H et al (2006) Dose-volume impact in high-dose-rate Iridium-192 brachytherapy as a boost to external beam radiotherapy for localized prostate cancer—a phase II study. Radiother Oncol 1:41–46

Roach M, Hanks G, Jr Thames H, Schellhammer P, Shipley WU, Sokol GH, Sandler H (2006) Defining biochemical failure following radiotherapy with or without hormonal therapy in men with clinically localized prostate cancer: recommendations of the RTOG-ASTRO Phoenix Consensus Conference. Int J Radiat Oncol Biol Phys 4:965–974

Sathya JR, Davis IR, Julian JA, Guo Q, Daya D, Dayes IS, Lukka HR et al (2005) Randomized trial comparing iridium implant plus external-beam radiation therapy with external-beam radiation therapy alone in node-negative locally advanced cancer of the prostate. J Clin Oncol 6:1192–1199

Scherr D, Swindle PW, Scardino PT (2003) National Comprehensive Cancer Network guidelines for the management of prostate cancer. Urology 2:14–24

Schiffmann J, Lesmana H, Tennstedt P, Beyer B, Boehm K, Platz V, Tilki D et al (2015) Additional androgen deprivation makes the difference. Biochemical recurrence-free survival in prostate cancer patients after HDR brachytherapy and external beam radiotherapy. Strahlenther Onkol 4:330–337

Soumarova R, Homola L, Perkova H (2012) Long term results of HDR brachytherapy in men older than 75 with localized carcinoma of the prostate. Rep Pract Oncol Radiother 1:11–15

Waldstein C, Dörr W, Pötter R, Widder J, Goldner G (2018) Postoperative Strahlentherapie beim Prostatakarzinom. Morbidität nach lokaler Radiatio vs. lokaler Radiatio und Beckenbestrahlung (Postoperative radiotherapy for prostate cancer: Morbidity of local-only or local-plus-pelvic radiotherapy). Strahlenther Onkol 1:23–30
Ethics declarations
Conflict of interest
A. Löser, B. Beyer, C.O. Carl, B. Löser, Y. Nagaraj, T. Frenzel, C. Petersen, A. Krüll, M. Graefen, and R. Schwarz declare that they have no competing interests.
About this article
Cite this article
Löser, A., Beyer, B., Carl, C.O. et al. Toxicity and risk factors after combined high-dose-rate brachytherapy and external beam radiation therapy in men ≥75 years with localized prostate cancer. Strahlenther Onkol 195, 374–382 (2019). https://doi.org/10.1007/s00066-018-1380-5
Received:

Accepted:

Published:

Issue Date:

DOI: https://doi.org/10.1007/s00066-018-1380-5
Keywords
Brachytherapy

Prostate cancer

Old patients

Biochemical recurrence

External beam radiotherapy
Schlüsselwörter
Brachytherapie

Prostatakarzinom

Ältere Patienten

Biochemisches Rezidiv

Perkutane Bestrahlung