Abstract
The purpose of this work was to evaluate the efficacy of low-dose radiotherapy (RT) for thumb carpometacarpal osteoarthritis (rhizarthrosis). The responses of 84 patients (n = 101 joints) were analyzed 3 months after therapy (n = 65) and at 12 months (n = 27). Patients were treated with 6 fractions of 1 Gy, two times a week, with a linear accelerator. At the end of therapy, about 70 % of patients reported a response (partial remission or complete remission), 3 months later about 60 %, and 1 year after treatment 70 %. In univariate regression analysis, higher patient age and field size greater than 6 × 4 cm were associated with response to treatment, while initial increase of pain under treatment was predictive for treatment failure. Duration of RT series (more than 18 days), gender, time of symptoms before RT, stress pain or rest pain, or prior ortheses use, injections, or surgery of the joint were not associated with treatment efficacy. In multivariate regression analysis, only field size and initial pain increase were highly correlated with treatment outcome. In conclusion, RT represents a useful treatment option for patients suffering from carpometacarpal osteoarthritis. In contrast to other benign indications, a larger field size (>6 × 4 cm) seems to be more effective than smaller fields and should be evaluated in further prospective studies.
Zusammenfassung
Wir analysierten den berichteten Therapieeffekt einer protrahiert fraktionierten Schmerzbestrahlung bei 84 Patienten (n = 101 Gelenke, Kontrolluntersuchungen nach 3 Monaten bei n = 65, nach 12 Monaten bei n = 27). Die Patienten wurden 2‑mal pro Woche mit 6 × 1 Gy an einem Linearbeschleuniger bestrahlt. Bei Abschluss der Behandlung gaben ca. 70 % der Patienten eine Verbesserung an (partielle oder komplette Remission), 3 Monate später ca. 60 % und ein Jahr nach der Behandlung 70 %. In der univariaten Regression waren ein höheres Patientenalter und eine Feldgröße über 6 × 4 cm mit einem Therapieansprechen assoziiert, während eine initiale Schmerzverstärkung mit einem Therapieversagen korreliert war. Länge der Therapieserie, Geschlecht, Dauer der Symptome vor Einleitung der Bestrahlung, Schmerzen unter Belastung oder in Ruhe oder vorherige Orthesenversorgung, Injektionen oder Operationen des Gelenks waren hingegen nicht mit dem Therapieerfolg korreliert. In der multivariaten Regression waren nur die Feldgröße und die initiale Schmerzverstärkung prädiktiv für das Therapieergebnis. Die Schmerzbestrahlung ist eine effektive Behandlungsoption für Patienten mit Rhizarthrose. Dabei scheint – im Gegensatz zu anderen benignen Bestrahlungsindikationen – eine Feldgröße über 6 × 4 cm effektiver zu sein als kleinere Felder. Dieser Befund sollte in prospektiven Studien weiter evaluiert werden.
Access options
Buy single article
Instant access to the full article PDF.
US$ 39.95
Tax calculation will be finalised during checkout.
Subscribe to journal
Immediate online access to all issues from 2019. Subscription will auto renew annually.
US$ 109.86
Tax calculation will be finalised during checkout.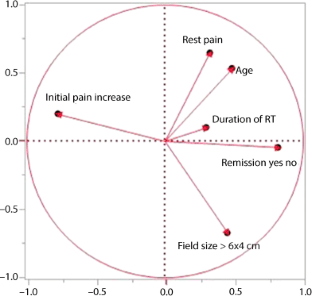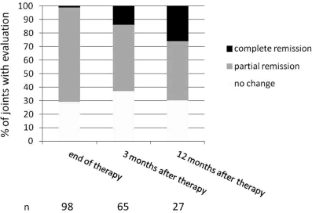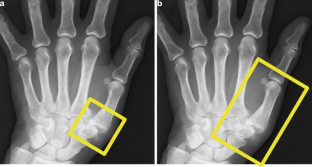 References
1.

Bakri K, Moran SL (2015) Thumb carpometacarpal arthritis. Plast Reconstr Surg 135:508–520

2.

Berger AJ, Meals RA (2015) Management of osteoarthrosis of the thumb joints. J Hand Surg Am 40:843–850

3.

Kaltenborn A, Gutcke A (2014) Trauma in elderly patients – relevance for military surgery. Wehrmed Monatsschr 58:413–415

4.

Makris UE, Abrams RC, Gurland B (2014) Management of persistent pain in the older patient: a clinical review. JAMA 312:825–836

5.

Grasshoff H (1970) Results of x‑ray therapy in arthrosis deformans. Dtsch Gesundheitsw 25:1838–1841

6.

Rödel F, Kamprad F, Sauer R, Hildebrandt G, Sauer R (2002) Funktionelle und molekulare Aspekte der anti-inflammatorischen Wirkung niedrig dosierter Radiotherapie. Strahlenther Onkol 178:1–9

7.

Rödel F, Frey B, Gaipl US (2012) Modulation of Inflammatory Immune Reactions by Low-Dose Ionizing Radiation: Molecular Mechanisms and Clinical Application. Curr Med Chem 19:1741–1750

8.

Hildebrandt G, Maggiorella L, Rödel F (2002) Mononuclear cell adhesion and cell adhesion molecule liberation after X‑irradiation of activated endothelial cells in vitro. Int J Radiat Biol 78:315–325

9.

Hildebrandt G, Loppnow G, Jahns J (2003) Inhibition of the iNOS pathway in inflammatory macrophages by low-dose X‑irradiation in vitro. Strahlenther Onkol 179:158–166

10.

Niewald M, Seegenschmiedt MH, Micke O (2012) Randomized, Multicenter trial on the effect of radiation therapy on plantar Fasciitis (painful heel spur) comparing a standard dose with a very low dose: mature results after 12 months' follow-up. Int J Radiat Oncol Biol Phys 84:e455–e462

11.

Heyd R, Tselis N, Ackermann H (2007) Radiation therapy for painful heel spurs. Strahlenther Onkol 183:3–9

12.

Ott OJ, Jeremias C, Gaipl US (2014) Radiotherapy for benign calcaneodynia: long-termin results of the Erlangen Dose Optimization (EDO) trial. Strahlenther Onkol 190:671–675

13.

Hermann RM, Meyer A, Becker A (2013) Effect of field size and length of plantar spur on treatment outcome in radiation therapy of plantar fasciitis/painful heel spur: the bigger the better? Int J Radiat Oncol Biol Phys 87:1122–1128

14.

Hosmer DW, Lemeshow S (2013) Applied logistic regression. Wiley, New York

15.

Pannewitz G von (1933) Die Röntgentherapie der Arthritis deformans. Klinische und experimentelle Untersuchungen. Ergebn Med Strahlenforsch 6:62–126

16.

Seegenschmiedt MH, Micke O, Muecke R (2015) Radiotherapy for non-malignant disorders: state of the art and update of the evidence-based practice guidelines. Br J Radiol. doi:10.1259/bjr.20150080

17.

Taylor RE, Hatfield P, McKeown SR (2015) Radiotherapy for benign disease: current evidence, benefits and risks. Clin Oncol (R Coll Radiol) 27:433–435

18.

Woolf AD, Pfleger B (2003) Burden of major musculoskeletal conditions. Bull World Health Organ 81:646–656

19.

Ott OJ, Niewald M, Weitmann HD (2015) DEGRO guidelines for the radiotherapy of non-malignant disorders. Part II: Painful degenerative skeletal disorders. Strahlenther Onkol 191:1–6

20.

Keilholz L, Seegenschmiedt MH, Sauer R (1998) Radiotherapy of degenerative joint disorders. indication, technique and clinical results. Strahlenther Onkol 174:243–250

21.

Ruppert R, Seegenschmiedt MH, Sauer R (2004) Radiotherapy of osteoarthritis. Indication, technique, and clinical results. Orthopade 33:56–62

22.

Schrems H (1951) Favorable and untoward results of roentgenotherapy in arthrosis deformans. Munch Med Wochenschr 93:785–791

23.

Hess P, Bonmann KH (1955) Roentgen therapy of arthroses, spondyloses, periarthritis humeroscapularis and epiconsylitis. Strahlentherapie 96:75–81

24.

Kuhns JG, Morrison SL (1946) Twelve years' experience in roentgenotherapy for chronic arthritis. N Engl J Med 235:399–405

25.

Jansen JT, Broerse JJ, Zoetelief J (2005) Estimation of the carcinogenic risk of radiotherapy of benign diseases from shoulder to heel. Radiother Oncol 76:270–277

26.

Holland C, Jaeger L, Smentkowski U (2012) Septic and aseptic complications of corticosteroid injections: an assessment of 278 cases reviewed by expert commissions and mediation boards from 2005 to 2009. Dtsch Arztebl Int 109:425–430
Ethics declarations
Conflict of interest
A. Kaltenborn, E. Bulling, M. Nitsche, U.M. Carl, and R.M. Hermann state that there are no conflicts of interest.
The accompanying manuscript does not include studies on humans or animals.
About this article
Cite this article
Kaltenborn, A., Bulling, E., Nitsche, M. et al. The field size matters: low dose external beam radiotherapy for thumb carpometacarpal osteoarthritis. Strahlenther Onkol 192, 582–588 (2016). https://doi.org/10.1007/s00066-016-0995-7
Received:

Accepted:

Published:

Issue Date:
Keywords
Rhizarthrosis

Carpometacarpal joints

Treatment outcome

Pain

Hand
Schlüsselwörter
Rhizarthrose

Karpometakarpalgelenke

Behandlungserfolg

Schmerz

Hand