Abstract
Primary metastatic diffuse intrinsic pontine glioma (DIPG) is relatively rare and associated with a dismal prognosis. Combining craniospinal irradiation (CSI) with concurrent temozolomide and nimotuzumab therapy may slightly improve tumor control and overall survival. However, little is known about the feasibility and toxicity of this treatment approach. Here, we describe the case of an 8-year-old girl with primary metastatic DIPG who received craniospinal radiotherapy, a local boost, and concurrent temozolomide and nimotuzumab treatment based on an individual therapy recommendation. Radiotherapy could be completed without any interruption. However, concurrent temozolomide had to be disrupted several times due to considerable acute myelotoxicity (grade III–IV).Maintenance immunochemotherapy could be started with a delay of 5 days and was performed according to treatment schedule. The disease could be stabilized for a few months. A routine MRI scan finally depicted disease progression 5.7 months after the start of irradiation. The patient died 1.9 months later.
Zusammenfassung
Primär metastasierte diffus intrinsische Ponsgliome (DIPG) sind relativ selten und mit einer infausten Prognose verbunden. Die Kombination einer Bestrahlung der kraniospinalen Achse mit simultanen Gaben von Temozolomid und Nimotuzumab kann möglicherweise die Tumorkontrolle und das Gesamtüberleben leicht verbessern. Allerdings weiß man wenig über die Durchführbarkeit dieses Ansatzes im Hinblick auf die zu erwartenden Toxizitäten. Wir beschreiben den Krankheitsverlauf eines 8 Jahre alten Mädchens mit primär metastasiertem diffus intrinsischen Ponsgliom, welches mit einer kraniospinalen Bestrahlung mit lokaler Dosisaufsättigung behandelt wurde. Simultan zur Radiatio erhielt das Kind gemäß einer individuellen Behandlungsempfehlung Temozolomid und Nimotuzumab. Die Bestrahlung konnte ohne Unterbrechung durchgeführt werden. Allerdings musste die simultane Chemotherapie mit Temozolomid mehrmals aufgrund höhergradiger Myelotoxizitäten (Grad III und IV) ausgesetzt werden. Eine Erhaltungschemoimmuntherapie konnte schließlich mit einer Verzögerung von 5 Tagen begonnen und ansonsten planmäßig durchgeführt werden. Es gelang, die Erkrankung für einige Monate zu stabilisieren. In einer Routine-Kernspintomographie wurde schließlich 5,7 Monate nach Bestrahlungsbeginn ein Progress diagnostiziert. Die Patientin verstarb 1,9 Monate später.
Access options
Buy single article
Instant access to the full article PDF.
US$ 39.95
Tax calculation will be finalised during checkout.
Subscribe to journal
Immediate online access to all issues from 2019. Subscription will auto renew annually.
US$ 109.86
Tax calculation will be finalised during checkout.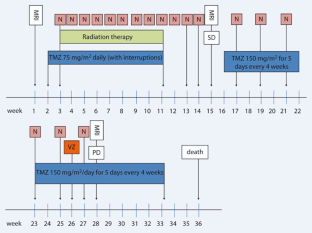 References
1.

Bode UB, S, Warmuth-Metz M (2006) Final report of a phase II trial of nimotuzumab in the treatment of refractory and relapsed high-grade gliomas in children and adolescents. In: ASCO Annual Meeting 2006; 2006 2007: J Clin Oncol, p 18s

2.

Cohen KJ, Heideman RL, Zhou T et al (2011) Temozolomide in the treatment of children with newly diagnosed diffuse intrinsic pontine gliomas: a report from the Children's Oncology Group. Neuro Oncol 13:410–416

3.

Donaldson SS, Laningham F, Fisher PG (2006) Advances toward an understanding of brainstem gliomas. J Clin Oncol 24:1266–1272

4.

Fleischhack GS, Zimmermann M (2010) Concomitant therapy of nimotuzumab and standard radiotherapy for the treatment of newly diagnosed diffuse intrinsic pontine gliomas in children and adolescents. In: 14th International Symposium of Pediatric Neurooncology; 2010; Vienna: Neuro-Oncology

5.

Frappaz D, Schell M, Thiesse P et al (2008) Preradiation chemotherapy may improve survival in pediatric diffuse intrinsic brainstem gliomas: final results of BSG 98 prospective trial. Neuro Oncol 10:599–607

6.

Gilbertson RJ, Hill DA, Hernan R et al (2003) ERBB1 is amplified and overexpressed in high-grade diffusely infiltrative pediatric brain stem glioma. Clin Cancer Res 9:3620–3624

7.

Lam C, Bouffet E, Bartels U (2009) Nimotuzumab in pediatric glioma. Future Oncol 5:1349–1361

8.

Malbari FA et al (2012) Tolerability of temozolomide in conjunction with craniospinal irradiation for the treatment of pediatric CNS embryonal tumors. In: 15th International Symposium on Pediatric Neuro-Oncology (ISPNO), Neuro Oncol, p i91

9.

Massimino M, Bode U, Biassoni V, Fleischhack G (2011) Nimotuzumab for pediatric diffuse intrinsic pontine gliomas. Expert Opin Biol Ther 11:247–256

10.

Muller HL, Gebhardt U, Warmuth-Metz M et al (2012) Meningioma as second malignant neoplasm after oncological treatment during childhood. Strahlenther Onkol 188:438–441

11.

Muller K, Zwiener I, Welker H et al (2011) Curative treatment for central nervous system medulloepithelioma despite residual disease after resection. Report of two cases treated according to the GPHO Protocol HIT 2000 and review of the literature. Strahlenther Onkol 187:757–762

12.

Stupp R, Mason WP, Bent MJ van den et al (2005) Radiotherapy plus concomitant and adjuvant temozolomide for glioblastoma. N Engl J Med 352:987–996

13.

Wagner S, Warmuth-Metz M, Emser A et al (2006) Treatment options in childhood pontine gliomas. J Neurooncol 79:281–287
Conflict of interests
On behalf of all authors, the corresponding author states that there is no conflict of interest. This report was performed in accordance with the ethical standards laid down in the 1964 Declaration of Helsinki and its later amendments.
Additional information
Authors' contributions: KM was responsible for the collection of data and together with AOvB for the draft of the manuscript. CMK, HC, and DV were responsible for the treatment of the patient and the control of the documentation of the treatment and follow-up data. AOvB, AS, CS, MWM, and RDK critically evaluated and approved the manuscript. KM, AOvB, CMK, and RDK were responsible for the conception of the case report. All authors read and approved the final manuscript.
About this article
Cite this article
Müller, K., Schlamann, A., Seidel, C. et al. Craniospinal irradiation with concurrent temozolomide and nimotuzumab in a child with primary metastatic diffuse intrinsic pontine glioma. Strahlenther Onkol 189, 693–696 (2013). https://doi.org/10.1007/s00066-013-0370-x
Received:

Accepted:

Published:

Issue Date:
Keywords
Case reports

Child

Neoplasm metastasis

Antibodies, monoclonal, humanized

Radiotherapy
Schlüsselwörter
Fallbericht

Kind

Neoplastie, Metastasierung

Humanisierte monoklonale Antikörper

Strahlentherapie