Abstract
Purpose
The aim of the present work was to explore plan quality and dosimetric accuracy of intensity-modulated radiotherapy (IMRT) and volumetric modulated arc therapy (VMAT) for lymph node-positive left-sided breast cancer.
Methods
VMAT and IMRT plans were generated with the Pinnacle3 V9.0 treatment planning system for 10 lymph node-positive left-sided breast cancer patients. VMAT plans were created using a single arc and IMRT was performed with 4 beams using 6, 10, and 15 MV photon energy, respectively. Plans were evaluated both manually and automatically using ArtiView™. Dosimetric plan verification was performed with a 2D ionization chamber array placed in a full scatter phantom.
Results
Photon energy had no significant influence on plan quality for both VMAT and IMRT. Large variability in low doses to the heart was found due to patient anatomy (range V5 Gy 26.5–95 %). Slightly more normal tissue dose was found for VMAT (e.g., VTissue30% = 22 %) than in IMRT (VTissue30% = 18 %). The manual and ArtiView™ plan evaluation coincided very accurately for most dose metrics (difference < 1 %). In VMAT, 96.7 % of detector points passed the 3 %/3 mm gamma criterion; marginally better accuracy was found in IMRT (98.3 %).
Conclusion
VMAT for node-positive left-sided breast cancer retains target homogeneity and coverage when compared to IMRT and allows maximum doses to organs at risk to be reduced. ArtiView™ enables fast and accurate plan evaluation.
Zusammenfassung
Ziel
Ziel der Studie war die Evaluierung der Planqualität und der dosimetrischen Genauigkeit von intensitätsmodulierter Strahlentherapie (IMRT) und volumetrisch modulierter Rotationstherapie (VMAT) für Patientinnen mit lymphknotenpositivem linksseitigem Mammakarzinom.
Methodik
VMAT- und IMRT-Pläne wurden mit dem Pinnacle3-Bestrahlungsplanungssystem (V9.0) für 10 Patientinnen mit lymphknotenpositivem linksseitigem Mammakarzinom generiert. VMAT-Pläne wurden mit einer Rotation, IMRT-Pläne mit 4 Feldern mit jeweils 6, 10 und 15 MV erstellt. Die Planauswertung erfolgte sowohl manuell als auch automatisch mittels ArtiView™. Die Planverifikation wurde mit einer 2-D-Ionisationskammer-Matrix in einem Festkörperphantom durchgeführt.
Ergebnisse
Die Photonenenergie hat keinen signifikanten Einfluss auf die VMAT- und IMRT-Planqualität. Es wurden aufgrund unterschiedlicher Anatomien große Variationen im Niedrigdosisvolumen des Herzens festgestellt (V5 Gy 26,5–95 %). In VMAT-Plänen wurde ein geringfügig höheres Niedrigdosisvolumen (z. B. VTissue30% = 22 %) als in IMRT-Plänen (VTissue30% = 18 %) ermittelt. Manuelle und automatische Auswertung stimmten für die meisten Parameter sehr genau überein (Abweichung < 1 %). VMAT-Pläne erreichten einen Gamma-Index < 1 (3 mm Abstand und 3 % Dosis) für 96,7 % der Detektorpunkte, geringfügig bessere Präzision erzielten die IMRT-Pläne mit 98,3 %.
Schlussfolgerung
VMAT liefert eine ähnliche Dosishomogenität und -abdeckung der Zielvolumina wie IMRT und ermöglicht eine Reduktion der Risikoorgan- und Maximaldosen. Mittels ArtiView™ können Bestrahlungspläne schnell und genau evaluiert werden.
Access options
Buy single article
Instant access to the full article PDF.
US$ 39.95
Tax calculation will be finalised during checkout.
Subscribe to journal
Immediate online access to all issues from 2019. Subscription will auto renew annually.
US$ 109.86
Tax calculation will be finalised during checkout.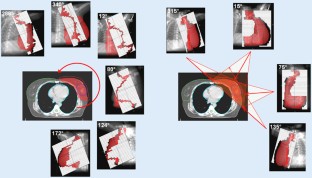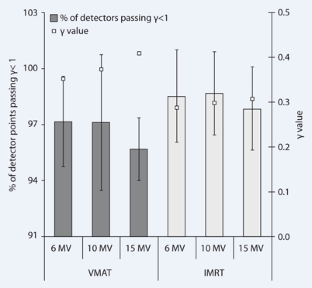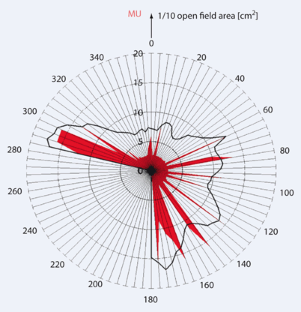 References
1.

Abo-Madyan Y, Polednik M, Rahn A et al (2008) Improving dose homogeneity in large breasts by IMRT: efficacy and dosimetric accuracy of different techniques. Strahlenther Onkol 184:86–92

2.

Cotrutz C, Xing L (2003) Segment-based dose optimisation using a genetic algorithm. Phys Med Biol 48:2987–2998

3.

Dogan N, Cuttino L, Lloyd R et al (2007) Optimized dose coverage of regional lymph nodes in breast cancer- the role of intensity modulated radiotherapy. Int J Radiat Oncol Biol Phys 68:1238–1250

4.

Donovan E, Bleakley N, Denholm E et al (2007) Randomised trial of standard 2D radiotherapy (RT) versus intensity modulated radiotherapy (IMRT) in patients prescribed breast radiotherapy. Radiother Oncol 82:254–264

5.

Dörr W, Herrmann T (2002) Second primary tumors after radiotherapy for malignancies. Treatment-related parameters. Strahlenther Onkol 178:357–362

6.

Eppinga E, Lagerwaard F, Verbakel W et al (2010) Volumetric modulated arc therapy for advanced pancreatic cancer. Strahlenther Onkol 186:382–387

7.

Evans PM, Donovan EM, Partridge M et al (2000) The delivery of intensity modulated radiotherapy to the breast using multiple static fields. Radiother Oncol 57:79–88

8.

Fogliata A, Clivio A, Nicolini G et al (2007) A treatment planning study using non-coplanar static fields and coplanar arcs for whole breast radiotherapy of patients with concave geometry. Radiother Oncol 85:346–354

9.

Freedman GM, Li T, Nicolaou N et al (2009) Breast intensity-modulated radiation therapy reduces time spent with acute dermatitis for women of all breast sizes during radiation. Int J Radiat Oncol Biol Phys 74:689–694

10.

Georg D, Nyholm T, Olofsson J et al (2007) Clinical evaluation of monitor unit software and the application of action levels. Radiother Oncol 85:306–315

11.

Georg D, Knöös T, McClean B (2011) Current status and future perspective of flattening filter free photon beams. Med Phys 38:1280–1293

12.

Goddu SM, Chaudhari S, Mamalui-Hunter M et al (2009) Helical tomotherapy planning for left-sided breast cancer patients with positive lymph nodes: comparison to conventional multiport breast technique. Int J Radiat Oncol Biol Phys 73:1243–1251

13.

International Commission on Radiation Units and Measurements (ICRU). ICRU Report No. 83: Prescribing, Recording, and Reporting Photon-Beam Intensity-Modulated Radiation Therapy (IMRT)

14.

Jagsi R, Moran J, Marsh R et al (2010) Evaluation of four techniques using intensity-modulated radiation therapy for comprehensive locoregional irradiation of breast cancer. Int J Radiat Oncol Biol Phys 78:1594–1603

15.

Lind PA, Wennberg B, Gagliardi G, Fornander T (2001) Pulmonary complications following different radiotherapy techniques for breast cancer, and the association to irradiated lung volume and dose. Breast Cancer Res Treat 68:199–210

16.

Lohr F, Heggemann F, Papavassiliu T et al (2009) Is cardiotoxicity still an issue after breast-conserving surgery and could it be reduced by multifield IMRT? Strahlenther Onkol 185:222–230

17.

Low DA, Harms WB, Mutic S, Purdy JA (1998) A technique for the quantitative evaluation of dose distributions. Med Phys 25:656–661

18.

Nicolini G, Fogliata A, Clivio A et al (2011) Planning strategies in volumetric modulated arc therapy for breast. Med Phys 38:4025–4031

19.

Paddick I (2000) A simple scoring ratio to index the conformity of radiosurgical treatment plans. Technical note. J Neurosurg 93:219–222

20.

Pasler M, Georg D, Wirtz H, Lutterbach J (2011) Effect of photon-beam energy on VMAT and IMRT treatment plan quality and dosimetric accuracy for advanced prostate cancer. Strahlenther Onkol 187:812–819

21.

Popescu CC, Olivotto IA, Beckham WA et al (2010) Volumetric modulated arc therapy improves dosimetry and reduces treatment time compared to conventional intensity-modulated radiotherapy for locoregional radiotherapy of left-sided breast cancer and internal mammary nodes. Int J Radiat Oncol Biol Phys 76:287–295

22.

Rabinovitch R, Ballonoff A, Newman F, Finlayson C (2008) Evaluation of breast sentinel lymph node coverage by standard radiation therapy fields. Int J Radiat Oncol Biol Phys 70:1468–1471

23.

Sardaro A, Petruzzelli MF, D'Errico MP et al (2012) Radiation-induced cardiac damage in early left breast cancer patients: risk factors, biological mechanisms, radiobiology, and dosimetric constraints. Radiother Oncol 103:133–142

24.

Singh AK, Lockett MA, Bradley JD (2003) Predictors of radiation-induced esophageal toxicity in patients with non-small cell lung cancer treated with three-dimensional conformal radiotherapy. Int J Radiat Oncol Biol Phys 55:337–341

25.

Spruijt KH, Dahele M, Cuijpers JP et al (2012) Flattening filter free vs flattened beams for breast irradiation. Int J Radiat Oncol Biol Phys 85:506–513

26.

Stock M, Kroupa B, Georg D (2005) Interpretation and evaluation of the gamma index and the gamma index angle for the verification of IMRT hybrid plans. Phys Med Biol 50:399–411

27.

Stovall M, Smith S, Langholz B et al (2008) Dose to the contralateral breast from radiotherapy and risk of second primary breast cancer in the WECARE study. Int J Radiat Oncol Biol Phys 72:1021–1030

28.

Subramaniam S, Thirumalaiswamy S, Srinivas C et al (2012) Chest wall radiotherapy with volumetric modulated arcs and the potential role of flattening filter free photon beams. Strahlenther Onkol 188:484–491

29.

Taylor CW, Nisbet A, McGale P, Darby SC (2007) Cardiac exposures in breast cancer radiotherapy: 1950s–1990s. Int J Radiat Oncol Biol Phys 69:1484–1495

30.

Thilmann C, Zabel A, Nill S et al (2002) Intensity-modulated radiotherapy of the female breast. Med Dosim 27:79–90

31.

Thilmann C, Zabel A, Kuhn S et al (2002) Inversely planned intensity modulated radiotherapy for irradiation of a woman with breast cancer and funnel chest. Strahlenther Onkol 178:637–643

32.

Vandecasteele K, De Neve W, De Gersem W et al (2009) Intensity-modulated arc therapy with simultaneous integrated boost in the treatment of primary irresectable cervical cancer. Strahlenther Onkol 185:799–807

33.

Van Esch A, Clermont C, Devillers M et al (2007) On-line quality assurance of rotational radiotherapy treatment delivery by means of a 2D ion chamber array and the Octavius phantom. Med Phys 34:3825–3837

34.

Wiezorek T, Banz N, Schwedas M et al (2005) Dosimetric quality assurance for intensity-modulated radiotherapy. Feasibility study for a filmless approach. Strahlenther Onkol 181:468–474

35.

Wiezorek T, Schwahofer A, Schubert K (2009) The influence of different IMRT techniques on the peripheral dose: a comparison between sMLM-IMRT and helical tomotherapy. Strahlenther Onkol 185:969–702
Conflict of interest statement
On behalf of all authors, the corresponding author states that there are no conflicts of interest.
Electronic supplementary material
About this article
Cite this article
Pasler, M., Georg, D., Bartelt, S. et al. Node-positive left-sided breast cancer: does VMAT improve treatment plan quality with respect to IMRT?. Strahlenther Onkol 189, 380–386 (2013). https://doi.org/10.1007/s00066-012-0281-2
Received:

Accepted:

Published:

Issue Date:
Keywords
Volumetric modulated arc therapy

Intensity-modulated radiotherapy

Breast neoplasms

Lymph nodes
Schlüsselwörter
Volumenmodulierte Arc-Therapie

Intensitätsmodulierte Strahlentherapie

Brustneoplasien

Lymphknoten