Abstract
Background and purpose
The goal of this work was to examine toxicity and risk factors after irradiation of the cervical spinal cord.
Patients and methods
A total of 437 patients irradiated for a laryngeal and oropharyngeal carcinoma were eligible (median follow-up 27 months). Spinal cord contouring was defined differently over time as anatomically defined spinal cord area (SCA) and the spinal cord on CT (SC) with a margin of 3 or 5 mm (SCP3/SCP5).
Results
None developed chronic progressive radiation myelopathy (CPRM) (maximum spinal dose 21.8–69 Gy); 3.9% (17/437) developed a Lhermitte sign (LS) with a median duration of 6 months (range 1–30 months) and was reversible in all patients. Risk factors for developing LS were younger age (52 vs. 61 years, p < 0.001), accelerated RT (12/17 patients, p < 0.005), and dose–volume relationships for SCA with ≥ 45 Gy of 14.15 cm3 and 7.9 cm3 for patients with and without LS, respectively.
Conclusion
LS is more frequently observed in younger patients and in patients treated with accelerated radiotherapy. A dose–volume relationship was seen for V45 in the case of SCA. For higher doses, no clear dose–volume relationships were observed.
Zusammenfassung
Hintergrund und Ziel
Untersuchung von Toxizität und Risikofaktoren nach Bestrahlung des zervikalen Rückenmarks.
Patienten und Methoden
Daten von 437 Patienten mit einem Larynx- oder Oropharynxkarzinom wurden untersucht (mediane Nachbeobachtungszeit 27 Monate). Die Rückenmarkkonturierung veränderte sich im Laufe der Zeit: zuerst anatomisch definiert (SCA), später CT-basiert (SC) mit einem Sicherheitssaum von 3 oder 5 mm (SCP3/SCP5).
Ergebnisse
Es wurde keine progressive radiogene Myelopathie (CPRM) beobachtet (max. Myelondosis 21,8–69,0 Gy); 3,9% (17/437 Patienten) entwickelten ein Lhermitte-Zeichen (LS) mit einer medianen Dauer von 6 Monaten (1–30 Monaten), das bei allen Patienten reversibel war. Risikofaktoren für die Entwicklung des LS waren jüngeres Alter (52 vs. 61 Jahre, p < 0,001), akzelerierte RT (12/17 Patienten; p < 0,005) (Tab. 2) und Dosis-Volumen-Beziehungen für SCA von  ≥ 45 Gy für  > 14,15 cm3 versus 7,9 cm3 (Tab. 3, Fig. 1).
Schlussfolgerungen
LS wird häufiger bei jüngeren Patienten und nach akzelerierter Strahlentherapie gesehen. Eine Dosis-Volumen-Beziehung wurde bei der SCA für das V45 dokumentiert. Fϋr höhere Bestrahlungsdosen wurden keine Dosis-Volumen-Beziehungen dokumentiert.
Access options
Buy single article
Instant access to the full article PDF.
USD 39.95
Price excludes VAT (USA)
Tax calculation will be finalised during checkout.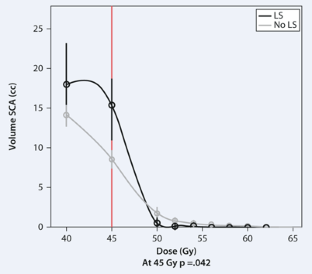 References
Ang KK, Jiang GL, Feng Y et al (2001) Extent and kinetics of recovery of occult spinal cord injury. Int J Radiat Oncol Biol Phys 50:1013–1020

Babinski J, Dubois R (1918) Douleurs a forme de decharge électrique, consecutives aux traumatismes de la nuque. Presse Med 26:64

Bijl HP, Luijk P van, Coppes RP et al (2003) Unexpected changes of rat cervical spinal cord tolerance caused by inhomogeneous dose distributions. Int J Radiat Oncol Biol Phys 57:274–281

Bijl HP, Luijk P van, Coppes RP et al (2002) Dose-volume effects in the rat cervical spinal cord after proton irradiation. Int J Radiat Oncol Biol Phys 52:205–211

Bijl HP, Luijk P van, Coppes RP et al (2006) Influence of adjacent low-dose fields on tolerance to high doses of protons in rat cervical spinal cord. Int J Radiat Oncol Biol Phys 64:1204–1210

Boden G (1948) Radiation myelitis of the cervical spinal cord. Br J Radiol 21:464–469

Common Terminology Criteria for Adverse Events v3.0 (CTCAE). Cancer Therapy Evaluation Program, Common Terminology Criteria for Adverse Events, Version 3.0, DCTD, NCI, NIH, DHHS; March 31, 2003. http://ctep.cancer.gov. Publish Date: August 9, 2006

Cox JD, Stetz J, Pajak TF (1995) Toxicity criteria of the Radiation Therapy Oncology Group (RTOG) and the European Organization for Research and Treatment of Cancer (EORTC). Int J Radiat Oncol Biol Phys 31:1341–1346

Dische S, Saunders MI (1989) Continuous, hyperfractionated, accelerated radiotherapy (CHART): an interim report upon late morbidity. Radiother Oncol 16:65–72

Dynes JB, Smedal MI (1960) Radiation myelitis. Am J Roentgenol Radium Ther Nucl Med 83:78–87

Emami B, Lyman J, Brown A et al (1991) Tolerance of normal tissue to therapeutic irradiation. Int J Radiat Oncol Biol Phys 21:109–122

Esik O, Csere T, Stefanits K et al (2003) Increased metabolic activity in the spinal cord of patients with long-standing Lhermitte's sign. Strahlenther Onkol 179:690–693

Esik O, Csere T, Stefanits K et al (2003) A review on radiogenic Lhermitte's sign. Pathol Oncol Res 9:115–120

Farrag A, Voordeckers M, Tournel K et al (2010) Pattern of failure after helical tomotherapy in head and neck cancer. Strahlenther Onkol 186:511–516

Fein DA, Marcus RB Jr, Parsons JT et al (1993) Lhermitte's sign: incidence and treatment variables influencing risk after irradiation of the cervical spinal cord. Int J Radiat Oncol Biol Phys 27:1029–1033

Gunn GB, Endres EJ, Parker B et al (2010) A phase I/II study of altered fractionated IMRT alone for intermediate T-stage oropharyngeal carcinoma. Strahlenther Onkol 186:489–495

Inoue T, Oh RJ, Shiomi H (2011) New approach for treatment of vertebral metastases using intensity-modulated radiotherapy. Strahlenther Onkol 187:108–113

International Commission on Radiation Units and Measurements (1999) ICRU Report 62: Prescribing, recording, and reporting photon beam therapy (Supplement to ICRU Report 50). ICRU, Bethesda, MD

Jacob V, Bayer W, Astner ST et al (2010) A planning comparison of dynamic IMRT for different collimator leaf thicknesses with helical tomotherapy and RapidArc for prostate and head and neck tumors. Strahlenther Onkol 186:502–510

Jones A (1964) Transient radiation myelopathy. (with reference to Lhermitte's sign of electrical paraesthesia). Br J Riadol 37:727–744

Kachandani R, Howe JG (1982) Lhermitte's sign in multiple sclerosis: a clinical survey and review of the literature. J Neurol Neurosurg Psychiatry 45:308–312

Kirkpatrick JP, Kogel AJ van der, Schultheiss TE (2010) Radiation Dose – Volume Effects in the spinal cord. http://www.sciencedirect.com/science/journal/03603016. Int J Radiat Oncol Biol Phys 76(Suppl 1):42–49.

Kong FM, Pan C, Eisbruch A et al (2007) Physical models and simpler dosimetric descriptors of radiation late toxicity. Semin Radiat Oncol 17:108–120

Langendijk JA, Slotman BJ, Waal I van der et al (2005) Risk-group definition by recursive partitioning analysis of patients with squamous cell head and neck carcinoma treated with surgery and postoperative radiotherapy. Cancer 104:1408–1417

Lengyel Z, Rékó G, Majtényi K et al (2003) Autopsy verifies demyelination and lack of vascular damage in partially reversible radiation myelopathy. Spinal Cord 41:577–585

Leung WM, Tsang NM, Chang FT et al (2005) Lhermitte's sign among nasopharyngeal cancer patients after radiotherapy. Head Neck 27:187–194

Lhermitte J, Bollak J, Nicolas M (1924) Les douleurs a type de decharge electrique consecutives a la flexion cephalique dans la sclerose en plaques. Un cas de forme sensitive de la sclerose multiple. Rev Neural 39:56–62

Lossos A, Siegal T (1996) Electric shock-lick sensations in 42 cancer patients: clinical characteristics and distinct etiologies. J Neurooncol 29:174–181

Marcus RB Jr, Million RR (1990) The incidence of myelitis after irradiation of the cervical spinal cord. Int J Radiat Oncol Biol Phys 19:3–8

Marie P, Chatelin C (1917) Sur certains symptomes vraisemblablement d'origine radiculaire chez les blessés du crâne. Rev Neural 31:336

McCunniff AJ, Liang MJ (1989) Radiation tolerance of the cervical spinal cord. Int J Radiat Oncol Biol Phys 16:675–678

Reagan TJ, Thomas JE, Colby MY (1968) Chronic progressive radiation myelopathy. JAMA 203:106–110

Schultheiss TE (2008) The radiation dose-response of the human spinal cord. Int J Radiat Oncol Biol Phys 45:174–175

Van der Kogel AJ (1993) Dose-volume effects in the spinal cord. Radiother Oncol 29:105–109

Vitzthum HE, Dalitz K (2007) Analysis of five specific scores for cervical spondylogenic myelopathy. Eur Spine J 16:2096–2103
Acknowledgement
We thank Elisabeth H.J.A. Dekkers, MSc, for providing the medical records and her overall assistance and the Department of Radiation Oncology (MAASTRO), the Netherlands.
Conflict of interest
The corresponding author states that there are no conflicts of interest.
About this article
Cite this article
Mul, V., de Jong, J., Murrer, L. et al. Lhermitte sign and myelopathy after irradiation of the cervical spinal cord in radiotherapy treatment of head and neck cancer. Strahlenther Onkol 188, 71–76 (2012). https://doi.org/10.1007/s00066-011-0010-2
Received:

Accepted:

Published:

Issue Date:

DOI: https://doi.org/10.1007/s00066-011-0010-2
Keywords
Schlüsselwörter