Zusammenfassung
Operationsziel
Ziel der operativen Reinsertion ist es, die Kontinuität der Hamstrings wiederherzustellen und die ausgerissenen Sehnen anatomisch zu refixieren.
Indikationen
Bei Patienten mit 2‑fachem Sehnenriss/-abriss mit mehr als 2 cm Retraktion oder bei kompletten 3‑fachen Sehnenrissen sollte die operative Refixation erfolgen.
Kontraindikationen
Massive Adipositas, Immobilität.
Operationstechnik
Die Operation wird über eine quere Hautinzision in der Glutealfalte durchgeführt. Die ausgerissenen Sehnen werden mit Fadenankern am Footprint des Tuber ischiadicum refixiert.
Nachbehandlung
Die Nachbehandlung erfolgt mit einer Hüftgelenkorthese für 6 Wochen und Physiotherapie unter Vermeidung der aktiven Beübung der reinserierten Muskeln.
Ergebnisse
Hinsichtlich der operativen Therapie werden in der Literatur eindeutig positive Ergebnisse beschrieben. Bei eigenen klinischen Nachkontrollen bis zu 1 Jahr nach dem Eingriff waren 90 % von insgesamt 31 Patienten, die von 2010 bis 2018 operiert worden waren, mit dem Ergebnis zufrieden und 75 % erreichten ihr vorheriges Aktivitätsniveau.
Abstract
Objective
Surgical refixation intends to restore the continuity of the hamstrings and anatomically reattach the torn tendons.
Indications
In patients with 2‑tendon tear/ruptur with more than 2 cm retraction or with complete 3‑tendon tears, surgical fixation should be performed.
Contraindications
Massive obesity, immobility.
Surgical technique
Surgery is performed via a transverse skin incision in the gluteal fold. Refixation of the torn tendons is achieved by means of suture anchors on the footprint of the ischial tuberosity.
Postoperative management
Postoperative treatment should be performed with a hip joint orthosis for 6 weeks, accompanied by physiotherapy.
Results
Regarding surgical treatment, positive results are clearly described in the literature. Of the 31 patients who underwent surgery between 2010 and 2018, 90 % were satisfied with the surgical results 1 year postoperatively and 75 % reached their previous activity level.
Access options
Buy single article
Instant access to the full article PDF.
US$ 39.95
Tax calculation will be finalised during checkout.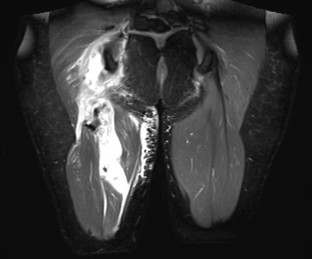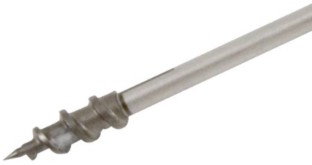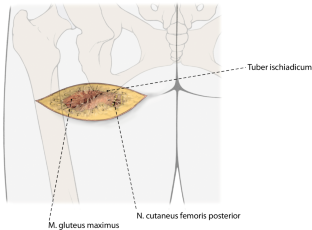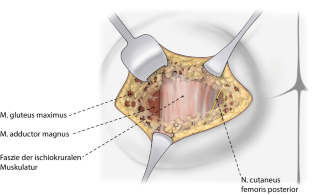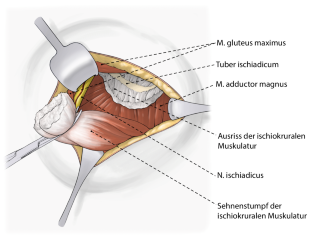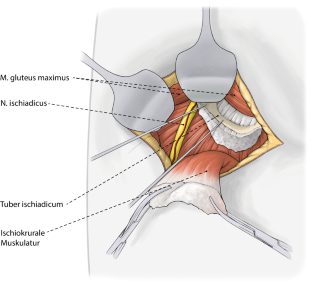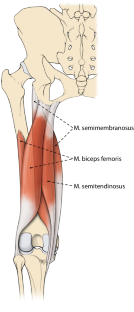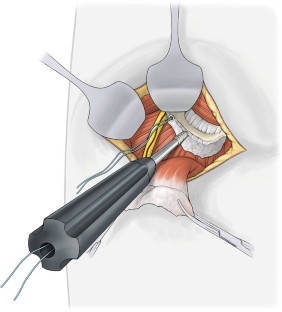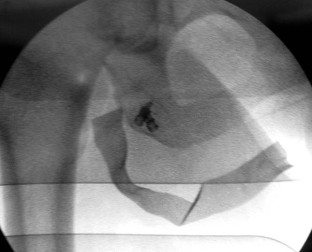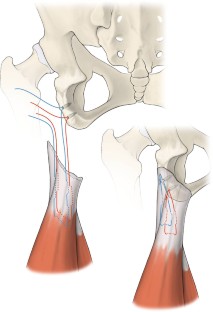 Literatur
Verwendete Literatur
1.

Ahmad CS, Redler LH, Ciccotti MG, Maffulli N, Longo UG, Bradley J (2013) Evaluation and management of hamstring injuries. Am J Sports Med 41:2933–2947

2.

Cohen S, Bradley J (2007) Acute proximal hamstring rupture. J Am Acad Orthop Surg 15:350–355

3.

Philippon MJ, Ferro FP, Campbell KJ et al (2015) A qualitative and quantitative analysis of the attachment sites of the proximal hamstrings. Knee Surg Sports Traumatol Arthrosc 23:2554–2561

4.

Clanton TO, Coupe KJ (1998) Hamstring strains in athletes: diagnosis and treatment. J Am Acad Orthop Surg 6:237–248

5.

Wood DG, Packham I, Trikha SP, Linklater J (2008) Avulsion of the proximal hamstring origin. J Bone Joint Surg Am 90:2365–2374

6.

Koulouris G, Connell D (2003) Evaluation of the hamstring muscle complex following acute injury. Skeletal Radiol 32:582–589

7.

Harris JD, Griesser MJ, Best TM, Ellis TJ (2011) Treatment of proximal hamstring rupturesd A systematic review. Int J Sports Med 32:490–495

8.

Cohen SB, Rangavajjula A, Vyas D, Bradley JP (2012) Functional results and outcomes after repair of proximal hamstring avulsions. Am J Sports Med 40:2092–2098

9.

Sandmann GH, Hahn D, Amereller M et al (2016) Mid-term functional outcome and return to sports after proximal hamstring tendon repair. Int J Sports Med 37:570–576

10.

Ekstrand J, Jägglund M, Walden M (2011) Epidemiology of muscle injuries in professional football (soccer). Am J Sports Med 39:1226–1232
Weiterführende Literatur
11.

De Smet AA, Best TM (2000) MR imaging of the distribution and location of acute hamstring injuries in athletes. AJR Am J Roentgenol 174:393–399

12.

Chakravarthy J, Ramisetty N, Pimpalnerkar A, Mohtadi N (2005) Surgical repair of complete proximal hamstring tendon ruptures in water skiers and bull riders: A report of four cases and review of the literature. Br J Sports Med 39:569–572

13.

Cross MJ, Vandersluis R, Wood D, Banff M (1998) Surgical repair of chronic complete hamstring tendon rupture in the adult patient. Am J Sports Med 26:785–788
Ethics declarations
Interessenkonflikt
A. Partenheimer und H. Lill geben an, dass kein Interessenkonflikt besteht.
Für diesen Beitrag wurden von den Autoren keine Studien an Menschen oder Tieren durchgeführt. Für die aufgeführten Studien gelten die jeweils dort angegebenen ethischen Richtlinien.
Additional information
Redaktion
O. Rühmann, Laatzen
Zeichnungen
H.J. Schütze, Köln
About this article
Cite this article
Partenheimer, A., Lill, H. Offene Refixation bei proximalen Hamstring-Verletzungen. Oper Orthop Traumatol 32, 433–439 (2020). https://doi.org/10.1007/s00064-019-00641-y
Received:

Revised:

Accepted:

Published:

Issue Date:
Schlüsselwörter
Hamstrings

Ischiokrurale Muskulatur

Sehnenverletzungen

Semitendinosussehne

Biceps femoris
Keywords
Hamstring muscles

Hamstring tendons

Tendon injuries

Semitendinosus

Biceps femoris