Zusammenfassung
Operationsziel
Schmerzreduktion, Erhaltung der Beweglichkeit (ROM), verbesserte Seitenstabilität und Achskorrektur an den proximalen Interphalangealgelenken (PIP) bei primären und sekundären Arthrosen durch den zementfrei implantierten Oberflächenersatz CapFlex-PIP.
Indikationen
Schmerzhafte degenerativ oder posttraumatisch bedingte PIP-Gelenkarthrose mit Bewegungseinschränkung. Sekundär entzündliche Gelenkdestruktionen der PIP-Gelenke bei rheumatischen Grundleiden mit geringer Entzündungsaktivität und guten Knochenverhältnissen.
Kontraindikationen
Gelenkdestruktionen mit großer Knocheneinschmelzung, Gelenkdefekten und chronischen Luxationen der PIP-Gelenke. Gelenkzerstörung durch floride oder subakute bakterielle Arthritiden. Hautinfektionen.
Operationstechnik
Inzision zum PIP-Gelenk dorsal oder palmar unter Schonung des peritendinösen Gleitgewebes. Darstellen des Grundphalanxkopfs und sparsame Knochenresektion. Vorbereiten des Knochenbetts für die Prothese proximal. Einschlagen der Probeprothese. Darstellen der Basis distal und Resektion in korrekter Achse. Größen- und Höhenbestimmung der Komponente distal und des Polyethylenaufsatzes. Einsetzen der Probeprothese ohne Knochenüberstand. Nach klinischer und radiologischer Kontrolle Wechsel auf Originalimplantate.
Weiterbehandlung
Langfingerschiene, palmare Lagerungsschiene für 2–3 Wochen mit aktiver Mobilisation. Danach freie Mobilisation im Zwillingsverband. Nach 6 Wochen radiologische Kontrolle und Belastungssteigerung.
Ergebnisse
Die 50 Patienten zeigten eine Zunahme des aktiven ROM von 43,4° vor der Operation auf 55,9° nach einem Jahr sowie eine Schmerzreduktion von 6,5 auf 2,2. Eine Revisionsoperation aufgrund einer traumatischen Ruptur des radialen Seitenbands und vier sekundäre Tenolysen wurden durchgeführt.
Abstract
Objective of surgery
The cementless implantation of the surface replacement CapFlex-PIP enables pain relief, preservation of motion, improves lateral stability and corrects axis deviation in proximal interphalangeal (PIP) joints of patients with primary and secondary PIP osteoarthritis.
Indications
Painful PIP joints as a result of degenerative or posttraumatic osteoarthritis with restriction of motion. Secondary inflammatory destruction of PIP joints in rheumatoid arthritis with low inflammatory activity and good bone conditions.
Contraindications
Destruction of PIP joints with severe bone loss, osseous defects and chronic joint luxation. Joint destruction induced by florid or subacute bacterial arthritis. Skin infections.
Surgical technique
Dorsal or palmar incision over the affected PIP joint while sparing the peritendinous tissue. Exposure of the proximal phalangeal head and meticulous bone resection. Precontouring of the bone bed for proximal prosthesis. Insertion of the trial prosthesis. Exposure of the distal base and resection in the correct axis. Determination of distal prosthesis size and height of the polyethylene inlay. Insertion of the trial prosthesis without bone protrusion. After clinical and radiological control, implantation of the final prosthesis.
Follow-up
Long finger splint, palmar flexor support splint for 2–3 weeks with active mobilization. Then active free mobilization with a twin bandage. After 6 weeks radiological check and free functional mobilization.
Results
The active range of motion of 50 patients increased from 43.4° before surgery to 55.9° after 1 year with concomitant pain relief (6.5 to 2.2). In one case revision surgery was required due to traumatic rupture of the radial collateral ligament and four secondary tenolyses were performed.
This is a preview of subscription content, log in to check access.
Access options
Buy single article
Instant access to the full article PDF.
US$ 39.95
Price includes VAT for USA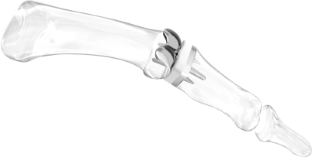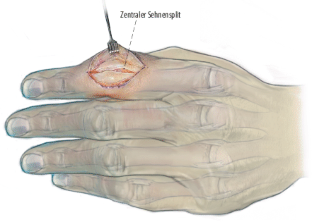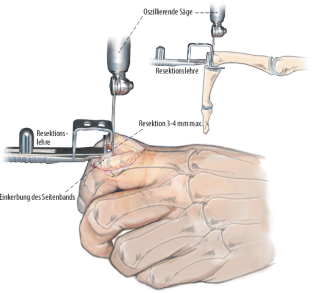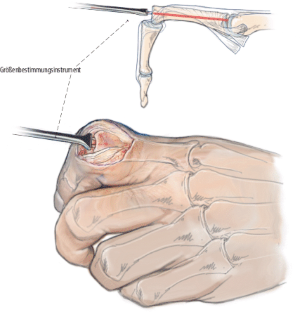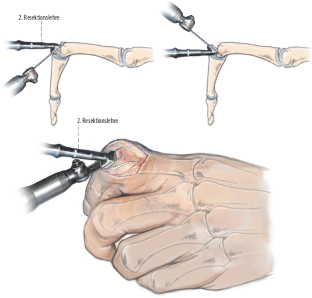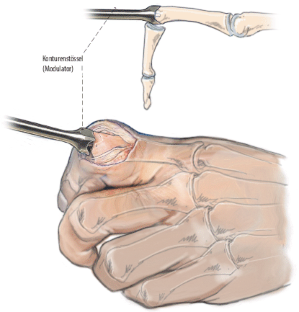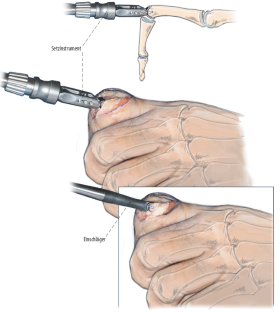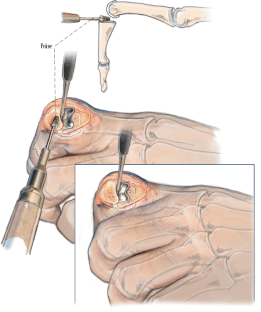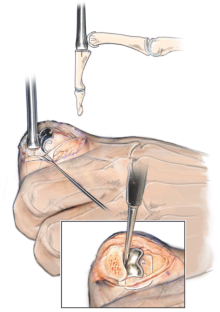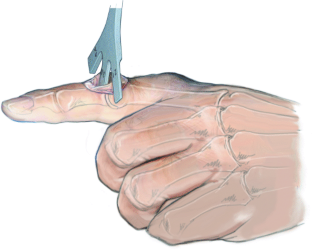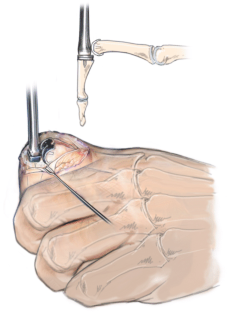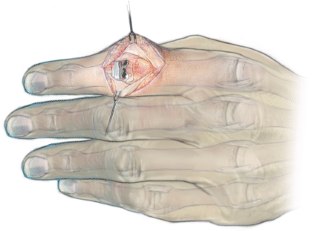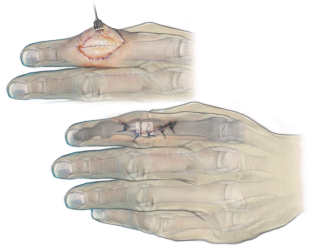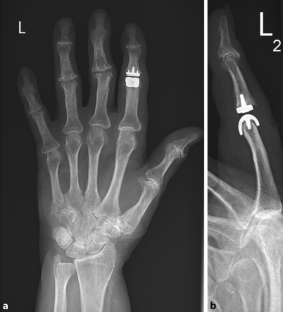 Literatur
1.

Daecke W, Veyel K, Wieloch P, Jung M, Lorenz H, Martini AK (2006) Osseointegration and mechanical stability of pyrocarbon and titanium hand implants in a load-bearing in vivo model for small joint arthroplasty. J Hand Surg Am 31(1):90–97

2.

Herren D, Simmen B (2000) Proximal interphalangeal arthroplasty with special reference to Swanson silastic implants. In: Simmen B, Allieu Y, Lluch A, Stanley J (Hrsg) Hand arthroplasties. Martin Dunitz, London, S 331–337

3.

Herren DB, Schindele S, Goldhahn J, Simmen BR (2006) Problematic bone fixation with pyrocarbon implants in proximal interphalangeal joint replacement: short-term results. J Hand Surg Br 31(6):643–651

4.

Hohendorff B, Zhang W, Burkhart KJ, Müller LP, Ries C (2015) Insertion of the ascension pyrocarbon PIP total joint in 152 human cadaver fingers: analysis of implant positions and malpositions. Arch Orthop Trauma Surg 135(2):283–290

5.

Kalichman L, Hernández-Molina G (2010) Hand osteoarthritis: an epidemiological perspective. Semin Arthritis Rheum 39(6):465–476

6.

McGuire DT, White CD, Carter SL, Solomons MW (2012) Pyrocarbon proximal interphalangeal joint arthroplasty: outcomes of a cohort study. J Hand Surg Eur Vol 37:490–496

7.

Olivier L, Gensigk F, Board T, Kendoff D, Krehmeier U, Wolfhard U (2008) Arthrodesis of the distal interphalangeal joint: description of a new technique and clinical follow-up at 2 years. Arch Orthop Trauma Surg 128(3):307–311

8.

Schindele SF, Hensler S, Audigé L, Marks M, Herren DB (2015) A modular surface gliding implant (capflex-PIP) for proximal Interphalangeal joint osteoarthritis: a prospective case series. J Hand Surg Am 40(2):334–340

9.

Schindele SF, Sprecher CM, Milz S, Hensler S (2016) Osteointegration of a modular metal-polyethylene surface gliding finger implant: a case report. Arch Orthop Trauma Surg 136(9):1331–1335

10.

Walker P (1977) Laxity, flexibility and stability. In: Walker P (Hrsg) Human joints and their artificial replacement. Charles C Thomas, Springfield, S 167–210

11.

Wesemann A, Flugel M, Mamarvar M (2008) Moje-Prothese im proximalen Interphalangealgelenk. Handchir Mikrochir Plast Chir 40(3):189–196
Ethics declarations
Interessenkonflikt
S. F. Schindele ist Mitentwickler der CapFlex-PIP und erhält Lizenzhonorare der Firma KLS Martin Group, Tuttlingen, Deutschland. A. Altwegg und S. Hensler geben an, dass kein Interessenkonflikt besteht.
Dieser Beitrag beinhaltet keine von den Autoren durchgeführten Studien an Menschen oder Tieren.
Additional information
Redaktion
F. Unglaub, Bad Rappenau
Zeichner
R. Himmelhan, Mannheim
Caption Electronic Supplementary Material
Video 1: Operationstechnik dorsaler Zugang mit zentralen Sehnensplit. Mit freundl. Genehmigung der Schulthess Klinik
About this article
Cite this article
Schindele, S.F., Altwegg, A. & Hensler, S. Oberflächenersatz am Fingermittelgelenk mittels CapFlex-PIP. Oper Orthop Traumatol 29, 86–96 (2017). https://doi.org/10.1007/s00064-016-0475-3
Received:

Revised:

Accepted:

Published:

Issue Date:
Schlüsselwörter
Finger

Arthrose

Arthroplastik

Bewegungsausmaß

Gelenkprothese
Keywords
Fingers

Osteoarthritis

Arthroplasty

Range of motion

Joint prosthesis