Zusammenfassung
Hintergrund
Die rasche Gabe von Volumen ist einer der Eckpfeiler einer initialen Schocktherapie, speziell auch des septischen Schocks. Allerdings gibt es erhebliche Unsicherheiten, wann wie viel Volumen sinnvoll ist und an welchen Zielen oder Messgrößen das Volumenmanagement ausgerichtet werden kann. Dabei ist es wichtig nur die "optimale" Flüssigkeitsmenge zu geben, da eine Volumenüberladung erhebliche negative Konsequenzen, wie Organversagen und Verschlechterung des Outcomes, nach sich ziehen kann
Ziel
Dieser Review soll die Bedeutung der Volumentherapie, mögliche Strategien des Volumenmanagements sowie mögliche Ziele und Steuerungsparameter darstellen und kritisch diskutieren.
Aktuelle Ergebnisse
Es gibt keinen einzelnen Zielparameter, an dem das Volumenmanagement allein ausgerichtet werden kann. Ein wichtiger Parameter ist die Volumenreagibilität des Patienten, die zusammen mit vielen anderen Parametern zu einer wiederholten Einschätzung des optimalen Volumenmanagements herangezogen werden sollte. Eine Verbesserung des Outcomes ist aber auch für die Messung der Volumenreagibilität nicht gezeigt.
Schlussfolgerungen
Nach einer initialen Volumenreanimation muss die weitere Volumentherapie möglichst individuell anhand multipler Patientenfaktoren und wiederholter Messung der Volumenreagibilität fortgeführt werden. Eine eher restriktive Volumengabe mit auch früherem Einsatz von Vasopressoren scheint zunehmend in den Fokus eines modernen Volumenmanagements zu rücken. Allerdings sind viel Fragen bezüglich eines optimalen Volumenmanagements noch ungelöst.
Abstract
Background
Early i.v. fluid administration is a cornerstone in modern therapy of shock, especially in septic shock. However, there is much uncertainty concerning the amount and rate of fluid and which goals and measures could guide fluid management. Administering the optimal fluid volume is important because fluid overload can lead to severe negative consequences like organ failure and worsening of patient's outcome.
Aim
This review aims to describe the importance of fluid therapy and discuss possible strategies in fluid management as well as possible measurements and goals to guide such therapy.
Recent findings
There is no single measurement to guide fluid management alone. It is important to assess fluid responsiveness, which together with multiple other parameters can be used to repeatedly assess optimal fluid management. However, it has also not been shown that assessing fluid responsiveness can improve outcome.
Conclusions
After the initial resuscitation, further fluid administration should be determined by individual patient factors and measures of fluid responsiveness. A more restrictive fluid management with early vasopressor administration seems to be increasingly used in modern fluid management. However many questions regarding optimal fluid management remain to be solved.
Access options
Buy single article
Instant access to the full article PDF.
USD 39.95
Price includes VAT (USA)
Tax calculation will be finalised during checkout.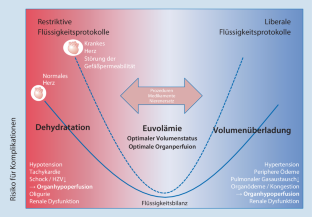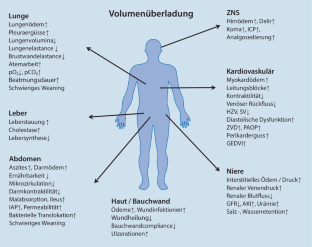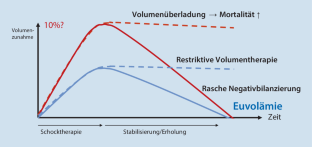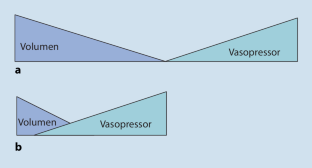 Literatur
1.

Rhodes A, Evans LA, Alhazzani W et al (2016) Surviving sepsis campaign: international guidelines for management of sepsis and septic shock. Intensive Care Med 2016(45):486–552

2.

Ospina-Tascon G, Neves AP, Occhipinti G et al (2010) Efects of fuids on microvascular perfusion in patients with severe sepsis. Intensive Care Med 36:949–955

3.

Rivers E, Nguyen B, Havstad S et al (2001) Early goal-directed therapy in the treatment of severe sepsis and septic shock. N Engl J Med 345(19):1368–1377

4.

Peake SL, Delaney A, Bailey M et al (2014) Goal-directed resuscitation for patients with early septic shock. N Engl J Med 371(16):1496–1506

5.

Mouncey PR, Osborn TM, Power GS et al (2015) Trial of early, goaldirected resuscitation for septic shock. N Engl J Med 372(14):1301–1311

6.

Yealy DM, Kellum JA, Huang DT et al (2014) A randomized trial of protocol-based care for early septic shock. N Engl J Med 370(18):1683–1693

7.

Liu V, Morehouse JW, Soule J et al (2013) Fluid volume, lactate values, and mortality in sepsis patients with intermediate lactate values. Ann Am Thorac Soc 10:466–473

8.

Waechter J, Kumar A, Lapinsky SE et al (2014) Interaction between fluids and vasoactive agents on mortality in septic shock: a multicenter, observational study. Crit Care Med 42:2158–2168

9.

Sakr Y, Rubatto Birri PN, Kotfs K et al (2017) Intensive care over nations investigators: higher fuid balance increases the risk of death from sepsis: results from a large international audit. Crit Care Med 45:386–394

10.

Boyd JH, Forbes J, Nakada TA et al (2011) Fluid resuscitation in septic shock: a positive fuid balance and elevated central venous pressure are associated with increased mortality. Crit Care Med 39:259–265

11.

Wiedemann HP, Wheeler AP, Bernard GR et al (2006) Comparison of two fluid management strategies in acute lung injury. N Engl J Med 354(24):2564–2575

12.

Chen C‑Y, Zhou Y, Wang P et al (2020) Elevated central venous pressure is associated with increased mortality and acute kidney injury in critically ill patients: a meta-analysis. Crit Care 24:80

13.

Hjortrup PB, Haase N, Bundgaard H et al (2016) Restricting volumes of resuscitation fluid in adults with septic shock after initial management: the CLASSIC randomised, parallel-group, multicentre feasibility trial. Intensive Care Med 42:1695–1705

14.

Corl KA, Prodromou M, Merchant RC et al (2019) The restrictive IV fluid trial in severe sepsis and septic shock (RIFTS): a randomized pilot study. Crit Care Med 47:951–959

15.

Meyhof TS, Møller MH, Hjortrup PB et al (2020) Lower vs higher fuid volumes during initial management of sepsis: a systematic review with meta-analysis and trial sequential analysis. Chest 157:1478–1496

16.

Schnell D, Camous L, Guyomarc'H S et al (2013) Renal perfusion assessment by renal doppler during fluid challenge in sepsis. Crit Care Med 41:1214–1220

17.

Byrne L, Van Haren F (2017) Fluid resuscitation in human sepsis: time to rewrite history? Ann Intensive Care 7:4

18.

Hernández G, Ospina-Tascón GA, Damiani LP et al (2019) Effect of a resuscitation strategy targeting peripheral perfusion status vs serum lactate levels on 28-day mortality among patients with septic shock: the ANDROMEDA-SHOCK randomized clinical trial. JAMA 321:654–664

19.

Haas SA, Lange T, Saugel B et al (2016) Severe hyperlactatemia, lactate clearance and mortality in unselected critically ill patients. Intensive Care Med 42:202–210

20.

Funk DJ, Jacobsohn E, Kumar A (2013) The role of venous return in critical illness and shock-part I: physiology. Crit Care Med 41:255–262

21.

Eskesen TG, Wetterslev M, Perner A (2016) Systematic review including re-analyses of 1148 individual data sets of central venous pressure as a predictor of fuid responsiveness. Intensive Care Med 42:324–332

22.

Monnet X, Marik PE, Teboul J‑L (2016) Prediction of fluid responsiveness: an update. Ann Intensive Care 6:111

23.

Monnet X, Teboul J‑L (2008) Passive leg raising. Intensive Care Med 34(4):659–663

24.

Bentzer P, Griesdale DE, Boyd J, MacLean K, Sirounis D, Ayas NT (2016) Will this hemodynamically unstable patient respond to a bolus of intravenous fluids? JAMA 316:1298–1309

25.

Ehrman RR, Gallien JZ, Smith RK et al (2019) Resuscitation guided by volume responsiveness does not reduce mortality in sepsis: a meta-analysis. Crit Care Explor 1:e15

26.

Vignon P, Repessé X, Bégot E et al (2017) Comparison of echocardiographic indices used to predict fluid responsiveness in ventilated patients. Am J Respir Crit Care Med 195:1022–1032

27.

Cecconi M, Hofer C, Teboul JL et al (2015) Fluid challenges in intensive care: the FENICE study: a global inception cohort study. Intensive Care Med 41(9):1529–1537

28.

Takala J (2016) Volume responsive, but does the patient need volume? Intensive Care Med 42:1461–1463

29.

Perner A, De Backer D (2014) Understanding hypovolaemia. Intensive Care Med 40:613–615

30.

Sennoun N, Montemont C, Gibot S et al (2007) Comparative efects of early versus delayed use of norepinephrine in resuscitated endotoxic shock. Crit Care Med 35:1736–1740

31.

Persichini R, Silva S, Teboul JL et al (2012) Efects of norepinephrine on mean systemic pressure and venous return in human septic shock. Crit Care Med 40:3146–3153

32.

Hamzaoui O, Georger JF, Monnet X et al (2010) Early administration of norepinephrine increases cardiac preload and cardiac output in septic patients with life-threatening hypotension. Crit Care 14:R142

33.

Ospina-Tascón GA, Hernandez G, Alvarez I et al (2020) Effects of very early start of norepinephrine in patients with septic shock: a propensity score-based analysis. Crit Care 24:52
Ethics declarations
Interessenkonflikt
S. John gibt an, dass kein Interessenkonflikt besteht.
Für diesen Beitrag wurden von den Autoren keine Studien an Menschen oder Tieren durchgeführt. Für die aufgeführten Studien gelten die jeweils dort angegebenen ethischen Richtlinien.
Additional information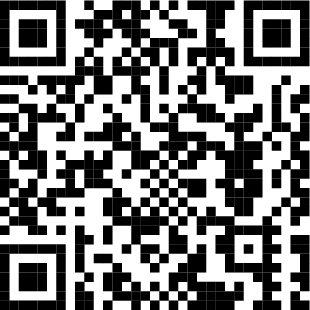 QR-Code scannen & Beitrag online lesen
Redaktion
Stefan Kluge, Hamburg
Carsten Willam, Erlangen
About this article
Cite this article
John, S. Volumenmanagement im Schock. Med Klin Intensivmed Notfmed 116, 636–647 (2021). https://doi.org/10.1007/s00063-021-00878-1
Received:

Revised:

Accepted:

Published:

Issue Date:
Schlüsselwörter
Volumentherapie

Flüssigkeitsverschiebungen

Vasopressoren

Sepsis

Frühe zielgerichtete Behandlung
Keywords
Fluid therapy

Fluid shifts

Vasoconstrictor agents

Sepsis

Early goal-directed therapy