Zusammenfassung
In der zweiten Phase der Schocktherapie liegt regelmäßig eine Flüssigkeitsüberladung mit Ödemen vor, die nicht nur die Haut und Bindegewebe betreffen, sondern auch Organfunktionen u. a. der Nieren, Lunge und Leber beeinträchtigen. Neue Erkenntnisse zum revidierten Starling-Prinzip und der endothelialen Glykokalyx haben Implikationen für eine adäquate Flüssigkeitstherapie in der zweiten Phase der Sepsis. Die Diagnose einer Flüssigkeitsüberladung sowie eine sachgerechte Diuretika- oder Ultrafiltrationstherapie sind Schwerpunkte eines "Late goal-directed fluid removal"-Managements.
Abstract
In the second phase of shock therapy, we regularly find fluid overload with edema in our patients, which not only involves the skin and interstitial tissue but can also impair kidney, liver and pulmonary function. Revision of the Starling principle and new insights into physiology of the endothelial glycocalyx have important implications for fluid therapy in intensive care medicine. Determination of fluid overload and an appropriate therapy with either diuretics or ultrafiltration are the focus of "late goal-directed fluid removal" management.
We're sorry, something doesn't seem to be working properly.
Please try refreshing the page. If that doesn't work, please contact support so we can address the problem.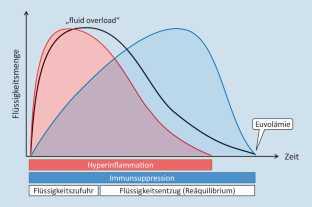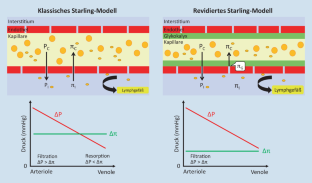 Literatur
1.

Bissell BD, Laine ME, Thompson Bastin ML et al (2020) Impact of protocolized diuresis for de-resuscitation in the intensive care unit. Crit Care 24:70

2.

Bouchard J, Soroko SB, Chertow GM et al (2009) Fluid accumulation, survival and recovery of kidney function in critically ill patients with acute kidney injury. Kidney Int 76:422–427

3.

Chen C, Kollef MH (2015) Targeted fluid minimization following initial resuscitation in septic shock: a pilot study. Chest 148:1462–1469

4.

Hjortrup PB, Haase N, Bundgaard H et al (2016) Restricting volumes of resuscitation fluid in adults with septic shock after initial management: the CLASSIC randomised, parallel-group, multicentre feasibility trial. Intensive Care Med 42:1695–1705

5.

Jacob M, Bruegger D, Rehm M et al (2006) Contrasting effects of colloid and crystalloid resuscitation fluids on cardiac vascular permeability. Anesthesiology 104:1223–1231

6.

Kitsios GD, Mascari P, Ettunsi R et al (2014) Co-administration of furosemide with albumin for overcoming diuretic resistance in patients with hypoalbuminemia: a meta-analysis. J Crit Care 29:253–259

7.

Kuper M, Gunning MP, Halder S et al (2007) The short-term effect of hyperoncotic albumin, given alone or with furosemide, on oxygenation in sepsis-induced acute respiratory distress syndrome. Anaesthesia 62:259–263

8.

Leclerc J, Pu Q, Corseaux D et al (2000) A single endotoxin injection in the rabbit causes prolonged blood vessel dysfunction and a procoagulant state. Crit Care Med 28:3672–3678

9.

Malbrain M, Langer T, Annane D et al (2020) Intravenous fluid therapy in the perioperative and critical care setting: executive summary of the international fluid academy (IFA). Ann Intensive Care 10:64

10.

Malbrain M, Van Regenmortel N, Saugel B et al (2018) Principles of fluid management and stewardship in septic shock: it is time to consider the four D's and the four phases of fluid therapy. Ann Intensive Care 8:66

11.

Messmer AS, Zingg C, Muller M et al (2020) Fluid overload and mortality in adult critical care patients—a systematic review and meta-analysis of observational studies. Crit Care Med 48:1862–1870

12.

Murugan R, Balakumar V, Kerti SJ et al (2018) Net ultrafiltration intensity and mortality in critically ill patients with fluid overload. Crit Care 22:223

13.

Murugan R, Kerti SJ, Chang CH et al (2019) Association of net ultrafiltration rate with mortality among critically ill adults with acute kidney injury receiving continuous venovenous hemodiafiltration: a secondary analysis of the randomized evaluation of normal vs augmented level (RENAL) of renal replacement therapy trial. JAMA Netw Open 2:e195418

14.

Naorungroj T, Neto AS, Zwakman-Hessels L et al (2021) Early net ultrafiltration rate and mortality in critically ill patients receiving continuous renal replacement therapy. Nephrol Dial Transplant 36(6):1112–1119. https://doi.org/10.1093/ndt/gfaa032

15.

Ng KT, Velayit A, Khoo DKY et al (2018) Continuous infusion versus intermittent bolus injection of furosemide in critically ill patients: a systematic review and meta-analysis. J Cardiothorac Vasc Anesth 32:2303–2310

16.

Ospina-Tascon GA, Hernandez G, Alvarez I et al (2020) Effects of very early start of norepinephrine in patients with septic shock: a propensity score-based analysis. Crit Care 24:52

17.

Potter DR, Jiang J, Damiano ER (2009) The recovery time course of the endothelial cell glycocalyx in vivo and its implications in vitro. Circ Res 104:1318–1325

18.

Rivers E, Nguyen B, Havstad S et al (2001) Early goal-directed therapy in the treatment of severe sepsis and septic shock. N Engl J Med 345:1368–1377

19.

Rosner MH, Ostermann M, Murugan R et al (2014) Indications and management of mechanical fluid removal in critical illness. Br J Anaesth 113:764–771

20.

Serpa Neto A, Naorungroj T, Murugan R et al (2021) Heterogeneity of effect of net ultrafiltration rate among critically ill adults receiving continuous renal replacement therapy. Blood Purif 50:336–346

21.

Silversides JA, Fitzgerald E, Manickavasagam US et al (2018) Deresuscitation of patients with iatrogenic fluid overload is associated with reduced mortality in critical illness. Crit Care Med 46:1600–1607

22.

Starling EH (1896) On the absorption of fluids from the connective tissue spaces. J Physiol 19:312–326

23.

Tehranian S, Shawwa K, Kashani KB (2021) Net ultrafiltration rate and its impact on mortality in patients with acute kidney injury receiving continuous renal replacement therapy. Clin Kidney J 14:564–569

24.

Uchimido R, Schmidt EP, Shapiro NI (2019) The glycocalyx: a novel diagnostic and therapeutic target in sepsis. Crit Care 23:16

25.

Van Regenmortel N, Verbrugghe W, Roelant E et al (2018) Maintenance fluid therapy and fluid creep impose more significant fluid, sodium, and chloride burdens than resuscitation fluids in critically ill patients: a retrospective study in a tertiary mixed ICU population. Intensive Care Med 44:409–417

26.

Veneman TF, Oude Nijhuis J, Woittiez AJ (2004) Human albumin and starch administration in critically ill patients: a prospective randomized clinical trial. Wien Klin Wochenschr 116:305–309

27.

Vincent JL, De Backer D (2013) Circulatory shock. N Engl J Med 369:1726–1734

28.

Woodcock TE, Woodcock TM (2012) Revised Starling equation and the glycocalyx model of transvascular fluid exchange: an improved paradigm for prescribing intravenous fluid therapy. Br J Anaesth 108:384–394
Ethics declarations
Interessenkonflikt
G. Schley und C. Willam geben an, dass kein Interessenkonflikt besteht.
Für diesen Beitrag wurden von den Autoren keine Studien an Menschen oder Tieren durchgeführt. Für die aufgeführten Studien gelten die jeweils dort angegebenen ethischen Richtlinien.
Additional information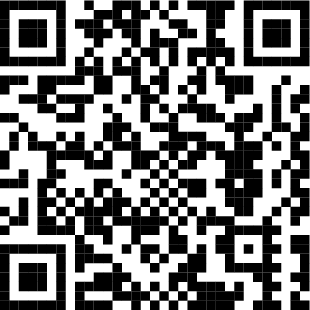 QR-Code scannen & Beitrag online lesen
Redaktion
Stefan Kluge, Hamburg
Carsten Willam, Erlangen
About this article
Cite this article
Schley, G., Willam, C. "Intravasal trocken – Gewebe voll": interstitielles Ödem und Volumenmanagement in der Intensivmedizin. Med Klin Intensivmed Notfmed 116, 665–671 (2021). https://doi.org/10.1007/s00063-021-00872-7
Received:

Accepted:

Published:

Issue Date:
Schlüsselwörter
Flüssigkeitstherapie

Intensivmedizin

Schock

Sepsis

Endothelzellen
Keywords
Fluid therapy

Critical care

Shock

Sepsis

Endothelial cells