Zusammenfassung
Hintergrund
Kinder haben Anspruch auf eine bestmögliche medizinische Versorgung. Zunehmende Versorgungsengpässe durch fehlendes Behandlungskapazitäten führen zu einer Gefährdung dieses Anspruchs und zunehmenden Abmeldung der Kinderkliniken von der Rettungsleitstelle.
Ziel der Arbeit
Ziel dieser Studie ist die Darstellung der stationären Kindernotfallversorgung am Beispiel einer Großstadt und der Notwendigkeit sog. Akutbelegungen als primärer Endpunkt mangelnder Versorgungskapazitäten.
Material und Methoden
Retrospektive Analyse der über den Zeitraum vom 01.01.2015 bis 31.12.2019 erhobenen Krankenhauseinweisungen von Kindern < 18 Jahre mittels des durch die Rettungsleitstelle verwendeten webbasierten IT-Systems IVENA eHealth (manis IT, Frankfurt, Deutschland). Der Fokus der Auswertung liegt auf den Patienten der Sichtungskategorie (SK) II, die voraussichtlich eine stationäre Aufnahme benötigen.
Ergebnisse
Im 5‑jährigen Beobachtungszeitraum wurden im Großraum München insgesamt 44.549 pädiatrische Patienten < 18 Jahre (90,6 % der Gesamtzuweisungen) durch den Rettungsdienst als SKII in eine Klinik eingewiesen. Bei diesen Patienten zeigte sich ein Anstieg der relativen Häufigkeit von Akutbelegungen von 1,7 % (2015) auf 9,4 % (2019). Parallel hierzu zeigt sich eine über die Jahre zunehmende Häufigkeit der Zeitintervalle, in denen vor allem im Winterhalbjahr alle Kinderkliniken abgemeldet sind.
Diskussion
Im untersuchten Zeitraum von 2015 bis 2019 ist es im Rettungsdienstbereich München zu einem relevanten Anstieg der Anzahl von Akutbelegungen in den Kinderkliniken durch die Rettungsleitstelle gekommen. Diese Studie belegt mit ihren objektivierbaren Daten den sich über Jahre chronifizierenden Engpass in der pädiatrischen Notfallversorgung in einer Metropolregion.
Abstract
Background
Children have the right to the best possible medical care. The lack of treatment capacity is rising steadily and increasingly leads to forced centralized allocation of patients by the emergency medical services (EMS) to pediatric emergency departments that are, officially, temporarily "closed".
Aim
The aim of this study is to present trends in allocation of pediatric emergency patients in greater Munich.
Materials and methods
Retrospective analysis of hospital admissions of children < 18 years of age collected from 01 January 2015 to 31 December 2019 by means of the web-based IT system IVENA eHealth (manis IT, Frankfurt) used by the emergency medical services. The focus of the evaluation is on patients in category II, who are likely to require inpatient admission.
Results
During the 5‑year observation period, a total of 44,549 pediatric patients < 18 years of age (90.6% of total admissions) were admitted to a children's hospital by the ambulance service as category II (SKII) in the Munich metropolitan area. These patients showed an increase in the relative frequency of forced allocations from 1.7% (2015) to 9.4% (2019). Parallel to this, there is an increasing frequency of time intervals over the years in which all children's hospitals were temporarily closed due to lack of treatment availability, especially in the winter half-year.
Conclusion
In the examined period from 2015 to 2019, there has been a relevant increase in the number of forced allocations to children's hospitals by the emergency medical services in the Munich area. This observed trend is likely to persist over the coming years, in view of current staff shortages and diminishing hospital capacities.
Access options
Buy single article
Instant access to the full article PDF.
US$ 39.95
Tax calculation will be finalised during checkout.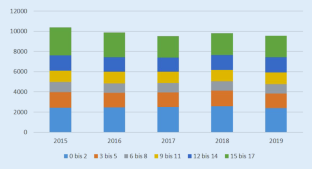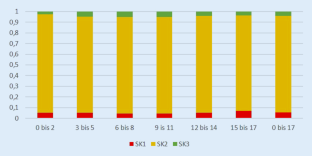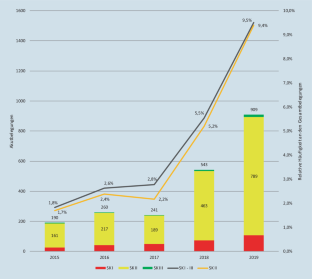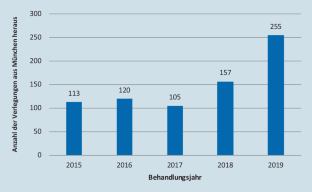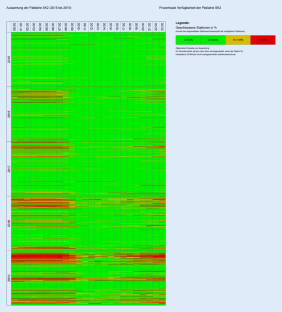 Literatur
1.

Acosta CD, Delgado KM, Gisondi MA, Raghunathan A, D'Souza PA, Gilbert G, Spain DA, Christensen P, Wang NE (2010) Characteristics of pediatric trauma transfers to a level i trauma center: implications for developing a regionalized pediatric trauma system in California. Acad Emerg Med 17(12):1364–1373. https://doi.org/10.1111/j.1553-2712.2010.00926.x

2.

Ames SG, Davis BS, Marin JR, Fink EL, Olson LM, Gausche-Hill M, Kahn JM (2019) Emergency Department Pediatric Readiness and Mortality in Critically Ill Children. Pediatrics. https://doi.org/10.1542/peds.2019-0568

3.

Bayerisches Staatsministerium für Gesundheit und Pflege (2019) Krankenhausplan des Freistaates Bayern. 1. Januar 2019 (44. Fortschreibung). www.stmgp.bayern.de/gesundheitsversorgung/krankenhaeuser/krankenhaeuser-in-bayern/. Zugegriffen: 9. Sept. 2020

4.

Bernhard M, Helm M, Luiz T, Biehn G, Kumpch M, Hainer C, Meyburg J, Gries A (2011) Pädiatrische Notfälle in der prähospitalen Notfallmedizin. Notfall Rettungsmed 14(7):554–566. https://doi.org/10.1007/s10049-010-1402-z

5.

Cogo PE, Poole D, Codazzi D, Boniotti C, Capretta A, Langer M, Luciani D, Rossi C, Bertolini G (2010) Outcome of children admitted to adult intensive care units in Italy between 2003 and 2007. Intensive Care Med 36(8):1403–1409. https://doi.org/10.1007/s00134-010-1914-5

6.

Eich C, Russo SG, Heuer JF, Timmermann A, Gentkow U, Quintel M, Roessler M (2009) Characteristics of out-of-hospital paediatric emergencies attended by ambulance- and helicopter-based emergency physicians. Resuscitation 80(8):888–892. https://doi.org/10.1016/j.resuscitation.2009.05.008

7.

Gregory CJ, Nasrollahzadeh F, Dharmar M, Parsapour K, Marcin JP (2008) Comparison of critically ill and injured children transferred from referring hospitals versus in-house admissions. Pediatrics 121(4):e906–e911. https://doi.org/10.1542/peds.2007-2089

8.

Heinen F (2020) Zusammenarbeit von Pädiatrie und Sozialpädiatrie – Schaffung einer biopsychosozialen Medizin für komplex chronisch kranke Kinder und Jugendliche. Bundesgesundheitsblatt Gesundheitsforschung Gesundheitsschutz 63(7):806–812. https://doi.org/10.1007/s00103-020-03153-4

9.

Hoffmann F, Nicolai T, Fischer M, Kehrberger E, Marung H, Moecke H, Prückner S, Urban B, Trentzsch H (2016) Notfallmedizinische Versorgung von Kindern in Prähospitalphase und Klinik. Monatsschr Kinderheilkd 164(12):1112–1115. https://doi.org/10.1007/s00112-016-0194-8

10.

Hoffmann F (2016) Besonderheiten bei der Versorgung von Kindern. DIVI 7:24–27

11.

Hoffmann F, Landeg M, Rittberg W, Hinzmann D, Steinbrunner D, Böcker W, Heinen F, Kanz KG, Bogner-Flatz V (2021) Pediatric emergencies—worsening care bottlenecks as exemplified in a major German city. Dtsch Arztebl Int 118:373–374. https://doi.org/10.3238/arztebl.m2021.0155

12.

IVENA IVENA eHealth – interdisziplinärer Versorgungsnachweis. www.ivena. de/page.php?k1=main&k2=index. Zugegriffen: 9. Sept. 2020

13.

Kido T, Iwagami M, Yasunaga H, Abe T, Enomoto Y, Matsui H, Fushimi K, Takada H, Tamiya N (2020) Outcomes of paediatric out-of-hospital cardiac arrest according to hospital characteristic defined by the annual number of paediatric patients with invasive mechanical ventilation: A nationwide study in Japan. Resuscitation 148:49–56. https://doi.org/10.1016/j.resuscitation.2019.12.020

14.

Peltoniemi OM, Rautiainen P, Kataja J, Ala-Kokko T (2016) Pediatric intensive care in PICUs and adult ICUs: a 2‑year cohort study in Finland. Pediatr Crit Care Med 17(2):e43–e49. https://doi.org/10.1097/PCC.0000000000000587

15.

Ramnarayan P, Thiru K, Parslow RC, Harrison DA, Draper ES, Rowan KM (2010) Effect of specialist retrieval teams on outcomes in children admitted to paediatric intensive care units in England and Wales: a retrospective cohort study. Lancet 376(9742):698–704. https://doi.org/10.1016/S0140-6736(10)61113-0

16.

Rettungsdienstbericht Bayern 2019. www.inm-online.de/images/stories/pdf/Rettungsdienstbericht_Bayern_2019.pdf. Zugegriffen: 9. Sept. 2020

17.

Rittberg W, Pflüger P, Ledwoch J, Katchanov J, Steinbrunner D, Bogner-Flatz V, Spinner CD, Kanz K‑G, Dommasch M (2020) Forced centralized allocation of patients to temporarily 'closed' emergency departments. Dtsch Arztebl Int 117:27–28. https://doi.org/10.3238/arztebl.2020.0465

18.

Schweigkofler U, Reimertz C, Auhuber TC, Jung HG, Gottschalk R, Hoffmann R (2011) Web-basierter Versorgungskapazitätsnachweis. Ein Instrument zur Schnittstellenoptimierung zwischen Präklinik und Klinik. Unfallchirurg 114(10):928–937. https://doi.org/10.1007/s00113-011-2093-8

19.

Trentzsch H, Dodt C, Gehring C, Veser A, Jauch K‑W, Prückner S (2020) Analyse der Behandlungszahlen in den Münchener Notaufnahmen des Jahres 2013/2014. Gesundheitswesen 82(5):431–440. https://doi.org/10.1055/a-0925-8989

20.

United Nations (1989) Convention on the rights of the child: CRC

21.

Weyersberg A, Roth B, Köstler U, Woopen C (2019) Gefangen zwischen Ethik und Ökonomie. Ärzteblatt 116:A1586–A1591
Danksagung
Wir danken Herrn Florentin von Kaufmann und Herrn Uwe Bothe für die Auswertung der Daten der Integrierten Rettungsleitstelle der Berufsfeuerwehr München sowie Thomas Nicolai für die kritische Durchsicht des Manuskripts. Wir danken außerdem Herrn Gerrit Wiegand von der Firma mainis, der die Heatmap-Auswertung der stationären Notfallversorgung initiiert hat.
Ethics declarations
Interessenkonflikt
F. Hoffmann, M. Landeg, W. Rittberg, D. Hinzmann, D. Steinbrunner, F. Hey, F. Heinen, K.-G. Kanz und V. Bogner-Flatz geben an, dass kein Interessenkonflikt besteht.
Für diesen Beitrag wurden von den Autoren keine Studien an Menschen oder Tieren durchgeführt. Für die aufgeführten Studien gelten die jeweils dort angegebenen ethischen Richtlinien.
Additional information
Die Autoren F. Hoffmann und M. Landeg haben zu gleichen Teilen zum Manuskript beigetragen.
Redaktion
M. Buerke, Siegen
About this article
Cite this article
Hoffmann, F., Landeg, M., Rittberg, W. et al. Der Notfall beim Kind – zunehmende Versorgungsengpässe für Kinder in einer systematischen Langzeitanalyse des Rettungssystems einer deutschen Metropole. Med Klin Intensivmed Notfmed (2021). https://doi.org/10.1007/s00063-021-00831-2
Received:

Accepted:

Published:
Schlüsselwörter
Prähospitaler Kindernotfall

Lebensbedrohlicher Notfall

Polytrauma

Kinderintensivstation

Versorgungsqualität
Keywords
Prehospital pediatric emergency

Life-threatening emergency

Severely injured child

Pediatric critical care medicine

Quality of care