Zusammenfassung
Mit dem demographischen Wandel und einer verlängerten Lebenserwartung von Krebspatienten ist auch die Prävalenz dieser Patientengruppe auf der Intensivstation deutlich gestiegen. Dabei bestimmt vor allem das Auftreten akuter Organdysfunktionen und weniger die maligne Grunderkrankung die Prognose. Patienten mit soliden Tumoren weisen im Vergleich zur Normalbevölkerung keine erhöhte Krankenhausmortalität auf. Hämatologische Patienten hingegen erleiden häufig einen schwereren Krankheitsverlauf. Die Entscheidung für eine Intensivtherapie sollte möglichst zeitnah getroffen werden, da die frühzeitige Intensivverlegung mit einer reduzierten Krankenhausmortalität einhergeht. Das Vorliegen eines Multiorganversagens bei Aufnahme auf die Intensivstation ist demgegenüber mit einer erhöhten Mortalität vergesellschaftet. Grundsätzlich hat sich das Intensiv- und Krankenhausüberleben von kritisch kranken hämatologischen oder onkologischen Patienten in den letzten zwei Dekaden stetig verbessert und liegt aktuell bei etwa 50-60 %. Einem Fünftel aller Patienten bietet sich nach überlebtem Intensivaufenthalt eine gute Langzeitprognose. Unter diesen Voraussetzungen ist das ehemals bestehende Paradigma der generellen Ablehnung von Krebspatienten für die intensivmedizinische Versorgung heute nicht mehr zu vertreten. Damit die Versorgung intensivpflichtiger Krebspatienten optimal gelingt, ist eine enge Kooperation von Hämatologen/Onkologen und Intensivmedizinern notwendig.
Abstract
Over the past 20 years, demographic changes and a longer life expectancy of cancer patients has significantly increased the prevalence of this patient group in the intensive care unit (ICU). A fundamental finding is that acute organ dysfunction, rather than the underlying malignancy, determines the prognosis of ICU patients. While hematologic patients often suffer from a more severe disease course, patients with solid tumors do not present an increased hospital mortality compared to the normal population. As with other indications, the decision to transfer a cancer patient to an ICU should be made as soon as possible. While early transfer is associated with reduced hospital mortality, the presence of multiorgan failure on ICU admission is associated with increased mortality. Overall, the intensive care and hospital survival of critically ill hematologic or oncologic patients has improved over the last two decades and is now as high as 50 to 60%. After surviving an intensive care stay, one fifth of all patients have a good long-term prognosis. Thus, the former paradigm of general rejection of cancer patients for ICU care is no longer justified. For optimal care of cancer patients requiring intensive care, close cooperation between hematologists/oncologists and intensive care physicians is essential.
Access options
Buy single article
Instant access to the full article PDF.
US$ 39.95
Tax calculation will be finalised during checkout.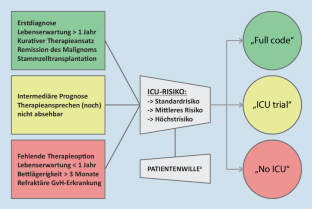 Literatur
1.

Asdahl PH, Christensen S, Kjaersgaard A et al (2020) One-year mortality among non-surgical patients with hematological malignancies admitted to the intensive care unit: a Danish nationwide population-based cohort study. Intensive Care Med 46:756–765

2.

Azoulay E, Lemiale V, Mokart D et al (2014) Acute respiratory distress syndrome in patients with malignancies. Intensive Care Med 40:1106–1114

3.

Azoulay E, Mokart D, Pene F et al (2013) Outcomes of critically ill patients with hematologic malignancies: prospective multicenter data from France and Belgium—a groupe de recherche respiratoire en réanimation onco-hematologique study. J Clin Oncol 31:2810–2818

4.

Bos MM, De Keizer NF, Meynaar IA et al (2012) Outcomes of cancer patients after unplanned admission to general intensive care units. Acta Oncol 51:897–905

5.

Darmon M, Bourmaud A, Georges Q et al (2019) Changes in critically ill cancer patients' short-term outcome over the last decades: results of systematic review with meta-analysis on individual data. Intensive Care Med 45:977–987

6.

De Vries VA, Muller MCA, Arbous MS et al (2019) Long-term outcome of patients with a hematologic malignancy and multiple organ failure admitted at the intensive care. Crit Care Med 47:e120–e128

7.

Jansen L, Castro FA, Gondos A et al (2015) Recent cancer survival in Germany: an analysis of common and less common cancers. Int J Cancer 136:2649–2658

8.

Kiehl MG, Beutel G, Boll B et al (2018) Consensus statement for cancer patients requiring intensive care support. Ann Hematol 97:1271–1282

9.

Ko H, Yan M, Gupta R et al (2019) Predictors of survival in patients with advanced gastrointestinal malignancies admitted to the intensive care unit. Oncologist 24:483–490

10.

Kochanek M, Shimabukuro-Vornhagen A, Russ K et al (2020) Prevalence of cancer patients in German intensive care units. Med Klin Intensivmed Notfmed 115:312–319

11.

Lecuyer L, Chevret S, Thiery G et al (2007) The ICU trial: a new admission policy for cancer patients requiring mechanical ventilation. Crit Care Med 35:808–814

12.

Lee DS, Suh GY, Ryu JA et al (2015) Effect of early intervention on long-term outcomes of critically ill cancer patients admitted to ICUs. Crit Care Med 43:1439–1448

13.

Lemiale V, Pons S, Mirouse A et al (2020) Sepsis and septic shock in patients with malignancies: a Groupe de Recherche Respiratoire en Reanimation Onco-Hematologique study. Crit Care Med 48:822–829

14.

Lueck C, Stadler M, Koenecke C et al (2018) Improved short- and long-term outcome of allogeneic stem cell recipients admitted to the intensive care unit: a retrospective longitudinal analysis of 942 patients. Intensive Care Med 44:1483–1492

15.

Mokart D, Darmon M, Resche-Rigon M et al (2015) Prognosis of neutropenic patients admitted to the intensive care unit. Intensive Care Med 41:296–303

16.

Mokart D, Darmon M, Schellongowski P et al (2020) Acute respiratory failure in immunocompromised patients: outcome and clinical features according to neutropenia status. Ann Intensive Care 10:146

17.

Mokart D, Lambert J, Schnell D et al (2013) Delayed intensive care unit admission is associated with increased mortality in patients with cancer with acute respiratory failure. Leuk Lymphoma 54:1724–1729

18.

Peyrony O, Chevret S, Meert AP et al (2019) Direct admission to the intensive care unit from the emergency department and mortality in critically ill hematology patients. Ann Intensive Care 9:110

19.

Probst L, Schalk E, Liebregts T et al (2019) Prognostic accuracy of SOFA, qSOFA and SIRS criteria in hematological cancer patients: a retrospective multicenter study. J Intensive Care 7:41

20.

Puxty K, Mcloone P, Quasim T et al (2018) Characteristics and outcomes of surgical patients with solid cancers admitted to the intensive care unit. JAMA Surg 153:834–840

21.

Schellongowski P, Staudinger T, Kundi M et al (2011) Prognostic factors for intensive care unit admission, intensive care outcome, and post-intensive care survival in patients with de novo acute myeloid leukemia: a single center experience. Haematologica 96:231–237

22.

Taccone FS, Artigas AA, Sprung CL et al (2009) Characteristics and outcomes of cancer patients in European ICUs. Crit Care 13:R15

23.

Tan AC, Jacques SK, Oatley M et al (2019) Characteristics and outcomes of oncology unit patients requiring admission to an Australian intensive care unit. Intern Med J 49:734–739

24.

Von Bergwelt-Baildon M, Hallek MJ, Shimabukuro-Vornhagen AA et al (2010) CCC meets ICU: redefining the role of critical care of cancer patients. BMC Cancer 10:612

25.

Zentrum für Krebsregisterdaten im Robert Koch-Institut (2019) Datenbankabfrage mit Schätzung der Inzidenz, Prävalenz und des Überlebens von Krebs in Deutschland auf Basis der epidemiologischen Landeskrebsregisterdaten https://doi.org/10.18444/5.03.01.0005.0014.0001 (Mortalitätsdaten bereitgestellt vom Statistischen Bundesamt. www.krebsdaten.de/abfrage, Letzte Aktualisierung: 17.12.2019, Abrufdatum: 09.11.2020)
Ethics declarations
Interessenkonflikt
C. Lück und G. Beutel geben an, dass kein Interessenkonflikt besteht.
Für diesen Beitrag wurden von den Autoren keine Studien an Menschen oder Tieren durchgeführt. Für die aufgeführten Studien gelten die jeweils dort angegebenen ethischen Richtlinien.
Additional information
C. Lück und G. Beutel sind Mitglieder der Initiative "Intensive Care in Hematologic and Oncologic Patients" (www.iCHOP.eu). Dieser Beitrag stammt auszugsweise aus der Habilitationsschrift von Dr. Gernot Beutel.
Redaktion
S. John, Nürnberg
M. Kochanek, Köln
About this article
Cite this article
Lueck, C., Beutel, G. Der Krebspatient auf der Intensivstation. Med Klin Intensivmed Notfmed 116, 104–110 (2021). https://doi.org/10.1007/s00063-021-00795-3
Received:

Accepted:

Published:

Issue Date:
Schlüsselwörter
Neoplasien

Multiples Organversagen

Komorbidität

Prognose

Mortalität
Keywords
Neoplasms

Multiple organ failure

Comorbidity

Prognosis

Mortality