Zusammenfassung
In Deutschland leben circa 88.000 Menschen mit einer HIV-Infektion (humane Immundefizienz-Virus). Der Anteil der über 50-Jährigen liegt bei circa 30 % und es ist inzwischen wahrscheinlicher geworden, dass ein älterer HIV-positiver Patient mit weiteren Vorerkrankungen aus einem HIV-unabhängigen Grund auf der Intensivstation behandelt werden muss als aufgrund einer Intensivtherapie nach HIV-Neudiagnose wegen AIDS (Acquired Immune Deficiency Syndrome). Dennoch hat ein Drittel der Patienten mit HIV-Neudiagnose bereits einen fortgeschrittenen Immundefekt. Bei diesen Patienten muss mit neurologischen oder respiratorischen Krankheitsbildern gerechnet werden, die eine intensivmedizinische Versorgung erfordern. Der vorliegende Artikel soll für diese Krankheitsbilder und die nötige Differenzialdiagnostik sensibilisieren und dem Leser einen Überblick über die wichtigsten opportunistischen Infektionen sowie deren Therapie vermitteln. Darüber hinaus liegt der Themenschwerpunkt dieses Beitrags auf den Möglichkeiten der antiretroviralen Therapie bei Intensivpatienten und bietet dem Kliniker einen Überblick über den Behandlungsbeginn, die Auswahl geeigneter Substanzen und deren Dosierung auf der Intensivstation (ITS).
Abstract
Around 88,000 people in Germany live with an HIV (human immunodeficiency virus) infection. The proportion of those over 50 is around 30% and it has now become more likely that an older HIV-positive patient with other pre-existing illnesses will have to be treated in an intensive care unit (ICU) for a reason not directly associated with HIV than a person with a new HIV diagnosis for acquired immune deficiency syndrome (AIDS). Nevertheless, one third of patients with a new HIV diagnosis already have an advanced immune deficiency. Neurological or respiratory symptoms that require intensive medical care must be expected in these patients. The present article aims to raise awareness of these clinical pictures and the necessary differential diagnostics, and to provide the reader with an overview of the most important opportunistic infections and their treatment. In addition, the main focus of this article is on the possibilities of antiretroviral therapy in intensive care patients and provides the clinician with an overview of the start of treatment, the selection of suitable substances, and their dosage in the ICU.
This is a preview of subscription content, log in to check access.
Access options
Buy single article
Instant access to the full article PDF.
US$ 39.95
Tax calculation will be finalised during checkout.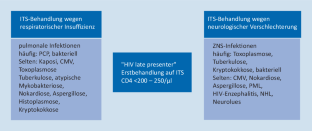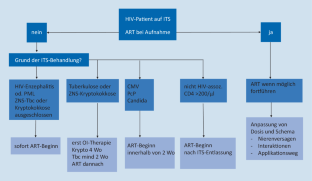 Literatur
1.

Robert Koch-Institut (2019) Schätzung der Zahl der HIV-Neuinfektionen und der Gesamtzahl von Menschen, die mit HIV in Deutschland leben. Epidemiol Bull 46:483–504

2.

Tominski D, Katchanov J, Driesch D, Daley MB, Liedtke A, Schneider A et al (2017) The late-presenting HIV-infected patient 30 years after the introduction of HIV testing: spectrum of opportunistic diseases and missed opportunities for early diagnosis. HIV Med 18(2):125–132

3.

Barbier F, Mer M, Szychowiak P, Miller RF, Mariotte E, Galicier L et al (2020) Management of HIV-infected patients in the intensive care unit. Intensive Care Med 46(2):329–342

4.

Arribas J, Marzolini C, Mallon P, Rauch A, Kirk O (2019) EACS guidelines. EACS, Brüssel

5.

Thoden J, Potthoff A, Bogner JR, Brockmeyer NH, Esser S, Grabmeier-Pfistershammer K et al (2013) Therapy and prophylaxis of opportunistic infections in HIV-infected patients: a guideline by the German and Austrian AIDS societies (DAIG/OAG) (AWMF 055/066). Infection 41(Suppl 2):S91–S115

6.

Zaugg C, Blum K (2019) Teilbarkeit und Zermörserbarkeit von Medikamenten; Verabreichungshinweise, Lactose- und Glutengehalt

7.

Bornand D (2017) Zermörserbarkeit und Verabreichungshinweise von Tabletten

8.

Abdool Karim SS, Naidoo K, Grobler A, Padayatchi N, Baxter C, Gray A et al (2010) Timing of initiation of antiretroviral drugs during tuberculosis therapy. N Engl J Med 362(8):697–706

9.

Barry SM, Lipman MC, Deery AR, Johnson MA, Janossy G (2002) Immune reconstitution pneumonitis following Pneumocystis carinii pneumonia in HIV-infected subjects. HIV Med 3(3):207–211

10.

Schafer G, Hoffmann C, Arasteh K, Schurmann D, Stephan C, Jensen B et al (2019) Immediate versus deferred antiretroviral therapy in HIV-infected patients presenting with acute AIDS-defining events (toxoplasmosis, Pneumocystis jirovecii-pneumonia): a prospective, randomized, open-label multicenter study (IDEAL-study). AIDS Res Ther 16(1):34

11.

Zolopa A, Andersen J, Powderly W, Sanchez A, Sanne I, Suckow C et al (2009) Early antiretroviral therapy reduces AIDS progression/death in individuals with acute opportunistic infections: a multicenter randomized strategy trial. PLoS One 4(5):e5575

12.

CDC (1992) 1993 revised classification system for HIV infection and expanded surveillance case definition for AIDS among adolescents and adults. MMWR Recomm Rep 41(RR-17):1–19

13.

Engsig FN, Zangerle R, Katsarou O, Dabis F, Reiss P, Gill J et al (2014) Long-term mortality in HIV-positive individuals virally suppressed for >3 years with incomplete CD4 recovery. Clin Infect Dis 58(9):1312–1321

14.

Group ISS, Lundgren JD, Babiker AG, Gordin F, Emery S, Grund B et al (2015) Initiation of antiretroviral therapy in early asymptomatic HIV infection. N Engl J Med 373(9):795–807

15.

Torok ME (2009) Randomized controlled trial of immediate versus deferred antiretroviral therapy in HIV-associated tuberculous meningitis. 49th ICAAC, San Francisco

16.

Meintjes G, Stek C, Blumenthal L, Thienemann F, Schutz C, Buyze J et al (2018) Prednisone for the prevention of paradoxical tuberculosis-associated IRIS. N Engl J Med 379(20):1915–1925
Ethics declarations
Interessenkonflikt
S. Rößler erhielt Honorare von Gilead, ViiV, MSD und Hexal außerhalb der vorliegenden Arbeit. C. Stephan erhielt Honorare von Gilead, MSD, Janssen-Cilag, AbbVie, ViiV und TAD außerhalb der vorliegenden Arbeit. B.T. Schleenvoigt erhielt Honorare und finanzielle Unterstützung vom mitteldeutschen Arbeitskreis HIV e. V., Gilead, MSD, Janssen-Cilag, Pfizer, ViiV, AIDS-Hilfe Potsdam, AIDS-Hilfe Dresden und Merck außerhalb der vorliegenden Arbeit. J. Ankert gibt an, dass kein Interessenkonflikt besteht.
Für diesen Beitrag wurden von den Autoren keine Studien an Menschen oder Tieren durchgeführt. Für die aufgeführten Studien gelten die jeweils dort angegebenen ethischen Richtlinien.
Additional information
C. Stephan und B.T. Schleenvoigt haben gleichermaßen zu diesem Artikel beigetragen.
Redaktion
M. Buerke, Siegen
About this article
Cite this article
Ankert, J., Rößler, S., Stephan, C. et al. Die HIV-Infektion auf der Intensivstation. Med Klin Intensivmed Notfmed (2020). https://doi.org/10.1007/s00063-020-00757-1
Received:

Revised:

Accepted:

Published:
Schlüsselwörter
HIV

AIDS

Intensivmedizin

Spätdiagnose

Opportunistische Infektion
Keywords
HIV

AIDS

Intensive care

Late presentation

Opportunistic infection