Zusammenfassung
Zur Nierenersatztherapie auf der Intensivstation werden die intermittierende Hämodialyse, die kontinuierliche Hämofiltration und die prolongierte Tankdialyse eingesetzt. Unabhängig vom Nierenersatzverfahren beginnt die Antibiotikatherapie mit einer hohen Startdosis. Die Dosisanpassung an die Niere wird erst nach 48 h erforderlich, wenn toxische Spiegel akkumulieren könnten. Empfehlungen zur Dosisanpassung in den Fachinformationen sind häufig unterdosiert. Bei kontinuierlicher Hämofiltration geben viele Intensivmediziner inzwischen eine normale Standarddosis, da die Filtrationsrate oft schon einer halbnormalen glomerulären Filtrationsrate entspricht. Die Dosis nach intermittierender Hämodialyse orientiert sich an der Startdosis. Am Nichtdialysetag muss die Erhaltungsdosis der Nierenfunktion angepasst werden. Unmittelbar nach prolongierter Tankdialyse wird jeweils wieder eine Startdosis gegeben; die Erhaltungsdosis bei 12-stündigem Dosierungsintervall muss ebenfalls der Nierenfunktion angepasst werden. Ein therapeutisches Drugmonitoring empfiehlt sich bei Gentamicin, Vancomycin, Piperacillin, Meropenem und Voriconazol. Aus pharmakodynamischen Gründen sollte als Zielspiegel die Konzentration des halbmaximalen Effekts gewählt werden. Der Zielspiegel entspricht so den normalen Spitzenspiegeln bei konzentrationsabhängiger Wirkung mit Bolusdosierung. Die Zielspiegel bei zeitabhängiger Wirkung und kontinuierlicher Infusion entsprechen dann der mittleren Gleichgewichtskonzentration.
Abstract
Intermittent hemodialysis, continuous hemofiltration and prolonged daily dialysis are used for renal replacement therapy in the intensive care units. Independent of the replacement modality, antibiotic therapy must start with a high loading dose. Dose adjustment to the kidneys must follow 48 h later to prevent toxic accumulation. Dose recommendations on product labels are often underdosed. On continuous hemofiltration, meanwhile many intensivists administer a normal standard dose because the high filtration rate corresponds to a half-normal glomerular filtration rate. After intermittent hemodialysis, a dose similar to the loading dose will be needed. On day off dialysis, the maintenance dose must be adjusted to the failing kidney function. Immediately after prolonged daily dialysis, a loading dose should be given; with twice daily dosing the maintenance dose needs to be adjusted to kidney function. Therapeutic drug monitoring is recommended for gentamicin, vancomycin, piperacillin, meropenem and voriconazole. Due to pharmacodynamic reasons, the target concentration corresponds to the concentration producing the half-maximum effect. Accordingly, the target concentration is the normal peak for concentration-dependent action with bolus dosing. The target is the average steady-state concentration for antibiotics with time-dependent action and continuous infusion.
This is a preview of subscription content, log in to check access.
Access options
Buy single article
Instant access to the full article PDF.
US$ 39.95
Price includes VAT for USA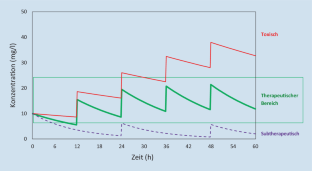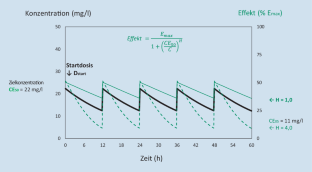 Literatur
1.

Vilay AM, Churchwell MD, Mueller BA (2008) Clinical review: drug metabolism and nonrenal clearance in acute kidney injury. Crit Care 12(6):235

2.

Fugate JE, Kalimullah EA, Hocker SE, Clark SL, Wijdicks EF, Rabinstein AA (2013) Cefepime neurotoxicity in the intensive care unit: a cause of severe, underappreciated encephalopathy. Crit Care 17(6):R264

3.

Inoue Y, Doi Y, Arisato T, Sugioka S, Koga K, Nishioka K, Sugawara A (2017) Three cases of hemodialysis patients receiving high-dose ceftriaxone: serum concentrations and its neurotoxicity. Kidney Int Rep 2(5):984–987

4.

Wagenlehner FME, Cloutier DJ, Komirenko AS, Cebrik DS, Krause KM, Keepers TR, Connolly LE, Miller LG, Friedland I, Dwyer JP, EPIC Study Group (2019) Once-daily plazomicin for complicated urinary tract infections. N Engl J Med 380(8):729–740

5.

Lea-Henry TN, Carland JE, Stocker SL, Sevastos J, Roberts DM (2018) Clinical pharmacokinetics in kidney disease: fundamental principles. Clin J Am Soc Nephrol 13(7):1085–1095

6.

Keller F, Czock D (2019) Classical pharmacokinetics and concise pharmacodynamics for clinicians. Dustri, Munich, Orlando

7.

Bremmer DN, Nicolau DP, Burcham P, Chunduri A, Shidham G, Bauer KA (2016) Ceftolozane/tazobactam pharmacokinetics in a critically ill adult receiving continuous renal replacement therapy. Pharmacotherapy 36(5):e30–e33

8.

Kullar R, Wagenlehner FM, Popejoy MW, Long J, Yu B, Goldstein EJ (2017) Does moderate renal impairment affect clinical outcomes in complicated intra-abdominal and complicated urinary tract infections? Analysis of two randomized controlled trials with ceftolozane/tazobactam. J Antimicrob Chemother 72(3):900–905

9.

Mazuski JE, Gasink LB, Armstrong J, Broadhurst H, Stone GG, Rank D, Llorens L, Newell P, Pachl J (2016) Efficacy and safety of ceftazidime-avibactam plus metronidazole versus meropenem in the treatment of complicated intra-abdominal infection: results from a randomized, controlled, double-blind, phase 3 program. Clin Infect Dis 62(11):1380–1389

10.

Lim SK, Lee SA, Kim CW, Kang E, Choi YH, Park I (2019) High variability of teicoplanin concentration in patients with continuous venovenous hemodiafiltration. Hemodial Int 23(1):69–76

11.

Kielstein JT, Kruse AK, Anderson N, Vaitiekunas H, Scherneck S (2019) Foliden auf der Intensivstation. Wie vile Antibiotika vrbraucht Ihre Nierenersatztherapie pro Tag ? Med Klin Intensivmed Notfmed 114:139–145

12.

Devine BJ (1974) Gentamicin therapy. Drug Intell Clin Pharm 8:650–655

13.

Bellmann R (2014) Pharmacokinetic and pharmacodynamic aspects in antibiotic treatment. Med Klin Intensivmed Notfmed 109(3):162–166

14.

Abad L, Tafani V, Tasse J, Josse J, Chidiac C, Lustig S, Ferry T, Diot A, Laurent F, Valour F (2019) Evaluation of the ability of linezolid and tedizolid to eradicate intraosteoblastic and biofilm-embedded staphylococcus aureus in the bone and joint infection setting. J Antimicrob Chemother 74(3):625–632

15.

Taccone FS, Laterre PF, Dugernier T, Spapen H, Delattre I, Wittebole X, De Backer D, Layeux B, Wallemacq P, Vincent JL, Jacobs F (2010) Insufficient β‑lactam concentrations in the early phase of severe sepsis and septic shock. Crit Care 14(4):R126

16.

Zander J, Döbbeler G, Nagel D, Maier B, Scharf C, Huseyn-Zada M, Jung J, Frey L, Vogeser M, Zoller M (2016) Piperacillin concentration in relation to therapeutic range in critically ill patients—a prospective observational study. Crit Care 20:79

17.

Czock D, Schwenger V, Kindgen-Milles D, Joannidis M, John S, Schmitz M, Jörres A, Zarbock A, Oppert M, Kielstein JT, Willam C (2018) Dose adjustment of anti-infective drugs in patients with renal failure and renal replacement therapy in intensive care medicine : recommendations from the renal section of the DGIIN, ÖGIAIN and DIVI. Med Klin Intensivmed Notfmed 113(5):384–392. https://doi.org/10.1007/s00063-018-0416-z

18.

Farrington CA, Allon M (2019) Management of the hemodialysis patient with catheter-related bloodstrem infeciton. Clin J Am Soc Nephrol 14(4):611–613. https://doi.org/10.2215/CJN.13171118

19.

Wieruszewski PM, Kashani KB, Rabinstein AA, Frazee E (2018) Levetiracetam pharmacokinetics in a critically ill anephric patient on intermittent hemodialysis. Neurocrit Care 28(2):243–246

20.

Roberts DM, Sevastos J, Carland JE, Stocker SL, Lea-Henry TN (2018) Clinical pharmacokinetics in kidney disease: application to rational design of dosing regimens. Clin J Am Soc Nephrol 13(8):1254–1263

21.

Karaiskos I, Friberg LE, Galani L, Ioannidis K, Katsouda E, Athanassa Z, Paskalis H, Giamarellou H (2016) Challenge for higher colistin dosage in critically ill patients receiving continuous venovenous haemodiafiltration. Int J Antimicrob Agents 48(3):337–341

22.

Hafner V, Czock D, Burhenne J, Riedel KD, Bommer J, Mikus G, Machleidt C, Weinreich T, Haefeli WE (2010) Pharmacokinetics of sulfobutylether-beta-cyclodextrin and voriconazole in patients with end-stage renal failure during treatment with two hemodialysis systems and hemodiafiltration. Antimicrob Agents Chemother 54(6):2596–2602

23.

Schmidt JJ, Strunk AK, David S, Bode-Böger SM, Martens-Lobenhoffer J, Knitsch W, Scherneck S, Welte T, Kielstein JT (2019) Single- and multiple-dose pharmacokinetics and total removal of colistin in critically ill patients with acute kidney injury undergoing prolonged intermittent renal replacement therapy. J Antimicrob Chemother. https://doi.org/10.1093/jac/dky511

24.

Harris LE, Reaves AB, Krauss AG, Griner J, Hudson JQ (2013) Evaluation of antibiotic prescribing patterns in patients receiving sustained low-efficiency dialysis: opportunities for pharmacists. Int J Pharm Pract 21(1):55–61

25.

Zoller M, Döbbeler G, Maier B, Vogeser M, Frey L, Zander J (2015) Can cytokine adsorber treatment affect antibiotic concentrations? A case report. J Antimicrob Chemother 70(7):2169–2171

26.

Jacobs A, Taccone FS, Roberts JA, Jacobs F, Cotton F, Wolff F, Creteur J, Vincent JL, Hites M (2018) β‑lactam dosage regimens in septic patients with augmented renal clearance. Antimicrob Agents Chemother 62(9):e2534–17

27.

Vardakas KZ, Voulgaris GL, Maliaros A, Samonis G, Falagas ME (2018) Prolonged versus short-term intravenous infusion of antipseudomonal β‑lactams for patients with sepsis: a systematic review and meta-analysis of randomised trials. Lancet Infect Dis 18(1):108–120

28.

Tamatsukuri T, Ohbayashi M, Kohyama N, Kobayashi Y, Yamamoto T, Fukuda K, Nakamura S, Miyake Y, Dohi K, Kogo M (2018) The exploration of population pharmacokinetic model for meropenem in augmented renal clearance and investigation of optimum setting of dose. J Infect Chemother 24(10):834–840

29.

Luque Y, Louis K, Jouanneau C, Placier S, Esteve E, Bazin D, Rondeau E, Letavernier E, Wolfromm A, Gosset C, Boueilh A, Burbach M, Frère P, Verpont MC, Vandermeersch S, Langui D, Daudon M, Frochot V, Mesnard L (2017) Vancomycin-associated cast nephropathy. J Am Soc Nephrol 28(6):1723–1728

30.

Andersen MG, Thorsted A, Storgaard M, Kristoffersson AN, Friberg LE, Öbrink-Hansen K (2018) Population pharmacokinetics of piperacillin in sepsis patients: should alternative dosing strategies be considered? Antimicrob Agents Chemother 62(5):e2306–17. https://doi.org/10.1128/AAC.02306-17
Ethics declarations
Interessenkonflikt
M. Kächele gibt an, dass kein Interessenkonflikt besteht. F. Keller gibt an, unabhängig von der vorliegenden Arbeit persönliche Honorare von den Firmen Novartis, TEWA, Astellas, Roche, Alexion, Medice, Hexal, Beyer, Pfitzer, MSD, Aspen, event-lab, Akademie Niere erhalten zu haben.
Für diesen Beitrag wurden von den Autoren keine Studien an Menschen oder Tieren durchgeführt. Für die aufgeführten Studien gelten die jeweils dort angegebenen ethischen Richtlinien.
Additional information
Redaktion
M. Buerke, Siegen
About this article
Cite this article
Kächele, M., Keller, F. Pharmakokinetik und Pharmakodynamik bei extrakorporaler Nierenersatztherapie. Med Klin Intensivmed Notfmed (2020). https://doi.org/10.1007/s00063-020-00654-7
Received:

Revised:

Accepted:

Published:
Schlüsselwörter
Antibiotika

Hämodialyse

Hämofiltration

Tankdialyse

Zielspiegel

Schwellenkonzentration
Keywords
Anti-bacterial agents

Hemodialysis

Hemofiltration

Prolonged dialysis

Target concentration

Threshold concentration