Zusammenfassung
In diesem Beitrag wird das Strategic Aeromedical-Evacuation(StratAirMedEvac)-System der Bundeswehr beschrieben und vorgestellt. Es werden folgende Gesichtspunkte näher beschrieben: die Alarmierung, die eingesetzten Luftfahrzeuge, die medizinische Ausstattung, das medizinische Begleitpersonal und dessen Ausbildung sowie die fliegerischen und medizinischen Besonderheiten mit einem Fokus auf die Tätigkeit der intensivmedizinischen Fachpflegekraft. Dieses System der Bundeswehr für den Langstreckenintensivtransport bietet viele Möglichkeiten bei Repatriierungen aus Einsatzgebieten sowie bei Hilfeleistungs- und Katastropheneinsätzen. Es hat sich bereits in zahlreichen militärischen und zivilen Einsätzen bewährt und findet hohe Anerkennung unter den militärischen Bündnispartnern. Verschiedene Prioritäts- und Bereitschaftsstufen erfordern einen flexiblen Einsatz der unterschiedlichen Luftfahrzeugmuster und des dazugehörigen Personals, um fast jedes Einsatzszenario bedienen zu können. Die sich ständig ändernden Anforderungen der Bundeswehr setzen eine fortwährende Anpassung dieses Lufttransportsystems voraus. Für die Fachkrankenpflege ist die intensivmedizinische Betreuung eines Patienten während des Lufttransports eine fachliche und körperliche Herausforderung.
Abstract
This article presents the German Armed Forces Strategic Aeromedical Evacuation system. The following factors are described in detail: the path of alert, the used aircrafts, the medical equipment, the medical care personnel with its associated training as well as the aeronautical and medical issues. This military system for long haul intensive care transport offers many medical possibilities in critical care repatriations from deployment areas, as well as disaster relief missions. It has been successfully proven in numerous military and civil operations and continues to have high recognition among all military allies until today. Different priorities and readiness levels build the base for flexible use of various aircraft types and associated personnel, so that almost every scenario can be covered. The ever-changing tasks and needs of the German armed forces require constant adjustment of this air transport system. For the specialist nurse the intensive care of a patient during air transport is a technical and physical challenge.
This is a preview of subscription content, log in to check access.
Access options
Buy single article
Instant access to the full article PDF.
US$ 39.95
Price includes VAT for USA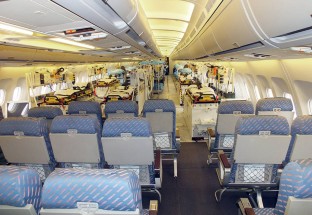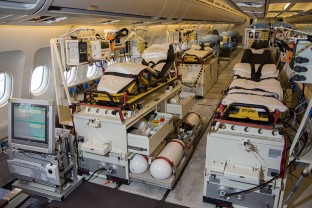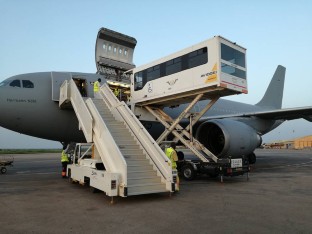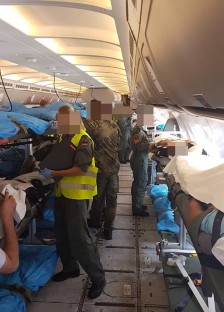 Literatur
1.

Bundesministerium der Verteidigung (2019) Sanitätsdienst der Bundeswehr. http://www.sanitaetsdienst-bundeswehr.de/portal/a/sanitaetsdienst/start/technik. Zugegriffen: 9. Jan. 2019

2.

Bundesministerium der Verteidigung (2019) Bundeswehr. https://www.bundeswehr.de/portal/a/bwde/start/aktuelles/aus_dem_einsatz. Zugegriffen: 9. Jan. 2019

3.

Kommando Sanitätsdienst der Bundewehr (2015) Zentralvorschrift A1-852/1-4001 Durchführung von Strategic Aeromedical Evacuation

4.

Hossfeld B, Rohowsky B, Röding E, Lampl L (2004) Intensivtherapie im militärischen Langstreckentransport. Anästhesiol Intensivmed Notfallmed Schmerzther 39:256–264

5.

Ellinger K, Grenzwürker H, Hinkelbein J, Lessing P (Hrsg) (2005) Intensivtransport, 2. Aufl. Deutscher Ärzteverlag, Köln (S. 64–91 und 101–118)

6.

Hossfeld B, Helm M, Hölldobler G, Lampl L (2005) Langstrecken-Intensivtransport der Bundeswehr. Notfall Rettungsmed 8(3):201–206. https://doi.org/10.1007/s10049-005-0728-4

7.

Kommando Luftwaffe (2019) Luftwaffe. http://www.luftwaffe.de. Zugegriffen: 9. Jan. 2019

8.

Deutscher Ärzteverlag (2019) Ärzteblatt. https://www.aerzteblatt.de/archiv/45020/Bundeswehr-Airbus-MedEvac-Ein-Blick-in-die-fliegende-Intensivstation. Zugegriffen: 9. Jan. 2019
Ethics declarations
Interessenkonflikt
S. Wernecke, J. Lührs und B. Hossfeld geben an, dass kein Interessenkonflikt besteht.
Dieser Beitrag beinhaltet keine von den Autoren durchgeführten Studien an Menschen oder Tieren.
Additional information
Redaktion
C. Hermes, Siegburg/Bonn
A. Kaltwasser, Reutlingen
About this article
Cite this article
Wernecke, S., Lührs, J. & Hossfeld, B. Das Strategic-Aeromedical-Evacuation-System der Bundeswehr. Med Klin Intensivmed Notfmed 114, 752–758 (2019). https://doi.org/10.1007/s00063-019-0535-1
Received:

Revised:

Accepted:

Published:

Issue Date:
Schlüsselwörter
Patiententransport

Zentraler Sanitätsdienst

Militärmedizin

Intensivpflege

Fachkrankenpflegekräfte
Keywords
Transportation of patients

Joint medical service

Military medicine

Critical care

Nurse specialists