Zusammenfassung
Hintergrund
Eine psychologische Versorgung ist auf Intensivstationen aufgrund der nachgewiesenen psychischen Belastungen von Patienten und Angehörigen grundsätzlich vorgesehen. Auch Ärzte und Pflegekräfte können von einer dementsprechenden Versorgungsstruktur profitierten. Gleichzeitig ist nicht bekannt, ob und wie psychologische Betreuung von Patienten und Angehörigen sowie die Unterstützung des Personals auf deutschen Intensivstationen durch Psychologen umgesetzt wird. Deswegen wurde eine Umfrage unter den Mitgliedern der Deutschen Interdisziplinären Vereinigung für Intensiv- und Notfallmedizin (DIVI) mit dem Ziel durchgeführt, einen Überblick über die aktuellen Strukturen sowie über den Bedarf an psychologischer Mitversorgung zu erlangen.
Methode
Die ordentlichen Mitglieder der DIVI wurden im Rahmen einer webbasierten Umfrage zur Teilnahme eingeladen. Insgesamt 226 Ärzte und Pflegekräfte beteiligten sich an der Umfrage. Die Auswertungen erfolgten deskriptiv und anhand von Gruppenvergleichen mit χ2-Verfahren.
Ergebnis
In allen Versorgungsbereichen, der psychologischen Betreuung von Patienten, von Angehörigen sowie der Unterstützung des Personals, gaben die Befragten eine deutliche Unterversorgung an und äußerten den Bedarf an einer verbesserten Versorgung. Dabei ist ein Modell, das anhand der Versorgungsstufe eine konsiliarische bzw. teamintegrierte Mitarbeit des Psychologen vorsieht, denkbar.
Diskussion
Die aktuelle psychologische Versorgung auf deutschen Intensivstationen deckt aus Sicht der Befragten nicht den bestehenden Bedarf. Es bedarf fundierter Konzepte und einer Diskussion darüber wie eine angemessene, bedarfsorientierte psychologische Versorgung künftig umgesetzt werden kann.
Abstract
Background
Psychological care should be provided in intensive care units (ICUs) because of the proven mental symptoms of patients and relatives. Even physicians and nurses can benefit from a corresponding care structure. Knowledge is lacking whether and how psychological care for patients and relatives as well as support for staff in German ICUs is implemented. For this reason, a survey was conducted among the members of the German Interdisciplinary Association for Intensive Care and Emergency Medicine (DIVI) to gain an overview of the current structures and the need for psychological support.
Methods
The members of DIVI were invited to participate in a web-based survey. A total of 226 physicians and nurses took part in the survey. Analysis included statistics and group comparisons with Χ2 methods.
Results
In all care areas, psychological care of patients, relatives, and support for staff, respondents indicated a significant undersupply and expressed the need for improved care. A model which provides consular or team-integrated support based on the level of care is conceivable.
Discussion
The current state of psychological care in German ICUs does not cover the existing need. Consequently the development of concepts and the beginning of discussions on how appropriate psychological care can be implemented in the future is necessary.
Access options
Buy single article
Instant access to the full article PDF.
US$ 39.95
Tax calculation will be finalised during checkout.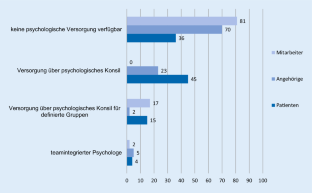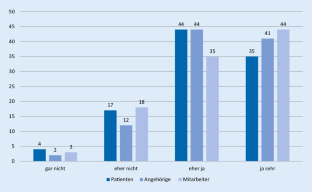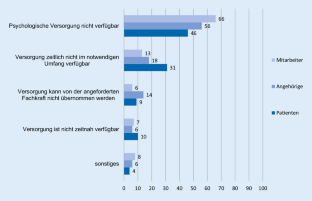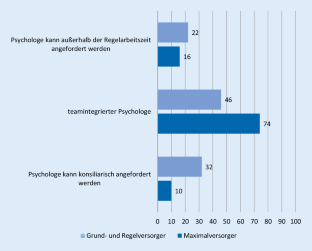 Literatur
1.

Gawlytta R, Wintermann GB, Böttche M, Niemeyer H, Knaevelsrud C, Rosendahl J (2019) Posttraumatic stress disorder after intensive care: Prevalence, risk factors, and treatment. Med Klin Intensivmed Notfmed 114(1):9–14. https://doi.org/10.1007/s00063-017-0266-0

2.

Niecke A, Schneider G, Hartog CS, Michels G (2017) Traumatized relatives of intensive care patients. Med Klin Intensivmed Notfmed 112(7):612–617. https://doi.org/10.1007/s00063-017-0316-7

3.

Wade DM, Howell DC, Weinman JA et al (2012) Investigating risk factors for psychological morbidity three months after intensive care: a prospective cohort study. Crit Care 16(5):R192. https://doi.org/10.1186/cc11677

4.

Matt B, Schwarzkopf D, Reinhart K, König C, Hartog CS (2017) Relatives' perception of stressors and psychological outcomes—results from a survey study. J Crit Care 39:172–177. https://doi.org/10.1016/j.jcrc.2017.02.036

5.

Davydow DS, Zatzick D, Hough CL, Katon WJ (2013) A longitudinal investigation of posttraumatic stress and depressive symptoms over the course of the year following medical-surgical intensive care unit admission. Gen Hosp Psychiatry 35(3):226–232. https://doi.org/10.1016/j.genhosppsych.2012.12.005

6.

Parker AM, Sricharoenchai T, Raparla S, Schneck KW, Bienvenu OJ, Needham DM (2015) Posttraumatic stress disorder in critical illness survivors: a metaanalysis. Crit Care Med 43(5):1121–1129

7.

Harvey MA, Davidson JE (2016) Postintensive care syndrome: right care, right now...and later. Crit Care Med 44(2):381–385. https://doi.org/10.1097/CCM.0000000000001531

8.

Davidson JE, Jones C, Bienvenu OJ (2012) Family response to critical illness: postintensive care syndrome-family. Crit Care Med 40(2):618–624. https://doi.org/10.1097/CCM.0b013e318236ebf9

9.

Johnson CC, Suchyta MR, Darowski ES et al (2019) Psychological sequelae in family caregivers of critically-illintensive care unit patients: a systematic review. Ann Am Thorac Soc. https://doi.org/10.1513/AnnalsATS.201808-540SR

10.

Wintermann GB, Petrowski K, Weidner K, Strauß B, Rosendahl J (2019) Impact of post-traumatic stress symptoms on the health-related quality of life in a cohort study with chronically critically ill patients and their partners: age matters. Crit Care 23(1):39

11.

AWMF S3-Leitlinie 001-012: Analgesie, Sedierung und Delirmanagement in der Intensivmedizin. Abgerufen unter: https://www.awmf.org/uploads/tx_szleitlinien/001-012l_S3_Analgesie_Sedierung_Delirmanagement_Intensivmedizin_2015-08_01.pdf. Zugegriffen: 5. Apr. 2019

12.

AWMF-Leitlinie 051-027. Diagnostik und Behandlung von akuten Folgen psychischer Traumatisierung. Abgerufen unter: https://www.awmf.org/leitlinien/detail/ll/051-027.html. Zugegriffen: 10. Okt. 2019

13.

Hartog CS, Reinhart K (2018) Staff and family response to end-of-life care in the ICU. Curr Opin Anaesthesiol 31(2):195–200

14.

Deffner T, Michels G, Nojack A, Rößler I, Stierle D, Sydlik M, Teufert S, Ullmann U, von Bassewitz V, Wicklein K (2018) Psychologische Versorgung auf der Intensivstation. Tätigkeitsbereiche, Aufgaben, Anforderungen und Ausstattung. Med Klin Intensivmed Notfmed. https://doi.org/10.1007/s00063-018-0503-1

15.

Treggiari-Venzi MM, Suter PM, de Tonac N, Romand JA (2000) Successful use of hypnosis as an adjunctive therapy for weaning from mechanical ventilation. Anesthesiology 92(3):890–892. PubMed PMID: 10719976

16.

Szilágyi AK, Diószeghy CS, Benczúr L, Varga K (2007) Effectiveness of psychological support based on positive suggestion with the ventilated patient. Eur J Ment Health 2:149–170

17.

Varga K, Varga Z, Fritúz G (2013) Psychological support based on positive suggestions in the treatment of a critically ill ICU patient—a case report. Interv Med Appl Sci 5(4):153–161

18.

Wade D, Moon Z, Windgassen SS et al (2006) Non-pharmacological interventions to reduce ICU related psychological distress: a systematic review. Minerva Anestesiol 82(4):465–478

19.

Cohen JN, Gopal A, Roberts KJ, Anderson E, Siegel AM (2019) Ventilator-dependent patients successfully weaned with cognitive-behavioral therapy: a case series. Psychosomatics. https://doi.org/10.1016/j.psym.2019.02.003

20.

Peris A, Bonizzoli M, Iozzeli D, Migliaccio ML, Zagli G, Bacchereti A, Debolini M, Vannini E, Solaro M, Balzi I, Bendoni E, Bacchi I, Giovannini V, Belloni L (2011) Early intra-intensive care unit psychological intervention promotes recovery from posttraumatic stress disorders, anxiety and depression symptoms in critically ill patients. Crit Care 15:R41

21.

Wade DM, Mouncey PR, Richards-Belle A, Wulff J, Harrison DA, Sadique MZ, Grieve RD, Emerson LM, Mason AJ, Aaronovitch D, Als N, Brewin CR, Harvey SE, Howell DCJ, Hudson N, Mythen MG, Smyth D, Weinman J, Welch J, Whitman C, Rowan KM, POPPI Trial Investigators. (2019) Effect of a nurse-led preventive psychological intervention on symptoms of posttraumatic stress disorder among critically ill patients: a randomized clinical trial. JAMA 321(7):665–675. https://doi.org/10.1001/jama.2019.0073

22.

Fischer G, Riedesser P (2009) Lehrbuch der Psychotraumatologie, 3. Aufl. UTB, Stuttgart

23.

Roberts MB, Glaspey LJ, Mazzarelli A, Jones CW, Kilgannon HJ, Trzeciak S, Roberts BW (2018) Early interventions for the prevention of posttraumatic stress symptoms in survivors of critical illness: a qualitative systematic review. Crit Care Med 46(8):1328–1333. https://doi.org/10.1097/CCM.0000000000003222

24.

White DB, Angus DC, Shields AM, Buddadhumaruk P, Pidro C, Paner C, Chaitin E, Chang CH, Pike F, Weissfeld L, Kahn JM, Darby JM, Kowinsky A, Martin S, Arnold RM, PARTNER Investigators. (2018) A randomized trial of a family-support intervention in intensive care units. N Engl J Med 378(25):2365–2375. https://doi.org/10.1056/NEJMoa1802637

25.

Curtis JR, Treece PD, Nielsen EL, Gold J, Ciechanowski PS, Shannon SE, Khandelwal N, Young JP, Engelberg RA (2016) Randomized trial of communication facilitators to reduce family distress and intensity of end-of-life care. Am J Respir Crit Care Med 193(2):154–162. https://doi.org/10.1164/rccm.201505-0900OC

26.

White DB, Angus DC, Shields AM, Buddadhumaruk P, Pidro C, Paner C, Chaitin E, Chang CH, Pike F, Weissfeld L, Kahn JM, Darby JM, Kowinsky A, Martin S, Arnold RM, PARTNER Investigators (2018) A randomized trial of a family-support intervention in intensive care units. N Engl J Med 378(25):2365–2375. https://doi.org/10.1056/NEJMoa1802637

27.

Lautrette A, Darmon M, Megarbane B et al (2007) A communication strategy and brochure for relatives of patients dying in the ICU. N Engl J Med 356(5):469–478

28.

Niecke A, Hartog C, Deffner T, Janssens U, Michels G (2019) Need for psychological support in intensive care: a survey among members of the German Society of Medical Intensive Care and Emergency Medicine. Med Klin Intensivmed Notfmed. https://doi.org/10.1007/s00063-018-0523-x

29.

Moss M, Good VS, Gozal D, Kleinpell R, Sessler CN (2016) An official critical care societies collaborative statement-burnout syndrome in critical care health-care professionals: a call for action. Chest 150(1):17–26

30.

Karagiannidis C, Kluge S, Riessen R, Krakau M, Bein T, Janssens U (2018) Intensivmedizin: Intensivpflegemangel führt zu drohender Unterversorgung. Dtsch Arztebl 115(11):A467–A469

31.

Deutsche gesetzliche Unfallversicherung Erkrankungsrisiken durch arbeitsbedingte psychische Belastung. https://publikationen.dguv.de/dguv/pdf/10002/12805.pdf. Zugegriffen: 17.05.2019

32.

Conflicus Study Investigators and for the Ethics Section of the European Society of Intensive Care Medicine, Azoulay E, Timsit JF, Sprung CL et al (2009) Prevalence and factors of intensive care unit conflicts: the conflicus study. Am J Respir Crit Care Med 180(9):853–860. https://doi.org/10.1164/rccm.200810-1614OC

33.

Martins Pereira S, Teixeira CM, Carvalho AS, Hernández-Marrero P, InPalIn (2016) Compared to palliative care, working in intensive care more than doubles the chances of burnout: results from a nationwide comparative study. PLoS ONE 11:e162340. https://doi.org/10.1371/journal.pone.0162340

34.

Jorch G, Kluge S, König F et al Empfehlungen zur Struktur und Ausstattung von Intensivstationen. https://www.divi.de/empfehlungen/publikationen/intensivmedizin/399-empfehlungen-zur-struktur-von-intensivstationen-langversion/file. Zugegriffen: 17.05.2019

35.

National Institute for Health and Clinical Excellence (2009) Rehabilitation after critical illness: NICE clinical guideline. 83. https://www.nice.org.uk/guidance/cg83. Zugegriffen: 17.05.2019

36.

Deutsche Gesellschaft für Palliativmedizin (2016) Palliativpsychologie – Berufsbild für Psychologinnen und Psychologen in der Palliativversorgung. https://www.dgpalliativmedizin.de/.../Berufsbild_PalliativpsychologIn_DGP_2016.pdf.am. Zugegriffen: 12. Febr. 2019
Ethics declarations
Interessenkonflikt
T. Deffner, D. Schwarzkopf und C. Waydhas geben an, dass kein Interessenkonflikt besteht.
Für diesen Beitrag wurden von den Autoren keine Studien an Menschen oder Tieren durchgeführt. Für die aufgeführten Studien gelten die jeweils dort angegebenen ethischen Richtlinien. Alle Daten wurden anonymisiert erhoben.
Additional information
Redaktion
M. Buerke, Siegen
Caption Electronic Supplementary Material
Übersicht über Befragungsbereiche und vollständige Inhalte des Fragebogens
About this article
Cite this article
Deffner, T., Schwarzkopf, D., Waydhas, C. et al. Psychologische Versorgung auf deutschen Intensivstationen. Med Klin Intensivmed Notfmed 116, 146–153 (2021). https://doi.org/10.1007/s00063-019-00638-2
Received:

Revised:

Accepted:

Published:

Issue Date:
Schlüsselwörter
Intensivmedizin

Psychische Erkrankung

Angehörige

Team

Psychologische Versorgung
Keywords
Intensive care medicine

Mental disorder

Relatives

Team

Psychological need of care