Abstract
Background
Using tetrastarch for fluid resuscitation after a severe trauma injury may increase risks of death and acute kidney injury. The importance of tetrastarch dose, however, is unknown.
Methods
A retrospective observational study was performed in two trauma centres using data on type and amount of fluids (balanced crystalloids or tetrastarch) used for pre- and acute in-hospital shock management. We evaluate independent associations between the relative and absolute volumes of tetrastarch and 90-day survival time or the frequency of severe acute kidney failure (AKF).
Results
We studied 271 patients who had sustained a severe blunt trauma injury (average predicted mortality according to the Revised Injury Severity Classification Score (RISC) 15.1 ± 1.4% [mean, standard deviation]), and who had required more than 2 days of intensive care therapy. In all, 75.3% of patients had received tetrastarch with a crystalloid/colloid ratio of 2.93 ± 2.60. The 90-day mortality was 11.1%, and 7.8% of the patients developed severe AKF. After adjusting for confounders, we found a U-shaped, nonlinear association between absolute or relative volumes of tetrastarch and survival time (p = 0.003 and 0.025, respectively). Optimal relative volumes of tetrastarch approximately ranged from 20 to 30% of total fluids. Giving less than about 1000 ml, or more than about 2000 ml tetrastarch was significantly associated with an increased risk of developing severe AKF (p = 0.023).
Conclusions
There was a complex U‑shaped association between the tetrastarch dose and morbidity/mortality of patients after a severe trauma injury. The optimal crystalloid/tetrastarch ratio for acute shock management appears to range from about 2.5 to 4.0.
Zusammenfassung
Hintergrund
Die Therapie des Volumenmangelschocks nach Polytrauma mittels Tetrastärke (HES; 130/0,38–0,45 oder 0,42) wird angeschuldigt, das Sterberisiko bzw. Risiko eines akuten Nierenversagens zu erhöhen. Inwieweit dabei die Tetrastärkedosis von Bedeutung ist, ist nicht bekannt.
Methodik
In einer retrospektiven Beobachtungsstudie an 2 Traumazentren wurden Art und Menge von Flüssigkeiten (balancierte Kristalloide und Tetrastärke) erhoben, die zur präklinischen und akuten innerklinischen Therapie des traumainduzierten Kreislaufschocks verabreicht worden waren. Wir untersuchten unabhängige Assoziationen zwischen relativen bzw. absoluten Tetrastärkevolumina und der 90-Tage-Überlebenszeit bzw. der Häufigkeit eines schweren akuten Nierenversagens (ANV).
Ergebnisse
Ausgewertet wurden 271 Patienten nach schwerem stumpfem Polytrauma (vorhergesagte durchschnittliche Letalität nach dem Revised Injury Severity Classification Score [RISC] 15,1 ± 1,4 % [MW ± SD]), die mehr als 2 Tage intensivmedizinisch hatten versorgt werden müssen. 75,3 % der Patienten hatten Tetrastärke mit einem Kristalloid-Kolloid-Verhältnis von 2,93 ± 2,60 erhalten. Die 90-Tage-Letalität betrug 11,1 % und 7,8 % der Patienten entwickelten ein ANV. Nach Adjustierung an Konfounder zeigte sich eine U‑förmige, nichtlineare Assoziation zwischen absoluten und relativen Tetrastärkevolumina und der Überlebenszeit (p = 0,003 und 0,025). Die besten klinischen Ergebnisse wurden beobachtet, wenn 20–30 % der zugeführten Flüssigkeiten in Form von Tetrastärke verabreicht worden waren. Die Gabe von weniger als 1000 ml oder mehr als 2000 ml Tetrastärke war signifikant mit einem erhöhten Risiko assoziiert, ein ANV zu entwickeln (p = 0,023).
Schlussfolgerung
Nach schwerem Polytrauma besteht eine komplexe U‑förmige Assoziation zwischen der Tetrastärkedosis und der Morbidität/Letalität. Das für die akute Schocktherapie optimale Kristalloid-Kolloid-Verhältnis scheint zwischen 2,5 und 4,0 zu liegen.
This is a preview of subscription content, log in to check access.
Access options
Buy single article
Instant access to the full article PDF.
US$ 39.95
Tax calculation will be finalised during checkout.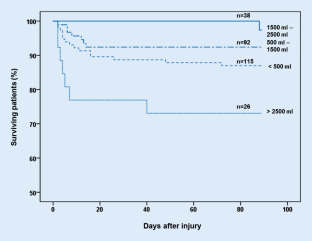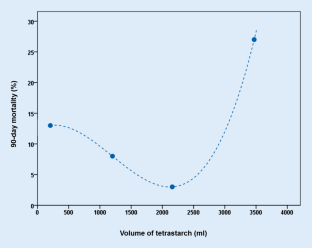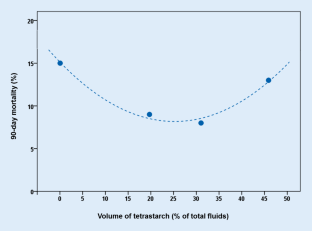 References
1.

Wiedermann CJ, Eisendle K (2017) Comparison of hydroxyethyl starch regulatory summaries from the Food and Drug Administration and the European Medicines Agency. J Pharm Policy Pract 10:12

2.

European Medicines Agency (2018) https://www.ema.europa.eu/en/news/hydroxyethyl-starch-solutions-cmdh-introduces-new-measures-protect-patients. Accessed April 10, 2019

3.

European Medicines Agency (2018) Hydroxyethyl starch solutions: CMDh introduces new measures to protect patients. https://www.ema.europa.eu/documents/referral/hydroxyethyl-starch-article-107i-referral-hydroxyethyl-starch-solutions-cmdh-introduces-new-measures_en.pdf. Accessed April 10, 2019

4.

Bellomo R, Bion J, Finfer S, Myburgh J, Perner A, Reinhart K (2014) Open letter to the Executive Director of the European Medicines Agency concerning the licensing of hydroxyethyl starch solutions for fluid resuscitation. Br J Anaesth 112(3):595–600

5.

Coriat P, Guidet B, de Hert S, Kochs E, Kozek S, Van Aken H (2014) Counter statement to open letter to the Executive Director of the European Medicines Agency concerning the licensing of hydroxyethyl starch solutions for fluid resuscitation. Br J Anaesth 113(1):194–195

6.

Doshi P (2018) EMA recommendation on hydroxyethyl starch solutions obscured controversy. BMJ 360:k1287

7.

Marx G, Schindler AW, Mosch C, Albers J, Bauer M, Gnass I, Hobohm C, Janssens U, Kluge S, Kranke P, Maurer T, Merz W, Neugebauer E, Quintel M, Senninger N, Trampisch HJ, Waydhas C, Wildenauer R, Zacharowski K, Eikermann M (2016) Intravascular volume therapy in adults: guidelines from the Association of the Scientific Medical Societies in Germany. Eur J Anaesthesiol 33(7):488–521

8.

Perner A, Junttila E, Haney M, Hreinsson K, Kvåle R, Vandvik PO, Møller MH (2015) Scandinavian clinical practice guideline on choice of fluid in resuscitation of critically ill patients with acute circulatory failure. Acta Anaesthesiol Scand 59(3):274–285

9.

Rossaint R, Bouillon B, Cerny V, Coats TJ, Duranteau J, Fernández-Mondéjar E, Filipescu D, Hunt BJ, Komadina R, Nardi G, Neugebauer EA, Ozier Y, Riddez L, Schultz A, Vincent JL, Spahn DR (2016) The European guideline on management of major bleeding and coagulopathy following trauma: fourth edition. Crit Care 12;20:100

10.

The National Institute for Health and Care Excellence (NICE) (2013) Clinical Guideline 174. Intravenous fluid therapy in adults in hospital. https://www.nice.org.uk/guidance/CG174. Accessed December 14, 2018

11.

Kieninger M, Unbekannt D, Schneiker A, Sinner B, Bele S, Prasser C (2017) Effect of hydroxyethyl starch solution on incidence of acute kidney injury in patients suffering from cerebral Vasospasm following aneurysmal subarachnoid hemorrhage. Neurocrit Care 26(1):34–40

12.

Kunze E, Stetter C, Willner N, Koehler S, Kilgenstein C, Ernestus RI, Kranke P, Muellenbach RM, Westermaier T (2016) Effects of fluid treatment with hydroxyethyl starch on renal function in patients with aneurysmal subarachnoid hemorrhage. J Neurosurg Anesthesiol 28(3):187–194

13.

Ma PL, Peng XX, Du B, Hu XL, Gong YC, Wang Y, Xi XM (2015) Sources of heterogeneity in trials reporting hydroxyethyl starch 130/0.4 or 0.42 associated excess mortality in septic patients: a systematic review and meta-regression. Chin Med J (Engl) 128(17):2374–2382

14.

Leberle R, Ernstberger A, Loibl M, Merkl J, Bunz M, Creutzenberg M, Trabold B (2015) Association of high volumes of hydroxyethyl starch with acute kidney injury in elderly trauma patients. Injury 46(1):105–109

15.

Mutter TC, Ruth CA, Dart AB (2013) Hydroxyethyl starch (HES) versus other fluid therapies: effects on kidney function. Cochrane Database Syst Rev 7:CD7594

16.

Hand WR, Whiteley JR, Epperson TI, Tam L, Crego H, Wolf B, Chavin KD, Taber DJ (2015) Hydroxyethyl starch and acute kidney injury in orthotopic liver transplantation: a single-center retrospective review. Anesth Analg 120(3):619–626

17.

Hilbert-Carius P, Schwarzkopf D, Reinhart K, Hartog CS, Lefering R, Bernhard M, Struck MF (2018) Synthetic colloid resuscitation in severely injured patients: analysis of a nationwide trauma registry (TraumaRegister DGU). Sci Rep 8(1):11567

18.

Schortgen F, Girou E, Deye N, Brochard L (2008) The risk associated with hyperoncotic colloids in patients with shock. Intensive Care Med 34(12):2157–2168

19.

Schabinski F, Oishi J, Tuche F, Luy A, Sakr Y, Bredle D, Hartog C, Reinhart K (2009) Effects of a predominantly hydroxyethyl starch (HES)-based and a predominantly non HES-based fluid therapy on renal function in surgical ICU patients. Intensive Care Med 35(9):1539–1547

20.

Brunkhorst FM, Engel C, Bloos F, Meier-Hellmann A, Ragaller M, Weiler N, Moerer O, Gruendling M, Oppert M, Grond S, Olthoff D, Jaschinski U, John S, Rossaint R, Welte T, Schaefer M, Kern P, Kuhnt E, Kiehntopf M, Hartog C, Natanson C, Loeffler M, Reinhart K (2008) Intensive insulin therapy and pentastarch resuscitation in severe sepsis. N Engl J Med 358(2):125–139

21.

Kash BK, Podolyak A, Makarova N, Dalton JE, Sessler DI, Kurz A (2014) Effect of hydroxyethyl starch on postoperative kidney function in patients having noncardiac surgery. Anesthesiology 121(4):730–739

22.

Peduzzi P, Concato J, Kemper E, Holford TR, Feinstein AR (1996) A simulation study of the number of events per variable in logistic regression analysis. J Clin Epidemiol 49(12):1373–1379

23.

Deutsche Gesellschaft für Unfallchirurgie (DGU) Jahresbericht (2010) Jahresbericht 2010. http://www.traumaregister-dgu.de/fileadmin/user_upload/traumaregister-dgu.de/docs/Downloads/TR-DGU-Jahresbericht_2010.pdf. Accessed December 14, 2018

24.

Lefering R, Paffrath T, Nienaber U (2014) The TraumaRegister DGU® as data source for monitoring severe injuries. Bundesgesundheitsblatt Gesundheitsforschung Gesundheitsschutz 57(6):660–665

25.

Lefering R (2009) Development and validation of the revised injury severity classification score for severely injured patients. Eur J Trauma Emerg Surg 35(5):437–447

26.

American Thoracic Society (2004) Evidence-based colloid use in the critically ill: American Thoracic Society Consensus Statement. Am J Respir Crit Care Med 170(11):1247–1259

27.

Interdisziplinären Arbeitsgruppe (IAG) (2009) Schock der DIVI. Interdisziplinäre Behandlungspfade zur Versorgung von Patienten mit hypovolämischem Schock. http://www.divi.de/images/Dokumente/Empfehlungen/Notfallmedizin/1-Empf-Hypovol-Schock-Text-IAG.pdf. Accessed December 20, 2018

28.

Qureshi SH, Rizvi SI, Patel NN, Murphy GJ (2016) Meta-analysis of colloids versus crystalloids in critically ill, trauma and surgical patients. Br J Surg 103(1):14–26

29.

Rochwerg B, Alhazzani W, Gibson A, Ribic CM, Sindi A, Heels-Ansdell D, Thabane L, Fox-Robichaud A, Mbuagbaw L, Szczeklik W, Alshamsi F, Altayyar S, Ip W, Li G, Wang M, Włudarczyk A, Zhou Q, Annane D, Cook DJ, Jaeschke R, Guyatt GH (2015) Fluid type and the use of renal replacement therapy in sepsis: a systematic review and network meta-analysis. Intensive Care Med 41(9):1561–1571

30.

Haase N, Perner A, Hennings LI, Siegemund M, Lauridsen B, Wetterslev M, Wetterslev J (2013) Hydroxyethyl starch 130/0.38‑0.45 versus crystalloid or albumin in patients with sepsis: systematic review with meta-analysis and trial sequential analysis. BMJ 346:f839

31.

Gattas DJ, Dan A, Myburgh J, Billot L, Lo S, Finfer S (2013) Fluid resuscitation with 6 % hydroxyethyl starch (130/0.4 and 130/0.42) in acutely ill patients: systematic review of effects on mortality and treatment with renal replacement therapy. Intensive Care Med 39(4):558–568

32.

Patel A, Waheed U, Brett SJ (2013) Randomised trials of 6 % tetrastarch (hydroxyethyl starch 130/0.4 or 0.42) for severe sepsis reporting mortality: systematic review and meta-analysis. Intensive Care Med 39(5):811–822

33.

Rochwerg B, Alhazzani W, Sindi A, Heels-Ansdell D, Thabane L, Fox-Robichaud A, Mbuagbaw L, Szczeklik W, Alshamsi F, Altayyar S, Ip WC, Li G, Wang M, Wludarczyk A, Zhou Q, Guyatt GH, Cook DJ, Jaeschke R, Annane D (2014) Fluid resuscitation in sepsis: a systematic review and network meta-analysis. Ann Intern Med 161(5):347–355

34.

Wiedermann CJ (2016) Low-quality trials as a source of heterogeneity in the association of hydroxyethyl starch 130/0.4 or 0.42 with excess mortality in sepsis. Chin Med J (Engl) 129(1):116–117

35.

Orbegozo Cortés D, Gamarano Barros T, Njimi H, Vincent JL (2015) Crystalloids versus colloids: exploring differences in fluid requirements by systematic review and meta-regression. Anesth Analg 120(2):389–402

36.

Myburgh JA, Finfer S, Bellomo R, Billot L, Cass A, Gattas D, Glass P, Lipman J, Liu B, McArthur C, McGuinness S, Rajbhandari D, Taylor CB, Webb SA (2012) Hydroxyethyl starch or saline for fluid resuscitation in intensive care. N Engl J Med 367(20):1901–1911

37.

Perner A, Haase N, Guttormsen AB, Tenhunen J, Klemenzson G, Åneman A, Madsen KR, Møller MH, Elkjær JM, Poulsen LM, Bendtsen A, Winding R, Steensen M, Berezowicz P, Søe-Jensen P, Bestle M, Strand K, Wiis J, White JO, Thornberg KJ, Quist L, Nielsen J, Andersen LH, Holst LB, Thormar K, Kjældgaard AL, Fabritius ML, Mondrup F, Pott FC, Møller TP, Winkel P, Wetterslev J (2012) Hydroxyethyl starch 130/0.42 versus Ringer's acetate in severe sepsis. N Engl J Med 367(2):124–134

38.

Tao JP, Huang QQ, Huang HQ, Yang JJ, Shi M, Zhou Y, Wan LJ, Zhou C, Ou YJ, Tong YY, Yang DG, Si YY (2015) Effects of goal-directed fluid therapy with different lactated Ringer's: hydroxyethyl starch ratios in hemorrhagic shock dogs. Genet Mol Res 14(2):6649–6663

39.

Hüter L, Simon TP, Weinmann L, Schuerholz T, Reinhart K, Wolf G, Amann KU, Marx G (2009) Hydroxyethylstarch impairs renal function and induces interstitial proliferation, macrophage infiltration and tubular damage in an isolated renal perfusion model. Crit Care 13(1):R23

40.

Wiedermann CJ (2016) Impairment of innate immune function by hydroxyethyl starch. Br J Anaesth 117(2):260

41.

Wiedermann CJ, Joannidis M (2014) Accumulation of hydroxyethyl starch in human and animal tissues: a systematic review. Intensive Care Med 40(2):160–170

42.

Rasmussen KC, Secher NH, Pedersen T (2016) Effect of perioperative crystalloid or colloid fluid therapy on hemorrhage, coagulation competence, and outcome: a systematic review and stratified meta-analysis. Medicine (Baltimore) 95(31):e4498

43.

Coppola S, Froio S, Chiumello D (2014) Fluid resuscitation in trauma patients: what should we know? Curr Opin Crit Care 20(4):444–450

44.

Kong DY, Hao LR, Zhang L, Li QG, Zhou JH, Shi SZ, Zhu F, Geng YQ, Chen XM (2015) Comparison of two fluid solutions for resuscitation in a rabbit model of crush syndrome. Clin Exp Nephrol 19(6):1015–1023

45.

Ferreira EL, Terzi RG, Silva WA, de Moraes AC (2005) Early colloid replacement therapy in a near-fatal model of hemorrhagic shock. Anesth Analg 101(6):1785–1791

46.

Masoumi K, Forouzan A, Darian AA, Rafaty Navaii A (2016) Comparison of the effectiveness of hydroxyethyl starch (Voluven) solution with normal saline in hemorrhagic shock treatment in trauma. J Clin Med Res 8(11):815–818

47.

Pape A, Kutschker S, Kertscho H, Stein P, Horn O, Lossen M, Zwissler B, Habler O (2012) The choice of the intravenous fluid influences the tolerance of acute normovolemic anemia in anesthetized domestic pigs. Crit Care 16(2):R69

48.

Konrad FM, Mik EG, Bodmer SI, Ates NB, Willems HF, Klingel K, de Geus HR, Stolker RJ, Johannes T (2013) Acute normovolemic hemodilution in the pig is associated with renal tissue edema, impaired renal microvascular oxygenation, and functional loss. Anesthesiology 119(2):256–269

49.

Silva PL, Güldner A, Uhlig C, Carvalho N, Beda A, Rentzsch I, Kasper M, Wiedemann B, Spieth PM, Koch T, Capelozzi VL, Pelosi P, Rocco PR, de Abreu MG (2013) Effects of intravascular volume replacement on lung and kidney function and damage in nonseptic experimental lung injury. Anesthesiology 118(2):395–408

50.

Meybohm P, Van Aken H, De Gasperi A, De Hert S, Della Rocca G, Girbes AR, Gombotz H, Guidet B, Hasibeder W, Hollmann MW, Ince C, Jacob M, Kranke P, Kozek-Langenecker S, Loer SA, Martin C, Siegemund M, Wunder C, Zacharowski K (2013) Re-evaluating currently available data and suggestions for planning randomized controlled studies regarding the use of hydroxyethyl starch in critically ill patients—a multidisciplinary statement. Crit Care 17(4):R166
Ethics declarations
Conflict of interest
H. Trentzsch reports personal fees from Akademie der Unfallchirurgie, München, Germany, outside the submitted work. T. Kammerer reports grants from Deutsche Gesellschaft für Berg- und Expeditionsmedizin e. V., Haar, Germany and technical support from Covidien Medtronic Neustadt an der Donau, Germany, outside the submitted work. M. Rehm reports grants from CSL Behring, München, Germany and Fresenius Kabi, Bad Homburg, Germany, outside the submitted work. W. H. Hartl reports personal fees from Fresenius Kabi, Bad Homburg Germany, outside the submitted work. E. Fleischhacker, D. Kuppinger, S. Piltz, F. Beyer and F. Meigel declare that they have no competing interests.
The anonymous retrospective data analysis was approved by the institutional review board of the LMU.
Additional information
Evi Fleischhacker and Heiko Trentzsch contributed equally to this work.
Redaktion
M. Buerke, Siegen
About this article
Cite this article
Fleischhacker, E., Trentzsch, H., Kuppinger, D. et al. Fluid resuscitation after severe trauma injury. Med Klin Intensivmed Notfmed 115, 591–599 (2020). https://doi.org/10.1007/s00063-019-00625-7
Received:

Revised:

Accepted:

Published:

Issue Date:
Keywords
Tetrastarch

Severe trauma injury

Mortality

Acute kidney failure

Cristalloids
Schlüsselwörter
Tetrastärke

Polytrauma

Letalität

Akutes Nierenversagen

Kristalloide