Zusammenfassung
Hintergrund
Viele Antiinfektiva erfordern bei kritisch kranken Patienten mit akuter Nierenschädigung (AKI) und Nierenersatztherapie eine Dosisanpassung, um adäquate therapeutische Konzentrationen zu erreichen.
Ziel der Arbeit
Es sollen grundlegende pharmakokinetische und pharmakodynamische Prinzipien der Dosisanpassung von Arzneimitteln dargestellt und praktische Empfehlungen zur Dosierung von Antiinfektiva auf der Intensivstation geben werden.
Material und Methoden
Die Empfehlungen zur Dosierung von ausgewählten Antiinfektiva wurden basierend auf einer Zusammenschau der Angaben in Fachinformationen, publizierten Studien und Empfehlungen, pharmakokinetischen und pharmakodynamischen Erwägungen sowie Erfahrungen und Expertenmeinungen der Autoren erstellt.
Ergebnisse
Von 37 Antiinfektiva (31 Antibiotika, 2 Virostatika, 4 Antimykotika) ist bei 8 eine Dosierung unabhängig von der Nierenfunktion möglich. Bei 29 Antiinfektiva war eine konkrete Dosierungsempfehlung für intermittierende Hämodialyse und bei 24 Antiinfektiva für kontinuierliche Hämofiltration möglich.
Diskussion
Anhand aktueller Datenlage werden hier für die wichtigsten Antiinfektiva Empfehlungen zur Dosierung bei Patienten mit AKI und Nierenersatztherapie gegeben.
Abstract
Background
Many anti-infective drugs require dose adjustments in critically ill patients with acute kidney injury (AKI) and renal replacement therapy, in order to achieve adequate therapeutic drug concentrations.
Objectives
The fundamental pharmacokinetic and pharmacodynamic principles of drug dose adjustment are presented. Recommendations on anti-infective drug dosage in intensive care are provided.
Materials and methods
We established dose recommendations of selected anti-infective drugs based on information in the summary of product characteristics, published studies and recommendations, pharmacokinetic and pharmacodynamic considerations, and the experience and expert opinion of the authors.
Results
Out of a total of 37 anti-infective drugs (31 antibiotics, 2 antivirals, 4 antifungals) 8 can be administered independent of renal function. For 29 anti-infective drugs, a specific recommendation on drug dosage could be made in case of intermittent hemodialysis and for 24 anti-infective drugs in case of continuous hemo(dia)filtration.
Conclusions
Recommendations on dosing of important anti-infective drugs in critically ill patients with AKI and renal replacement therapy are provided.
This is a preview of subscription content, log in to check access.
Access options
Buy single article
Instant access to the full article PDF.
US$ 39.95
Price includes VAT for USA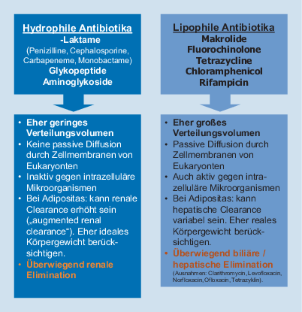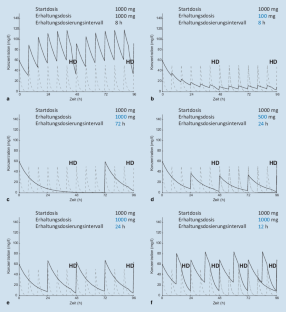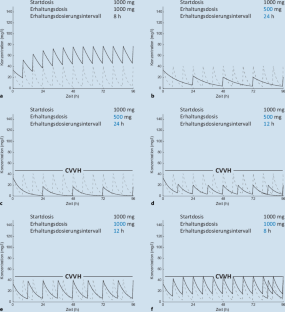 Literatur
1.

Ambrose PG, Bhavnani SM, Rubino CM, Louie A, Gumbo T, Forrest A, Drusano GL (2007) Pharmacokinetics-pharmacodynamics of antimicrobial therapy: it's not just for mice anymore. Clin Infect Dis 44:79–86

2.

Bellmann R, Egger P, Gritsch W, Bellmann-Weiler R, Joannidis M, Dunzendorfer S, Wiedermann CJ (2002) Elimination of levofloxacin in critically ill patients with renal failure: influence of continuous veno-venous hemofiltration. Int J Clin Pharmacol Ther 40:142–149

3.

Beumier M, Casu GS, Hites M, Seyler L, Cotton F, Vincent JL, Jacobs F, Taccone FS (2014) β‑lactam antibiotic concentrations during continuous renal replacement therapy. Crit Care 18:R105

4.

Blot SI, Pea F, Lipman J (2014) The effect of pathophysiology on pharmacokinetics in the critically ill patient—concepts appraised by the example of antimicrobial agents. Adv Drug Deliv Rev 77:3–11

5.

Bosso JA, Nappi J, Rudisill C, Wellein M, Bookstaver PB, Swindler J, Mauldin PD (2011) Relationship between vancomycin trough concentrations and nephrotoxicity: a prospective multicenter trial. Antimicrob Agents Chemother 55:5475–5479

6.

Cox ZL, McCoy AB, Matheny ME, Bhave G, Peterson NB, Siew ED, Lewis J, Danciu I, Bian A, Shintani A, Ikizler TA, Neal EB, Peterson JF (2013) Adverse drug events during AKI and its recovery. Clin. J Am Soc Nephrol 8:1070–1078

7.

Czock D, Keller F (2014) Antibiotikadosierung bei Dialysepatienten. Nephrologe 9:477–487

8.

Czock D, Keller F, Paar WD, Thalhammer F (2008) Nierenersatztherapie beim kritisch Kranken. Soll man Antibiotika bei kontinuierlicher Hämofiltration anders dosieren? Intensiv- und. Notfallbehandlung, Bd. 33, S 169–183

9.

Czock D, Markert C, Hartman B, Keller F (2009) Pharmacokinetics and pharmacodynamics of antimicrobial drugs. Expert Opin Drug Metab. Toxicol, Bd. 5, S 475–487

10.

Czock D, Spitaletta M, Keller F (2015) Suboptimal antimicrobial drug exposure in patients with renal impairment. Int J Clin Pharm 37:906–916

11.

Dettli L (1976) Drug dosage in renal disease. Clin Pharmacokinet 1:126–134

12.

Friedrich JO, Wald R, Bagshaw SM, Burns KE, Adhikari NK (2012) Hemofiltration compared to hemodialysis for acute kidney injury: systematic review and meta-analysis. Crit Care 16:R146

13.

Hartmann B, Czock D, Keller F (2010) Drug therapy in patients with chronic renal failure. Dtsch Arztebl Int 107:647–655

14.

Heintz BH, Matzke GR, Dager WE (2009) Antimicrobial dosing concepts and recommendations for critically ill adult patients receiving continuous renal replacement therapy or intermittent hemodialysis. Pharmacotherapy 29:562–577

15.

Hoste EA, Bagshaw SM, Bellomo R, Cely CM, Colman R, Cruz DN, Edipidis K, Forni LG, Gomersall CD, Govil D, Honoré PM, Joannes-Boyau O, Joannidis M, Korhonen AM, Lavrentieva A, Mehta RL, Palevsky P, Roessler E, Ronco C, Uchino S, Vazquez JA, Andrade VE, Webb S, Kellum JA (2015) Epidemiology of acute kidney injury in critically ill patients: the multinational AKI-EPI study. Intensive Care Med 41:1411–1423

16.

Jamal JA, Udy AA, Lipman J, Roberts JA (2014) The impact of variation in renal replacement therapy settings on piperacillin, meropenem, and vancomycin drug clearance in the critically ill: an analysis of published literature and dosing regimens. Crit Care Med 42:1640–1650

17.

Kalb R, Kram R, Morgera S, Slowinski T, Kindgen-Milles D (2013) Regional citrate anticoagulation for high volume continuous venovenous hemodialysis in surgical patients with high bleeding risk. Ther Apher Dial 17:202–212

18.

Kunin CM (1967) A guide to use of antibiotics in patients with renal disease. A table of recommended doses and factors governing serum levels. Ann Intern Med 67:151–158

19.

Martinez MN, Papich MG, Drusano GL (2012) Dosing regimen matters: the importance of early intervention and rapid attainment of the pharmacokinetic/pharmacodynamic target. Antimicrob Agents Chemother 56:2795–2805

20.

Matzke GR, Aronoff GR, Atkinson AJ Jr, Bennett WM, Decker BS, Eckardt KU, Golper T, Grabe DW, Kasiske B, Keller F, Kielstein JT, Mehta R, Mueller BA, Pasko DA, Schaefer F, Sica DA, Inker LA, Umans JG, Murray P (2011) Drug dosing consideration in patients with acute and chronic kidney disease—a clinical update from Kidney Disease: Improving Global Outcomes (KDIGO). Kidney Int 80:1122–1137

21.

MIC- and Inhibition zone diameter distributions of microorganisms without and with resistance mechanisms. http://mic.eucast.org/Eucast2/. Zugegriffen: 05. März 2018

22.

Norton K, Ingram PR, Heath CH, Manning L (2014) Risk factors for nephrotoxicity in patients receiving outpatient continuous infusions of vancomycin in an Australian tertiary hospital. J Antimicrob Chemother 69:805–808

23.

Palevsky PM, Zhang JH, O'Connor TZ, Chertow GM, Crowley ST, Choudhury D, Finkel K, Kellum JA, Paganini E, Schein RM, Smith MW, Swanson KM, Thompson BT, Vijayan A, Watnick S, Star RA, Peduzzi P (2008) Intensity of renal support in critically ill patients with acute kidney injury. N Engl J Med 359:7–20

24.

Pea F, Viale P, Furlanut M (2005) Antimicrobial therapy in critically ill patients: a review of pathophysiological conditions responsible for altered disposition and pharmacokinetic variability. Clin Pharmacokinet 44:1009–1034

25.

Seyler L, Cotton F, Taccone FS, De Backer D, Macours P, Vincent JL, Jacobs F (2011) Recommended β‑lactam regimens are inadequate in septic patients treated with continuous renal replacement therapy. Crit Care 15:R137

26.

Tian Q, Gomersall CD, Ip M, Tan PE, Joynt GM, Choi GY (2008) Adsorption of amikacin, a significant mechanism of elimination by hemofiltration. Antimicrob Agents Chemother 52:1009–1013

27.

Udy AA, Baptista JP, Lim NL, Joynt GM, Jarrett P, Wockner L, Boots RJ, Lipman J (2014) Augmented renal clearance in the ICU: results of a multicenter observational study of renal function in critically ill patients with normal plasma creatinine concentrations. Crit Care Med 42:520–527

28.

Vandecasteele SJ, De Vriese AS, Tacconelli E (2013) The pharmacokinetics and pharmacodynamics of vancomycin in clinical practice: evidence and uncertainties. J Antimicrob Chemother 68:743–748

29.

Varma MV, Feng B, Obach RS, Troutman MD, Chupka J, Miller HR, El-Kattan A (2009) Physicochemical determinants of human renal clearance. J Med Chem 52:4844–4852

30.

Vilay AM, Churchwell MD, Mueller BA (2008) Clinical review: Drug metabolism and nonrenal clearance in acute kidney injury. Crit Care 12:235
Ethics declarations
Interessenkonflikt
D. Czock, D. Kindgen-Milles, S. John, M. Schmitz, A. Jörres, M. Oppert, und C. Willam geben an, dass kein Interessenkonflikt besteht. M. Joannidis erhielt Vortrags‑/Konsulentenhonorare von den Firmen Baxter Healthcare Corp, CSL Behring, Fresenius und Astute Medical sowie Forschungsunterstützung von der Firma Fresenius. J. T. Kielstein erhielt Vortragshonorare von den Firmen Fresenius Medical Care, Baxter und Terumo BCT sowie Forschungsunterstützung von der Firma ExThera Medical. V. Schwenger erhielt Vortragshonorare von den Firmen Fresenius Medical Care und Baxter. A. Zarbock erhielt finanzielle Unterstützung von den Firmen Astute Medical und Fresenius.
Dieser Beitrag beinhaltet keine von den Autoren durchgeführten Studien an Menschen oder Tieren.
Additional information
Redaktion
M. Joannidis, Innsbruck
S. John, Nürnberg
Caption Electronic Supplementary Material
About this article
Cite this article
Czock, D., Schwenger, V., Kindgen-Milles, D. et al. Dosierung von Antiinfektiva bei Nierenversagen und Nierenersatztherapie in der Intensivmedizin. Med Klin Intensivmed Notfmed 113, 384–392 (2018). https://doi.org/10.1007/s00063-018-0416-z
Received:

Accepted:

Published:

Issue Date:
Schlüsselwörter
Akutes Nierenversagen

Nierenersatztherapie

Antibiotika

Pharmakodynamik

Pharmakokinetik
Keywords
Acute kidney injury

Renal replacement therapy

Antibiotics

Pharmacodynamics

Pharmacokinetics