Zusammenfassung
Hintergrund
Anstieg schwerer Intoxikationen und Todesfälle durch den Konsum "neuer psychoaktiver Substanzen" (NPS). Diese werden meist über Online-Shops teilweise legal, oft illegal oder "im Graubereich" gehandelt.
Fragestellung
Charakteristika verschiedener NPS. Rechtlicher Status durch das "Neue-psychoaktive-Stoffe-Gesetz" (NpSG). Risikobewertung der verschiedenen Stoffe, mögliche Komplikationen akuter Intoxikationen, Therapieempfehlungen.
Material und Methoden
Literaturrecherche und Auswertung eigener Fallstatistiken. Diskussion von amtlichen Statistiken, Grundlagenarbeiten sowie Expertenempfehlungen.
Ergebnisse
Zunahme von Intoxikationen mit NPS sowie damit assoziierten Todesfällen: im Jahr 2016 in Deutschland 98 Todesfälle gegenüber 39 Todesfällen im Jahr 2015. Schwere akute Intoxikationen erfordern eine fundierte intensivmedizinische Therapie. Diese muss meist symptomatisch erfolgen. Bei den hier diskutierten Drogen steht lediglich für die synthetischen Opioide ein Antidot (Naloxon) zur Verfügung.
Schlussfolgerungen
Mit einer deutlichen Senkung der Fallzahlen von schweren Intoxikationen mit NPS ist durch das seit Ende des Jahres 2016 geltende NpSG (kurzfristig) nicht zu rechnen. Es bleibt abzuwarten, ob sich der Trend steigender Fallzahlen abschwächen wird. Eine Rücksprache mit einem Giftinformationszentrum ist bei Verdacht auf eine Intoxikation mit NPS empfehlenswert. Diagnostik und Therapie können dann gezielt diskutiert werden. Ein toxikologisches Screening kann unter Umständen falsch-negativ sein, da viele synthetische Drogen in der Standardanalytik nicht erfasst werden. Dies macht eine spezielle Analytik erforderlich.
Abstract
Background
There has been an increase in the number of serious poisonings and deaths after the use of new psychoactive substances (NPS). These are usually bought online: sometimes legally, often illegally or "in the grey area".
Objectives
Characteristics of different NPS. Legal status concerning the New Psychoactive Substances Act (NpSG). Risk assessment of several substance groups, possible complications of acute poisonings, therapeutic recommendations.
Materials and methods
Literature search and evaluation of own case data. Discussion of official statistics, literature and expert recommendations.
Results
There has been an increase in the number of poisonings with NPS and associated deaths: in Germany in 2016 there were 98 deaths compared to 39 deaths in 2015. Serious acute poisonings require intensive care therapy. Therapy is usually symptomatic. Referring to the drugs discussed in this article an antidote is only available for the synthetic opioid: naloxone.
Conclusions
With the NpSG being in force since the end of 2016, the number of severe intoxications with NPS will probably (not immediately) decrease. It remains to be seen if the increasing number of fatalities will decrease again. Consultation with a poison centre is recommended in cases of suspected intoxication with NPS. Diagnosis and therapy can then be discussed. Toxicological screening may be false negative because many synthetic drugs are not detected in standard analysis. The NPS often require a special analysis.
Access options
Buy single article
Instant access to the full article PDF.
USD 39.95
Price excludes VAT (USA)
Tax calculation will be finalised during checkout.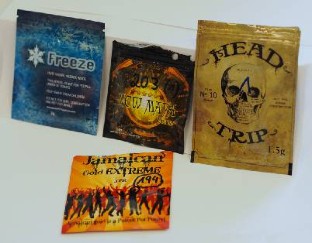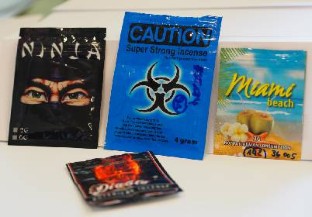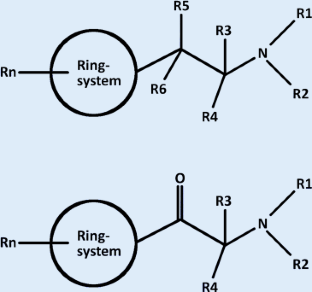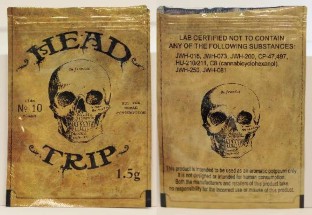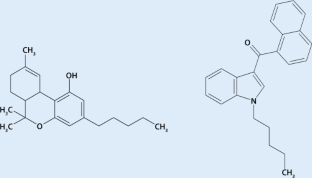 Literatur
BKA (2017) Rauschgiftkriminalität. https://www.bka.de/SharedDocs/Pressemitteilungen/DE/Presse_2017/pi170508_PKRauschgiftkriminalitaet.pdf?__blob=publicationFile&v=2. Zugegriffen: 19. Juni 2017

Brine GA et al (1997) Enantiomers of diastereomeric cis-N-[1-(2-hydroxy-2-phenylethyl)- 3‑methyl-4-piperidyl]-N-phenylpropanamides: synthesis, X‑ray analysis, and biological activities. J Med Chem 38(9):1547–1557

Brunt TM et al (2011) Instability of the ecstasy market and a new kid on the block: mephedrone. J Psychopharmacol (Oxford) 25(11):1543–1547

Bundesministerium der Justiz (2016) Bundesgesetzblatt Jahrgang 2016 Teil I Nr. 55. Bundesministerium der Justiz, Bonn

Busardó et al (2015) Mephedrone related fatalities: a review. Eur Rev Med Pharmacol Sci 19(19):3777–3790

Busse et al (2008) Bleiintoxikationen durch gestrecktes Marihuana in Leipzig. Dtsch Arztebl 105(44):757–762

Denton et al (2008) An epidemic of illicit fentanyl deaths in Cook County, Illinois: September 2005 through April 2007. J Forensic Sci 53(2):452–454

Eggers E (2006) Peppige Panzerschokolade. Taz die tageszeitung 8161: 15. http://www.taz.de/!336058/. Zugegriffen: 19. Juni 2017

European Monitoring Centre for Drugs and Drug Addiction (2016) EMCDDA – Europol Joint Report on a new psychoactive substance: methyl 2‑[[1-(cyclohexylmethyl)indole-3-carbonyl]amino]-3,3-dimethylbutanoate (MDMB-CHMICA), Joint Reports. Publications Office of the European Union, Luxembourg

Gladden et al (2016) Fentanyl law enforcement submissions and increases in synthetic opioid-involved overdose deaths – 27 states, 2013–2014. MMWR Morb Mortal Wkly Rep 65(33):837–843

Höllt V, Allgaier C (2009) Analgetika. In: Aktories F, Hofmann, Starke (Hrsg) Allgemeine und spezielle Pharmakologie und Toxikologie. Urban & Fischer Verlag, München, Jena, S 233

McCoy T (2015) The Washington Post. https://www.washingtonpost.com/local/social-issues/how-a-chemist-unwittingly-helped-spawn-the-synthetic-drug-epidemic/2015/08/09/94454824-3633-11e5-9739-170df8af8eb9_story.html?utm_term=.450f6ad7dbae. Zugegriffen 19. Juni 2017

Huffman et al (2003) Structure-activity relationships for 1′,1′-dimethylalkyl-Delta8-tetrahydrocannabinols. Bioorg Med Chem 11(7):1397–1410

Jang D (2015) Amphetamines. In: Hoffman R, Howlans M, Nelson L, Goldfrank L (Hrsg) Goldfrank's tocicologic emergencies. McGraw-Hill, New York, S 1030

Karow T, Lang-Roth R (2015) Allgemeine und Spezielle Pharmakologie und Toxikologie, 24. Aufl. Eigenverlag, Pulheim

Lewin L (2000) Die GIFTE in der Weltgeschichte. Parkland Verlag, Köln

Lüllmann et al (2008) Taschenatlas Pharmakologie, 6. Aufl. Thieme, Stuttgart

Martin et al (2006) Fentanyl-related deaths in Ontario, Canada: toxicological findings and circumstances of death in 112 cases (2002–2004). J Anal Toxicol 30(8):603–610

Ojanperä et al (2008) An epidemic of fatal 3‑methylfentanyl poisoning in Estonia. Int J Legal Med 122(5):395–400

Piontek D, Hannemann T‑V (2017) Medikamentenmissbrauch und der Konsum von neuen psychoaktiven Substanzen (NPS) in unterschiedlichen Risikopopulationen. Ergebnisse des Projekts Phar-Mon NPS aus den Jahren 2015 und 2016. IFT Institut für Therapieforschung, München

Prosser et al (2001) The toxicology of bath salts: a review of synthetic cathinones. J Med Toxicol 8:33–42

U.S. National Library of Medicine (2017) Open chemistry database - Carfentanil. https://pubchem.ncbi.nlm.nih.gov/compound/carfentanil#section=Top. Zugegriffen: 19. Juni 2017

U.S. National Library of Medicine (2017) Open chemistry database - Ohmefentanyl. https://pubchem.ncbi.nlm.nih.gov/compound/Ohmefentanyl#section=Top. Zugegriffen: 19. Juni 2017

Van Sassenbroeck et al (2003) Medical problems related to recreational drug use at nocturnal dance parties. Eur J Emerg Med 10:302–308

Yong et al (2003) Synthesis and analgesic activity of stereoisomers of cis-fluoro-ohmefentanyl. Pharmazie 58(5):300–302
Danksagung
Die Autoren danken Herrn Hartmud Neurath vom toxikologischen Labor des GIZ-Nord für die Möglichkeit, Fotos asservierter NPS erstellen zu können.
Ethics declarations
Interessenkonflikt
J. Strube und A. Schaper geben an, dass kein Interessenkonflikt besteht.
Dieser Beitrag beinhaltet keine von den Autoren durchgeführten Studien an Menschen oder Tieren.
Additional information
Redaktion
M. Buerke, Siegen
About this article
Cite this article
Strube, J., Schaper, A. Bonzai, Blei und Badesalz – Vergiftungen mit neuen und alten Drogen. Med Klin Intensivmed Notfmed 114, 684–692 (2019). https://doi.org/10.1007/s00063-018-0405-2
Received:

Revised:

Accepted:

Published:

Issue Date:

DOI: https://doi.org/10.1007/s00063-018-0405-2
Schlüsselwörter
Keywords