Zusammenfassung
Hintergrund
Die Notaufnahmen in Deutschland sind überfüllt und verzeichnen eine steigende Patientenzahl. Es ist unklar, ob Patienten mit einem niedrigeren Behandlungsbedarf ebenso angemessen in niedergelassen Praxen behandelt werden könnten. Das Ziel ist die Entwicklung eines Fragebogens zur Erfassung der Gründe für die Inanspruchnahme der Notaufnahme und die Beschreibung der damit verbundenen Implikationen für eine Patientenbefragung.
Methode
Die Fragebogenentwicklung basiert auf einer Literaturrecherche und der qualitativen EPICS-2-Studie. In 3 Notaufnahmen der Charité – Universitätsmedizin Berlin wurden 2 Pretests durchgeführt. Rekrutiert wurden ambulant behandelte Patienten ≥ 18 Jahre, deren Behandlungsdringlichkeit anhand des Manchester Triage System (MTS) als nicht dringend (blau), normal (grün) oder dringend (gelb) eingestuft wurde.
Ergebnisse
In den Pretests konnten 189 Patienten rekrutiert werden (Pretest 1: n = 89, Pretest 2: n = 100). Der finale Fragebogen enthält 24 Items. Sie beziehen sich auf die gesundheitlichen Beschwerden, die Gründe für die Inanspruchnahme der Notaufnahme, vorherige Kontakte mit Praxen und dem Bereitschaftsdienst sowie die Soziodemographie der Patienten. Die Fragebogendaten konnten zusätzlich mit den Daten des Klinikinformationssystem (KIS) um klinische Charakteristika ergänzt werden.
Schlussfolgerung
Der entwickelte Fragebogen basiert maßgeblich auf qualitativen Befragungen zu den Gründen für die Inanspruchnahme der Notaufnahme. Hierfür empfiehlt sich die Anwendung eines von Patienten schriftlich auszufüllenden Fragebogens mit einer Plausibilitätskontrolle durch die Mitarbeiter. Die heterogenen Studienbedingungen in der Notaufnahme erfordern von den Mitarbeitern während der Datenerhebung eine hohe Flexibilität.
Abstract
Background
For several years, Emergency Departments (ED) in Germany have observed increasing patient numbers, resulting in ED crowding. This leads to the question of whether patients with nonurgent conditions could also receive adequate treatment in primary care. Our objective was to develop a quantitative questionnaire to investigate in a larger patient group the reasons for this and to describe the implications for a patient survey in the ED.
Methods
The development of the questionnaire was based on a literature search and the results of the qualitative EPICS-2 study. Two pretest surveys were conducted in three EDs at the Charité – Universitätsmedizin Berlin. We included patients aged ≥ 18 years with outpatient treatment and the categories blue (nonurgent), green (standard), or yellow (urgent) according to the Manchester Triage System (MTS).
Results
In total, 189 patients were recruited in two surveys (pretest 1: n = 89, pretest 2 n = 100). The final questionnaire includes 24 items, which were evaluated and adapted during both pretests. The items evaluate basic clinical characteristics, reasons for choosing the ED, prior contacts in primary care, utilization of primary care after-hours services as well as sociodemographic characteristics. Data from the hospital information system were used to link the survey data with clinical characteristics.
Conclusions
The questionnaire is based on reasons for ED utilization. We recommend the written, self-applied questionnaire for patient surveys with plausibility checks conducted by staff. It is necessary to consider the heterogenic study surroundings in the ED, which requires a lot of flexibility during data collection.
Access options
Buy single article
Instant access to the full article PDF.
US$ 39.95
Tax calculation will be finalised during checkout.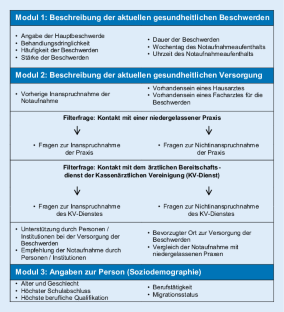 Literatur
1.

Alyasin A, Douglas C (2014) Reasons for non-urgent presentations to the emergency department in Saudi Arabia. Int Emerg Nurs 22:220–225

2.

Borde T, Braun T, David M (2003) Gibt es Besonderheiten bei der Inanspruchnahme klinischer Notfallambulanzen durch Migrantinnen und Migranten? In: Borde T, David M (Hrsg) Gut versorgt? Migrantinnen und Migranten im Gesundheits- und Sozialwesen. Mabuse, Frankfurt/Main, S 43–81

3.

Carret ML, Fassa AG, Kawachi I (2007) Demand for emergency health service: factors associated with inappropriate use. BMC Health Serv Res 7:131

4.

Christ M, Dodt C, Stadelmeyer U et al (2010) Professionalisierung der klinischen Notfallmedizin – Gegenwart und Zukunft. Anasthesiol Intensivmed Notfallmed Schmerzther 45:666–671

5.

Jöckel K, Babitsch B, Bellach B et al (1998) Messung und Quantifizierung soziographischer Merkmale in epidemiologischen Studien. http://www.rki.de/DE/Content/Gesundheitsmonitoring/Studien/Methodik/Empfehlungen/empfehlungen_node.html. Zugegriffen: 3. Febr. 2017

6.

Krey J (2016) Triage in emergency departments. Comparative evaluation of 4 international triage systems. Med Klin Intensivmed Notfmed 111:124–133

7.

Lega F, Mengoni A (2008) Why non-urgent patients choose emergency over primary care services? Empirical evidence and managerial implications. Health Policy (New York) 88:326–338

8.

Mills J, Watt K, Beaton N et al (2014) Patients' psychological and practical reasons for attending the cairns hospital emergency department. A mixed methods study (P3ED). https://researchonline.jcu.edu.au/37590/. Zugegriffen: 3. Febr. 2017

9.

Northington WE, Brice JH, Zou B (2005) Use of an emergency department by nonurgent patients. Am J Emerg Med 23:131–137

10.

Riessen R, Gries A, Seekamp A et al (2015) Position paper for a reform of medical emergency care in German emergency departments. Med Klin Intensivmed Notfmed 110:364–375

11.

Schenk L, Bau A‑M, Borde T et al (2006) Mindestindikatorensatz zur Erfassung des Migrationsstatus. Bundesgesundheitsblatt Gesundheitsforschung Gesundheitsschutz 49:853–860

12.

Schmiedhofer MH, Möckel M, Slagman A et al (2016) Patient motives behind low-acuity visits to the emergency department in Germany: a qualitative study comparing urban and rural sites. BMJ Open 6(11):e13323

13.

Schöpke T, Plappert T (2011) Kennzahlen von Notaufnahmen in Deutschland. Notf Rettungsmed 14:371

14.

Seeger I, Rupp P, Naziyok T et al (2016) Ambulante Versorgung in ZNA und Bereitschaftsdienstpraxis. Med Klin Intensivmed Notfmed. https://doi.org/10.1007/s00063-016-0233-1:

15.

Somasundaram R, Geissler A, Leidel BA et al (2016) Beweggründe für die Inanspruchnahme von Notaufnahmen – Ergebnisse einer Patientenbefragung. Gesundheitswesen. https://doi.org/10.1055/s-0042-112459

16.

Steffen W, Tempka A, Klute G (2007) Falsche Patientenanreize in der Ersten Hilfe der Krankenhäuser. Dtsch Arztebl Int 104(16):1088

17.

Uscher-Pines L, Pines J, Kellermann A et al (2013) Emergency department visits for nonurgent conditions: systematic literature review. Am J Manag Care 19:47–59

18.

Weisz D, Gusmano MK, Wong G et al (2015) Emergency department use: a reflection of poor primary care access? Am J Manag Care 21:e152–160

19.

Zentralinstitut für die kassenärztliche Versorgung in der Bundesrepublik Deutschland (2015) Entwicklung der ambulanten Behandlungsfälle in der Notfallversorgung und im Bereitschaftsdiens. http://www.zi.de/cms/fileadmin/pdf/Anlage_Analyse_der_Notfallbehandlungen.pdf. Zugegriffen: 3. Febr. 2017
Ethics declarations
Interessenkonflikt
J. Frick, M. Möckel, M. Schmiedhofer, J. Searle, B. Erdmann, M. Erhart und A. Slagman weisen auf folgende Beziehungen für diese Publikation hin: Die diesem Paper zugrunde liegende Machbarkeitsstudie wurde mit Stiftungsmitteln des Zentralinstituts für die kassenärztliche Versorgung in Deutschland gefördert.
Für die Machbarkeitsstudie liegt eine Zustimmung der Ethikkommission der Charité – Universitätsmedizin Berlin (EA2/071/16) sowie ein Datenschutzvotum vor. Die Studie wurde gemäß der Deklaration von Helsinki durchgeführt. Die Studienregistrierung erfolgte auf ClinicalTrials.gov (NCT03036969).
Additional information
Redaktion
M. Buerke, Siegen
Caption Electronic Supplementary Material
About this article
Cite this article
Frick, J., Möckel, M., Schmiedhofer, M. et al. Fragebogen zur Inanspruchnahme der Notaufnahmen. Med Klin Intensivmed Notfmed 114, 38–44 (2019). https://doi.org/10.1007/s00063-017-0345-2
Received:

Revised:

Accepted:

Published:

Issue Date:
Schlüsselwörter
Fragebogen

Notaufnahme

Inanspruchnahme

Nichtdringlicher Behandlungsanlass

Versorgungsforschung
Keywords
Questionnaire

Emergency Department

Utilization

Nonurgent conditions

Health care research