Zusammenfassung
Im folgenden Artikel sollen ausgewählte Ergebnisse einer deskriptiven Studie zur Personalausstattung, Arbeitszufriedenheit und Patientensicherheit auf Intensivstationen vorgestellt und diskutiert werden. Der Hauptfokus liegt dabei auf der Gegenüberstellung von Merkmalen der Personalausstattung und Indikatoren zur Arbeitssituation und Patientenversorgung. Grundlage der Studie ist eine Onlinebefragung unter Intensivpflegenden, die im Jahr 2017 durchgeführt wurde. Für die nachfolgende Studienbeschreibung wurden insgesamt 2233 deutsche Intensivpflegende in die Auswertung eingeschlossen. Die vorgestellten Ergebnisse zeigen, dass Pflegende, die mit einer niedrigen Pflegekraft-Patienten-Relation (≥1:3) arbeiten, tendenziell höhere Risiken in der Patientenversorgung beschreiben und eine niedrigere Arbeitszufriedenheit aufzeigen als Pflegende, die in einer Betreuungsrelation von ≤1:2 arbeiten.
Abstract
In the following article, selected results of a descriptive study on personnel staffing and patients' care in intensive care units in Germany are presented and discussed. The main focus is laid on comparing features of personnel staffing with indicators of job satisfaction and patients' care. The study is based on an online questionnaire of critical care nurses run in 2017. The article represents the data of 2233 included German critical care nurses. The main results are the following: a low nurse patient ratio (≥1:3) in intensive care units has the tendency to cause higher risks in patients' care and shows lower job satisfaction than nurses with higher nurse–patient ratio (≤1:2).
Access options
Buy single article
Instant access to the full article PDF.
USD 39.95
Price excludes VAT (USA)
Tax calculation will be finalised during checkout.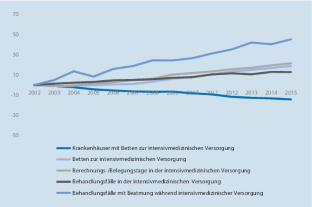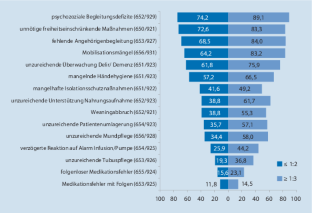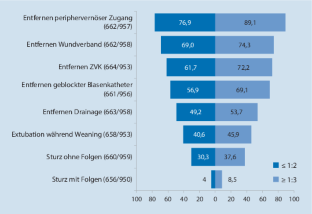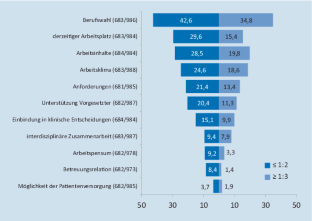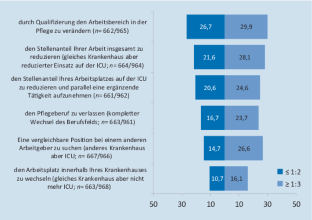 Literatur
Ausserhofer D, Zander B, Busse R et al (2014) Prevalence, patterns and predictors of nursing care left undone in European hospitals: results from the multicountry cross-sectional RN4CAST study. BMJ Qual Saf 23(2):126–135

Ball JE, Murrells T, Rafferty AM et al (2014) 'Care left undone' during nursing shifts: associations with workload and perceived quality of care. BMJ Qual Saf 23(2):116–125

Becker A, Beck U (2010) Personalausstattung und Ergebnisqualität. Schwest Pfleg 49(1):1–12

Falk A‑C, Wallin E‑M (2016) Quality of patient care in the critical care unit in relation to nurse patient ratio. Intensive Crit Care Nurs 35:74–79

Hasselhorn H‑M, Müller BH, Tackenberg P et al (2005) Berufsausstieg bei Pflegepersonal. Schriftenreihe der Bundesanstalt für Arbeitsschutz und Arbeitsmedizin (Ü15). Bundesanstalt für Arbeitsschutz und Arbeitsmedizin, Dortmund, Berlin, Dresden

Isfort M (2013) Einfluss der Personalausstattung auf Pflege und Patientenversorgung in deutschen Intensivstationen. Deskriptive Studie zu Aspekten der Patientensicherheit und Belastungsindikatoren der Pflege. Med Klin Intensivmed Notfmed 108(1):71–77

Isfort M, Weidner F, Gehlen D (2012) Pflege-Thermometer 2012. Deutsches Institut für angewandte Pflegeforschung e.V., Köln

Jorch G, Kluge S, König F et al (2010) Empfehlungen zur Struktur und Ausstattung von Intensivstationen - Hintergrundtexte. http://www.divi.de/images/Dokumente/Empfehlungen/Strukturempfehlungen/2011_StrukturempfehlungLangversion.pdf. Zugegriffen: 13. März 2017

Kochanek M, Boll B, Shimabukuro-Vornhagen A et al (2015) Personalbedarf einer Intensivstation unter Berücksichtigung geltender Hygienerichtlinien--Eine explorative Analyse. Dtsch Med Wochenschr 140(14):e136–e141

Kocks A, Michaletz-Stolz R, Feuchtinger J et al (2014) Pflege, Patientensicherheit und die Erfassung pflegesensitiver Ergebnisse in deutschen Krankenhäusern. Z Evid Fortbild Qual Gesundhwes 108(1):18–24

McHugh MD, Rochman MF, Sloane DM et al (2016) Better nurse staffing and nurse work environments associated with increased survival of in-hospital cardiac arrest patients. Med Care 54(1):74–80

Müller I, Nairz M, Deufert D (2012) Zufriedenheit ist Trumpf. intensiv 20(05):235–239

Myhren H, Ekeberg O, Stokland O (2013) Job satisfaction and burnout among intensive care unit nurses and physicians. Crit Care Res Pract 2013:1–6

Needleman J, Buerhaus PI, Stewart M et al (2006) Nurse staffing in hospitals: is there a business case for quality? Health Aff 25(1):204–211

Neuraz A, Guerin C, Payet C et al (2015) Patient mortality is associated with staff resources and workload in the ICU. Crit Care Med 43(8):1587–1594

Nydahl P, Dubb R, Kaltwasser A (2017) Wegen Personalmangel geschlossen. Schwest Pfleg 56(1):88–92

Rose L, Blackwood B, Egerod I et al (2011) Decisional responsibility for mechanical ventilation and weaning: an international survey. Crit Care 15(6):R295

Schwab F, Meyer E, Geffers C et al (2012) Understaffing, overcrowding, inappropriate nurse. J Hosp Infect 80(2):133–139

Siegling B, Isfort M (2015) Machen Fachweiterbildungen zufriedener? intensiv 23(05):250–257

Statistisches Bundesamt (2017) Intensivmedizinische Versorgung in Krankenhäusern-Anzahl Krankenhäuser Betten sowie Aufenthalte. http://www.gbe-bund.de. Zugegriffen: 28. Febr 2017
Ethics declarations
Interessenkonflikt
M. Isfort gibt an, dass kein Interessenkonflikt besteht.
Zur Durchführung der Studie war kein Votum der Ethikkommission erforderlich.
Additional information
Redaktion
C. Hermes, Siegburg
A. Kaltwasser, Reutlingen
About this article
Cite this article
Isfort, M. Evaluation der Pflegebedingungen auf Intensivstationen. Med Klin Intensivmed Notfmed 112, 543–549 (2017). https://doi.org/10.1007/s00063-017-0292-y
Received:

Revised:

Accepted:

Published:

Issue Date:

DOI: https://doi.org/10.1007/s00063-017-0292-y
Schlüsselwörter
Gesundheitsversorgung

Krankenhäuser

Personalausstattung

Patientensicherheit

Arbeitszufriedenheit
Keywords
Public health

Hospitals

Nursing staff

Patient safety

Job satisfaction