Zusammenfassung
Behandlungserfolge in der Klinik, aber insbesondere auf den Intensivstationen sind unmittelbar mit der Struktur-, Prozess-, und Ergebnisqualität verbunden. Der technische und medizinische Fortschritt führt zu immer komplexeren Behandlungssituationen mit hochspezialisierten Aufgaben in der Intensivpflege. Qualitätskriterien, die diese reale hochkomplexe multiprofessionelle Behandlungssituation abbilden und korrekt messen, wurden erst in den letzten Jahren entwickelt und in die Praxis eingeführt. In diesem Beitrag wird aufgezeigt, wie im multiprofessionellen Team Qualität definiert und im klinischen Alltag überprüft werden kann. Kernpunkte sind hier die Auswahl einer Pflegetheorie sowie Maßnahmen der Qualitätssicherung und des Qualitätsmanagements. Eine Möglichkeit der Qualitätssicherung stellen Standardarbeitsanweisungen (SOP) dar. Qualität ist letzlich nur zu erreichen, wenn über berufsgruppenspezifische Grenzen hinweg gedacht, Fehler minimiert und klare Handlungsanweisungen bzw. SOP etabliert und gelebt werden.
Abstract
Treatment success in hospitals, particularly in intensive care units, is directly tied to quality of structure, process, and outcomes. Technological and medical advancements lead to ever more complex treatment situations with highly specialized tasks in intensive care nursing. Quality criteria that can be used to describe and correctly measure those highly complex multiprofessional situations have only been recently developed and put into practice.
In this article, it will be shown how quality in multiprofessional teams can be definded and assessed in daily clinical practice. Core aspects are the choice of a nursing theory, quality assurance measures, and quality management. One possible option of quality assurance is the use of standard operating procedures (SOPs). Quality can ultimately only be achieved if professional groups think beyond their boundaries, minimize errors, and establish and live out instructions and SOPs.
This is a preview of subscription content, log in to check access.
Access options
Buy single article
Instant access to the full article PDF.
US$ 39.95
Price includes VAT for USA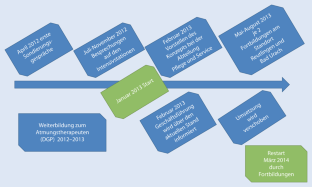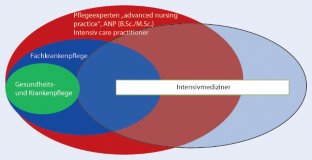 Literatur
1.

Bause H, Wirtz S, Busse C, Goetz E, Leffmann C, Beelmann K, Braun JP (2010) Kollegenbesuch auf der Intensivstation. Hamburger Ärzteblatt 10:22–24

2.

Blonski H, Stausberg M (2003) Prozessmanagement in Pflegeorganisationen. Schlütersche GmbH & Co. KG, Hannover

3.

Böcker P (2005) Qualitätsmanagement im Krankenhaus – Ein praxisorientierter Vergleich von Qualitätsmanagementsystemen und Bewertungsverfahren. GRIN, Bremen

4.

Braun JP, Kumpf O, Deja M et al (2013) The German quality indicators in intensive care medicine 2013–second edition. Ger Med Sci 11:Doc09

5.

Brinkmann A, Braun JP, Riessen R, Dubb R, Kaltwasser A, Bingold TM (2015) Qualitätssicherungskonzepte in der Intensivmedizin. Med Klin Intensivmed Notfmed. doi: 10.1007/s00063-015-0095-y

6.

Buxel H (2011) Was Pflegekräfte unzufrieden macht. Deutsches Ärzteblatt 108:946–948

7.

Deming WE (1982) Out of the Crisis. Massachusetts Institute of Technology, Cambridge

8.

Dubb R, Hekler M, Kaltwasser A (2004) Bauchlagerung von Intensivpatienten – Gibt es neue Trends? Intensiv 12:4–8

9.

Habermehl H (2013) Berufsgruppen-übergreifende Implementierung eines Konzeptes zur Therapie beatmeter Patienten Studienarbeit im Rahmen der Weiterbildung zum Atmungstherapeuten (DGP)

10.

Janssens U (2012) [Intensive care medicine–the center of attention is the human being]. Med Klin Intensivmed Notfmed 107:238–239

11.

Jorch G, Kluge S, König F et al (2010) Empfehlungen zur Struktur und Ausstattung von Intensivstationen. DIVI. http://www.divi.de/images/Dokumente/Empfehlungen/Strukturempfehlungen/2011_StrukturempfehlungLangversion.pdf. Zugegriffen: 22. Sept. 2015

12.

Kaltwasser A (1996) Inkompatibilitäten von Medikamenten und Infusionslösungen Plexus 4:8–15

13.

Kaltwasser A, Dubb R, Hekler M et al (2007) Indikationsstellung zum endotrachealen Absaugen mit TBA Care©. Intensiv 15:128–133

14.

Kaltwasser A, Dubb R, Hermes C et al (2014) Endotracheales Absaugen beim beatmeten erwachsenen Intensivpatienten: eine evidenzbasierte Checkliste. HygMed 39:308–311

15.

Kaltwasser A, Dubb R, Hermes C, Stolecki D (2015) Intensivpflege. In: Marx G, Muhl E, Zacharowski K, Zeuzem S (Hrsg) Die Intensivmedizin. Springer, Berlin, S 39–45

16.

Krinko (2013) Prävention der nosokomialen beatmungsassoziierten Pneumonie. Bundesgesundheitsblatt – Gesundheitsforschung – Gesundheitsschutz 56:1578–1590

17.

Martin J, Wegermann P, Bause H (2007) Qualitätsmanagement in der Intensivmedizin – Eine Aufgabe für das gesamte interdisziplinäre und interprofessionelle Team. Anasth Intensivmed 48:40–47

18.

Nydahl P, Dubb R, Hermes C et al (2014) [Early mobilization in the intensive care unit. Dangerous bedrest]. Pflege Z 67:6–9

19.

Nydahl P, Hermes C, Schuchardt D et al (2014) Frühmobilisierung in Deutschland. Intensiv 22:309–315

20.

Rothaug O, Dubb R, Kaltwasser A (2010) CNE Fortbildung 5.2010 Lerneinheit 17. Thieme CNE: 2–15

21.

Rothaug O, Dubb R, Kaltwasser A et al (2012) Fixierung des oralen Endotrachealtubus in der Intensivtherapie. Intensiv 20:296–302

22.

Rothaug O, Muller-Wolff A, Kaltwasser R et al (2013) [Methods for endotracheal tube fixation. Results of a survey of intensive care nurses]. Med Klin Intensivmed Notfmed 108:507–515

23.

Rothaug O, Müller-Wolff T, Kaltwasser A et al (2014) Mundpflege beim intubierten beatmeten Intensivpatienten. HygMed 39:281–286

24.

Schiff JH, Koninger J, Teschner J et al (2013) Veno-venous extracorporeal membrane oxygenation (ECMO) support during anaesthesia for oesophagectomy. Anaesthesia 68:527–530
Ethics declarations
Interessenkonflikt
K. Notz, R. Dubb, A. Kaltwasser, C. Hermes und S. Pfeffer geben an, dass kein Interessenskonflikt besteht.
Dieser Beitrag beinhaltet keine Studien an Menschen oder Tieren.
Additional information
Redaktion
R. Riessen, Tübingen
H.-J. Busch, Freiburg
About this article
Cite this article
Notz, K., Dubb, R., Kaltwasser, A. et al. Qualitätssicherung und Qualitätsmanagement in der Intensivpflege. Med Klin Intensivmed Notfmed 110, 584–588 (2015). https://doi.org/10.1007/s00063-015-0097-9
Received:

Revised:

Accepted:

Published:

Issue Date:
Schlüsselwörter
Intensivmedizin

Ergebnisoptimierung

Organisationsstruktur

Prozessoptimierung

Pflegetheorie
Keywords
Intensive care

Outcome assessment

Organization structure

Process assement

Nursing theory