Abstract
Purpose
To investigate the predictors for good outcome of endovascular therapy (EVT) for patients with acute vertebrobasilar artery occlusion (VBAO) due to intracranial atherosclerosis stenosis (ICAS).
Methods
From April 2012 to February 2018, patients with VBAO due to ICAS who received EVT were retrospectively analyzed. ICAS was defined as fixed stenosis of >70%, or a degree of fixed stenosis >50% in addition to either perfusion impairment or evidence to re-occlusion. Good outcome was defined as mRS≤2 at 90 days. Both logistic regression and receiver operating characteristic curve (ROC) analyses were performed to explore the predictors.
Results
Among 103 patients enrolled in the analysis, 40.8% achieved good outcome. Prior antiplatelet therapy (OR, 7.301; 95% CI, 1.761–30.265; P=0.006), EVT+IVT (OR, 7.343; 95% CI, 1.621–33.263; P=0.010 ), the pc-ASPECT on DWI (OR, 1.705; 95% CI, 1.127–2.580; P=0.012), BATMAN (OR, 1.395; 95% CI, 1.005–1.937; P=0047), general anesthesia (OR, 0.081; 95% CI, 0.010–0.633; P=0.017), onset-to-recanalization time (≤542min vs. >542min) (OR, 0.194; 95% CI, 0.057–0.661; P=0.009) and the initial NIHSS (OR, 0.882; 95% CI, 0.820–0.949; P=0.001) were significantly associated with good outcome in logistic regression. Based on ROC analyses, initial NIHSS score (area under the curve [AUC]= 0.816, p <0.001; cutoff,19.5; sensitivity, 78.7%; specificity, 72.5%) was significant predictors of good outcome.
Conclusions
For patients with VBAO due to ICAS, prior antiplatelet therapy, EVT+IVT, local anesthesia, short onset-to-recanalization time, a low initial NIHSS, a high pc-ASPECT and BATMAN might be helpful to predict the good outcome at 90 days after EVT.
This is a preview of subscription content, log in to check access.
Access options
Buy single article
Instant access to the full article PDF.
US$ 39.95
Price includes VAT for USA
Subscribe to journal
Immediate online access to all issues from 2019. Subscription will auto renew annually.
US$ 99
This is the net price. Taxes to be calculated in checkout.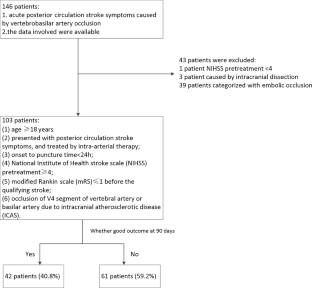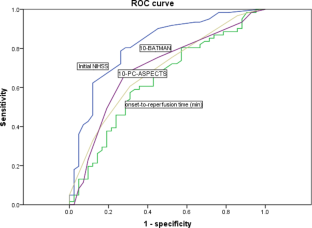 References
1.

Schonewille WJ, Wijman CA, Michel P, Rueckert CM, Weimar C, Mattle HP, Engelter ST, Tanne D, Muir KW, Molina CA, Thijs V, Audebert H, Pfefferkorn T, Szabo K, Lindsberg PJ, de Freitas G, Kappelle LJ, Algra A; BASICS study group. Treatment and outcomes of acute basilar artery occlusion in the Basilar Artery International Cooperation Study (BASICS): a prospective registry study. Lancet Neurol. 2009;8:724–30.

2.

Huo X, Gao F, Sun X, Ma N, Song L, Mo D, Liu L, Wang B, Zhang X, Miao Z. Endovascular mechanical thrombectomy with the solitaire device for the treatment of acute basilar artery occlusion. World Neurosurg. 2016;89:301–8.

3.

Mordasini P, Brekenfeld C, Byrne JV, Fischer U, Arnold M, Heldner MR, Lüdi R, Mattle HP, Schroth G, Gralla J. Technical feasibility and application of mechanical thrombectomy with the Solitaire FR Revascularization Device in acute basilar artery occlusion. AJNR Am J Neuroradiol. 2013;34:159–63.

4.

van Houwelingen RC, Luijckx GJ, Mazuri A, Bokkers RP, Eshghi OS, Uyttenboogaart M. Safety and outcome of intra-arterial treatment for basilar artery occlusion. JAMA Neurol. 2016;73:1225–30.

5.

Fahed R, Di Maria F, Rosso C, Sourour N, Degos V, Deltour S, Baronnet-Chauvet F, Léger A, Crozier S, Gabrieli J, Samson Y, Chiras J, Clarençon F. A leap forward in the endovascular management of acute basilar artery occlusion since the appearance of stent retrievers: a single-center comparative study. J Neurosurg. 2017;126:1578–84.

6.

Saver JL, Goyal M, van der Lugt A, Menon BK, Majoie CB, Dippel DW, Campbell BC, Nogueira RG, Demchuk AM, Tomasello A, Cardona P, Devlin TG, Frei DF, du Mesnil de Rochemont R, Berkhemer OA, Jovin TG, Siddiqui AH, van Zwam WH, Davis SM, Castaño C, Sapkota BL, Fransen PS, Molina C, van Oostenbrugge RJ, Chamorro Á, Lingsma H, Silver FL, Donnan GA, Shuaib A, Brown S, Stouch B, Mitchell PJ, Davalos A, Roos YB, Hill MD; HERMES Collaborators. Time to treatment with endovascular thrombectomy and outcomes from Ischemic stroke: a meta-analysis. JAMA. 2016;316:1279–88.

7.

Lee YY, Yoon W, Kim SK, Baek BH, Kim GS, Kim JT, Park MS. Acute basilar artery occlusion: differences in characteristics and outcomes after endovascular therapy between patients with and without underlying severe atherosclerotic Stenosis. AJNR Am J Neuroradiol. 2017;38:1600-4.

8.

Kim YW, Hong JM, Park DG, Choi JW, Kang DH, Kim YS, Zaidat OO, Demchuk AM, Hwang YH, Lee JS. Effect of Intracranial atherosclerotic disease on endovascular treatment for patients with acute vertebrobasilar occlusion. AJNR Am J Neuroradiol. 2016;37:2072-8.

9.

Gao F, Lo WT, Sun X, Mo DP, Ma N, Miao ZR. Combined use of mechanical thrombectomy with angioplasty and stenting for acute basilar occlusions with underlying severe intracranial vertebrobasilar Stenosis: preliminary experience from a single Chinese center. AJNR Am J Neuroradiol. 2015;36:1947–52.

10.

Lee JS, Hong JM, Lee KS, Suh HI, Demchuk AM, Hwang YH, Kim BM, Kim JS. Endovascular therapy of cerebral arterial occlusions: intracranial atherosclerosis versus embolism. J Stroke Cerebrovasc Dis. 2015;24:2074–80.

11.

Tomsick T, Broderick J, Carrozella J, Khatri P, Hill M, Palesch Y, Khoury J; Interventional Management of Stroke II Investigators. Revascularization results in the Interventional management of stroke II trial. AJNR Am J Neuroradiol. 2008;29:582–7.

12.

Saver JL, Jahan R, Levy EI, Jovin TG, Baxter B, Nogueira RG, Clark W, Budzik R, Zaidat OO; SWIFT Trialists. Solitaire flow restoration device versus the Merci Retriever in patients with acute ischaemic stroke (SWIFT): a randomised, parallel-group, non-inferiority trial. Lancet. 2012;380(9849):1241–9.

13.

Puetz V, Sylaja PN, Coutts SB, Hill MD, Dzialowski I, Mueller P, Becker U, Urban G, O'Reilly C, Barber PA, Sharma P, Goyal M, Gahn G, von Kummer R, Demchuk AM. Extent of hypoattenuation on CT angiography source images predicts functional outcome in patients with basilar artery occlusion. Stroke. 2008;39:2485–90.

14.

Alemseged F, Shah DG, Diomedi M, Sallustio F, Bivard A, Sharma G, Mitchell PJ, Dowling RJ, Bush S, Yan B, Caltagirone C, Floris R, Parsons MW, Levi CR, Davis SM, Campbell BC. The basilar artery on computed tomography angiography prognostic score for basilar artery occlusion. Stroke. 2017;48:631–7.

15.

Mistry EA, Mistry AM, Nakawah MO, Chitale RV, James RF, Volpi JJ, Fusco MR. Mechanical thrombectomy outcomes with and without intravenous thrombolysis in stroke patients. Stroke. 2017;48:2450–6.

16.

Pandhi A, Tsivgoulis G, Krishnan R, Ishfaq MF, Singh S, Hoit D, Arthur AS, Nickele C, Alexandrov A, Elijovich L, Goyal N. Antiplatelet pretreatment and outcomes following mechanical thrombectomy for emergent large vessel occlusion strokes. J Neurointerv Surg. 2018;10:828-33.

17.

Mulder MJ, Berkhemer OA, Fransen PS, van den Berg LA, Lingsma HF, den Hertog HM, Staals J, Jenniskens SF, van Oostenbrugge RJ, van Zwam WH, Majoie CB, van der Lugt A, Dippel DW; MR CLEAN investigators. Does prior antiplatelet treatment improve functional outcome after intra-arterial treatment for acute ischemic stroke? Int J Stroke. 2017;12:368–76.

18.

Amin AR, Vyas P, Attur M, Leszczynska-Piziak J, Patel IR, Weissmann G, Abramson SB. The mode of action of aspirin-like drugs: effect on inducible nitric oxide synthase. Proc Natl Acad Sci USA. 1995;92:7926–30.

19.

Yoon W, Kim SK, Heo TW, Baek BH, Lee YY, Kang HK. Predictors of good outcome after stent-retriever thrombectomy in acute basilar artery occlusion. Stroke. 2015;46:2972–5.

20.

Singer OC, Berkefeld J, Nolte CH, Bohner G, Haring HP, Trenkler J, Gröschel K, Müller-Forell W, Niederkorn K, Deutschmann H, Neumann-Haefelin T, Hohmann C, Bussmeyer M, Mpotsaris A, Stoll A, Bormann A, Brenck J, Schlamann MU, Jander S, Turowski B, Petzold GC, Urbach H, Liebeskind DS; ENDOSTROKE Study Group. Mechanical recanalization in basilar artery occlusion: the ENDOSTROKE study. Ann Neurol. 2015;77:415–24.

21.

Luo G, Mo D, Tong X, Liebeskind DS, Song L, Ma N, Gao F, Sun X, Zhang X, Wang B, Jia B, Fernandez-Escobar A, Miao Z. Factors associated with 90-day outcomes of patients with acute posterior circulation stroke treated by mechanical thrombectomy. World Neurosurg. 2018;109:e318–28.

22.

Möhlenbruch M, Stampfl S, Behrens L, Herweh C, Rohde S, Bendszus M, Hametner C, Nagel S, Ringleb PA, Pham M. Mechanical thrombectomy with stent retrievers in acute basilar artery occlusion. AJNR Am J Neuroradiol. 2014;35:959–64.

23.

Karameshev A, Arnold M, Schroth G, Kappeler L, Stein P, Gralla J, Brekenfeld C, Findling O, Mono ML, De Marchis GM, Fischer U, Mattle HP, Nedeltchev K, El-Koussy M. Diffusion-weighted MRI helps predict outcome in basilar artery occlusion patients treated with intra-arterial thrombolysis. Cerebrovasc Dis. 2011;32:393–400.

24.

Vergouwen MD, Algra A, Pfefferkorn T, Weimar C, Rueckert CM, Thijs V, Kappelle LJ, Schonewille WJ; Basilar Artery International Cooperation Study (BASICS) Study Group. Time is brain(stem) in basilar artery occlusion. Stroke. 2012;43:3003–6.

25.

Sairanen T, Strbian D, Soinne L, Silvennoinen H, Salonen O, Artto V, Koskela I, Häppölä O, Kaste M, Lindsberg PJ; Helsinki Stroke Thrombolysis Registry (HSTR) Group. Intravenous thrombolysis of basilar artery occlusion: predictors of recanalization and outcome. Stroke. 2011;42:2175–9.

26.

Jung S, Mono ML, Fischer U, Galimanis A, Findling O, De Marchis GM, Weck A, Nedeltchev K, Colucci G, Mordasini P, Brekenfeld C, El-Koussy M, Gralla J, Schroth G, Mattle HP, Arnold M. Three-month and long-term outcomes and their predictors in acute basilar artery occlusion treated with intra-arterial thrombolysis. Stroke. 2011;42:1946–51.

27.

Simonsen CZ, Yoo AJ, Sørensen LH, Juul N, Johnsen SP, Andersen G, Rasmussen M. Effect of general anesthesia and conscious sedation during endovascular therapy on infarct growth and clinical outcomes in acute ischemic stroke: a randomized clinical trial. JAMA Neurol. 2018;75:470–7.

28.

Löwhagen Hendén P, Rentzos A, Karlsson JE, Rosengren L, Leiram B, Sundeman H, Dunker D, Schnabel K, Wikholm G, Hellström M, Ricksten SE. General anesthesia versus conscious sedation for endovascular treatment of acute ischemic stroke: the anstroke trial (anesthesia during stroke). Stroke. 2017;48:1601–7.

29.

Bekelis K, Missios S, MacKenzie TA, Tjoumakaris S, Jabbour P. Anesthesia technique and outcomes of mechanical thrombectomy in patients with acute ischemic stroke. Stroke. 2017;48:361–6.

30.

Abou-Chebl A, Zaidat OO, Castonguay AC, Gupta R, Sun CH, Martin CO, Holloway WE, Mueller-Kronast N, English JD, Linfante I, Dabus G, Malisch TW, Marden FA, Bozorgchami H, Xavier A, Rai AT, Froehler MT, Badruddin A, Nguyen TN, Taqi M, Abraham MG, Janardhan V, Shaltoni H, Novakovic R, Yoo AJ, Chen PR, Britz GW, Kaushal R, Nanda A, Issa MA, Nogueira RG. North American SOLITAIRE Stent-retriever acute stroke registry: choice of anesthesia and outcomes. Stroke. 2014;45:1396–401.
Acknowledgements
The authors thank all the clinicians, imaging and laboratory technicians, and statisticians who contributed to the information collection and analysis of this study. The research received no specific grant from any funding agency in the public, commercial or not-for-profit sectors.
Ethics declarations
Conflict of interest
X. Zhang, G. Luo, D. Mo, N. Ma, F. Gao, J Zhang and Z. Miao declare that they have no competing interests.
About this article
Cite this article
Zhang, X., Luo, G., Mo, D. et al. Predictors of Good Outcome After Endovascular Treatment for Patients with Vertebrobasilar Artery Occlusion due to Intracranial Atherosclerotic Stenosis. Clin Neuroradiol 29, 693–700 (2019). https://doi.org/10.1007/s00062-018-0731-z
Received:

Accepted:

Published:

Issue Date:
Keywords
Acute ischemic stroke

Thrombectomy

Antiplatelet therapy

Pc-ASPECT

BATMAN