Abstract
Background and Purpose
Mechanical thrombectomy, in addition to intravenous (i.v.) thrombolysis is recommended for treatment of acute stroke in patients with large vessel occlusions (LVO) in the anterior circulation up to 6 h after symptom onset. We compared thrombectomy rates of eight university hospitals of the MIRACUM consortium to analyze the implementation of this guideline in clinical routine.
Methods
Anonymized billing data in a standardized format were loaded into a local i2b2 data warehouse by applying already existing extract, transform and load (ETL) routines. A locally executed uniform SQL (structured query language) query delivered aggregated site data for all inpatients with a discharge diagnosis of ischemic stroke (ICD-10 I63) containing counts for type of acute treatment, type of admission and age groups, which were centrally analyzed with R.
Results
From 2014 to 2016, the thrombectomy rate almost doubled from a mean of 4.7% to 9.6%, although significant differences between centers exist (range in 2016: 5.8–17%). The number of drip-and-ship procedures increased in 3 out of 8 centers. There was no evidence for a decrease in thrombectomy rates during weekends/holiday or among patients older than 80 years, but this age group is more likely to receive i.v. recombinant tissue plasminogen activator (rtPA).
Conclusion
The observed increase of thrombectomy rates and drip-and-ship procedures without a significant difference between weekdays and weekends or patients of different ages is substantiating a rapid implementation of stroke guidelines within the analyzed neurovascular centers. The prototype of the MIRACUM Data Integration Center already contributes to health services research in Germany.
This is a preview of subscription content, log in to check access.
Access options
Buy single article
Instant access to the full article PDF.
US$ 39.95
Price includes VAT for USA
Subscribe to journal
Immediate online access to all issues from 2019. Subscription will auto renew annually.
US$ 99
This is the net price. Taxes to be calculated in checkout.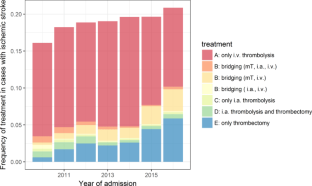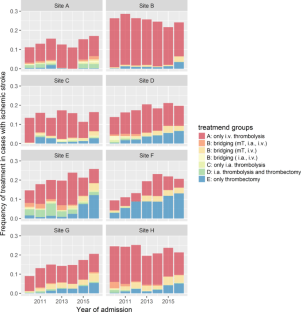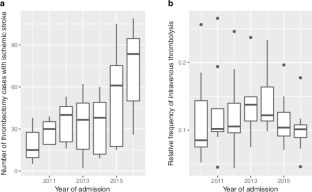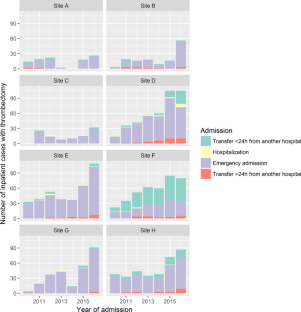 References
1.

Heuschmann PU, Busse O, Wagner M, Endres M, Villringer A, Röther J, Kolominsky-Rabas PL, Berger K. Schlaganfallhäufigkeit und Versorgung von Schlaganfallpatienten in Deutschland. Akt Neurol. 2010; 37:333–340.

2.

Nabavi DG, Ringelstein EB, Faiss J, Kessler C, Röther J, Busse O. Regionale und überregionale Stroke-Units in Deutschland: Aktualisierte Zertifizierungskriterien. Nervenarzt. 2012;83:1039–1052.

3.

Busse O, Röther J, Faiss J, Hamann GF, Hupp T, Jansen O, Meixensberger J, Neumann-Haefelin T, Schackert G, Ringelstein EB. Interdisziplinäres neurovaskuläres Netzwerk: Eine neue Struktur zur Versorgung von Schlaganfällen und anderen Hirngefäßerkrankungen in Deutschland. Nervenarzt. 2013;84:1228–1232.

4.

Krogias C, Bartig D, Kitzrow M, Brassel F, Busch EW, Nolden-Koch M, Reimann G, Weimar C, Weber R, Eyding J. Verfügbarkeit der mechanischen Thrombektomie bei akutem Hirninfarkt. Nervenarzt. 2017;88:1177–1185.

5.

Murphy SN, Weber G, Mendis M, Gainer V, Chueh HC, Churchill S, Kohane I. Serving the enterprise and beyond with informatics for integrating biology and the bedside (i2b2). J Am Med Inform Assoc. 2010;17:124–130.

6.

Campbell BC, Mitchell PJ, Kleinig TJ, Dewey HM, Churilov L, Yassi N, Yan B, Dowling RJ, Parsons MW, Oxley TJ, Wu TY, Brooks M, Simpson MA, Miteff F, Levi CR, Krause M, Harrington TJ, Faulder KC, Steinfort BS, Priglinger M, Ang T, Scroop R, Barber PA, McGuinness B, Wijeratne T, Phan TG, Chong W, Chandra RV, Bladin CF, Badve M, Rice H, de Villiers L, Ma H, Desmond PM, Donnan GA, Davis SM; EXTEND-IA Investigators. Endovascular therapy for ischemic stroke with perfusion-imaging selection. N Engl J Med. 2015;372:1009–1018.

7.

Berkhemer OA, Fransen PS, Beumer D, van den Berg LA, Lingsma HF, Yoo AJ, Schonewille WJ, Vos JA, Nederkoorn PJ, Wermer MJ, van Walderveen MA, Staals J, Hofmeijer J, van Oostayen JA, Lycklama à Nijeholt GJ, Boiten J, Brouwer PA, Emmer BJ, de Bruijn SF, van Dijk LC, Kappelle LJ, Lo RH, van Dijk EJ, de Vries J, de Kort PL, van Rooij WJ, van den Berg JS, van Hasselt BA, Aerden LA, Dallinga RJ, Visser MC, Bot JC, Vroomen PC, Eshghi O, Schreuder TH, Heijboer RJ, Keizer K, Tielbeek AV, den Hertog HM, Gerrits DG, van den Berg-Vos RM, Karas GB, Steyerberg EW, Flach HZ, Marquering HA, Sprengers ME, Jenniskens SF, Beenen LF, van den Berg R, Koudstaal PJ, van Zwam WH, Roos YB, van der Lugt A, van Oostenbrugge RJ, Majoie CB, Dippel DW; MR CLEAN Investigators. A randomized trial of intraarterial treatment for acute ischemic stroke. N Engl J Med. 2015;372:11–20.

8.

Saver JL, Goyal M, Bonafe A, Diener HC, Levy EI, Pereira VM, Albers GW, Cognard C, Cohen DJ, Hacke W, Jansen O, Jovin TG, Mattle HP, Nogueira RG, Siddiqui AH, Yavagal DR, Baxter BW, Devlin TG, Lopes DK, Reddy VK, du Mesnil de Rochemont R, Singer OC, Jahan R; SWIFT PRIME Investigators. Stent-retriever thrombectomy after intravenous t‑PA vs. t‑PA alone in stroke. N Engl J Med. 2015;372:2285–2295.

9.

Jovin TG, Chamorro A, Cobo E, de Miquel MA, Molina CA, Rovira A, San Román L, Serena J, Abilleira S, Ribó M, Millán M, Urra X, Cardona P, López-Cancio E, Tomasello A, Castaño C, Blasco J, Aja L, Dorado L, Quesada H, Rubiera M, Hernandez-Pérez M, Goyal M, Demchuk AM, von Kummer R, Gallofré M, Dávalos A; REVASCAT Trial Investigators. Thrombectomy within 8 hours after symptom onset in ischemic stroke. N Engl J Med. 2015;372:2296–2306.

10.

Goyal M, Demchuk AM, Menon BK, Eesa M, Rempel JL, Thornton J, Roy D, Jovin TG, Willinsky RA, Sapkota BL, Dowlatshahi D, Frei DF, Kamal NR, Montanera WJ, Poppe AY, Ryckborst KJ, Silver FL, Shuaib A, Tampieri D, Williams D, Bang OY, Baxter BW, Burns PA, Choe H, Heo JH, Holmstedt CA, Jankowitz B, Kelly M, Linares G, Mandzia JL, Shankar J, Sohn SI, Swartz RH, Barber PA, Coutts SB, Smith EE, Morrish WF, Weill A, Subramaniam S, Mitha AP, Wong JH, Lowerison MW, Sajobi TT, Hill MD; ESCAPE Trial Investigators. Randomized assessment of rapid endovascular treatment of ischemic stroke. N Engl J Med. 2015;372:1019–1030.

11.

Wahlgren N, Moreira T, Michel P, Steiner T, Jansen O, Cognard C, Mattle HP, van Zwam W, Holmin S, Tatlisumak T, Petersson J, Caso V, Hacke W, Mazighi M, Arnold M, Fischer U, Szikora I, Pierot L, Fiehler J, Gralla J, Fazekas F, Lees KR; ESO-KSU, ESO, ESMINT, ESNR and EAN. Mechanical thrombectomy in acute ischemic stroke: consensus statement by ESO-Karolinska stroke update 2014/2015, supported by ESO, ESMINT, ESNR and EAN. Int J Stroke. 2016;11:134-47.

12.

Talend Open Studio. Open source ETL & data integration. 2017. https://www.talend.com/products/talend-open-studio/. Accessed 26 June 2017.

13.

R. The R project for statistical computing. 2017. https://www.r-project.org/. Accessed 26 June 2017.

14.

Kidwell CS1, Jahan R, Gornbein J, Alger JR, Nenov V, Ajani Z, Feng L, Meyer BC, Olson S, Schwamm LH, Yoo AJ, Marshall RS, Meyers PM, Yavagal DR, Wintermark M, Guzy J, Starkman S, Saver JL; MR RESCUE Investigators. A trial of imaging selection and endovascular treatment for ischemic stroke. N Engl J Med. 2013;368:914–923.

15.

Broderick JP, Palesch YY, Demchuk AM, Yeatts SD, Khatri P, Hill MD, Jauch EC, Jovin TG, Yan B, Silver FL, von Kummer R, Molina CA, Demaerschalk BM, Budzik R, Clark WM, Zaidat OO, Malisch TW, Goyal M, Schonewille WJ, Mazighi M, Engelter ST, Anderson C, Spilker J, Carrozzella J, Ryckborst KJ, Janis LS, Martin RH, Foster LD, Tomsick TA; Interventional Management of Stroke (IMS) III Investigators. Endovascular therapy after intravenous t‑PA versus t‑PA alone for stroke. N Engl J Med. 2013;368:893–903.

16.

Ciccone A, Valvassori L, Nichelatti M, Sgoifo A, Ponzio M, Sterzi R, Boccardi E; SYNTHESIS Expansion Investigators. Endovascular treatment for acute ischemic stroke. N Engl J Med. 2013;368:904–913.

17.

Vanacker P, Lambrou D, Eskandari A, Mosimann PJ, Maghraoui A, Michel P. Eligibility and predictors for acute revascularization procedures in a stroke center. Stroke. 2016;47:1844–1849.

18.

Ringleb PA, Hamann GF, Röther J, Jansen O, Groden C, Veltkamp R. Akuttherapie des ischämischen Schlaganfalls – Rekanalisierende Therapie. Akt Neurol. 2016;43:82–91.

19.

Hacke W, Kaste M, Fieschi C, von Kummer R, Davalos A, Meier D, Larrue V, Bluhmki E, Davis S, Donnan G, Schneider D, Diez-Tejedor E, Trouillas P. Randomised double-blind placebo-controlled trial of thrombolytic therapy with intravenous alteplase in acute ischaemic stroke (ECASS II). Second European-Australasian Acute Stroke Study Investigators. Lancet. 1998;352:1245–1251.

20.

Singer OC, Dvorak F, du Mesnil de Rochemont R, Lanfermann H, Sitzer M, Neumann-Haefelin T. A simple 3-item stroke scale: comparison with the National Institutes of Health Stroke Scale and prediction of middle cerebral artery occlusion. Stroke. 2005;36:773–776.

21.

Groden C, Vorwerk D, Berlis A, Gold R, Dichgans M, Bücker A, Wujciak D. Versorgung des ischämischen Schlaganfalls in Deutschland gehört in die Hände der neurologischen und neuro-/radiologischen Facharztdisziplinen. Positionspapier der Fachgesellschaften. 2016. http://www.dsg-info.de/images/stories/DSG/PDF/Nachrichten/2016/Positionspapier_Versorgung_Thrombektomie_05_2016.pdf. Accessed 22 June 2017.

22.

Schilling M, Kiefer R, Busse O, Ferbert A, Grond M, Ringelstein EB. Kodierleitfaden Schlaganfall der DSG und DGN 2011. 2011. ISBN 978-3865231734.

23.

Dugas M, Jöckel KH, Friede T, Gefeller O, Kieser M, Marschollek M, Ammenwerth E, Röhrig R, Knaup-Gregori P, Prokosch HU. Memorandum "Open Metadata". Open Access to Documentation Forms and Item Catalogs in Healthcare. Methods Inf Med. 2015;54:376–378.

24.

MIRACUM. Metadata repository. 2017. http://mdr.miracum.de/index.xhtml. Accessed 26 June 2017.

25.

Kadioglu D, Weingardt P, Ückert F, Wagner T. Samply.MDR – Ein Open-Source-Metadaten-Repository. HEC 2016: Joint Conference of GMDS, DGEpi, IEA-EEF, EFMI. 2016. https://doi.org/10.3205/16gmds149.
Acknowledgements
MIRACUM is funded by the German Federal Ministry of Education and Research (BMBF) within the "Medical Informatics Funding Scheme" (FKZ 01ZZ1606H).
Ethics declarations
Conflict of interest
H. Urbach received honoraria from Stryker. Between July 2014 and July 2017 C. Best received payments as a consultant for Bayer. W. Pfeilschifter received research funding from Stryker Neurovascular for a project of team-based acute stroke workflow optimization. C. Haverkamp, T. Ganslandt, P. Horki, M. Boeker¸ A. Dörfler, S. Schwab, J. Berkefeld, W.-D. Niesen, K. Egger, M. Kaps, M.A. Brockmann, E. Neumaier-Probst, K. Szabo, M. Skalej, S. Bien, H.-U. Prokosch declare that they have no competing interests.
Caption Electronic Supplementary Material
About this article
Cite this article
Haverkamp, C., Ganslandt, T., Horki, P. et al. Regional Differences in Thrombectomy Rates. Clin Neuroradiol 28, 225–234 (2018). https://doi.org/10.1007/s00062-017-0656-y
Received:

Accepted:

Published:

Issue Date:
Keywords
Data Warehousing

Infarction

Middle Cerebral Artery

Mechanical Thrombolysis

Thrombolytic Therapy