Abstract
Purpose
The severity of white matter lesions (WML) is a risk factor of hemorrhage and predictor of clinical outcome after ischemic stroke; however, in contrast to magnetic resonance imaging (MRI) reliable quantification for this surrogate marker is limited for computed tomography (CT), the leading stroke imaging technique. We aimed to present and evaluate a CT-based automated rater-independent method for quantification of microangiopathic white matter changes.
Methods
Patients with suspected minor stroke (National Institutes of Health Stroke scale, NIHSS < 4) were screened for the analysis of non-contrast computerized tomography (NCCT) at admission and compared to follow-up MRI. The MRI-based WML volume and visual Fazekas scores were assessed as the gold standard reference. We employed a recently published probabilistic brain segmentation algorithm for CT images to determine the tissue-specific density of WM space. All voxel-wise densities were quantified in WM space and weighted according to partial probabilistic WM content. The resulting mean weighted density of WM space in NCCT, the surrogate of WML, was correlated with reference to MRI-based WML parameters.
Results
The process of CT-based tissue-specific segmentation was reliable in 79 cases with varying severity of microangiopathy. Voxel-wise weighted density within WM spaces showed a noticeable correlation (r = −0.65) with MRI-based WML volume. Particularly in patients with moderate or severe lesion load according to the visual Fazekas score the algorithm provided reliable prediction of MRI-based WML volume.
Conclusion
Automated observer-independent quantification of voxel-wise WM density in CT significantly correlates with microangiopathic WM disease in gold standard MRI. This rapid surrogate of white matter lesion load in CT may support objective WML assessment and therapeutic decision-making during acute stroke triage.
Access options
Buy single article
Instant access to the full article PDF.
US$ 39.95
Tax calculation will be finalised during checkout.
Subscribe to journal
Immediate online access to all issues from 2019. Subscription will auto renew annually.
US$ 60.68
Tax calculation will be finalised during checkout.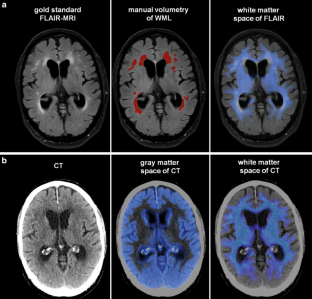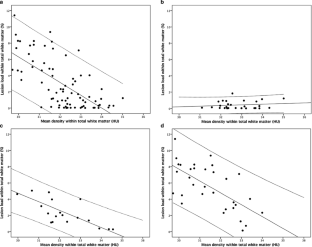 References
1.

Basile AM, Pantoni L, Pracucci G, Asplund K, Chabriat H, Erkinjuntti T, Fazekas F, Ferro JM, Hennerici M, O'Brien J, Scheltens P, Visser MC, Wahlund LO, Waldemar G, Wallin A, Inzitari D; LADIS Study Group. Age, hypertension, and lacunar stroke are the major determinants of the severity of age-related white matter changes. The LADIS (Leukoaraiosis and Disability in the Elderly) Study. Cerebrovasc Dis. 2006;21(5–6):315–22.

2.

Arsava EM, Rahman R, Rosand J, Lu J, Smith EE, Rost NS, Singhal AB, Lev MH, Furie KL, Koroshetz WJ, Sorensen AG, Ay H. Severity of leukoaraiosis correlates with clinical outcome after ischemic stroke. Neurology. 2009;72(16):1403–10.

3.

Ay H, Arsava EM, Rosand J, Furie KL, Singhal AB, Schaefer PW, Wu O, Gonzalez RG, Koroshetz WJ, Sorensen AG. Severity of leukoaraiosis and susceptibility to infarct growth in acute stroke. Stroke. 2008;39(5):1409–13.

4.

Curtze S, Melkas S, Sibolt G, Haapaniemi E, Mustanoja S, Putaala J, Sairanen T, Tiainen M, Tatlisumak T, Strbian D. Cerebral computed tomography-graded white matter lesions are associated with worse outcome after thrombolysis in patients with stroke. Stroke. 2015;46(6):1554–60.

5.

Curtze S, Haapaniemi E, Melkas S, Mustanoja S, Putaala J, Sairanen T, Sibolt G, Tiainen M, Tatlisumak T, Strbian D. White matter lesions double the risk of post-thrombolytic intracerebral hemorrhage. Stroke. 2015;46(8):2149–55.

6.

Shi ZS, Loh Y, Liebeskind DS, Saver JL, Gonzalez NR, Tateshima S, Jahan R, Feng L, Vespa PM, Starkman S, Salamon N, Villablance JP, Ali LK, Ovbiagele B, Kim D, Viñuela F, Duckwiler GR. Leukoaraiosis predicts parenchymal hematoma after mechanical thrombectomy in acute ischemic stroke. Stroke. 2012;43(7):1806–11.

7.

Kuller LH, Longstreth WT Jr, Arnold AM, Bernick C, Bryan RN, Beauchamp NJ Jr; Cardiovascular Health Study Collaborative Research Group. White matter hyperintensity on cranial magnetic resonance imaging: a predictor of stroke. Stroke. 2004;35(8):1821–5.

8.

Fazekas F, Barkhof F, Wahlund LO, Pantoni L, Erkinjuntti T, Scheltens P, Schmidt R. CT and MRI rating of white matter lesions. Cerebrovasc Dis. 2002;13 Suppl 2:31–6.

9.

Maillard P, Delcroix N, Crivello F, Dufouil C, Gicquel S, Joliot M, Tzourio-Mazoyer N, Alpérovitch A, Tzourio C, Mazoyer B. An automated procedure for the assessment of white matter hyperintensities by multispectral (T1, T2, PD) MRI and an evaluation of its between-centre reproducibility based on two large community databases. Neuroradiology. 2008;50(1):31–42.

10.

Schmidt P, Gaser C, Arsic M, Buck D, Förschler A, Berthele A, Hoshi M, Ilg R, Schmid VJ, Zimmer C, Hemmer B, Mühlau M. An automated tool for detection of FLAIR-hyperintense white-matter lesions in Multiple Sclerosis. Neuroimage. 2012;59(4):3774–83.

11.

Masdeu JC, Irimia P, Asenbaum S, Bogousslavsky J, Brainin M, Chabriat H, Herholz K, Markus HS, Martínez-Vila E, Niederkorn K, Schellinger PD, Seitz RJ; EFNS. EFNS guideline on neuroimaging in acute stroke. Report of an EFNS task force. Eur J Neurol. 2006;13(12):1271–83.

12.

Kemmling A, Wersching H, Berger K, Knecht S, Groden C, Nölte I. Decomposing the Hounsfield unit: probabilistic segmentation of brain tissue in computed tomography. Clin Neuroradiol. 2012;22(1):79–91.

13.

Zhang J, Puri AS, Khan MA, Goddeau RP Jr, Henninger N. Leukoaraiosis predicts a poor 90-day outcome after Endovascular stroke therapy. AJNR Am J Neuroradiol. 2014;35(11):2070–5.

14.

Fazekas F, Chawluk JB, Alavi A, Hurtig HI, Zimmerman RA. MR signal abnormalities at 1.5 T in Alzheimer's dementia and normal aging. AJR Am J Roentgenol. 1987;149(2):351–6.

15.

Cohen J. A coefficient of agreement for nominal scales. Educ Psychol Meas. 1960;20(1):37–46.

16.

Debette S, Beiser A, DeCarli C, Au R, Himali JJ, Kelly-Hayes M, Romero JR, Kase CS, Wolf PA, Seshadri S. Association of MRI markers of vascular brain injury with incident stroke, mild cognitive impairment, dementia, and mortality: the Framingham Offspring Study. Stroke. 2010;41(4):600–6.

17.

Bier G, Bongers MN, Ditt H, Bender B, Ernemann U, Horger M. Enhanced gray-white matter differentiation on non-enhanced CT using a frequency selective non-linear blending. Neuroradiology. 2016;58(7):649–55.

18.

Salomon EJ, Barfett J, Willems PW, Geibprasert S, Bacigaluppi S, Krings T. Dynamic CT angiography and CT perfusion employing a 320-detector row CT: protocol and current clinical applications. Klin Neuroradiol. 2009;19(3):187–96.
Ethics declarations
Conflict of interests
U. Hanning, P. Sporns, R. Schmidt,T. Niederstadt, J. Minnerup,G. Bier, S. Knecht and A. Kemmling declare that they have no competing interests.
Additional information
Uta Hanning and Peter Sporns contributed equally to the manuscript.
About this article
Cite this article
Hanning, U., Sporns, P.B., Schmidt, R. et al. Quantitative Rapid Assessment of Leukoaraiosis in CT. Clin Neuroradiol 29, 109–115 (2019). https://doi.org/10.1007/s00062-017-0636-2
Received:

Accepted:

Published:

Issue Date:
Keywords
Leukoaraiosis

White matter lesions

Cerebral small vessel disease

CT segmentation techniques

Acute stroke