Abstract
Purpose
This study focuses on the following questions: What are the morphological features at the transdural course of radiculomedullary veins? How are these short transdural segments that may harbour pathological arteriovenous shunts connected to the internal vertebral venous plexus? Is the conception of a reflux-impeding mechanism at the transdural segment indispensable and convincing?
Methods
A total of 102 radiculospinal veins were studied microscopically at various levels of the spinal canal using serial paraffin and semi-thin sections. In addition, 26 vessels were investigated microangiographically following orthograde (12) or attempted retrograde (14) opacification of the intradural venous segment with barium sulphate. After paraplast-embedding, contact-microradiographs were taken using high-resolution spectroscopic plates.
Results
At their transdural course, the veins showed narrowing of their lumen accompanied by changes in the vessel wall composition and a tortuous course. Two structurally distinct arrangements of the transdural segment could be identified: A slit type was seen in 60 % of the veins studied and a bulge- or nodular type was seen in 35 % of the veins. In total, 5 % of cases could not be assigned to either one of these types. Reflux to radicular veins from the outside of the dura mater could be produced in 2 out of 14 specimens. The extradural venous plexus, which primarily receives the radicular vein, was composed more frequently of lacunar spaces rather than plexiform blood vessel convolutions. Rare observations were fibrotic, blind ending radiculomedullary veins and continuation of a distinct venous blood vessel after crossing the dura.
Conclusions
Reflux from the epidural plexus to radicular veins is not reliably stopped at the dural level and possibly physiological. Different arrangements of the transdural course of the veins appear to be at least appropriate to modulate flow. The purpose for two different types of radicular vein exit is unclear. The clinical impact of disturbed reflux-control is uncertain, which is in stark contrast to the severe consequences resulting from dural arteriovenous shunts. The functional role of the probably predominant epidural venous plexus for the spinal cord blood circulation remains poorly understood.
Access options
Buy single article
Instant access to the full article PDF.
USD 39.95
Price excludes VAT (USA)
Tax calculation will be finalised during checkout.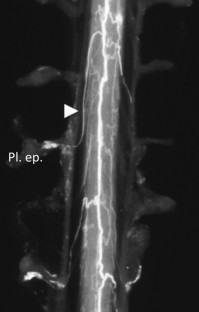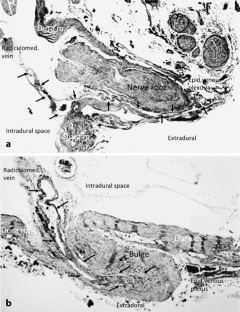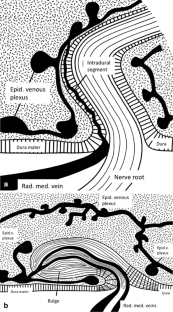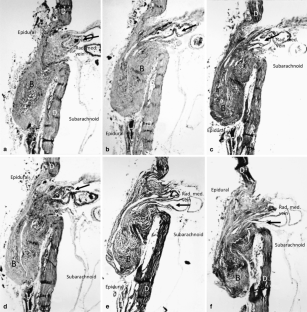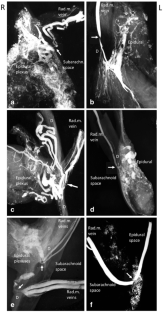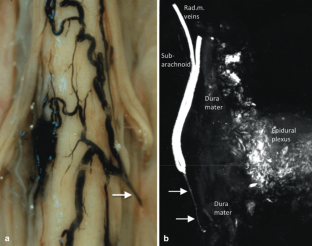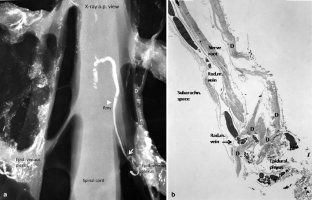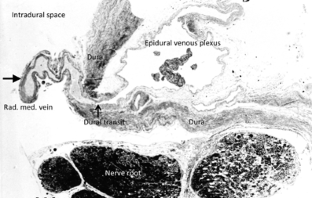 References
Kendall BE, Logue V. Spinal epidural angiomatous malformations draining into intrathecal veins. Neuroradiology. 1977;13:181–9.

Merland JJ, Riché MC, Chiras J. Les fistules arterio-veineuses intra-canalaires, extra-médullaires à drainage veineuxmédullaire. J Neuroradiol. 1980;7:271–320.

Foix Ch, AlajouanineTh. La myélite nécrotique subaigue. Rev Neurol. 1926;33:1–42.

Thron A, Koenig E, Pfeiffer P, Rossberg C. Dural vascular anomalies of the spine- an important cause of progressive myelopathy. In: Cervos-Navarro J, Ferszt R, editors. Stroke and microcirculation. New York: Raven Press; 1987.

Thron AK. Vascular anatomy of the spinal cord. Neuroradiological investigations and clinical syndromes. Wien: Springer; 1988.

Tadié M, Hemet J, Freger P, Clavier E, Creissard P. Anatomie morphologique et circulaire des veines de la moelle. J Neuroradiol. 1985;12:3–20.

Tadié M, Hemet J, Aaron C, Bianco C, Creissard P, Huard P. Le dispositive protecteur anti-reflux des veines de la moelle. Neuro-Chir. 1979;25:28–30.

Aboulker J, Bar D, Mursault L, Khoudja F, Redondo A, Gard L, Nahum H. L'hypertension veineuse intra-rachidienne par anomalies multiples du systeme cave: une cause majeure de souffrance medullaire. Chirurgie. 1977;103:1003–15.

Breschet G. Recherches anatomiques, physiologiques et pathologiques sur les systems veineux et specialement sur les canaux veineux des os. Villaret, Paris 1828–1832.

Batson OV. The vertebral vein system. Am J Roentgenol. 1957;78:195–212.

Clemens HJ. Die Venensysteme der menschlichen Wirbelsäule. Berlin: De Gruyter; 1961.

Crock HV, Yamagishi M, Crock MC. The conus medullaris and cauda equina in man. An atlas of the arteries and veins. Wien: Springer; 1986.

Otto J. Morphologie des Sperrmechanismus am Duradurchtritt der Venae radiculares des Menschen. Neuroradiologische und histologische Befunde. Thesis for Doctorate in Medicine. University Aachen, 1990.

Thron A, Otto J, Schroeder JM. Functional anatomy of the dural segment of spinal cord draining veins. A histological and microangiographical study. In: du Boulay G, editor. Symposium Neuroradiologicum. Book of Abstracts. London: Springer; 1990. p. 323.

Schroeder JM, Otto J, Thron A. Protective anti-reflux devices for spinal veins at the radicular nerve entry/exit zone: a correlative microscopic and microangiographic autopsy study. Schweiz Arch Neurol Psychiatr. 1993;144:29–30.

Groen RJM, Groenewegen HJ, van Alphen HAM, Hoogland PVJM. Morphology of the human internal vertebral venous plexus: a cadaver study after intravenous Araldite CY 221 injection. Anat Rec. 1997;249:285–94.

van der Kuip M, Hoogland PV, Groen RJ. Human radicular veins: regulation of venous reflux in the absence of valves. Anat Rec. 1999;154:173–80.

Chen J, Ethiati T, Gailloud P. Flat panel catheter angiotomography of the spinal venous system: an enhanced venous phase for digital subtraction angiography. AJNR Am J Neuroradiol. 2012;33:1875–81.

Gailloud P. The arrow-tipped loop is a marker of radiculomedullary vein thrombosis linked to the anti-reflux mechanism-angiographic anatomy and clinical implications. Neuroradiology. 2014;56(10):859–64.

Moes P, Maillot C. Les veines superficielles de la moelle epinière chez l´homme. Essai de systematisation. Archives D'Anatomie D'Histologie D'Embryologie normales et expérimentales. Extrait du tome 64. Paris: Edition Alsatia; 1981. pp. 5–110.

Oswald K. Untersuchungen über das Vorkommen von Sperrmechanismen in den Venae radiculares des Menschen. Berlin: Med Inaug Diss; 1961.

Théron J, Moret J. Spinal phlebography. Berlin: Springer; 1978.

Meijenhorst GCH. Lumbar epidural double-catheter venography with Metrizamide (Amipaque). Diagn Imaging. 1977;48:244–252.

Lasjaunias P, Berenstein A. Surgical neuroangiography. Vol. 3: Functional vascular anatomy of brain, spinal cord and spine. 1st Ed. Berlin: Springer 1990. p. 80–87.

Krings T, Mull M, Bostroem A, Otto, J, Hans FJ, Thron A. Spinal epidural arteriovenous fistula with perimedullary drainage. Case report and pathogenetical considerations. J Neurosurg Spine. 2006;5:353–8.

Chen CJ, Huang CC, Hsu YY, Hsu WC. Small isolated paraspinal arteriovenous fistula. AJNR Am J Neuroradiol. 1977;18:359–61.

Cognard C, Semaan H, Bakchine S, Miaux Y, Thibault S, Sola Martinez MT, Chiras J. Paraspinal arteriovenous fistula with perimedullary venous drainage. AJNR Am J Neuroradiol. 1995;16:2044–8.

Pirouzmand F, Wallace MC, WiIIinsky R. Spinal epidural arteriovenous fistula with intramedullary reflux. Case report. J Neurosurg. 1997;87:633–5.
About this article
Cite this article
Thron, A., Krings, T., Otto, J. et al. The Transdural Course of Radicular Spinal Cord Veins—A Microangiographical and Microscopical Study. Clin Neuroradiol 25, 361–369 (2015). https://doi.org/10.1007/s00062-015-0476-x
Received:

Accepted:

Published:

Issue Date:

DOI: https://doi.org/10.1007/s00062-015-0476-x
Keywords
Venous drainage of the spinal cord

Transdural course of veins

Radiculomedullary veins

Reflux-impeding arrangements

Internal vertebral venous plexus

Spinal dural arteriovenous fistulas

X-ray microangiography