Access options
Buy single article
Instant access to the full article PDF.
USD 39.95
Price excludes VAT (USA)
Tax calculation will be finalised during checkout.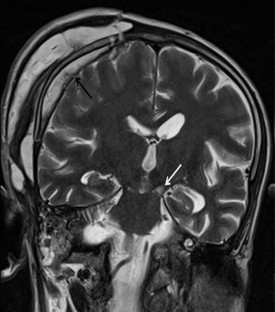 References
Moon KS, Lee JK, Joo SP, Kim TS, Jung S, Kim JH, Kim SH, Kang SS. Kernohan's notch phenomenon in chronic subdural hematoma: MRI findings. J Clin Neurosci. 2007;14:989–92.

McKenna C, Fellus J, Barrett AM. False localizing signs in traumatic brain injury. Brain Inj. 2009;23:597–601.

Kernohan JW, Woltman HW. Incisura of the crus due to contralateral brain tumour. Arch Neurol Psychiatry. 1929;21:274–87.

Zafonte RD, Lee CY. Kernohan-Woltman notch phenomenon: an unusual cause of ipsilateral motor deficit. Arch Phys Med Rehabil. 1997;78:543–5.

Adler DE, Milhorat TH. The tentorial notch: anatomical variation, morphometric analysis, and classification in 100 human autopsy cases. J Neurosurg. 2002;96:1103–12.

Gentry LR, Godersky JC, Thompson B. MR imaging of head trauma: review of the distribution and radiopathologic features of traumatic lesions. AJR Am J Roentgenol. 1988;150:663–72.

Gentry LR, Godersky JC, Thompson BH. Traumatic brain stem injury: MR imaging. Radiology. 1989;171:177–87.

Cohen AR, Wilson J. Magnetic resonance imaging of Kernohan's notch. Neurosurgery. 1990;27:205–7.

Mastronardi L, Puzzilli F, Ruggeri A, Guiducci A. Magnetic resonance imaging findings of Kernohan-Woltman notch in acute subdural hematoma. Clin Neurol Neurosurg. 1999;101:122–4.
About this article
Cite this article
Çabalar, M., Başkan, F., Erdoğan, H. et al. Kernohan–Woltman Notch Phenomenon Secondary to a Subdural Hematoma in a Young Man. Clin Neuroradiol 25, 435–436 (2015). https://doi.org/10.1007/s00062-015-0372-4
Received:

Accepted:

Published:

Issue Date:

DOI: https://doi.org/10.1007/s00062-015-0372-4
Keywords