Access options
Buy single article
Instant access to the full article PDF.
USD 39.95
Price excludes VAT (USA)
Tax calculation will be finalised during checkout.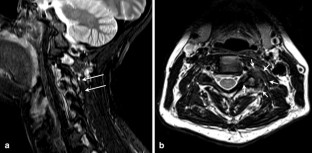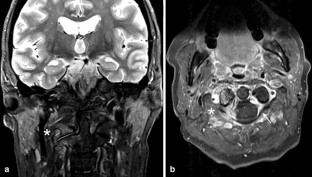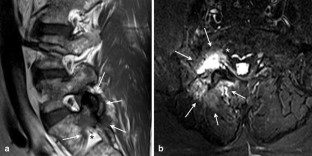 References
Manchikanti L, Manchikanti KN, Cash KA, Singh V, Giordano J. Age-related prevalence of facet-joint involvement in chronic neck and low back pain. Pain Physician. 2008 Jan;11(1):67–75.

van Eerd M, Patijn J, Lataster A, Rosenquist RW, van Kleef M, Mekhail N, et al. 5. Cervical facet pain. Pain Pract. 2010 Apr;10(2):113–23.

Lee MJ, Riew KD. The prevalence cervical facet arthrosis: an osseous study in a cadveric population. Spine J. 2009 Sep;9(9):711–4.

Snow RD, Scott WR. Hypertrophic synovitis and osteoarthritis of the cervical facet joint. Report of two cases. Clin Imaging. 1994 Mar;18(1):56–8.

Sasamori T, Isu T, Morimoto D, Matsumoto R, Isobe M, Takahashi T. Hypertrophic synovial mass resulting in C8 radiculopathy—case report. Neurol Med Chir (Tokyo). 2010 Jan;50(1):73–6.

Igarashi A, Kikuchi S, Konno S, Olmarker K. Inflammatory cytokines released from the facet joint tissue in degenerative lumbar spinal disorders. Spine. 2004 Oct 1;29(19):2091–5.

Igarashi A, Kikuchi S, Konno S. Correlation between inflammatory cytokines released from the lumbar facet joint tissue and symptoms in degenerative lumbar spinal disorders. J Orthop Sci. 2007 Mar;12(2):154–60.

Tachihara H, Kikuchi S, Konno S, Sekiguchi M. Does facet joint inflammation induce radiculopathy?: an investigation using a rat model of lumbar facet joint inflammation. Spine. 2007 Feb 15;32(4):406–12.

Hechelhammer L, Pfirrmann CWA, Zanetti M, Hodler J, Boos N, Schmid MR. Imaging findings predicting the outcome of cervical facet joint blocks. Eur Radiol. 2007 Apr;17(4):959–64.

Eubanks JD, Lee MJ, Cassinelli E, Ahn NU. Prevalence of lumbar facet arthrosis and its relationship to age, sex, and race: an anatomic study of cadaveric specimens. Spine. 2007 Sep 1;32(19):2058–62.

Kalichman L, Li L, Kim DH, Guermazi A, Berkin V, O'Donnell CJ, et al. Facet joint osteoarthritis and low back pain in the community-based population. Spine. 2008 Nov 1;33(23):2560–5.

Gorbach C, Schmid MR, Elfering A, Hodler J, Boos N. Therapeutic efficacy of facet joint blocks. AJR Am J Roentgenol. 2006 May;186(5):1228–33.

Pakzaban P. Transarticular screw fixation of C1–2 for the treatment of arthropathy-associated occipital neuralgia. J Neurosurg Spine. 2011 Feb;14(2):209–14.

Schaeren S, Jeanneret B. Atlantoaxial osteoarthritis: case series and review of the literature. Eur Spine J. 2005 Jun;14(5):501–6.

Czervionke LF, Fenton DS. Fat-saturated MR imaging in the detection of inflammatory facet arthropathy (facet synovitis) in the lumbar spine. Pain Med. 2008 Jun;9(4):400–6.

Weishaupt D, Zanetti M, Boos N, Hodler J. MR imaging and CT in osteoarthritis of the lumbar facet joints. Skeletal Radiol. 1999 Apr;28(4):215–9.
About this article
Cite this article
Kucinski, T., Schubert, J. FOAR: Facet Joint Osteoarthritis with Radiculopathy: A Case Series and a Hypothesis Explaining Spinal Nerve Irritation in the Absence of Osteodiskal Compression. Clin Neuroradiol 25, 83–87 (2015). https://doi.org/10.1007/s00062-013-0275-1
Received:

Accepted:

Published:

Issue Date:

DOI: https://doi.org/10.1007/s00062-013-0275-1
Keywords
Intervertebral Disk

Spinal Nerve

Bone Marrow Edema

Intervertebral Foramen

Clinical Magnetic Resonance Imaging