Abstract
Background
Transcatheter aortic valve implantation (TAVI) for aortic stenosis in older patients is the standard of care with a well-established supply density in Germany. In the near future, healthcare reform is planned that may affect TAVI capacities. Therefore, it is important to know how political regulations may interfere with access to services and what the need for TAVI will be in the future, based on demographic trends.
Methods
The number of TAVI procedures (DRG F98A +F98) and the in-hospital main diagnoses of aortic stenosis (ICD I35) in 2021 were analyzed at the level of county or federal state based on anonymized data from hospital reports, according to § 21 of the German hospital reimbursement law. The number of TAVI and aortic stenosis cases was projected for 2035 based on data from the German Federal Statistical Office on demographic developments. With quality assurance data from hospitals in 2019 and a route planner, the travel time to the next hospital performing TAVI (OPS 5‑35a.0) was calculated, and the consequence of a politically suggested minimum volume cut-off was analyzed.
Results
In 2021, a total of 26,506 TAVI procedures were reported with a mean number of TAVI per 100,000 inhabitants of 32 (range between federal states from 25 to 42). Among the 66,045 diagnoses of aortic stenosis, there was a variation per 100,000 inhabitants from 64 to 108 (mean 79) between federal states. Compared to 2021, an additional 8748 (+13%) diagnoses of aortic stenosis and an increase of 4673 (+18%) TAVI procedures is to be expected in 2035. In 2019, 57% of German citizens could reach a TAVI hospital within 30 min and 91% within 60 min of driving time by car (mean time to hospital 31 min). Applying a minimum number of 150 TAVI/hospital per year would increase the driving time to hospital from 33 to 52 min in Saxony-Anhalt and instantly remove six out of eight hospitals from service in Hesse.
Conclusion
Regulation of TAVI services by minimum volume numbers would arbitrarily interfere with access to services, in contradiction to the medical service assurance tasks of federal state governments. These issues should be considered in the upcoming healthcare system reform.
Zusammenfassung
Hintergrund
Die Transkatheter-Aortenklappen-Implantation (TAVI) zur Behandlung der Aortenklappenstenose bei älteren Patienten ist zur Standardbehandlung gereift mit einem hohen Versorgungsgrad in Deutschland. Die avisierte Strukturreform des Gesundheitswesens könnte Einfluss auf die Versorgung mit TAVI haben. Deshalb ist es notwendig zu analysieren, welche Auswirkungen politische Vorgaben auf die TAVI-Versorgung haben können und wie der Bedarf an TAVI-Prozeduren entsprechend der demografischen Entwicklung zukünftig sein wird.
Methodik
Die Anzahl an TAVI-Prozeduren (DRG F98A + F98B) und Krankenhaus-Hauptdiagnosen der Aortenstenose (ICD I35) wurden für 2021 für die Landkreise und föderalen Bundesländer auf der Basis anonymisierter §‑21-Datensätze analysiert. Basierend auf der Prognose der demografischen Entwicklung von Landkreisen und Bundesländern des Statistischen Bundesamtes wurden die Anzahl von Aortenklappenstenosen-Diagnosen und TAVI für das Jahr 2035 hochgerechnet. Anhand der Krankenhaus-Qualitätsberichte von 2019 und eines Routenplaners wurde die Zeit zum Erreichen des nächsten TAVI (OPS 5‑35a.0) durchführenden Krankenhauses kalkuliert sowie Konsequenzen einer politisch vorgeschlagenen Mindestmenge analysiert.
Ergebnisse
Im Jahr 2021 wurde über 26.506 TAVI-Prozeduren berichtet mit einer mittleren Anzahl TAVI pro 100.000 Einwohner von 32 (Unterschiede zwischen Bundesländern von 25 bis 42). Bei den 66.045 Hauptdiagnosen Aortenstenose variierte die Anzahl Diagnosen pro 100.000 Einwohner von 64 bis 108 (im Mittel 79) zwischen den Bundesländern. Verglichen mit 2021 werden zusätzliche 8748 (+13 %) Diagnosen Aortenstenose und 4673 (+18 %) TAVI-Prozeduren für das Jahr 2035 erwartet. Im Jahr 2019 konnten 57 % der deutschen Bevölkerung ein TAVI-Krankenhaus in 30 min erreichen und 91 % innerhalb von 60 min Fahrzeit mit dem Auto (im Mittel 31 min Fahrzeit). Bei einer Mindestmenge von 150 TAVI/Krankenhaus im Jahr 2019 wäre in Sachsen-Anhalt die Fahrzeit von im Mittel 33 auf 52 min angestiegen, und in Hessen hätten auf einen Schlag 6 von 8 TAVI-Krankenhäusern die Versorgung mit TAVI einstellen müssen.
Schlussfolgerungen
Mindestmengenregelungen verändern in willkürlicher Weise den Zugang zu TAVI für die Bevölkerung und stehen im Gegensatz zu den Verpflichtungen der Bundesländer, die Versorgung sicherzustellen. Diese Aspekte sollten bei der kommenden Krankenhaus-Strukturreform berücksichtigt werden.
Access options
Buy single article
Instant access to the full article PDF.
USD 39.95
Price excludes VAT (USA)
Tax calculation will be finalised during checkout.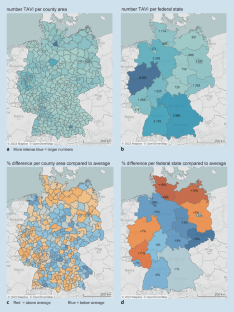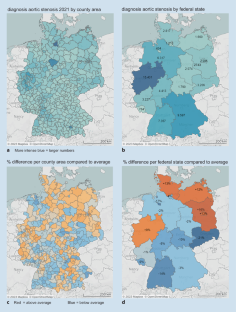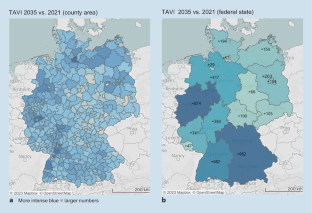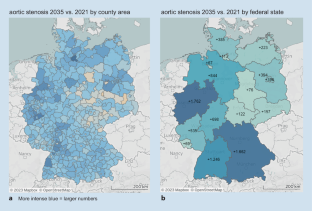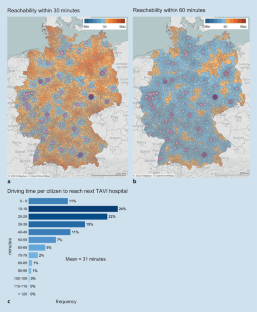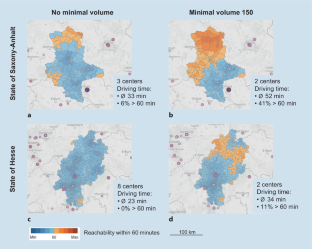 References
Vahanian A, Beyersdorf F, Praz F et al (2022) 2021 ESC/EACTS Guidelines for the management of valvular heart disease. Eur Heart J 43:561–632

Deutsche Herzstiftung (German Heart Fondation) 33. Deutscher Herzbericht (German Heart Report) 2021, 2022. https://herzstiftung.de/system/files/2022-09/DHB21-Herzbericht-2021.pdf

Institut für das Entgeltsystem im Krankenhaus (InEK). InEK DatenBrowser (2021) https://datenbrowser.inek.org/

Bundesamt für Gesundheit BAG der Schweizerischen Eidgenossenschaft (2021) Qualitätsindikatoren Fallzahl. https://www.bag.admin.ch/bag/de/home/zahlen-und-statistiken/zahlen-fakten-zu-spitaelern/qualitaetsindikatoren-der-schweizer-akutspitaeler/qualitaetsindikatoren-fallzahl.exturl.html

Glenn K (2020) Report Finds TAVR is Dominant Form of Aortic Valve Replacement, Outcomes Steadily Improving in the United States. Data from the STS/ACC TVT Registry Provides Insights on 'State of TAVR in the United States'. American College of Cardiology (ACC). https://www.acc.org/about-acc/press-releases

Vasko P (2022) SWEDEHEART Annual report 2021. https://www.ucr.uu.se/swedeheart/

Statista Europäische Union: Altersstruktur in den Mitgliedstaaten im Jahr 2022. https://de.statista.com/statistik/daten/studie/248981/umfrage/altersstruktur-in-den-eu-laendern/

Statista USA: Altersstruktur von 1950 bis 2022 und Prognosen bis 2050. https://de.statista.com/statistik/daten/studie/165801/umfrage/altersstruktur-der-usa/

Gemeinsamer Bundesausschuss, G‑BA (Joint federal committee) (2015) Guideline for minimal invasive valve interventions (Richtlinie zu minimalinvasiven Herzklappeninterventionen. Richtlinie über Maßnahmen zur Qualitätssicherung bei der Durchführung von minimalinvasiven Herzklappeninterventionen gemäß § 136 Absatz 1 Satz 1 Nummer 2 für nach § 108 SGB V zugelassene Krankenhäuser – MHI-RL). https://www.g-ba.de/richtlinien/84/

Gemeinsamer Bundesausschuss, G‑BA (Joint federal committee) (2020) Qualitätssicherung: G‑BA nimmt Beratungen für eine TAVI-Mindestmenge auf. Pressemitteilung 20/2020. https://www.g-ba.de/downloads/34-215-870/27_2020-06-18_Beratung%20MM_TAVI.pdf

Bestehorn K, Bestehorn M, Zahn R et al (2023) Transfemoral aortic valve implantation: procedural hospital volume and mortality in Germany. Eur Heart J 44:856–867

Bschor T (2022) Dritte Stellungnahme und Empfehlung der Regierungskommission für eine moderne und bedarfsgerechte Krankenhausversorgung. Grundlegende Reform der Krankenhausvergütung. Regierungskommission für eine moderne und bedarfsgerechte Krankenhausversorgung. Bundesministerium für Gesundheit (www.bundesgesundheitsministerium.de/krankenhauskommission-stellungnahme-krankenhausverguetung.pdf)

Ministerium für Arbeit, Gesundheit und Soziales des Landes Nordrhein-Westfalen (2022) Krankenhausplan Nordrhein-Westfalen 2022. https://www.mags.nrw/krankenhausplanung

Statistisches Bundesamt (destatis.de) (German federal statistical bureau). (2022) Bundesländer mit Hauptstädten nach Fläche, Bevölkerung und Bevölkerungsdichte am 31.12.2021. https://www.destatis.de/DE/Themen/Laender-Regionen/Regionales/Gemeindeverzeichnis/Administrativ/02-bundeslaender.html

Luxen D, Vetter C (2021) Real-time routing with OpenStreetMap data. GIS '11: Proceedings of the 19th ACM SIGSPATIAL International Conference on Advances in Geographic Information Systems. https://doi.org/10.1145/2093973.2094062

Windecker S, Okuno T, Unbehaun A et al (2022) Which patients with aortic stenosis should be referred to surgery rather than transcatheter aortic valve implantation? Eur Heart J 43:2729–2750

Institut für Qualitätssicherung und Transparenz im Gesundheitswesen (IQTIG) (2022) Bundesqualitätsbericht 2022. QS-Verfahren Koronarchirurgie und Eingriffe an Herzklappen Erfassungsjahre 2020 und 2021. 28.10.2022 ed. Berlin. https://iqtig.org/downloads/berichte/2022/IQTIG_Bundesqualitaetsbericht-2022_2022-10-28.pdf

Bestehorn K (2023) Commentary to the article "Transcatheter-based aortic valve replacement vs. isolated surgical aortic valve replacement in 2020". Clin Res Cardiol 112:327–328
Ethics declarations
Conflict of interest
D. Elmhorst is owner and managing director of Mediqon GmbH, Hannover. Mediqon sells the collected and analyzed data to hospitals and others interested in healthcare. The data for this paper were provided by Mediqon without charge. There are no financial relationships of the other authors with Mediqon. V. Schächinger, R. Zahn, C. Perings, C. Stellbrink and K. Bestehorn declare that they have no competing interests.
For this article, based on publically available data, no active study intervention with human participants or animals were performed by any of the authors. All studies mentioned were in accordance with the ethical standards.
About this article
Cite this article
Schächinger, V., Elmhorst, D., Zahn, R. et al. Healthcare provision of transcatheter aortic valve implantation in Germany. Herz 48, 426–436 (2023). https://doi.org/10.1007/s00059-023-05216-z
Accepted:

Published:

Issue Date:

DOI: https://doi.org/10.1007/s00059-023-05216-z
Keywords
Schlüsselwörter