Abstract
Background
Ionizing radiation is an integral part of percutaneous coronary angiographies. Chronic exposure to low-dose radiation confers a risk for skin damage, eye lens opacities or cataracts, and malignant diseases to staff in the catheter laboratory. The RADPAD is a sterile surgical drape that reduces the effect of scatter radiation on the operator. We sought to assess the efficacy of RADPAD shields in reducing radiation dose experienced by operators during routine diagnostic coronary angiography.
Patients and methods
Sixty consecutive patients due to undergo elective coronary angiography were randomized in a 1:1 pattern to have their procedures performed with and without the RADPAD drape in situ. Dosimetry was performed on the left arm of the primary operator.
Results
There was no significant difference in the two main determents of radiation exposure in both groups: the screening times (102 ± 86 s for the RADPAD group vs. 105 ± 36 s for the control group, p = 0.9) and body mass index (BMI; 27.7 ± 4.2 kg/m2 for the RADPAD group vs. 27.9 ± 5.5 kg/m2 for the control group, p = 0.8). Moreover, there was no difference in the dose–area ratio (1337 ± 582 cGy/cm2 for the RADPAD group vs. 1541 ± 804 cGy/cm2 for the control group, p = 0.3) between the two patient groups. The primary operator radiation dose was significantly lower in the RADPAD group at 8.0 µSv (Q1: 3.2, Q3: 20.1) compared with 19.6 µSv (Q1: 7.1, Q3: 37.7) for the control group (p = 0.02).
Conclusion
The RADPAD significantly reduces radiation exposure to primary operators during routine diagnostic coronary angiography in patients with a BMI > 25 kg/m2. It reduces total radiation exposure to primary operators by 59%, and the radiation exposure rate by 47%.
Zusammenfassung
Hintergrund
Trotz der Verwendung von Strahlenschutzkleidung besteht durch die Streustrahlung eine Strahlenbelastung für den interventionell tätigen Kardiologen. RADPAD ist ein steriles Strahlenschutztuch, die die Belastung der Streustrahlung für den Untersucher reduziert. Die Autoren untersuchten, ob sich bereits bei diagnostischen Koronarangiographien die Belastung durch Streustrahlung für den Untersucher durch die Verwendung des RADPAD reduzieren lässt.
Methoden
Hierzu wurden 60 Patienten, bei denen eine diagnostische Koronarangiographie mit standardisiertem Untersuchungsablauf durchgeführt wurde, 1:1 randomisiert in eine Gruppe mit und eine ohne RADPAD.
Ergebnisse
Beide Gruppen zeigten hinsichtlich der Durchleuchtungszeit (105 ± 36 s in der Kontrollgruppe bzw. 102 ± 86 s in der Strahlenschutztuchgruppe, p = 0,9) und des Body-Mass-Index (27,9 ± 5,5 kg/m2 in der Kontrollgruppe bzw. 27,7 ± 4,2 kg/m2 in der Strahlenschutztuchgruppe, p = 0,98), welche die maßgeblichen Faktoren für die kumulative Streustrahlungsdosis sind, keine signifikanten Unterschiede. Auch hinsichtlich des Dosis-Flächen-Produkts (DFP) ergab sich zwischen beiden Gruppen kein Unterschied: Das DFP betrug in der Kontrollgruppe 1541 ± 804 cGy/cm2, in der Strahlenschutztuchgruppe 1337 ± 582 cGy/cm2 (p = 0,3). Die einwirkende Strahlenäquivalenzdosis erwies sich jedoch in Strahlenschutztuchgruppe mit 8,0 µSv (Q1: 3,2; Q3: 20,1) als signifikant geringer im Vergleich zu 19,6 µSv (Q1: 7,1; Q3: 37,7) in der Kontrollgruppe (p = 0,02).
Schlussfolgerung
Durch die Verwendung des Strahlenschutztuchs wurde im Vergleich zur Kontrollgruppe die Strahlenbelastung für den Untersucher bereits bei diagnostischen Koronarangiographien bei Patienten mit einem BMI > 25 kg/m2 signifikant reduziert. Insgesamt konnte die Strahlenbelastung des Untersuchers (−59 %) und die Strahlenbelastungsrate (−47 %) reduziert werden.
Access options
Buy single article
Instant access to the full article PDF.
US$ 39.95
Tax calculation will be finalised during checkout.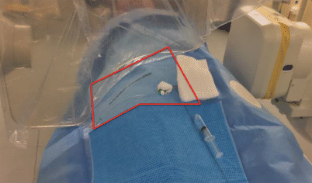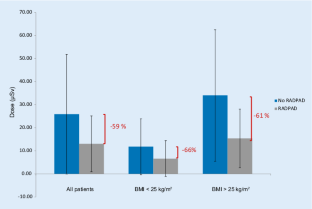 References
1.

Venneri L, Rossi F, Botto N, Andreassi MG, Salcone N, Emad A et al (2009) Cancer risk from professional exposure in staff working in cardiac catheterization laboratory: insights from the National Research Council's Biological Effects of Ionizing Radiation VII Report. Am Heart J 157(1):118–124. doi:10.1016/j.ahj.2008.08.009

2.

Koenig TR, Wolff D, Mettler FA, Wagner LK (2001) Skin injuries from fluoroscopically guided procedures: part 1, characteristics of radiation injury. Am J Roentgenol 177(1):3–11. doi:10.2214/ajr.177.1.1770003

3.

Vano E, Gonzalez L, Fernandez JM, Haskal ZJ (2008) Eye lens exposure to radiation in interventional suites: caution is warranted. Radiology 248(3):945–953. doi:10.1148/radiol.2482071800

4.

Amis ES Jr., Butler PF, Applegate KE, Birnbaum SB, Brateman LF, Hevezi JM et al (2007) American College of Radiology white paper on radiation dose in medicine. J Am Coll Radiol 4(5):272–284. doi:10.1016/j.jacr.2007.03.002

5.

Murphy JC, Darragh K, Walsh SJ, Hanratty CG (2011) Efficacy of the RADPAD protective drape during real world complex percutaneous coronary intervention procedures. Am J Cardiol 108(10):1408–1410. doi:10.1016/j.amjcard.2011.06.061

6.

Power S, Mirza M, Thakorlal A, Ganai B, Gavagan LD, Given MF et al (2015) Efficacy of a radiation absorbing shield in reducing dose to the interventionalist during peripheral endovascular procedures: a single centre pilot study. Cardiovasc Intervent Radiol 38(3):573–578. doi:10.1007/s00270-014-0997-8

7.

Brambilla M, Occhetta E, Ronconi M, Plebani L, Carriero A, Marino P (2010) Reducing operator radiation exposure during cardiac resynchronization therapy. Europace 12(12):1769–1773. doi:10.1093/europace/euq356

8.

Jones MA, Cocker M, Khiani R, Foley P, Qureshi N, Wong KC et al (2014) The benefits of using a bismuth-containing, radiation-absorbing drape in cardiac resynchronization implant procedures. Pacing Clin Electrophysiol 37(7):828–833. doi:10.1111/pace.12349

9.

Germano JJ, Day G, Gregorious D, Natarajan V, Cohen T (2005) A novel radiation protection drape reduces radiation exposure during fluoroscopy guided electrophysiology procedures. J Invasive Cardiol 17(9):469–472

10.

Bhargavan M (2008) Trends in the utilization of medical procedures that use ionizing radiation. Health Phys 95(5):612–627. doi:10.1097/01.HP.0000327659.42618.c1

11.

Kherad B, Kohncke C, Spillmann F, Post H, Noutsias M, Pieske B et al (2016) Postprocedural radial artery occlusion rate using a sheathless guiding catheter for left ventricular endomyocardial biopsy performed by transradial approach. Bmc Cardiovasc Disord 16(1):253. doi:10.1186/s12872-016-0432-y

12.

Noutsias M, Seeberg B, Schultheiss HP, Kuhl U (1999) Expression of cell adhesion molecules in dilated cardiomyopathy: evidence for endothelial activation in inflammatory cardiomyopathy. Circulation 99(16):2124–2131

13.

Tschope C, Bock CT, Kasner M, Noutsias M, Westermann D, Schwimmbeck PL et al (2005) High prevalence of cardiac parvovirus B19 infection in patients with isolated left ventricular diastolic dysfunction. Circulation 111:879–886

14.

Ma XX, Boldt LH, Zhang YL, Zhu MR, Hu B, Parwani A et al (2016) Clinical Relevance of Left Atrial Strain to Predict Recurrence of Atrial Fibrillation after Catheter Ablation: A Meta-Analysis. Echocardiography 33(5):724–733. doi:10.1111/echo.13184
Ethics declarations
Conflict of interest
B. Kherad, T. Jerichow, F. Blaschke, M. Noutsias, B. Pieske, C. Tschöpe, and F. Krackhardt declare that they have no competing interests.
All procedures followed were in accordance with the ethical standards of the responsible committee on human experimentation (institutional and national) and with the Declaration of Helsinki of 1975 (in its most recently amended version). Informed consent was obtained from all patients included in the study.
About this article
Cite this article
Kherad, B., Jerichow, T., Blaschke, F. et al. Efficacy of RADPAD protective drape during coronary angiography. Herz 43, 310–314 (2018). https://doi.org/10.1007/s00059-017-4560-7
Received:

Revised:

Accepted:

Published:

Issue Date:
Keywords
Radiation protection

Radiation exposure

Coronary angiography

Femoral artery

Body mass index
Schlüsselwörter
Strahlenschutz

Strahlenexposition

Koronarangiographie

A. femoralis

Body-Mass-Index