Abstract
Background
Cardiac involvement in Lyme disease, caused by the tick-borne spirochete Borrelia burgdorferi, has been reported to occur in 0.3–4 % of infected patients in Europe. Cardiac manifestations may include conduction disturbances, and also myocarditis, pericarditis, and left ventricular dysfunction. We investigated the prevalence of B. burgdorferi DNA in endomyocardial biopsies from patients with suspected inflammatory heart disease and positive serology for B. burgdorferi.
Methods and results
In 64 patients, endomyocardial biopsies were taken after exclusion of coronary heart disease by coronary angiography, and investigated with polymerase chain reaction (PCR) for the presence of B. burgdorferi and cardiotropic viruses. B. burgdorferi DNA was not detected in any of the endomyocardial biopsies. Viruses, particularly parvovirus B19, were detected as infectious agents in 19 (30 %) patients.
Conclusion
The results of our study demonstrate that PCR analysis of endomyocardial biopsies from patients with suspected inflammatory heart disease, including individuals with dilated cardiomyopathy (DCM) and positive serology for B. burgdorferi, did not reveal the B. burgdorferi genome in any biopsy sample.
Zusammenfassung
Hintergrund
Eine kardiale Beteiligung im Rahmen der Lyme-Borreliose, die mittels Zeckenübertragung von Spirochäten der Gattung Borrelia burgdorferi verursacht wird, ist in Europa in 0,3–4 % der Fälle zu beobachten. Zu den kardialen Manifestationsformen gehören Reizleitungsstörungen, Perikarditis, Myokarditis und linksventrikuläre Funktionsstörungen. Ziel dieser Arbeit war die Untersuchung der Prävalenz von Borrelien-DNA in Endomyokardbiopsaten von Patienten mit Verdacht auf entzündliche Kardiomyopathie und mit positiver Borrelienserologie.
Methoden
Nach koronarangiographischem Ausschluss einer koronaren Herzkrankheit wurden die Endomyokardbiopsien von 64 Patienten mit PCR auf das Vorliegen von Borrelia burgdorferi und kardiotrope Viren untersucht. In keinem der Endomyokardbiopsate ließ sich Borrelien-DNA nachweisen. Kardiotrope Viren, insbesondere Parvovirus B19, konnte dagegen bei 19 Patienten (30 % der Fälle) nachgewiesen werden.
Schlussfolgerung
Den Ergebnissen der vorliegenden Studie zufolge ergab die PCR-Untersuchung der Endomyokardbiopsien von Patienten mit Verdacht auf eine entzündliche Herzerkrankung einschließlich dilatativer Kardiomyopathie und mit positiver Borrelienserologie keinen Nachweis von Borrelien-DNA.
Access options
Buy single article
Instant access to the full article PDF.
USD 39.95
Price excludes VAT (USA)
Tax calculation will be finalised during checkout.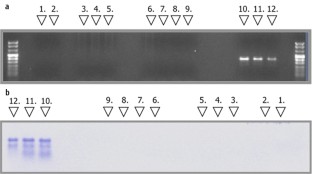 References
Cox J, Krajden M (1991) Cardiovascular manifestations of Lyme disease. Am Heart J 122:1449–1455

Sigal LH (1995) Early disseminated Lyme disease: cardiac manifestations. Am J Med 98:25S–28S

Horowitz HW, Belkin RN (1995) Acute myopericarditis resulting from Lyme disease. Am Heart J 130:176–178

Steere AC (2001) Lyme disease. N Engl J Med 345:115–125

Lelovas P, Dontas I, Bassiakou T, Xanthos T (2008) Cardiac implications of Lyme disease, diagnosis and therapeutic approach. Int J Cardiol 129:15–21

Stanek G, Klein J, Bittner R, Glogar D (1990) Isolation of Borrelia burgdorferi from the myocardium of a patient with longstanding cardiomyopathy. N Engl J Med 322:249–252

Stanek G, Klein J, Bittner R, Glogar D (1991) Borrelia burgdorferi as an etiologic agent in chronic heart failure? Scand J Infect Dis Suppl 77:85–87

Lardieri G, Salvi A, Camerini F et al (1993) Isolation of Borrelia burgdorferi from myocardium. Lancet 342:490

Palecek T, Kuchynka P, Hulinska D et al (2010) Presence of Borrelia burgdorferi in endomyocardial biopsies in patients with new-onset unexplained dilated cardiomyopathy. Med Microbiol Immunol 199:139–143

Suedkamp M, Lissel C, Eiffert H et al (1999) Cardiac myocytes of hearts from patients with end-stage dilated cardiomyopathy do not contain Borrelia burgdorferi DNA. Am Heart J 138:269–272

Sonnesyn SW, Diehl SC, Johnson RC et al (1995) A prospective study of the seroprevalence of Borrelia burgdorferi infection in patients with severe heart failure. Am J Cardiol 76:97–100

Rees DH, Keeling PJ, McKenna WJ, Axford JS (1994) No evidence to implicate Borrelia burgdorferi in the pathogenesis of dilated cardiomyopathy in the United Kingdom. Br Heart J 71:459–461

Gasser R, Fruhwald F, Schumacher M et al (1996) Reversal of Borrelia burgdorferi associated dilated cardiomyopathy by antibiotic treatment? Cardiovasc Drugs Ther 10:351–360

Gasser R, Dusleag J, Reisinger E et al (1992) Reversal by ceftriaxone of dilated cardiomyopathy Borrelia burgdorferi infection. Lancet 339:1174–1175

Burgdorfer W, Barbour AG, Hayes SF et al (1982) Lyme disease - a tick-borne spirochetosis? Science 216:1317–1319

Dobler G, Rieg S (2011) Tick-borne infections. Dtsch Med Wochenschr 136:1175–1179

Schaarschmidt D, Oehme R, Kimmig P et al (2001) Detection and molecular typing of Borrelia burgdorferi sensu lato in Ixodes ricinus ticks and in different patient samples from southwest Germany. Eur J Epidemiol 17:1067–1074

Girschick HJ, Morbach H, Tappe D (2009) Treatment of Lyme borreliosis. Arthritis Res Ther 11:258

Maisch B, Ristic AD, Portig I, Pankuweit S (2003) Human viral cardiomyopathy. Front Biosci 8:s39–s67

Pankuweit S, Moll R, Baandrup U et al (2003) Prevalence of the parvovirus B19 genome in endomyocardial biopsy specimens. Hum Pathol 34:497–503

Pankuweit S, Lamparter S, Schoppet M, Maisch B (2004) Parvovirus B19 genome in endomyocardial biopsy specimen. Circulation 109:e179

Pachner AR, Ricalton N, Delaney E (1993) Comparison of polymerase chain reaction with culture and serology for diagnosis of murine experimental Lyme borreliosis. J Clin Microbiol 31:208–214

Rosa PA, Schwan TG (1989) A specific and sensitive assay for the Lyme disease spirochete Borrelia burgdorferi using the polymerase chain reaction. J Infect Dis 160:1018–1029

Maisch B, Portig I, Ristic A et al (2000) Definition of inflammatory cardiomyopathy (myocarditis): on the way to consensus. A status report. Herz 25:200–209

Maisch B, Richter A, Sandmoller A et al (2005) Inflammatory dilated cardiomyopathy (DCMI). Herz 30:535–544

Maisch B, Funck R, Alter P et al (2002) Dilated cardiomyopathy and myocarditis. Current diagnostic requirements and therapeutic possibilities. Internist (Berl) 43(Suppl 1):S45–S46, S49–S65

Armstrong AL, Barthold SW, Persing DH, Beck DS (1992) Carditis in Lyme disease susceptible and resistant strains of laboratory mice infected with Borrelia burgdorferi. Am J Trop Med Hyg 47:249–258

Cadavid D, Bai Y, Hodzic E et al (2004) Cardiac involvement in non-human primates infected with the Lyme disease spirochete Borrelia burgdorferi. Lab Invest 84:1439–1450

Raveche ES, Schutzer SE, Fernandes H et al (2005) Evidence of Borrelia autoimmunity-induced component of Lyme carditis and arthritis. J Clin Microbiol 43:850–856
Compliance with ethical guidelines
Conflict of interest. K. Karatolios, B. Maisch, and S. Pankuweit state that there are no conflicts of interest. The accompanying manuscript does not include studies on humans or animals.
About this article
Cite this article
Karatolios, K., Maisch, B. & Pankuweit, S. Suspected inflammatory cardiomyopathy. Herz 40 (Suppl 1), 91–95 (2015). https://doi.org/10.1007/s00059-014-4118-x
Received:

Revised:

Accepted:

Published:

Issue Date:

DOI: https://doi.org/10.1007/s00059-014-4118-x
Keywords
Lyme borreliosis

Borrelia burgdorferi

Dilated cardiomyopathy

Molecular biology

Polymerase chain reaction
Schlüsselwörter
Lyme-Borreliose

Borrelia burgdorferi

Dilatative Kardiomyopathie

Molekularbiologie

Polymerasekettenreaktion