Abstract
Tattooing is becoming a popular practice and more commonly done. Although modern tattooing is considered a more hygienic and technological version of ancient methods, previously reported cases point out the risk of infection after tattooing due to use of nonsterile equipment or suboptimal infection-control practices. Infective endocarditis (IE) after tattooing has been reported only in 1 patient with bicuspid aortic valvular disease. Herein, we report a case of multivalvular IE secondary to tattooing in a patient without known prior valvular heart disease.
Zusammenfassung
Tätowierungen nehmen an Beliebtheit und Verbreitung zu. Zwar gilt das moderne Tätowieren als die hygienischere und technologischere Version älterer Methoden, doch wird durch die früher beschriebenen Fälle auf das Risiko einer Infektion nach Tätowierung aufgrund des Gebrauchs nichtsteriler Instrumente oder suboptimaler Infektionsprophylaxemaßnahmen hingewiesen. Bisher wurde nur ein Fall einer infektiösen Endokarditis nach Tätowierung bei einem Patienten mit bikuspider Aortenklappe beschrieben. Im vorliegenden Beitrag wird der Fall einer multivalvulären infektiösen Endokarditis infolge Tätowierung bei einem Patienten ohne vorher bekannte Herzklappenerkrankung dargestellt.
This is a preview of subscription content, log in to check access.
Access options
Buy single article
Instant access to the full article PDF.
US$ 39.95
Price includes VAT for USA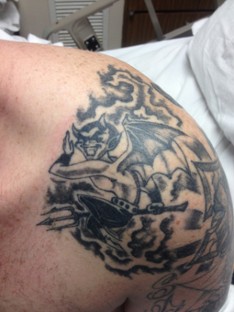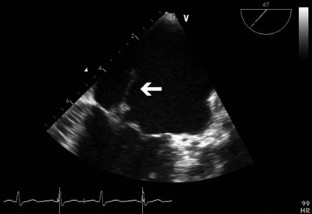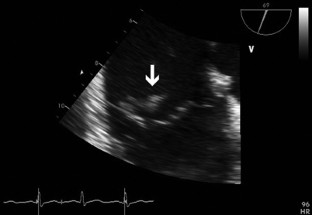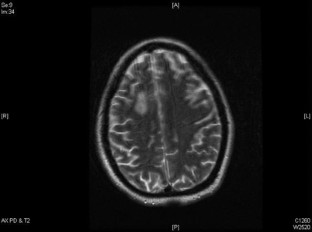 References
1.

Mathew J, Addai T, Anand A et al (1995) Clinical features, site of involvement, bacteriologic findings, and outcome of infective endocarditis in intravenous drug users. Arch Intern Med 155(15):1641

2.

DiNubile MJ (1994) Abbreviated therapy for right-sided Staphylococcus aureus endocarditis in injecting drug users: the time has come? Eur J Clin Microbiol Infect Dis 13(7):533

3.

Armstrong ML, DeBoer S, Cetta F (2008) Infective endocarditis after body art: a review of the literature and concerns. J Adolesc Health 43(3):217–225

4.

Nah SY, Chung MH, Park JE et al (2011) Infective endocarditis caused by methicillin-resistant Staphylococcus aureus in a young woman after ear piercing: a case report. J Med Case Rep 5:336

5.

Satchithananda DK, Walsh J, Schofield PM (2001) Bacterial endocarditis following repeated tattooing. Heart 85(1):11–12

6.

Adolf WK (o J) Infective endocarditis. Braunwald's Heart disease: a text book of cardiovascular Medicine. Ninth Edition

7.

Handrick W, Nenoff P, Müller H, Knöfler W (2003) Infections caused by piercing and tattoos. Wien Med Wochenschr 153(9–10):194–197 (German)

8.

Porter CJ, Simcock JW, Mackinnon CA (2005) Necrotising fasciitis and cellulitis after traditional Samoan tattooing: case reports. J Infect 50:149–152

9.

Korman TM, Grayson ML, Turnidge JD (1997) Polymicrobial septicemia with Pseudomonas aeruginosa and Streptococcus pyogenes following traditional tattooing. J Infect 35:203

10.

Centers for Disease Control and Prevention (CDC) (2006) Methicillin-resistant Staphylococcus aureus skin infections among tattoo recipients—Ohio, Kentucky, and Vermont, 2004–2005. MMWR Morb Mortal Wkly Rep 55(24):677–679

11.

Carlson VP, Lehman EJ, Armstrong M (2012) Tattooing regulations in U.S. States, 2011. J Environ Health 75(3):30–37

12.

Ricciardo B, Weedon D, Butler G (2010) Mycobacterium abscessus infection complicating a professional tattoo. Australas J Dermatol 51(4):287–289
Conflict of interest
On behalf of all authors, the corresponding author states that there are no conflicts of interest.
About this article
Cite this article
Akkus, N., Mina, G., Fereidoon, S. et al. Tattooing complicated by multivalvular bacterial endocarditis. Herz 39, 349–351 (2014). https://doi.org/10.1007/s00059-013-3810-6
Received:

Revised:

Accepted:

Published:

Issue Date:
Keywords
Tattooing

Infection

Bacterial endocarditis

Valvular heart disease

Staphylococcus aureus
Schlüsselwörter
Tätowierung

Infektion

Bakterielle Endokarditis

Herzklappenerkrankung

Staphylococcus aureus