Abstract
Objective
The primary objective of this study was to compare the magnitude of incisor intrusion and retraction between two different treatment protocols and the secondary objective was to evaluate overall treatment effects.
Materials and methods
Thirty-four patients with proclined upper anterior teeth, increased overbite, and incisal show were randomly assigned to two treatment groups (G1 and G2). Upper first premolar extractions were performed in all cases. In G1, space closure was performed with conventional straight-wire friction mechanics with NiTi (nickel titanium) coil springs placed on 0.019″ × 0.025″ stainless steel wires in a 0.022 slot system with an additional intrusive force via a midline mini-implant. In G2, NiTi coil springs were placed from buccal mini-implants placed onto 0.016″ × 0.022″ SS wires in a 0.022 slot system bilaterally. Lateral cephalograms and study models taken at the beginning and at the end of 6 months of treatment were assessed.
Results
Both groups showed a statistically significant mild maxillary incisor intrusion, reduction in overjet, overbite, incisal show and a reduction in lower anterior facial height. There was a mild intrusion of the maxillary first permanent molar in G2 (not significant). Mesial movement of the maxillary first permanent molar was noted in G1 but distal movement occurred in G2. Constriction of the entire maxillary arch was noted in G1, whereas constriction was seen in the molar region only in G2. Root resorption was noticed in both groups.
Conclusion
Both groups produced comparable results. Except for molar control, all the results obtained were comparable between the two mechanics. Application of an intrusive force in the midline may be beneficial in patients treated with conventional straight-wire mechanics to treat increased overbite when anchorage requirement is not high.
Zusammenfassung
Zielsetzung
Das primäre Ziel dieser Studie bestand darin, das Ausmaß der Intrusion und Retraktion der Schneidezähne zwischen zwei verschiedenen Behandlungsprotokollen zu vergleichen, und das sekundäre Ziel war die Bewertung der allgemeinen Behandlungseffekte.
Materialien und Methoden
Vierunddreißig Patienten mit proklinierten Oberkieferfrontzähnen, erhöhtem Overbite und Frontzahnsichtbarkeit wurden nach dem Zufallsprinzip 2 Behandlungsgruppen zugeteilt (G1 und G2). In allen Fällen wurden Extraktionen der oberen ersten Prämolaren durchgeführt. In G1 wurde der Lückenschluss mit konventioneller Straight-wire-Friktionsmechanik mit NiTi(Nickel-Titan)-Schraubenfedern durchgeführt, die auf 0,019″ × 0,025″ Edelstahldrähten in einem 0,022-Slot-System platziert waren, mit einer zusätzlichen Intrusionskraft über ein Midline-Miniimplantat. Bei G2 wurden NiTi-Schraubenfedern von bukkalen Miniimplantaten aus platziert, die auf 0,016″ × 0,022″ Edelstahldrähten in einem 0,022-Slot-System bilateral platziert waren. Seitliche Kephalogramme und Studienmodelle, aufgenommen zu Beginn und am Ende der 6‑monatigen Behandlung, wurden bewertet.
Ergebnisse
In beiden Gruppen kam es zu einer statistisch signifikanten leichten Intrusion der oberen Schneidezähne, zu einer Verringerung des Overjet, des Overbite und der Frontzahnsichtbarkeit sowie zu einer Verringerung der unteren anterioren Gesichtshöhe. Bei G2 kam es zu einer leichten Intrusion des ersten bleibenden Molaren im Oberkiefer (nichtsignifikant). Eine mesiale Bewegung des ersten bleibenden Molaren des Oberkiefers wurde bei G1 festgestellt, während bei G2 eine distale Bewegung auftrat. Bei G1 wurde eine Verengung des gesamten Oberkieferbogens festgestellt, während bei G2 nur im Bereich der Molaren eine Verengung zu beobachten war. Eine Wurzelresorption wurde in beiden Gruppen festgestellt.
Schlussfolgerung
Die Ergebnisse in beiden Gruppen waren vergleichbar. Mit Ausnahme der Kontrolle der Molaren waren alle Ergebnisse zwischen den beiden Verfahren vergleichbar. Die Anwendung einer Intrusionskraft in der Mittellinie kann bei Patienten, die mit konventionellen geraden Drähten behandelt werden, von Vorteil sein, um einen verstärkten Overbite bei geringem Verankerungsbedarf zu behandeln.
Access options
Buy single article
Instant access to the full article PDF.
USD 39.95
Price excludes VAT (USA)
Tax calculation will be finalised during checkout.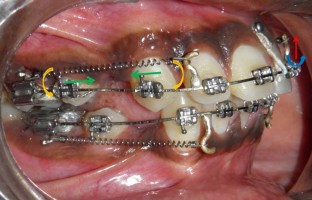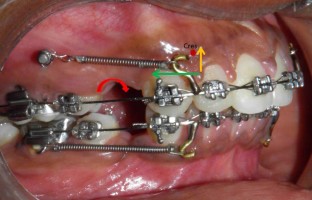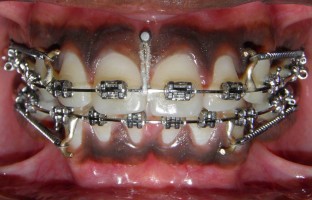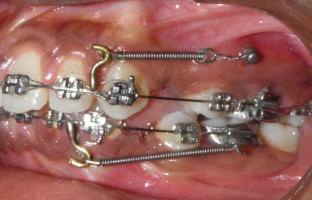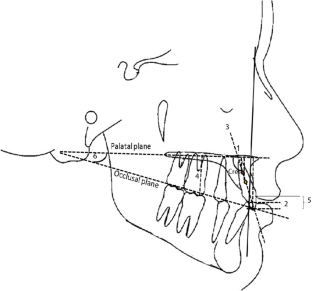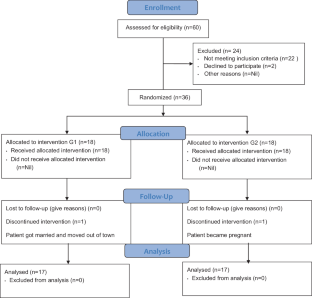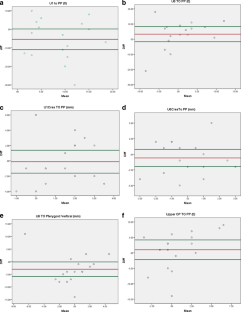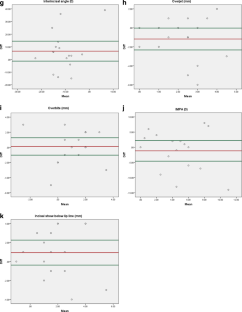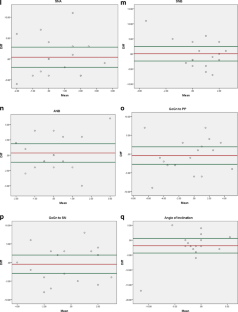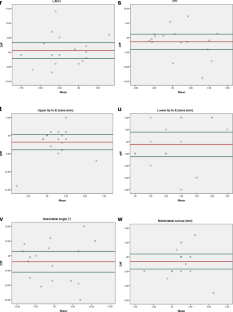 References
Al-Sibaie S, Hajeer MY (2014) Assessment of changes following en-masse retraction with mini-implants anchorage compared to two-step retraction with conventional anchorage in patients with class II division 1 malocclusion: a randomized controlled trial. Eur J Orthod 36(3):275–283. https://doi.org/10.1093/ejo/cjt046

Becker K, Pliska A, Busch C, Wilmes B, Wolf M, Drescher D (2018) Efficacy of orthodontic mini implants for en masse retraction in the maxilla: a systematic review and meta-analysis. Int J Implant Dent 4(1):35. https://doi.org/10.1186/s40729-018-0144-4

Felicita AS (2017) Quantification of intrusive/retraction force and moment generated during en-masse retraction of maxillary anterior teeth using mini-implants: a conceptual approach. Dental Press J Orthod 22(5):47–55. https://doi.org/10.1590/2177-6709.22.5.047-055.oar

Hans MG, Kishiyama C, Parker SH, Wolf GR, Noachtar R (1994) Cephalometric evaluation of two treatment strategies for deep overbite correction. Angle Orthod 64(4):265–276. https://doi.org/10.1043/0003-3219(1994)064<0265:CEOTTS>2.0.CO;2

Jayaratne Y, Uribe F, Janakiraman N (2017) Maxillary incisors changes during space closure with conventional and skeletal anchorage methods: a systematic review. J Istanbul Univ Fac Dent 51(3 Suppl 1):S90–S101. https://doi.org/10.17096/jiufd.52884

Kumar P, Datana S, Londhe SM, Kadu A (2017) Rate of intrusion of maxillary incisors in Class II Div 1 malocclusion using skeletal anchorage device and Connecticut intrusion arch. Med Jl Armed Forces India 73(1):65–73. https://doi.org/10.1016/j.mjafi.2015.10.006

Liu YH, Ding WH, Liu J, Li Q (2009) Comparison of the differences in cephalometric parameters after active orthodontic treatment applying mini-screw implants or transpalatal arches in adult patients with bialveolar dental protrusion. J Oral Rehabil 36(9):687–695. https://doi.org/10.1111/j.1365-2842.2009.01976.x

Marassi C, Marassi C (2008) Mini-implant assisted anterior retraction. Dental Press J Orthod 13(5):57–74

Ma J, Wang L, Zhang W, Chen W, Zhao C, Smales RJ (2008) Comparative evaluation of micro-implant and headgear anchorage used with a pre-adjusted appliance system. Eur J Orthod 30(3):283–287. https://doi.org/10.1093/ejo/cjm128

Miyawaki S, Koyama I, Inoue M, Mishima K, Sugahara T, Takano-Yamamoto T (2003) Factors associated with the stability of titanium screws placed in the posterior region for orthodontic anchorage. Am J Orthod Dentofacial Orthop 124(4):373–378. https://doi.org/10.1016/s0889-5406(03)00565-1

Moon CH, Lee DG, Lee HS, Im JS, Baek SH (2008) Factors associated with the success rate of orthodontic miniscrews placed in the upper and lower posterior buccal region. Angle Orthod 78(1):101–106. https://doi.org/10.2319/121706-515

Ohnishi H, Yagi T, Yasuda Y, Takada K (2005) A mini-implant for orthodontic anchorage in a deep overbite case. Angle Orthod 75(3):444–452. https://doi.org/10.1043/0003-3219(2005)75[444:AMFOAI]2.0.CO;2

Park HS, Kwon TG (2004) Sliding mechanics with microscrew implant anchorage. Angle Orthod 74(5):703–710. https://doi.org/10.1043/0003-3219(2004)074<0703:SMWMIA>2.0.CO;2

Polat-Ozsoy O, Arman-Ozcirpici A, Veziroglu F (2009) Miniscrews for upper incisor intrusion. Eur J Orthod 31(4):412–416. https://doi.org/10.1093/ejo/cjn122

Polat-Özsoy Ö, Arman-Özçırpıcı A, Veziroğlu F, Çetinşahin A (2011) Comparison of the intrusive effects of miniscrews and utility arches. Am J Orthod Dentofacial Orthop 139(4):526–532. https://doi.org/10.1016/j.ajodo.2009.05.040

Saxena R, Kumar PS, Upadhyay M, Naik V (2010) A clinical evaluation of orthodontic mini-implants as intraoral anchorage for the intrusion of maxillary anterior teeth. World J Orthod 11(4):346–351

Senışık NE, Türkkahraman H (2012) Treatment effects of intrusion arches and mini-implant systems in deepbite patients. Am J Orthod Dentofacial Orthop 141(6):723–733. https://doi.org/10.1016/j.ajodo.2011.12.024

Sunder Rao PSS, Richard J (2012) Introduction to biostatistics and research methodology, 5th edn.

Upadhyay M, Yadav S, Nagaraj K, Patil S (2008) Treatment effects of mini-implants for en-masse retraction of anterior teeth in bialveolar dental protrusion patients: a randomized controlled trial. Am J Orthod Dentofacial Orthop 134(1):18–29.e1. https://doi.org/10.1016/j.ajodo.2007.03.025

Upadhyay M, Yadav S, Nagaraj K, Nanda R (2009) Dentoskeletal and soft tissue effects of mini-implants in Class II division 1 patients. Angle Orthod 79(2):240–247. https://doi.org/10.2319/013008-52.1

Wu AT, Turk T, Colak C, Elekdağ-Turk S, Jones AS, Petocz P, Darendeliler MA (2011) Physical properties of root cementum: Part 18. The extent of root resorption after the application of light and heavy controlled rotational orthodontic forces for 4 weeks: a microcomputed tomography study. Am J Orthod Dentofacial Orthop 139(5):e495–e503. https://doi.org/10.1016/j.ajodo.2010.01.036
Acknowledgements
Our gratitude to all the patients who participated in the study
Funding
No funding was received.
Ethics declarations
Conflict of interest
A.S. Felicita and S.A. Khader declare that they do not have financial interests that are directly or indirectly related to the work submitted for publication.
Ethical standards
This study was approved by the scientific review board of Saveetha University (reference number SRB/SDMDS110RT6) and further reviewed by the Institutional Human Ethics Committee of Saveetha University. It was approved under the reference number IHEC/SDMDS1106ORT6. Consent to participate: Written informed consent has been obtained from all patients prior to the start of the study.
Additional information
Publisher's Note
Springer Nature remains neutral with regard to jurisdictional claims in published maps and institutional affiliations.
About this article
Cite this article
Felicita, A.S., Khader, S.A. Comparison of two treatment protocols for intrusion and retraction of maxillary anterior teeth using mini-implants. J Orofac Orthop (2022). https://doi.org/10.1007/s00056-022-00394-7
Received:

Accepted:

Published:

DOI: https://doi.org/10.1007/s00056-022-00394-7
Keywords
Schlüsselwörter