Abstract
Purpose
This study evaluated calculus removal efficacy of household vinegar and its effect on autopolymerizing orthodontic resin following repeated immersion.
Methods
A total of 72 sectioned specimens of orthodontic retainers with calculus deposits following cleaning with the help of immersion in vinegar of different dilutions between 12.5% and 100%, tap water, effervescent tablets, and mechanical debridement were digitally analyzed. Changes in Ca and Fe ions in vinegar were assessed by atomic emission spectroscopy (AES). For mechanical testing, autopolymerizing polymethyl methacrylate (PMMA) samples were similarly grouped and immersed for 78 cycles and their flexural strength and hardness measured. Fourier-transform infrared spectroscopy (FTIR) was performed to evaluate changes in their chemical composition. One-way analysis of variance (ANOVA) and Tukey's test were used to analyze the differences in the mean flexural strength and hardness between the groups (p ≤ 0.05).
Results
A minimum immersion of 2 h in 25% vinegar solution combined with brushing attained efficiency of 74.13 ± 22% calculus removal. Whereas, tap water and effervescent tablets had 15% and 49% efficiency, respectively. AES results showed diffusion of Ca ions from calculus into the vinegar solution as a plausible mechanism for its structural weakening and removal. Results of mechanical testing showed that undiluted vinegar solution affected the flexural strength of PMMA and this effect was significantly different from that of the effervescent tablets and the remaining vinegar concentrations. There was no significant difference in hardness between the groups. The FTIR showed no changes in the chemical composition of PMMA samples following repeated immersions.
Conclusion
Vinegar can be useful in the removal of calculus from dental appliances but should be used in diluted forms to minimize side effects.
Zusammenfassung
Zielsetzung
In dieser Studie wurden die Wirksamkeit von Haushaltsessig zur Entfernung von Zahnstein und seine Effekte auf die Autopolymerisation von kieferorthopädischem Kunststoff nach wiederholtem Eintauchen untersucht.
Methoden
Insgesamt 72 Schnittpräparate kieferorthopädischer Retainer mit Zahnsteinablagerungen nach Reinigung durch Eintauchen in Essig verschiedener Verdünnungen (zwischen 12,5 und 100 %), Leitungswasser, Brausetabletten und mechanisches Débridement wurden digital analysiert. Veränderungen der Ca(Kalzium)- und Fe(Eisen)-Ionen im Essig wurden mittels Atomemissionsspektroskopie (AES) bewertet. Für die mechanische Prüfung wurden Proben aus autopolymerisierendem Polymethylmethacrylat (PMMA) in ähnlicher Weise in Gruppen eingeteilt und 78 Zyklen lang eingetaucht, anschließend wurden Biegefestigkeit und Härte gemessen. Zur Bewertung von Änderungen in der chemischen Zusammensetzung wurde die Fourier-Transformation-Infrarotspektroskopie (FTIR) durchgeführt, zur Analyse der Gruppenunterschiede in der durchschnittlichen Biegefestigkeit und Härte kamen die Einwege-Varianzanalyse (ANOVA) und der Tukey-Test zum Einsatz (p ≤ 0,05).
Ergebnisse
Durch mindestens 2‑stündiges Eintauchen in eine 25 %ige Essiglösung in Kombination mit Bürsten wurde eine Effizienz von 74,13 ± 22 % bei der Zahnsteinentfernung erreicht. Leitungswasser und Zahnspangenreinigungstabletten hatten dagegen eine Effizienz von 15 bzw. 49 %. Die AES zeigte die Diffusion von Ca-Ionen aus Zahnstein in die Essiglösung als plausiblen Mechanismus für die strukturelle Auflockerung und Entfernung. Ergebnisse mechanischer Tests zeigten, dass unverdünnte Essiglösung die Biegefestigkeit von PMMA beeinflusste, und dieser Effekt unterschied sich signifikant von dem der Zahnspangenreinigungstabletten und der übrigen Essigkonzentrationen. Es gab keinen signifikanten Unterschied in der Härte zwischen den Gruppen. Die FTIR zeigte keine Veränderungen in der chemischen Zusammensetzung der PMMA-Proben nach wiederholtem Eintauchen.
Schlussfolgerung
Essig kann bei der Entfernung von Zahnstein an zahnmedizinischen Geräten hilfreich sein, sollte aber verdünnt verwendet werden, um unerwünschte Effekte zu minimieren.
Access options
Buy single article
Instant access to the full article PDF.
USD 39.95
Price excludes VAT (USA)
Tax calculation will be finalised during checkout.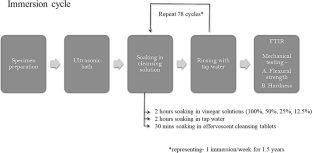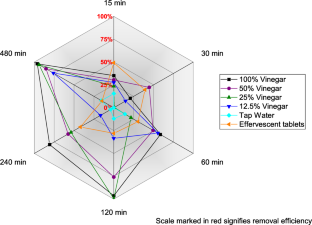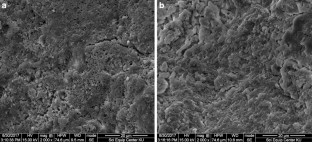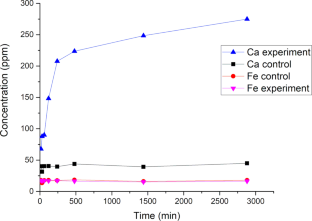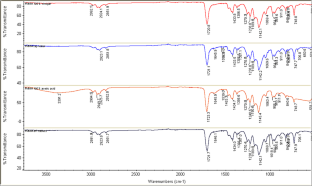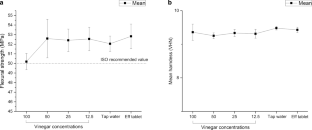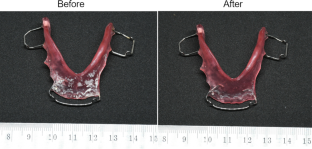 References
Jepsen S, Deschner J, Braun A, Schwarz F, Eberhard J (2011) Calculus removal and the prevention of its formation. Periodontol 2000 55:167–188. https://doi.org/10.1111/j.1600-0757.2010.00382.x

Lustmann J, Lewin-Epstein J, Shteyer A (1976) Scanning electron microscopy of dental calculus. Calc Tis Res 21:47–55. https://doi.org/10.1007/BF02547382

Freitas de Souza R, de Freitas Oliveira Paranhos H, Lovato da Silva CH, Abu-Naba'a L, Fedorowicz Z, Gurgan CA (2009) Interventions for cleaning dentures in adults. Cochrane Database Syst Rev 4:CD7395. https://doi.org/10.1002/14651858.CD007395.pub2

Duyck J, Vandamme K, Krausch-Hofmann S, Boon L, De Keersmaecker K, Jalon E et al (2016) Impact of denture cleaning method and overnight storage condition on denture biofilm mass and composition: a cross-over randomized clinical trial. PLoS ONE 11:e145837. https://doi.org/10.1371/journal.pone.0145837

Kiesow A, Sarembe S, Pizzey RL, Axe AS, Bradshaw DJ (2016) Material compatibility and antimicrobial activity of consumer products commonly used to clean dentures. J Prosthet Dent 115:189–198. https://doi.org/10.1016/j.prosdent.2015.08.010

Asad T, Watkinson A, Hugget R (1992) The effect of disinfection procedures on flexural properties of denture base acrylic resins. J Prosthet Dent 68:191–195. https://doi.org/10.1016/0022-3913(92)90303-r

Ho CW, Lazim AM, Fazry S, Zaki UKHH, Lim SJ (2017) Varieties, production, composition and health benefits of vinegars: a review. Food Chem 221:1621–1630. https://doi.org/10.1016/j.foodchem.2016.10.128

Piresa CW, Fraga S, Otani AC, Braun KP (2017) Chemical methods for cleaning conventional dentures: what is the best antimicrobial option? An in vitro study. Oral Health Prev Dent 15:73–77. https://doi.org/10.3290/j.ohpd.a37716

Pinto TMS, Neves ACC, Leão MVP, Jorge AOC (2008) Vinegar as an antimicrobial agent for control of candida spp. in complete denture wearers. J Appl Oral Sci 16:385–390. https://doi.org/10.1590/s1678-77572008000600006

Tsolakis AΙ, Kakali L, Prevezanos P, Bitsanis I, Polyzois G (2019) Use of different cleaning methods for removable orthodontic appliances: a questionnaire study. Oral Health Prev Dent 17:299–302. https://doi.org/10.3290/j.ohpd.a42685

Eichenauer J, Serbesis C, Ruf S (2011) Cleaning removable orthodontic appliances: a survey. J Orofac Orthop 72:389–395. https://doi.org/10.1007/s00056-011-0043-2

ISO standards (2013) ISO 20795-2:2013. https://www.iso.org/standard/62279.html. Accessed 15 Aug 2017

Ali IL, Yunus N, Abu-Hassan MI (2008) Hardness, flexural strength, and flexural modulus comparisons of three differently cured denture base systems. J Prosthodont 17:545–549. https://doi.org/10.1111/j.1532-849X.2008.00357.x

Aguiar A, Nascimento RAA, Ferretti A, Gonçalçes AR (2005) Determination of organic acids and ethanol in commercial vinegars. Braz J Food Technol 5(SIPAL):51–56. http://bjft.ital.sp.gov.br/especiais/ed_especial/10.pdf

Dias de Castro R, Loureiro Gama Mota AC, de Oliveira Lima E, Dantas Batista AU, de Araújo Oliveira J, Leite Cavalcanti A (2015) Use of alcohol vinegar in the inhibition of candida spp. and its effect on the physical properties of acrylic resins. BMC Oral Health 15:52. https://doi.org/10.1186/s12903-015-0035-5

Dorozhkin SV (1997) Surface reactions of apatite dissolution. J Colloid Interface Sci 191:489–497. https://doi.org/10.1006/jcis.1997.4942

Dorozhkin SV (1997) Acidic dissolution mechanism of natural fluorapatite. II. Nanolevel of investigations. J Cryst Growth 182:133–140. https://doi.org/10.1016/S0022-0248(97)00331-X

Dorozhkin SV (1999) Inorganic chemistry of the dissolution phenomenon: the dissolution mechanism of calcium apatites at the atomic (ionic) level. Comments Mod Chem A Comments Inorg Chem 20:285–299. https://doi.org/10.1080/02603599908021447

Council on dental materials, instruments and equipment (1983) Denture cleansers. J Am Dent Assoc 106:77–79

Lee HH, Lee CJ, Asaoka K (2012) Correlation in the mechanical properties of acrylic denture base resins. Dent Mater J 31:157–164. https://doi.org/10.4012/dmj.2011-205

Xinlong M, Yang Y, Jianxiong M, Xiaohong W, Yanjun Z (2011) Comparison of mechanical properties of polymethyl methacrylate of different mixing ratios. J Med Eng Technol 35:54–58. https://doi.org/10.3109/03091902.2010.525686

Ogawa T, Hasegawa A (2005) Effect of curing environment on mechanical properties and polymerizing behaviour of methyl-methacrylate autopolymerizing resin. J Oral Rehabil 32:221–226. https://doi.org/10.1111/j.1365-2842.2004.01406.x

Masetti P, Arbeláez MIA, Pavarina AC, Sanitá PV, Jorge JH (2018) Cytotoxic potential of denture base and reline acrylic resins after immersion in disinfectant solutions. J Prosthet Dent 120:155.e1–155.e7. https://doi.org/10.1016/j.prosdent.2018.01.001
Acknowledgements
The authors would like to thank the lab members of Center Instrument Faculty, Faculty of Science, Mahidol University, Phayathai Branch and Research Unit, Faculty of Dentistry, Mahidol University for their technical support and advices and Center of Excellence on Medical Biotechnology for providing the research funds.
Funding
The research was supported by Center of Excellence on Medical Biotechnology under the grant no. SD-60-003-13.
Ethics declarations
Conflict of interest
B. Shrestha, W. Wichai, T. Srikhirin, S. Dechkunakorn and N. Anuwongnukroh declare that they have no competing interests.
Ethical standards
All procedures performed in studies involving human participants or on human tissue were in accordance with the ethical approval from Institutional Review Board of the Faculty of Dentistry/Faculty of Pharmacy, Mahidol University (MU-DT/PY-IRB 2018/DT068). Informed consent was obtained from all individual participants included in the study.
About this article
Cite this article
Shrestha, B., Wichai, W., Srikhirin, T. et al. Impact of household vinegar on calculus removal and mechanical properties of orthodontic resin. J Orofac Orthop 82, 54–63 (2021). https://doi.org/10.1007/s00056-020-00255-1
Received:

Accepted:

Published:

Issue Date:

DOI: https://doi.org/10.1007/s00056-020-00255-1
Keywords
Polymethyl methacrylate

Tartar

Flexural strength

Hardness

Denture hygiene
Schlüsselwörter
Polymethylmethacrylat

Zahnstein

Biegefestigkeit

Härte

Dentalhygiene