Abstract
Introduction
To three-dimensionally analyze the skeletal and pharyngeal airway changes induced by Twin Block (TWB) and Forsus Fatigue Resistance Device (FFRD) in skeletal Class II female patients compared with untreated controls.
Materials and methods
The study comprised 62 growing female patients with skeletal Class II malocclusion due to mandibular retrusion treated with either TWB (n = 23) or FFRD (n = 21), or neither (n = 18; controls). Pre- and posttreatment/observational cone beam computed tomography images were used to evaluate the treatment changes.
Results
TWB induced more obvious mandibular skeletal changes and caused significant retrusive effects on the maxilla. Similarly, the sagittal and vertical jaw relationships were affected more obviously with TWB (P <0.001) compared to FFRD. Changes in oropharyngeal volume and minimal axial area were more obvious with TWB.
Discussion
The TWB functional appliance induced significant skeletal and pharyngeal airway changes. These changes were more obvious relative to the slight changes induced by FFRD or by natural growth.
Zusammenfassung
Einführung
Dreidimensional untersucht werden sollten TWB(Twin Block)- und FFRD(Forsus Fatigue Resistance Device)-induzierte Veränderungen der skelettalen und der pharyngealen Luftwege bei weiblichen Klasse-II-Patienten im Vergleich zu unbehandelten Kontrollen.
Material und Methoden
Die Studie umfasste 62 heranwachsende weibliche Patienten mit skelettaler Klasse-II-Malokklusion bei mandibulärer Retrusion, die entweder mit TWB (n = 23) oder FFRD (n = 21) behandelt wurden. Eine weitere, nicht behandelte Gruppe (n = 18) diente der Kontrolle. Zur Beurteilung der therapiebedingten Veränderungen wurden DVT(digitale Volumentomographie)-Aufnahmen vor und nach der Behandlung bzw. während der Beobachtungsphase analysiert.
Ergebnisse
Der TWB führte zu deutlicheren skelettalen Veränderungen der Mandibula und es kam zu signifikanten retrusiven Effekten auf die Maxilla. Auch die sagittalen und vertikalen Kieferrelationen wurden durch den TWB stärker verändert (<0,001) im Vergleich zum FFRD. Änderungen des oropharyngealen Volumens und der maximalen Engstelle des Atemweges waren bei TWB deutlicher zu erkennen.
Diskussion
Das TWB-Funktionsgerät führte zu signifikanten skelettalen Veränderungen und zu Veränderungen der pharyngealen Atemwege. Diese Veränderungen waren offensichtlicher im Vergleich zu den leichten Veränderungen, die durch die FFRD oder das natürliche Wachstum hervorgerufen wurden. .
Access options
Buy single article
Instant access to the full article PDF.
US$ 39.95
Tax calculation will be finalised during checkout.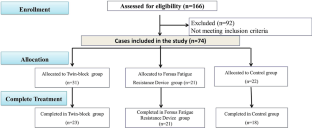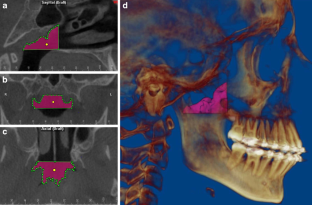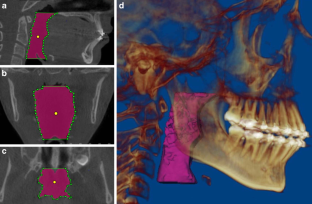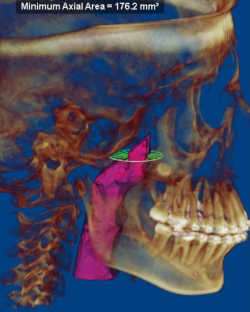 References
1.

Proffit WR, Fields HW Jr., Moray LJ (1998) Prevalence of malocclusion and orthodontic treatment need in the United States: Estimates from the NHANES III survey. Int J Adult Orthodon Orthognath Surg 13(2):97–106

2.

McNamara JA Jr. (1981) Components of class II malocclusion in children 8–10 years of age. Angle Orthod 51(3):177–202

3.

Barnett GA, Higgins DW, Major PW, Flores-Mir C (2008) Immediate skeletal and dentoalveolar effects of the crown- or banded type Herbst appliance on Class II division 1 malocclusion. Angle Orthod 78(2):361–369

4.

Clark W (2014) Twin block functional therapy

5.

Ehsani S, Nebbe B, Normando D, Lagravere MO, Flores-Mir C (2015) Short-term treatment effects produced by the Twin-block appliance: A systematic review and meta-analysis. Eur J Orthod 37(2):170–176

6.

Perinetti G, Primožič J, Franchi L, Contardo L (2015) Treatment effects of removable functional appliances in pre-pubertal and pubertal class II patients: A systematic review and meta-analysis of controlled studies. PLoS ONE 10(10):e141198

7.

Ishaq RA, AlHammadi MS, Fayed MM, El-Ezz AA, Mostafa Y (2016) Fixed functional appliances with multibracket appliances have no skeletal effect on the mandible: A systematic review and meta-analysis. Am J Orthod Dentofacial Orthop 149(5):612–624

8.

Zymperdikas VF, Koretsi V, Papageorgiou SN, Papadopoulos MA (2016) Treatment effects of fixed functional appliances in patients with Class II malocclusion: A systematic review and meta-analysis. Eur J Orthod 38(2):113–126

9.

Pacha MM, Fleming PS, Johal A (2015) A comparison of the efficacy of fixed versus removable functional appliances in children with Class II malocclusion: A systematic review. Eur J Orthod 38(6):621–630

10.

Moss ML, Simon MR (1968) Growth of the human mandibular angular process: A functional cranial analysis. Am J Phys Anthropol 28(2):127–138

11.

El H, Palomo JM (2011) Airway volume for different dentofacial skeletal patterns. Am J Orthod Dentofacial Orthop 139(6):e511–e521

12.

Katyal V, Pamula Y, Martin AJ, Daynes CN, Kennedy JD, Sampson WJ (2013) Craniofacial and upper airway morphology in pediatric sleep-disordered breathing: Systematic review and meta-analysis. Am J Orthod Dentofacial Orthop 143(1):20–30.e23

13.

Ghodke S, Utreja AK, Singh SP, Jena AK (2014) Effects of twin-block appliance on the anatomy of pharyngeal airway passage (PAP) in class II malocclusion subjects. Prog Orthod 15:68

14.

Jena AK, Singh SP, Utreja AK (2013) Effectiveness of twin-block and Mandibular Protraction Appliance-IV in the improvement of pharyngeal airway passage dimensions in Class II malocclusion subjects with a retrognathic mandible. Angle Orthod 83(4):728–734

15.

Vinoth SK, Thomas AV, Nethravathy R (2013) Cephalomteric changes in airway dimensions with twin block therapy in growing Class II patients. J Pharm Bioallied Sci 5(Suppl 1):S25–S29

16.

Verma G, Tandon P, Nagar A, Singh GP, Singh A (2012) Cephalometric evaluation of hyoid bone position and pharyngeal spaces following treatment with Twin block appliance. J Orthod Sci 1(3):77–82

17.

Ozdemir F, Ulkur F, Nalbantgil D (2014) Effects of fixed functional therapy on tongue and hyoid positions and posterior airway. Angle Orthod 84(2):260–264

18.

Bavbek NC, Tuncer BB, Turkoz C, Ulusoy C, Tuncer C (2016) Changes in airway dimensions and hyoid bone position following class II correction with forsus fatigue resistant device. Clin Oral Investig 20(7):1747–1755

19.

Gribel BF, Gribel MN, Frazão DC, McNamara JA Jr, Manzi FR (2011) Accuracy and reliability of craniometric measurements on lateral cephalometry and 3D measurements on CBCT scans. Angle Orthod 81(1):26–35

20.

Kannan A, Sathyanarayana HP, Padmanabhan S (2017) Effect of functional appliances on the airway dimensions in patients with skeletal class II malocclusion: A systematic review. J Orthod Sci 6(2):54–64

21.

Xiang M, Hu B, Liu Y, Sun J, Song J (2017) Changes in airway dimensions following functional appliances in growing patients with skeletal class II malocclusion: A systematic review and meta-analysis. Int J Pediatr Otorhinolaryngol 97:170–180

22.

Li L, Liu H, Cheng H et al (2014) CBCT evaluation of the upper airway morphological changes in growing patients of class II division 1 malocclusion with mandibular retrusion using twin block appliance: A comparative research. PLoS ONE 9(4):e94378

23.

Erbas B, Kocadereli I (2014) Upper airway changes after Xbow appliance therapy evaluated with cone beam computed tomography. Angle Orthod 84(4):693–700

24.

Elfeky HY, Fayed MM (2015) Three-dimensional effects of twin block therapy on pharyngeal airway parameters in Class II malocclusion patients. J World Fed Orthod 4(3):114–119

25.

Rizk S, Kulbersh VP, Al-Qawasmi R (2016) Changes in the oropharyngeal airway of Class II patients treated with the mandibular anterior repositioning appliance. Angle Orthod 86(6):955–961

26.

Temani P, Jain P, Rathee P, Temani R (2016) Volumetric changes in pharyngeal airway in Class II division 1 patients treated with Forsus-fixed functional appliance: A three-dimensional cone-beam computed tomography study. Contemp Clin Dent 7(1):31–35

27.

Baccetti T, Franchi L, Toth LR, McNamara JA Jr (2000) Treatment timing for Twin-block therapy. Am J Orthod Dentofacial Orthop 118(2):159–170

28.

De Vos W, Casselman J, Swennen GR (2009) Cone-beam computerized tomography (CBCT) imaging of the oral and maxillofacial region: A systematic review of the literature. Int J Oral Maxillofac Surg 38(6):609–625

29.

Alves M, Baratieri C, Mattos CT et al (2012) Is the airway volume being correctly analyzed? Am J Orthod Dentofacial Orthop 141(5):657–661

30.

Zimmerman JN, Lee J, Pliska BT (2017) Reliability of upper pharyngeal airway assessment using dental CBCT. Eur J Orthod 39(5):489–496. https://doi.org/10.1093/ejo/cjw07

31.

Ruf S, Baltromejus S, Pancherz H (2001) Effective condylar growth and chin position changes in activator treatment: a cephalometric roentgenographic study. Angle Orthod 71(1):4–11

32.

O'Brien K, Wright J, Conboy F et al (2003) Effectiveness of treatment for Class II malocclusion with the Herbst or twin-block appliances: A randomized, controlled trial. Am J Orthod Dentofacial Orthop 124(2):128–137

33.

Baysal A, Uysal T (2011) Soft tissue effects of Twin block and Herbst appliances in patients with Class II division 1 mandibular retrognathy. Eur J Orthod 35(1):71–81

34.

Bilgic F, Hamamci O, Basaran G (2011) Comparison of the effects of fixed and removable functional appliances on the skeletal and dentoalveolar structures. Aust Orthod J 27(2):110–116

35.

Baysal A, Uysal T (2013) Dentoskeletal effects of Twin block and Herbst appliances in patients with Class II division 1 mandibular retrognathy. Eur J Orthod 36(2):164–172

36.

Dalci O, Altug AT, Memikoglu UT (2014) Treatment effects of a twin-force bite corrector versus an activator in comparison with an untreated Class II sample: A preliminary report. Aust Orthod J 30(1):45–53

37.

Nucera R, Lo Giudice A, Rustico L, Matarese G, Papadopoulos MA, Cordasco G (2016) Effectiveness of orthodontic treatment with functional appliances on maxillary growth in the short term: A systematic review and meta-analysis. Am J Orthod Dentofacial Orthop 149(5):600–611.e603
Ethics declarations
Conflict of interest
M.S. Alhammadi, H.Y. Elfeky, M.S. Fayed, R.A.R. Ishaq, E. Halboub and A.A. Al-mashraqi declare that they have no competing interests.
Ethical standards
All procedures performed in studies involving human participants or on human tissue were in accordance with the ethical standards of the institutional and/or national research committee and with the 1975 Helsinki declaration and its later amendments or comparable ethical standards. Informed consent was obtained from all individual participants included in the study.
About this article
Cite this article
Alhammadi, M.S., Elfeky, H.Y., Fayed, M.S. et al. Three-dimensional skeletal and pharyngeal airway changes following therapy with functional appliances in growing skeletal Class II malocclusion patients. J Orofac Orthop 80, 254–265 (2019). https://doi.org/10.1007/s00056-019-00185-7
Received:

Accepted:

Published:

Issue Date:
Keywords
Twin Block

Pharyngeal airway

Cone-beam computed tomography

Functional appliance

Mandibular skeletal changes
Schlüsselwörter
Twin Block

Pharyngealer Atemweg

Digitale Volumentomographie

Funktionelle Apparatur

Skelettale Veränderungen der Mandibula