Abstract
Objective
Gingival invaginations are a common side effect of orthodontic extraction–space closure. The timing of initiating the closure of an extraction space varies greatly in clinical practice. In this multicenter pilot and randomized controlled trial, we prospectively investigated whether initiating space closure in the early stage of wound healing would benefit the incidence and severity of invaginations developing in the extraction sites.
Methods
A total of 368 patients were screened for indications to extract at least one mandibular premolar. Those recruited were randomly assigned to one of two treatment arms: initiation of space closure either 2–4 weeks (arm A) or ≥12 weeks (arm B) after tooth extraction. Clinical data regarding treatment process and periodontal tissue response were recorded during and after space closure and analyzed by a specialized biometrics unit. The study was performed under continuous surveillance by an independent study control center.
Results
A total of 74 extraction sites were analyzed. Regarding the incidence of gingival invaginations, there were no significant intergroup differences [p = 0.13; group A comprising 37/44 (84.1%) and group B 29/30 (96.7%) invaginated sites]. The same was true based on either maxillary (p = 0.52) or mandibular (p = 0.21) sites only, and the severity of the invaginations did not differ between the treatment arms.
Conclusions
As to the incidence and severity of gingival invaginations, we did not notice any statistically significant differences between the two timeframes. Our data do, however, provide a basis to identify additional confounders and to improve the accuracy of case-load estimations for future trials.
Zusammenfassung
Ziel
Gingivaduplikaturen sind eine regelmäßig beobachtete Nebenwirkung des kieferorthopädischen Extraktionslückenschlusses. Im klinischen Alltag findet der Beginn des Extraktionslückenschlusses mit einer breiten zeitlichen Variation statt. Im Rahmen einer multizentrischen, prospektiven, randomisierten, kontrollierten Pilotstudie sollte untersucht werden, ob ein früherer im Vergleich zu einem späteren Beginn des orthodontischen Lückenschlusses nach Zahnentfernung Unterschiede bezüglich der Inzidenz und des Ausprägungsgrades entstehender Gingivaduplikaturen verursacht.
Methoden
Ein Screening von 368 Patienten wurde hinsichtlich einer Indikation zur Extraktion von mindestens einem Prämolaren des Unterkiefers durchgeführt. Nach Einschluss wurden die Patienten in einen von 2 Therapiearmen randomisiert: im Arm A wurde der Lückenschluss 2-4 Wochen, in Arm B frühestens 12 Wochen nach der Extraktion begonnen. Während und nach dem Lückenschluss wurden klinische Daten hinsichtlich des Therapieverlaufs sowie der parodontalen Gewebeantwort erhoben und der biometrischen Analyse zugeführt. Während der gesamten Untersuchung erfolgte kontinuierlich ein externes Monitoring.
Ergebnisse
Untersucht wurden 74 Extraktionsregionen. Es gab keine signifikanten Unterschiede hinsichtlich der Inzidenz der Gingivaduplikaturen: Gruppe A 37/44 (84,1%), Gruppe B 29/30 (96,7%); p = 0,13. Diese Ergebnisse waren auch im Vergleich der Einzelkiefer konsistent (Oberkiefer p = 0,52; Unterkiefer p = 0,21). Ebenfalls zeigte der Ausprägungsgrad der Gingivaduplikaturen keine signifikanten Unterschiede.
Diskussion
Diese Studie zeigte keinen signifikanten Einfluss der Heilungsphase vor dem Extraktionslückenschluss auf die Inzidenz und den Grad von Gingivaduplikaturen. Allerdings ist es möglich, mit den vorliegenden Daten weitere Einflussparameter zu identifizieren und genauere Fallzahlschätzungen für künftige klinische Studien zu planen.
Diese Untersuchung wurde durch die Deutsche Forschungsgemeinschaft (DFG RE3425/1-1), Universal Trial Number U1111-1132-6655) gefördert.
Access options
Buy single article
Instant access to the full article PDF.
US$ 39.95
Tax calculation will be finalised during checkout.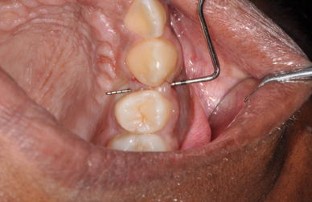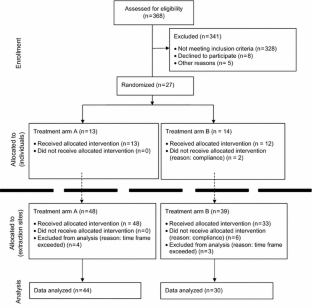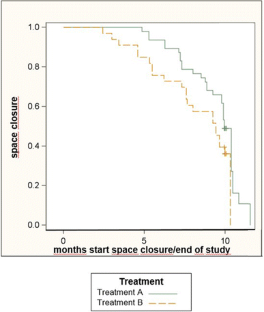 References
1.

Gölz L, Reichert C, Jäger A (2011) Gingival invagination—a systematic review. J Orofac Orthop 72(6):409–420

2.

Gölz L, Reichert C, Dirk C, Jäger A (2012) Retrospective investigation of gingival invaginations: part II: microbiological findings and genetic risk profile. J Orofac Orthop 73(5):387–396

3.

Rivera Circuns AL, Tulloch JF (1983) Gingival invagination in extraction sites of orthodontic patients: their incidence, effects on periodontal health, and orthodontic treatment. Am J Orthod 83(6):469–476

4.

Robertson PB, Schultz LD, Levy BM (1977) Occurrence and distribution of interdental gingival clefts following orthodontic movement into bicuspid extraction sites. J Periodontol 48(4):232–235

5.

Reichert C, Gölz L, Dirk C, Jäger A (2012) Retrospective investigation of gingival invaginations: part I: clinical findings and presentation of a coding system. J Orofac Orthop 73(4):307–316

6.

Diedrich P, Wehrbein H (1997) Orthodontic retraction into recent and healed extraction sites. A histologic study. J Orofac Orthop 58(2):90–99

7.

Tiefengraber J, Diedrich P, Fritz U, Lantos P (2002) Orthodontic space closure in combination with membrane supported healing of extraction sockets (MHE) a pilot study. J Orofac Orthop 63(5):422–428

8.

Reichert C, Wenghoefer M, Götz W, Jäger A (2011) Pilot study on orthodontic space closure after guided bone regeneration. J Orofac Orthop 72(1):45–50

9.

Reichert C, Wenghoefer M, Kutschera E, Götz W, Jäger A (2014) Ridge preservation with synthetic nanocrystalline hydroxyapatite reduces the severity of gingival invaginations-a prospective clinical study. J Orofac Orthop 75(1):7–15

10.

Reichert C, Kutschera E, Nienkemper M, Scharf S, Mengel M, Fimmers R, Fuhrmann C, Plötz C, Gölz L, Drescher D, Braumann B, Jäger A (2013) Influence of time after extraction on the development of gingival invagination: study protocol for a multicenter pilot randomized controlled clinical trial. Trials 24(14):108. doi:10.1186/1745-6215-14-108

11.

Saxer UP, Mühlemann HR (1975) Motivation and education. SSO Schweiz Monatsschr Zahnheilkd 85(9):905–919

12.

Silness J, Loe H (1964) Periodontal disease in pregnancy. II correlation between oral hygiene and periodontal condition. Acta Odontol Scand 22:121–135

13.

Wehrbein H, Fuhrmann R, Andreas A, Dietrich P (1993) The significance of gingival invagination in orthodontic space closure. A clinico-radiological study. Fortschr Kieferorthop 54:231–236

14.

Cardaropoli G, Araujo M, Lindhe J (2003) Dynamics of bone tissue formation in tooth extraction sites. An experimental study in dogs. J Clin Periodontol 30:809–818

15.

Amler MH (1969) The time sequence of tissue regeneration in human extraction wounds. Oral Surg Oral Med Oral Pathol 27:309–318

16.

Araujo MG, Lindhe J (2005) Dimensional ridge alterations following tooth extraction. An experimental study in the dog. J Clin Periodontol 32:212–218

17.

Schropp L, Wenzel A, Kostopoulos L, Karring T (2003) Bone healing and soft tissue contour changes following single-tooth extraction: a clinical and radiographic 12-month prospective study. Int J Periodontics Restor Dent 23:313–323

18.

Vercellotti T, Podesta A (2007) Orthodontic microsurgery: a new surgically guided technique for dental movement. Int J Periodontics Restor Dent 27:325–331

19.

Wilcko WM, Wilcko MT, Bouquot JE, Ferguson DJ (2001) Rapid orthodontics with alveolar reshaping: two case reports of decrowding. Int J Periodontics Restor Dent 21:1–11

20.

Diedrich PR, Fuhrmann AW, Wehrbein H, Erpenstein H (1996) Distal movement of premolars abutments for missing molars. Am J Orthod Dentofac Orthop 109:355–360

21.

Little RM (1975) The irregularity index: a quantitative score of mandibular anterior alignment. Am J Orthod 68:554–563

22.

Akli E, Marinaki L, Halazonetis DJ (2015) Selecting subjects with high craniofacial shape homogeneity for clinical trials. Am J Orthod Dentofacial Orthop 148:1026–1035
Acknowledgements
This investigation was funded by the German Research Foundation (DFG; RE3425/1-1). Its Universal Trial Number is U1111-1132-6655.
Ethics declarations
This study was conducted in line with the requirements of the institutional review boards, national law, and the 1975 Declaration of Helsinki as revised in 2013. All patients and their legal representatives had been informed about the study and had consented to participate orally and in writing. The study was registered in the German Clinical Trial Register (U1111-1132-6655). The study protocol is part of the GEPRIS database (http://gepris.dfg.de/gepris/projekt/228530729) and has been published in advance (Reichert et al. Trials 2013, 14:108 doi:10.1186/1745-6215-14-108). Funding for the study was obtained via a separate grant proposal (RE3425/1-1) from the German Research Foundation (DFG).
Conflict of interest
C. Reichert, E. Kutschera, C. Plötz, S. Scharf, L. Gölz, R. Fimmers, C. Fuhrmann, G. Wah, B. Braumann, and A. Jäger declare that they have no competing interests.
Additional information
This manuscript is laureate of the Arnold Biber Prize and honored with 5000 EUR.
Priv.-Doz. Dr. Christoph Reichert
About this article
Cite this article
Reichert, C., Kutschera, E., Plötz, C. et al. Incidence and severity of gingival invaginations associated with early versus late initiation of orthodontic space closure after tooth extraction. J Orofac Orthop 78, 415–425 (2017). https://doi.org/10.1007/s00056-017-0098-9
Received:

Accepted:

Published:

Issue Date:
Keywords
Gingival invagination

Orthodontic space closure

Tooth extraction

Randomized controlled trial
Schlüsselwörter
Gingivaduplikaturen

Kieferorthopädischer Lückenschluss

Zahnentfernung

Randomisierte kontrollierte Studie