Abstract
Objectives
The purpose of this study was to compare two-dimensional (2D) lateral photographs versus three-dimensional (3D) face scans in analyzing facial profiles using Schwarz's concept of the jaw profile field (JPF) in its original 2D and in a modified 3D version. In addition, the distribution of the facial profile types described by Schwarz were examined.
Materials and methods
Of 75 adult volunteers recruited specifically for this study, we obtained both photographs (Nikon D 300S; Nikon, Düsseldorf, Germany) and scans (FaceSCAN3D Scientific Photolab 60 Hz; 3D-Shape, Erlangen, Germany) in a standardized setting. Four raters analyzed the pertinent measurements using image analysis software (Onyx Ceph 3; Image Instruments, Chemnitz, Germany). Statistical analysis was conducted using the R suite environment (v. 3.2.1; R Foundation for Statistical Computing, Vienna, Austria).
Results
Intraobserver reliability was substantial for two raters (κ = 0.61–0.8), moderate for one (κ = 0.41–0.60), and almost perfect for one (κ = 0.81–1.00). As for interobserver reliability, we observed moderate agreement between the two basic technologies tested, but internal agreement was only moderate even within the 2D view modes (average κ = 0.51) versus almost perfect within the 3D view modes (κ = 0.84–0.94). Forward-slanting anteface was clearly the most common (43.27%) and straight retroface the least common (0.3%) diagnosis. Only a minority of patients (18.38% of women and 16.15% of men) had straight as opposed to slanting profiles.
Conclusions
Given our findings of acceptable agreement between 3D scanning and 2D lateral photography, in combination with almost perfect internal agreement between different 3D view modes, it appears useful to adapt Schwarz's method of facial profile assessment for clinical use in 3D virtual environments.
Zusammenfassung
Ziele
Zweck dieser Studie war der Vergleich zweidimensionaler lateraler Fotografien mit dreidimensionalen Aufnahmen anhand der Profilanalyse nach Schwarz und einer modifizierten 3-D-Version. Zusätzlich sollte die Häufigkeitsverteilung der von Schwarz beschriebenen Diagnosen untersucht werden.
Material und Methodik
Von 75 erwachsenen Probanden wurden dreidimensionale (FaceSCAN3D Scientific Photolab 60 Hz; 3D-Shape, Erlangen, Deutschland) und zweidimensionale laterale faziale Fotos (Nikon D 300S; Nikon, Düsseldorf, Deutschland) unter standardisierten Bedingungen angefertigt. Die Auswertung erfolgte durch 4 Untersucher in Doppelmessung mit der Software Onyx Ceph 3 (Image Instruments, Chemnitz, Deutschland). Die statistische Auswertung wurde mithilfe des Programmpakets R, Version 3.2.1 (R Foundation for Statistical Computing, Wien, Österreich) durchgeführt.
Ergebnisse
Die Intraobserver-Reliabilität stellte sich bei 2 der 4 Untersucher als substanziell (κ = 0,61–0,8) und bei jeweils einem als moderat (κ = 0,41–0,60) bzw. als fast perfekt (κ = 0,81–1,00) dar. Hinsichtlich der Interobserver-Reliabilität ergab sich zwischen den untersuchten Verfahren eine moderate Übereinstimmung. Allerdings war auch die Übereinstimmung innerhalb des 2-D-Verfahrens nur moderat (durchschnittliches κ = 0,51), während sie sich innerhalb des 3-D-Verfahrens als fast perfekt darstellte (κ = 0,84–0,94). Die mit Abstand häufigste Diagnose war das nach vorne schiefe Vorgesicht (43,27%), das gerade Rückgesicht dagegen die seltenste Diagnose (0,3%). Gerade Profile fanden sich gegenüber schiefen Profilen in der Minderzahl (♀ 18,38%, ♂ 16,15%).
Schlussfolgerung
Der Grad der Übereinstimmung zwischen der lateralen Fotografie und dem dreidimensionalen Verfahren sowie die annähernd perfekte Übereinstimmung innerhalb des 3-D-Verfahrens sprechen für einen klinischen Einsatz dieser Analyse am dreidimensionalen Modell.
This is a preview of subscription content, log in to check access.
Access options
Buy single article
Instant unlimited access to the full article PDF.
US$ 39.95
Price includes VAT for USA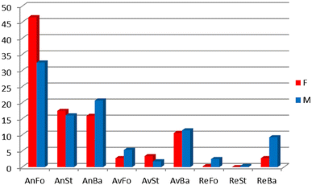 References
1.

Aynechi N, Larson BE, Leon-Salazar V, Beiraghi S (2011) Accuracy and precision of a 3D anthropometric facial analysis with and without landmark labeling before image acquisition. Angle Orthod 81(2):245–252

2.

Berneburg M, Dietz K, Niederle C, Göz G (2010) Changes in esthetic standards since 1940. Am J Orthod Dentofac Orthop 137(4):450.e1–9

3.

Blockhaus M, Kochel J, Hartmann J, Stellzig-Eisenhauer A, Meyer-Marcotty P (2014) Three-dimensional investigation of facial surface asymmetries in skeletal malocclusion patients before and after orthodontic treatment combined with orthognathic surgery. J Orofac Orthop 75(2):85–95

4.

Boldt F, Weinzierl C, Hertrich K, Hirschfelder U (2009) Comparison of the spatial landmark scatter of various 3D digitalization methods. J Orofac Orthop 70:247–263

5.

Dindaroğlu F, Kutlu P, Duran GS, Görgülü S, Aslan E (2016) Accuracy and reliability of 3D stereophotogrammetry: a comparison to direct anthropometry and 2D photogrammetry. Angle Orthod 86(3):487–494

6.

Falkensammer F, Loesch A, Krall C, Weiland F, Freudenthaler J (2014) The impact of education on the perception of facial profile aesthetics and treatment need. Aesthet Plast Surg 38(4):620–631

7.

Fink M, Medelnik J, Strobel K, Hirschfelder U, Hofmann E (2014) Metric precision via soft-tissue landmarks in three-dimensional structured-light scans of human faces. J Orofac Orthop 75(2):133–143

8.

Gateno J, Xia JJ, Teichgraeber JF (2011) New 3-dimensional cephalometric analysis for orthognathic surgery. J Oral Maxillofac Surg 69(3):606–622

9.

Heike CL, Upson K, Stuhaug E, Weinberg SM (2010) 3D digital stereophotogrammetry: a practical guide to facial image acquisition. Head Face Med 6:18

10.

Khosravanifard B, Rakhshan V, Raeesi E (2013) Factors influencing attractiveness of soft tissue profile. Oral Surg Oral Med Oral Pathol Oral Radiol 115(1):29–37

11.

Landis JR, Koch GG (1977) The measurement of observer agreement for categorical data. Biometrics 33:159–174

12.

Meyer-Marcotty P, Böhm H, Linz C, Kochel J, Stellzig-Eisenhauer A, Schweitzer T (2014) Three-dimensional analysis of cranial growth from 6 to 12 months of age. Eur J Orthod 36(5):489–496

13.

Nguyen DD, Turley PK (1998) Changes in the Caucasian male facial profile as depicted in fashion magazines during the twentieth century. Am J Orthod Dentofac Orthop 114(2):208–217

14.

Nomura M, Motegi E, Hatch JP, Gakunga PT, Ng'ang'a PM, Rugh JD, Yamaguchi H (2009) Esthetic preferences of European American, Hispanic American, Japanese, and African judges for soft-tissue profiles. Am J Orthod Dentofacial Orthop 135(4 Suppl):S87–S95

15.

Plooij JM, Swennen GR, Rangel FA et al (2009) Evaluation of reproducibility and reliability of 3D soft tissue analysis using 3D stereophotogrammetry. Int J Oral Maxillofac Surg 38:267–273

16.

Schwarz AM (1961) Lehrgang der Gebissregelung—Band I: Untersuchungsgang (Diagnostik), 3. Auflage, Urban & Schwarzenberg

17.

Severt TR, Proffit WR (1997) The prevalence of facial asymmetry in the dentofacial deformities population at the University of North Carolina. Int J Adult Orthod Orthognath Surg 12(3):171–176

18.

Yu X, Liu B, Pei Y, Xu T (2014) Evaluation of facial attractiveness for patients with malocclusion: a machine-learning technique employing Procrustes. Angle Orthod 84(3):410–416
Acknowledgements
The authors would like to thank all those directly involved in this study as well as 3D-Shape GmbH (Erlangen, Germany) and Image Instruments GmbH (Chemnitz, Germany) for technical advice.
Ethics declarations
Conflict of interest
M. Fink, U. Hirschfelder, V. Hirschinger, M. Schmid, C. Spitzl, A. Detterbeck and E. Hofmann state that there are no conflicts of interest. All procedures on human subjects were performed in accordance with national law and with the 1975 Declaration of Helsinki (as revised) after obtaining approval by the institutional review board (ethics commission). All participants gave their written informed consent. Any of them whose identity may be disclosed by pictures or other details mentioned in the text have consented to such disclosure in writing.
Additional information
Dr. med. dent. Martin Fink.
About this article
Cite this article
Fink, M., Hirschfelder, U., Hirschinger, V. et al. Assessment of facial soft-tissue profiles based on lateral photographs versus three-dimensional face scans. J Orofac Orthop 78, 70–76 (2017) doi:10.1007/s00056-016-0055-z
Received:

Accepted:

Published:

Issue Date:
Keywords
Jaw profile field

Orthodontic diagnostics

Soft-tissue analysis

3D diagnostics

Photographic analysis
Schlüsselworte
Kieferprofilfeld

Kieferorthopädische Diagnostik

Weichteilanalyse

3-D-Diagnostik

Fotoanalyse