Abstract
Objective
The purpose of this work was to analyze variations in maxillary arch dimensions in subjects presenting unilaterally impacted maxillary permanent central incisors compared with a control group of subjects without eruption anomalies.
Methods
A group of 23 Caucasian children [8 females and 15 males, mean age 9.7 years, standard deviation (SD) 1.6 years] displaying unilaterally impacted maxillary permanent central incisors (impacted incisor group: IIG) were compared with a control group (CG) of 23 subjects (9 females; 14 males, mean age 8.8 years, SD 1.9 years) presenting no eruption disorders. Pretreatment dental casts were taken from each subject and the upper arch was scanned using a three-dimensional scanner. Linear measurements were taken on each digital model to analyze maxillary arch dimensions. Significant between-group differences were tested with the Student's t test (p < 0.05).
Results
The transverse and sagittal upper-arch measurements were significantly smaller in the IIG than in the CG. In particular, the anterior arch was 1.35 mm shorter in the IIG, while intercanine width was decreased by 2.51 mm on the impacted side.
Conclusion
Children revealing unilaterally impacted maxillary central incisors demonstrated a significantly constricted maxillary transverse width and shorter arch on the impacted side compared with subjects with no eruption disorders.
Zusammenfassung
Ziel
Die Zielsetzung der Studie war die Analyse dimensionaler Variationen in den Oberkieferbögen von Kindern mit einseitig impaktierten permanenten zentralen Inzisiven im Vergleich mit einer Kontrollgruppe ohne Durchbruchsanomalien.
Methoden
Eine Gruppe von 23 kaukasischen Kindern [8 Mädchen, 15 Jungen, Durchschnittsalter 9,7, Standardabweichung (SD) 1,6 Jahre] mit einseitig impaktierten bleibenden zentralen Inzisiven ("impacted incisor group", IIG) wurde verglichen mit einer Kontrollgruppe ("control group", CG; 9 Mädchen, 14 Jungen, Durchschnittsalter 8,8, SD 1,9 Jahre) ohne Durchbruchsstörungen. Vor der Behandlung wurden von jedem Individuum Zahnabdrücke erstellt, der obere Bogen wurde dreidimensional gescannt. Zur Analyse der Oberkieferbogendimensionen wurde jedes digitale Modell linear vermessen. Signifikante Differenzen (p < 0,05) wurden mit dem Student-t-Test überprüft.
Ergebnisse
In der IIG erwiesen sich die transversalen und die sagittalen Messungen als signifikant geringer als in der CG. Vor allem der vordere Bogen war 1,35 mm kürzer in der IIG, während die intercanine Distanz auf der Seite der Impaktierung 2,51 mm geringer war.
Schlussfolgerung
Bei Kindern mit einseitig impaktierten zentralen Inzisiven im Oberkiefer zeigten sich im Vergleich mit Kindern ohne Eruptionsanomalie eine signifikant verengte Oberkieferbreite und ein kürzerer Bogen auf der Seite der Impaktierung.
This is a preview of subscription content, log in to check access.
Access options
Buy single article
Instant access to the full article PDF.
US$ 39.95
Price includes VAT for USA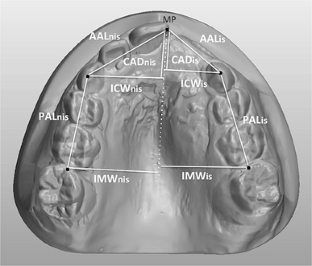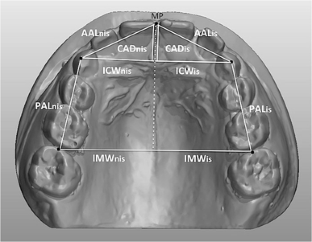 References
1.

Ahn JS, Park MS, Song HC et al (2012) Three-dimensional interpretation of intercanine width change in children: a 9-year longitudinal study. Am J Orthod 142:323–332

2.

Armi P, Cozza P, Baccetti T (2011) Effect of RME and headgear treatment on the eruption of palatally displaced canines. A randomized clinical study. Angle Orthod 81:370–374

3.

Baccetti T, Mucedero M, Leonardi M et al (2009) Interceptive treatment of palatal impaction of maxillary canines with rapid maxillary expansion. A randomized clinical trial. Am J Orthod Dentofac Orthop 136:657–661

4.

Bishara SE (1971) Treatment of unerupted incisors. Am J Orthod 59:443–447

5.

Chokron A, Reveret S, Salmon B et al (2010) Strategies for treating an impacted maxillary central incisor. Int Orthod 8:152–176

6.

Cohen J (1992) A power primer. Psychol Bull 112:155–159

7.

Henrikson J, Persson M, Thilander B (2001) Long-term stability of dental arch form in normal occlusion from 13 to 31 years of age. Eur J Orthod 23:51–61

8.

Hitchin AD (1970) The impacted maxillary incisor. Dent Pract Dent Rec 20:423–433

9.

Jones JW (1999) A medico-legal review of some current UK guidelines in orthodontics: a personal view. J Orthod 26:307–324

10.

Kolokitha OE, Papadopoulou AK (2008) Impaction and apical root angulation of the maxillary central incisors due to supernumerary teeth: Combined surgical and orthodontic treatment. Case report. Am J Orthod Dentofac Orthop 134:153–160

11.

Law LS (2013) Management of premature primary tooth loss in the child patients. CDA J 41:612–618

12.

Lightheart KG, English JD, Kau CH et al (2012) Surface analysis of study models generated from Ortho CAD and cone-beam computed tomography imaging. Am J Orthod Dentofac Orthop 141:686–693

13.

McConnell TL, Hoffman DL, Forbes DP et al (1996) Maxillary canine impaction in patients with transverse maxillary deficiency. ASDC J Dent Child 63:190–195

14.

Pavoni C, Franchi L, Laganà G et al (2013) Management of impacted incisors following surgery to remove obstacles to eruption: a prospective clinical trial. Pediatr Dent 35:364–368

15.

Pavoni C, Franchi L, Laganà G et al (2013) Radiographic assessment of maxillary incisor position after rapid maxillary expansion in children with clinical signs of eruption disorder. J Orofac Orthop 74:468–479

16.

Petren S, Bondemark L (2008) Correction of unilateral posterior crossbite in the mixed dentition: a randomized controlled trial. Am J Orthod 133:790e7–e13

17.

Primozic J, Baccetti T, Franchi L et al (2013) Threedimensional assessment of palatal change in a controlled study of unilateral posterior crossbite correction in the primary dentition. Eur J Orthod 35:199–204

18.

Primozic J, Richmond S, Kau CH et al (2013) Three-dimensional evaluation of early crossbite correction: a longitudinal study. Eur J Orthod 35:7–13

19.

Sjögren AP, Lindgren JE, Huggare JA (2010) Orthodontic study cast analysis-reproducibility of recordings and agreement between conventional and 3D virtual measurements. J Digit Imaging 23:482–492

20.

Sousa MV, Vasconcelos EC, Janson G et al (2012) Accuracy and reproducibility of 3-dimensional digital model measurements. Am J Orthod Dentofac Orthop 142:269–273

21.

Springate SD (1983) The effect of sample size and bias on the reliability of estimates of error: a comparative study of Dahlberg's formula. Am J Orthod 83:382–390

22.

Vanarsdall RL, Corn H (1977) Soft-tissue management of labially positioned unerupted teeth. Am J Orthod 72:53–64

23.

Zilberman O, Huggare JAV, Parakakis KA (2003) Evaluation of the validity of tooth size measurements using conventional and three dimensional virtual orthodontic models. Angle Orthod 73:301–306
Ethics declarations
Conflict of interest
Chiara Pavoni, Lorenzo Franchi, Marco Buongiorno, and Paola Cozza have no conflict of interest.
All studies on humans described in the present manuscript were carried out with the approval of the responsible ethics committee and in accordance with national law and the Helsinki Declaration of 1975 (in its current, revised form). Informed consent was obtained from all patients included in studies. In the case of underage patients, consent was obtained from a parent or legal guardian.
About this article
Cite this article
Pavoni, C., Franchi, L., Buongiorno, M. et al. Evaluation of maxillary arch morphology in children with unilaterally impacted incisors via three-dimensional analysis of digital dental casts: a controlled study. J Orofac Orthop 77, 16–21 (2016). https://doi.org/10.1007/s00056-015-0003-3
Received:

Accepted:

Published:

Issue Date:
Keywords
Impacted incisor

Maxillary morphology

Digital dental casts

Pediatric dentistry

Mixed dentition
Schlüsselwörter
Impaktierter Inzisivus

Maxillamorphologie

Digitale Zahnabformung

Pädiatrische Zahnheilkunde

Gemischte Dentition